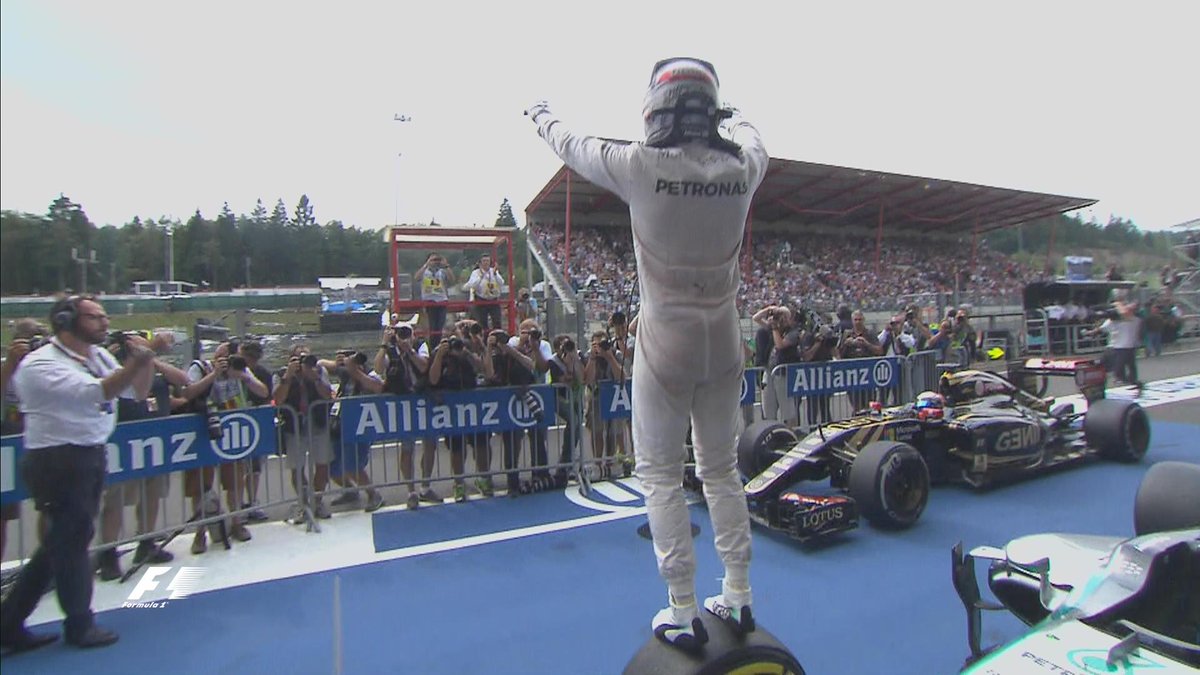 Jika tahun lalu Lewis Hamilton yang mengalami nasib sial setelah disundul oleh Nico Rosberg di GP Belgia, maka tahun ini nasib apes giliran menghinggapi Sebastian Vettel di Sirkuit Spa-Francorchamps. Bagaimana tidak, hanya tinggal satu lap menjelang finish, ban belakang sebelah kanan pebalap Ferrari tersebut tiba-tiba meletus. Padahal, saat itu dia sedang berada di posisi ketiga di belakang Hamilton dan Rosberg.
Bukan hanya Vettel yang KZL, tapi juga seluruh tim Ferrari. Usaha keras mereka sepanjang lomba yang didominasi oleh duo Mercedes itu berakhir dengan sia-sia. Finish di posisi ketiga di Spa memang ibarat menang bagi tim selain Mercy. Hampir mustahil mengalahkan the Silver Arrows di sirkuit yang berkarakter cepat itu, kecuali terjadi insiden yang melibatkan Hamilton dan Rosberg seperti tahun lalu.
Vettel sebenarnya sudah membalap dengan cemerlang sepanjang lomba. Start dari posisi kedelapan karena menjalani kualifikasi yang buruk, tidak mudah bagi pebalap manapun untuk merangsek ke posisi ketiga di akhir lomba. Tapi, sang juara dunia empat kali beruntun itu mampu melakukannya setelah menggeber mobilnya selama 30 lap. Sayangnya, Dewi Fortuna tidak berpihak kepadanya. Setelah bannya meletus, pebalap Ferrari itu tidak bisa menyelesaikan lomba yang hanya tinggal satu lap, dan dianggap finish di posisi ke-12, alias tidak mendapat poin sama sekali.
Untungnya, Ferrari tidak pulang dari Spa dengan tangan hampa. Rekan setim Vettel, Kimi Raikkonen, yang start dari posisi ke-14, dengan perjuangan ekstra keras, masih mampu finish di posisi ketujuh dan menyumbangkan poin bagi tim Kuda Jingkrak. Hasil tersebut membuat The Iceman mampu menyamai perolehan angka Felipe Massa yang nangkring di posisi keempat di klasemen sementara dengan 82 poin.
Di lain pihak, apesnya Vettel menjadi berkah bagi Romain Grosjean. Pebalap Lotus itu memang konsisten memburunya sampai satu lap menjelang finish. Akibat tekanan dari pebalap asal Prancis itulah, Vettel menggeber mobilnya habis-habisan dan akhirnya membuat ban lunaknya meletus. Dengan tersingkirnya pebalap Ferrari tersebut, Grosjean-lah yang akhirnya mengambil alih posisi ketiga dan naik podium bersama duo Mercedes.
Meski mengalami nasib sial, Vettel bersyukur bannya tidak meletus 200 meter lebih awal, saat dia melahap tikungan Eau Rouge. Biasanya, pebalap melintasi tikungan yang legendaris itu dengan kecepatan 300 kilometer per jam. Bisa dibayangkan, bakal fatal akibatnya jika ban Vettel meletus tepat saat dia melibas tikungan tersebut dengan kecepatan tinggi.
Vettel sendiri cenderung menyalahkan Pirelli selaku pemasok ban atas insiden yang dialaminya. Namun, Pirelli langsung meresponnya dengan mengatakan bahwa strategi Ferrari yang menerapkan satu kali pit stop-lah yang membuat ban Vettel meletus. Mereka terlalu berani dengan berjudi menggunakan satu paket ban terlalu lama. Akibatnya, ban tersebut meletus di saat terakhir menjelang finish karena tekanan yang melewati batas.
Sementara itu, Hamilton kemarin membalap dengan sangat dominan. Memulai lomba dari pole position, pebalap asal Inggris itu selalu memimpin di depan rekan setimnya dan akhirnya mempersembahkan finish 1-2 bagi Mercedes di GP Belgia. Dengan kemenangan di Spa ini, Hamilton semakin kukuh di puncak klasemen dengan keunggulan 28 poin atas Rosberg di posisi kedua.
Lomba selanjutnya dua pekan lagi di Italia. Dengan karakter sirkuit yang juga supercepat, seharusnya Mercedes bakal kembali berjaya. Apakah Hamilton akan semakin meninggalkan Rosberg dan pesaing-pesaing lainnya? Sampai jumpa di Monza!