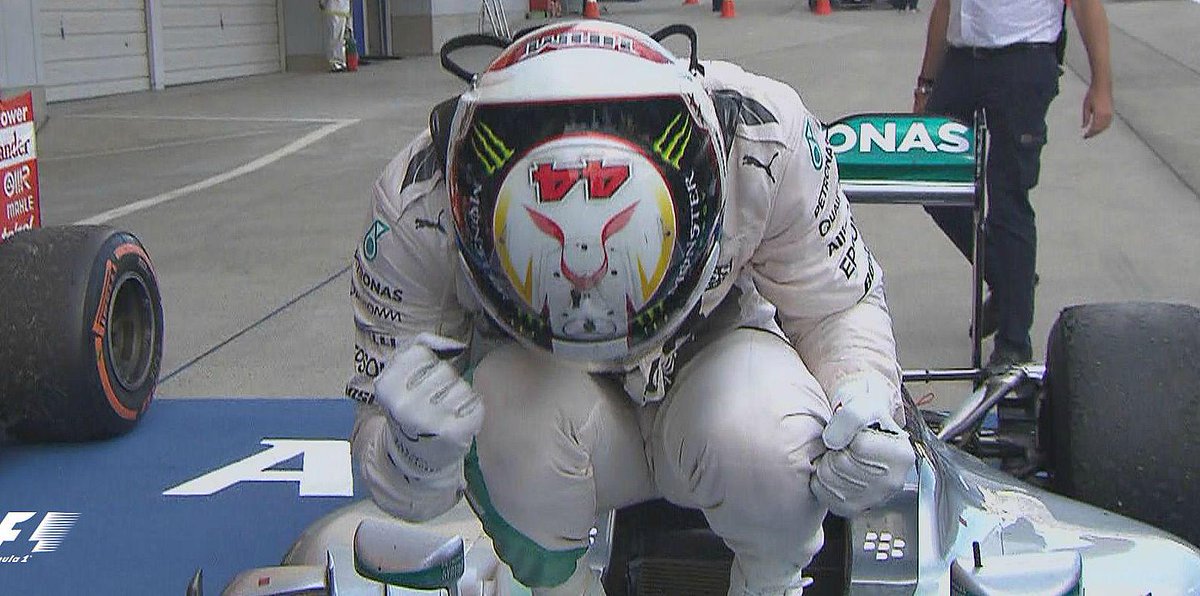 Sempat ketar-ketir setelah meraih hasil jeblok di GP Singapura, akhirnya Mercedes mampu bangkit kembali dan meraih kemenangan di GP Jepang pada hari Minggu (27/09) kemarin. Bukan hanya menang, the Silver Arrows kemarin juga sangat dominan di Sirkuit Suzuka dengan meraih pole position dan finish 1-2 melalui Lewis Hamilton dan Nico Rosberg.
Kemenangan ini juga membuktikan bahwa Mercedes tidak mengalami penurunan dan masih perkasa seperti dua musim terakhir ini. Hasil mengecewakan di Singapura, menurut Hamilton, disebabkan karena mereka tidak bisa berlomba pada level kelas A-nya. Akibatnya, saat itu the Silver Arrows tak mampu menandingi Ferrari yang memang sangat cepat di Marina Bay.
Seperti halnya tahun lalu, kemarin Mercedes juga memulai lomba pada baris terdepan setelah Nico Rosberg merebut pole position sehari sebelumnya. Namun, sial bagi Rosberg, justru Hamilton yang start dari posisi kedualah yang akhirnya mampu menang dan menguasai lomba. Harapan Nico untuk mereduksi jarak poin di klasemen sementara pun musnah.
Kesuksesan Hamilton kemarin tidak bisa dilepaskan dari keputusannya saat start. Begitu lampu merah dipadamkan, mantan pacar Nicole Scherzinger itu langsung tancap gas dan memepet Rosberg yang melaju di depannya. Aksi agresif Hamilton itu berhasil membuat sang pole-sitter melebar dan akhirnya kehilangan posisinya di tikungan kedua.
Selain Hamilton, Sebastian Vettel dan Valtteri Bottas yang sedari awal menguntit di belakang mereka juga memanfaatkan hal tersebut untuk segera menyalip Rosberg. Alhasil, pada lap pertama, dari yang semula pole position, Rosberg langsung melorot ke posisi keempat di depan Kimi Raikkonen. Impian pebalap Jerman tersebut untuk meraih kemenangan di Jepang pun hampir sirna.
Untungnya, pada lap ke-17, Rosberg mampu bangkit dengan menyalip Bottas. Ditambah lagi, Vettel melakukan kesalahan karena telat melakukan pergantian ban. Kecepatan pebalap Ferrari itu pun menurun dan tak lama kemudian segera dilibas oleh Rosberg. Di akhir lomba, Vettel menyesali hal tersebut. Seandainya melakukan pit stop satu lap lebih awal, mungkin dia bisa mengalahkan Rosberg dan finish di posisi kedua di belakang Hamilton.
Bagi Hamilton, kemenangan di Jepang kemarin cukup bersejarah karena berhasil menyamai rekor pebalap idolanya, almarhum Ayrton Senna. Saat ini, mantan pebalap McLaren itu sudah mengumpulkan 41 victory sepanjang karirnya di F1. Dia hanya kalah dari Vettel (42), Alain Prost (51), dan Michael Schumacher (91). Menilik usianya yang belum genap 30 tahun, besar kemungkinan bagi Hamilton (dan juga Vettel) untuk memecahkan rekor Prost.
Dengan kemenangan kemarin, Hamilton juga semakin kukuh di puncak klasemen dengan 277 poin. Dia unggul cukup jauh dari Rosberg yang baru mengumpulkan 229 poin dan Vettel dengan 218 poin. Dengan hanya lima lomba tersisa, tampaknya cuma nasib buruk yang bisa menggagalkan Hamilton meraih gelar juara dunianya yang ketiga musim ini.
Selepas dari Jepang, balapan selanjutnya adalah di Rusia dua pekan lagi. Menarik ditunggu apakah Hamilton semakin memperlebar gapnya dari Rosberg, atau malah Rosberg yang berhasil memperpendek jarak? Begitu juga dengan Ferrari, apakah Vettel mampu kembali membuat kejutan? Sampai jumpa di Sochi!