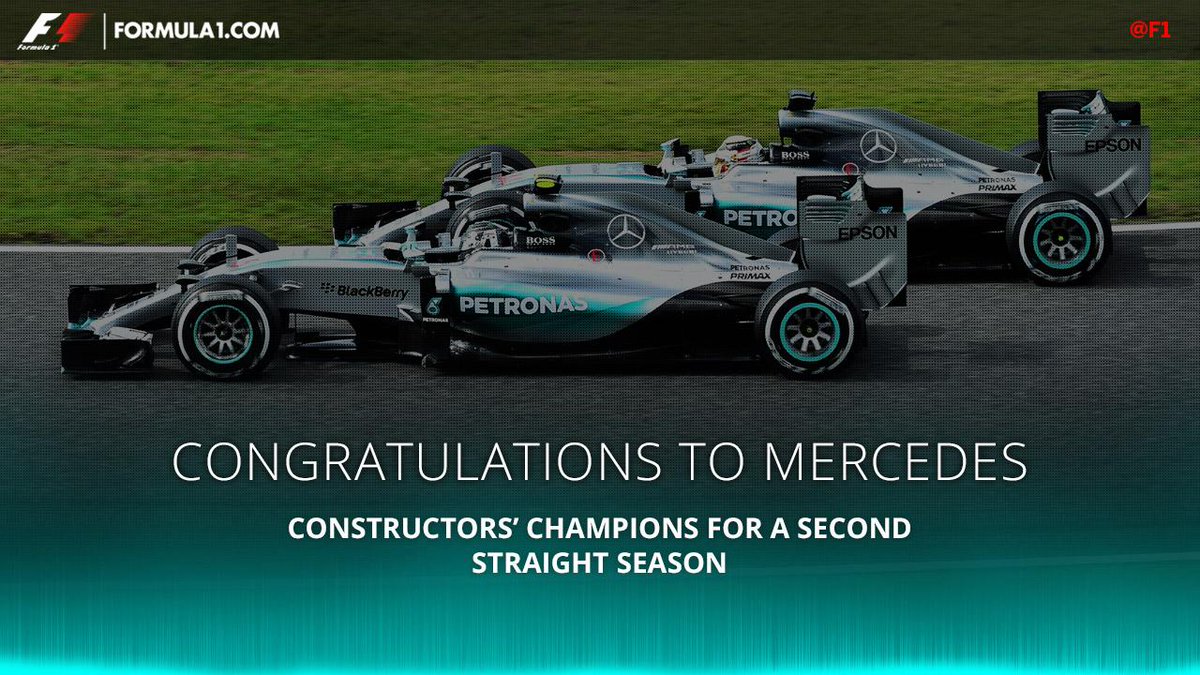 Mercedes akhirnya berhasil mengulangi capaian musim lalu dengan mengunci gelar juara dunia konstruktor di Sirkuit Sochi, Rusia, pada hari Minggu (11/10) kemarin. Selain kemenangan Lewis Hamilton, kesuksesan the Silver Arrows tersebut juga disebabkan oleh insiden yang melibatkan duo Finlandia, Kimi Raikkonen dan Valtteri Bottas, pada lap terakhir menjelang finish.
Tabrakan di Tikungan 3 tersebut membuat mobil Bottas melintir keluar trek. Setelah lomba, para steward melakukan investigasi dan akhirnya memutuskan Kimi bersalah dan harus dijatuhi penalti 30 detik. Akibatnya, Raikkonen yang semula finish di posisi kelima terpaksa melorot ke posisi kedelapan.
Selisih enam poin dari penurunan posisi Kimi tersebut membuat perolehan angka Mercedes di puncak klasemen tak terkejar lagi oleh Ferrari. Saat ini, the Silver Arrows sudah mengumpulkan 531 poin. Sementara itu, tim Kuda Jingkrak baru 359. Dengan empat lomba tersisa musim ini, meski nantinya selalu berhasil finish 1-2 di setiap seri, Ferrari tak akan mampu lagi menyalip perolehan angka Mercedes.
Selain gelar juara dunia konstruktor, Mercedes juga hampir pasti mengunci gelar juara pebalap lewat Lewis Hamilton. Mogoknya mobil Nico Rosberg di awal lomba membuat Hamilton semakin perkasa di puncak klasemen dengan keunggulan 73 poin. Dengan empat lomba tersisa musim ini, angka maksimal yang bisa disabet Rosberg hanya 100. Bisa jadi pada seri selanjutnya Hamilton sudah meraih gelar juara dunianya yang ketiga.
Di lain pihak, ngadatnya mobil Rosberg juga membuat Sebastian Vettel berhasil mengkudeta posisi kedua. Dengan finish kedua kemarin, pebalap asal Jerman itu sudah mengumpulkan 236 poin. Untuk menjadi juara dunia musim ini memang bisa dibilang mustahil bagi Vettel. Maka, target realistisnya adalah mengamankan P2 hingga akhir musim. Empat lomba terakhir akan menjadi pertaruhan apakah pebalap Ferrari tersebut mampu menjauh dari kejaran Rosberg yang saat ini hanya tertinggal 7 angka di belakangnya.
Balapan F1 selanjutnya akan mengunjungi Circuit of the Americas di Austin, Texas. Apakah Hamilton bisa mengunci gelar juara dunianya yang kedua bersama Mercedes di sana? Sampai jumpa dua pekan lagi di USA!