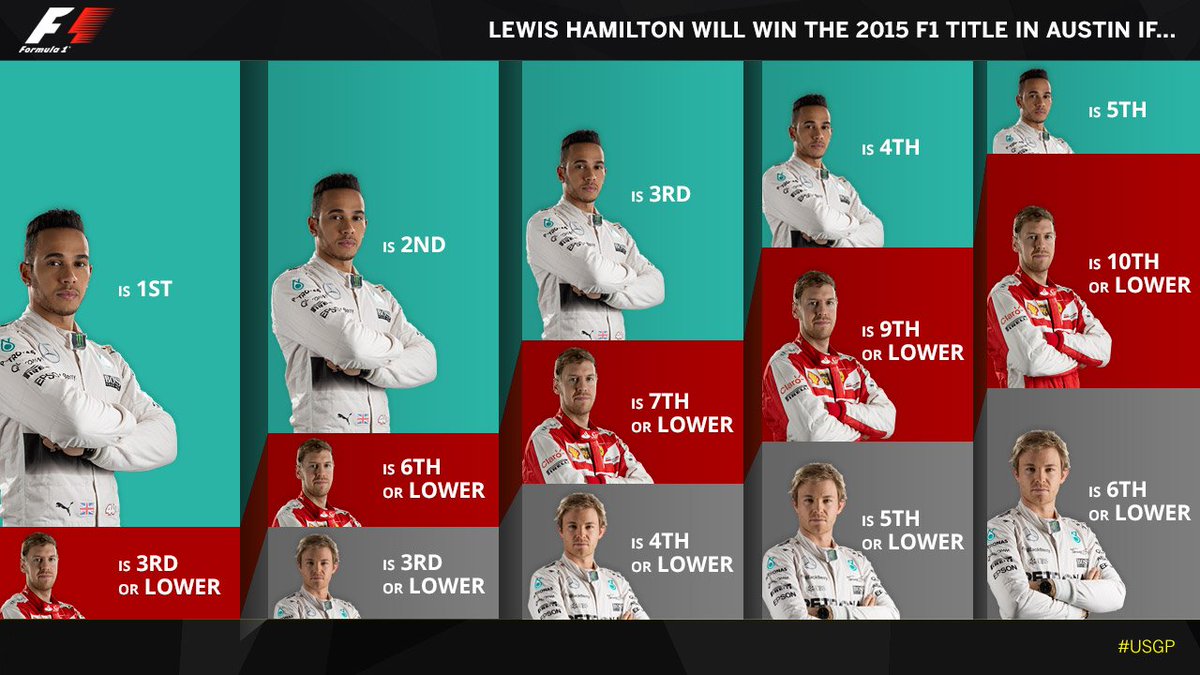 Sirkus Formula 1 bakal memasuki empat seri terakhir musim ini. Circuit of the Americas di Austin, Texas, bakal menjadi tuan rumah ronde ke-16 tahun ini. Lewis Hamilton, selaku pemuncak klasemen sementara, bisa saja mengunci gelar juara dunianya yang ketiga pada hari Senin (26/10) dini hari WIB nanti.
Total, sepanjang musim ini, Hamilton sudah meraih sembilan kemenangan dari 15 lomba yang sudah berlangsung. Mantan pacar Nicole Scherzinger itu kini sudah mengumpulkan 302 poin, unggul 66 angka dari Sebastian Vettel yang nangkring di posisi kedua. Sementara itu, pesaing utamanya, Nico Rosberg, malah tercecer di peringkat ketiga dan tertinggal 73 poin darinya.
Maka dari itu, Hamilton berpeluang untuk segera mengunci gelar juara dunianya yang kedua beruntun bersama Mercedes. Dengan empat lomba tersisa, termasuk weekend ini, hanya keajaiban yang bisa menggagalkan mantan pebalap McLaren tersebut untuk menyamai torehan prestasi almarhum Ayrton Senna.
Sirkuit Austin bisa menjadi saksi kesuksesan Hamilton meraih gelar juara dunia F1 musim ini. Syaratnya, ada lima skenario yang salah satunya harus dipenuhi. Yang pertama, pebalap asal Inggris itu harus menang dan Vettel finish di luar posisi dua besar. Kedua, Hamilton finish P2, Vettel di luar lima besar dan Rosberg di luar dua besar. Ketiga, Hamilton finish P3, Vettel di luar enam besar dan Rosberg di luar tiga besar. Keempat, Hamilton finish P4, Vettel di luar delapan besar dan Rosberg di luar empat besar. Alternatif terakhir, Hamilton finish kelima, tapi Vettel di luar sembilan besar dan Rosberg gagal masuk top five saat lomba berakhir.
Dari lima skenario di atas, opsi yang pertama lebih mungkin untuk terjadi. Dalam tiga edisi terakhir GP Amerika Serikat, Hamilton mampu menang dua kali, yaitu tahun 2012 dan 2014. Sirkuit Austin juga termasuk sirkuit favorit yang membuatnya jatuh cinta sejak pertama membalap di sana. Maka dari itu, bukan hal sulit bagi Hamilton untuk meraih kemenangan ketiganya Texas sekaligus mengunci gelar juara dunianya weekend ini.
Sementara itu, Vettel sendiri tidak mau menyerah begitu saja. Meski peluangnya sudah hampir mustahil untuk mencuri gelar, pebalap Ferrari tersebut akan berjuang sampai akhir. Untuk mencegah Hamilton menjadi juara, mantan jagoan Red Bull itu harus finish minimal di posisi kedua. Melihat performanya akhir-akhir ini, hal itu bukan sesuatu yang berat untuk dilakukan. Dia hanya fokus untuk mengalahkan Rosberg dan berharap Hamilton mengalami masalah.
Jika Vettel bisa menunda pesta juara Hamilton weekend ini, maka tiga lomba tersisa bakal semakin seru. Para F1 mania tentu saja ingin melihat persaingan untuk meraih gelar berlangsung hingga seri terakhir yang akan dihelat di Sirkuit Yas Marina, Abu Dhabi, akhir bulan November nanti.
2015 Formula 1 United States Grand Prix akan dimulai pada hari Jumat, 23 Oktober 2015, dengan sesi Free Practice 1 (22.00 WIB). Lalu, dilanjutkan hari Sabtu, 24 Oktober 2015 dengan sesi Free Practice 2 (02.00 WIB) dan sesi Free Practice 3 (22.00 WIB). Hari Minggu, 25 Oktober 2015, adalah sesi Qualifying pada pukul 01.00 WIB dan hari Senin, 26 Oktober 2015, adalah Raceday dengan start lomba mulai pukul 02.00 WIB. Live di FOX Sports 2. Selamat menonton!