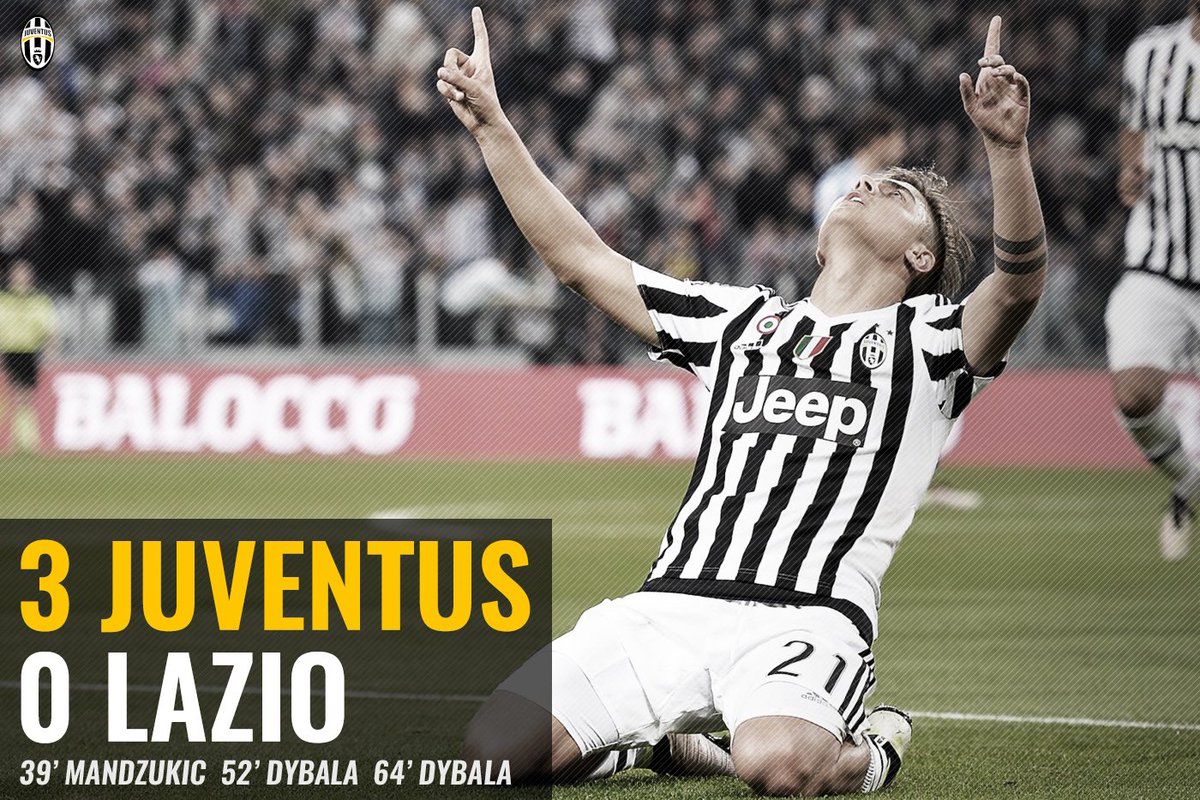 Lazio masih belum mampu meruntuhkan hegemoni Juventus. Tim asal ibu kota Italia itu kembali menjadi pecundang kala bertandang ke Turin pada hari Kamis (21/04) dini hari tadi WIB. Tidak tanggung-tanggung, pada Serie A giornata ke-34 ini, Felipe Anderson dkk tumbang 0-3 lewat gol Mario Mandzukic dan brace Paulo Dybala.
Sejak laga dimulai, Juve yang bertindak sebagai tuan rumah memang langsung menggebrak pertahanan tim tamu. Meski demikian, Lazio tetap bertahan dengan tenang dan menunggu peluang untuk melakukan serangan balik. Pertahanan Biancoceleste yang digalang oleh Santiago Gentiletti juga bermain cukup disiplin dalam menghadang gempuran Paul Pogba dkk.
Penampilan kiper Federico Marchetti juga berandil besar dalam membuat gawang Lazio tetap steril. Tercatat, dua peluang emas didapatkan oleh Dybala dan Pogba dalam 20 menit pertama. Namun, tembakan duo bintang muda Juve tersebut mampu dimentahkan oleh Marchetti dari jarak dekat. Selama ini, penjaga gawang asli Italia itu memang kerap menyelamatkan La Aquilotti agar tidak menjadi ladang gol bagi Bianconeri.
Namun, kedigdayaan Marchetti akhirnya jebol juga pada menit ke-39. Pogba yang berdiri di tiang jauh menguasai bola hasil sepak pojok Dybala. Sejurus kemudian, gelandang yang disia-siakan oleh Manchester United itu mengirim umpan silang ke depan gawang yang langsung disambar oleh Mandzukic. Skor pun berubah menjadi 1-0. Dan bertahan hingga turun minum.
Pada babak kedua, upaya tim tamu untuk menyamakan kedudukan semakin sulit. Baru beberapa menit dimulai, Patric diusir keluar lapangan oleh wasit setelah mendapat kartu kuning kedua. Bek kanan Lazio tersebut kedapatan menarik tangan Dybala yang sedang berlari menggiring bola hingga jatuh.
Bermain dengan 10 orang semakin membuat Lazio tertekan. Juve pun menjadi leluasa untuk mengembangkan permainan. Hernanes yang bertugas sebagai regista, menggantikan Claudio Marchisio yang sedang cedera, mampu menjalankan peran dalam mengatur tempo dari lini tengah dengan cukup baik.
Alhasil, tak lama kemudian, para pemain Lazio yang panik kembali membuat kesalahan. Senad Lulic menjatuhkan Leonardo Bonucci yang sedang melakukan penetrasi ke dalam kotak penalti. Wasit pun langsung menunjuk titik putih. Dybala yang maju sebagai eksekutor tak membuang peluang untuk menaklukkan kiper Marchetti. Skor pun kembali berubah menjadi 2-0 untuk Juve.
Unggul dua gol membuat tuan rumah semakin merajalela. Sementara itu, meski berupaya membangun serangan balasan, Lazio malah membuat pertahanan mereka menjadi terbuka. Akibatnya, Sami Khedira bisa dengan leluasa melakukan counter-attack dari sisi kanan. Saat memasuki kotak penalti, gelandang asal Jerman itu mengirim bola ke depan gawang yang langsung disambut dengan tembakan keras oleh Dybala. Kedudkan menjadi 3-0 untuk Juventus.
Setelah unggul jauh, pelatih Max Allegri mulai menurunkan tempo permainan. Sejumlah pemain cadangan diberi kesempatan untuk menggantikan para pemain inti agar tidak kelelahan. Stefano Sturaro, Simone Zaza, dan Kwadwo Asamoah dimasukkan, lalu Khedira, Dybala dan Pogba ditarik keluar.
Hasilnya, Juve tetap dominan dalam melakukan serangan. Namun, ketiadaan Dybala membuat finishing touch La Vecchia Signora kurang sempurna. Hingga akhir laga, skor 3-0 tetap tidak berubah. Sang Nyonya Tua pun menjaga keunggulan 9 poin di puncak klasemen atas Napoli, yang pada pertandingan sebelumnya membantai Bologna dengan setengah lusin gol tanpa balas.
Selama 90 menit melawan Lazio, Juve tercatat lebih dominan dalam ball possession hingga mencapai 56 persen. Sebanyak 19 tembakan dilontarkan oleh Daniele Rugani dkk, dengan 12 di antaranya on target, dan 3 menjadi gol. Sementara itu, dari 7 tembakan yang dilepaskan oleh Marco Parolo dkk, hanya satu yang mengarah ke gawang Buffon, yang nyaris menganggur sepanjang laga, dan tidak ada yang menjadi gol.
***
Ratings
Juventus (3-5-2): 7.5
Buffon 6; Barzagli 6.5, Bonucci 6.5, Rugani 6.5; Lichtsteiner 6.5, Khedira 7/Sturaro 6 (70'), Hernanes 6.5, Pogba 7/Asamoah 6 (82′), Alex Sandro 7; Dybala 7.5/Zaza 6 (75′), Mandzukic.
Coach: Allegri 7.5.
Lazio (4-3-3): 5
Marchetti 7; Patric 4.5, Hoedt 5, Gentiletti 5, Lulic 5; Parolo 5/Milinković-Savic 5.5 (46′), Biglia 6/Cataldi 6 (77′),Onazi 6; F. Anderson 5/Basta 5.5 (53′), Djordjevic 5.5, Keita 5.
Coach: S. Inzaghi 5.
Man of the Match: Paulo Dybala.