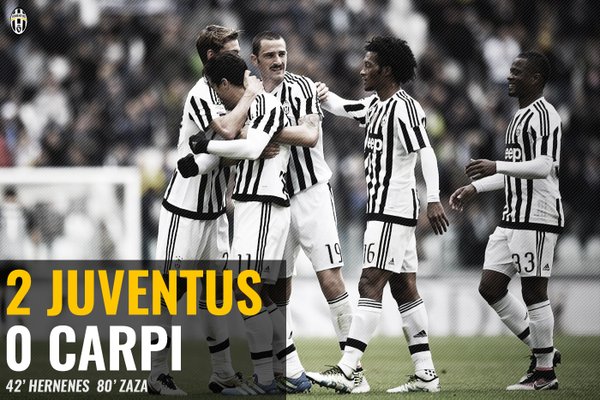 Meski menurunkan beberapa pemain cadangan dan tanpa Paulo Dybala, Juventus masih mampu membekuk Carpi dengan skor 2-0. Hernanes dan Simone Zaza adalah pencetak gol pada hari Minggu (01/05) kemarin. Laga giornata ke-36 itu memang sudah tidak menentukan karena Bianconeri sudah mengunci gelar juara Liga Serie A sepekan sebelumnya.
Meski demikian, tidak mudah bagi Juve untuk menghabisi Carpi yang notabene adalah tim gurem di Italia. Skuat besutan Castori itu mampu membahayakan pertahanan tuan rumah lewat serangan balik cepat yang dimotori oleh Mbakogu dan Verdi. Bahkan, jika bukan kiper Gigi Buffon yang melakukan penyelamatan brilian, tim Zebra mungkin sudah kebobolan oleh tembakan Suagher.
Juve sendiri berusaha tetap tenang. Paul Pogba dkk dengan telaten memainkan ciri khas mereka, yaitu operan-operan pendek. Untuk membuka pertahanan Carpi, Juan Cuadrado dan Alex Sandro juga berupaya melepaskan umpan-umpan silang dari sayap kiri dan kanan.
Usaha La Vecchia Signora untuk menjebol gawang tim tamu sendiri baru tercapai pada akhir babak pertama. Hernanes yang kali ini tampil sebagai regista melesatkan tembakan keras dari luar kotak penalti yang tak mampu dibendung oleh kiper Belec. Skor pun berubah menjadi 1-0 dan bertahan hingga turun minum.
Pada babak kedua, Juve semakin dominan. Kwadwo Asamoah dkk mengendalikan permainan secara penuh. Carpi yang tertinggal satu gol tak mampu keluar dari tekanan tuan rumah. Tidak ada lagi serangan balik yang berbahaya seperti di babak pertama.
Untuk menambah daya gedor, pelatih Max Allegri mengganti Alvaro Morata dengan Simone Zaza. Keputusan allenatore yang disia-siakan oleh AC Milan itu terbukti tepat. Pada menit ke-80, striker gundul tersebut mampu menjebol gawang Carpi lewat sundulan dengan memanfaatkan umpan Pogba.
Skor 2-0 akhirnya tidak berubah hingga wasit meniup peluit panjang. Selama 90 menit, Juve memang sangat menguasai permainan. Persentasenya mencapai 72 persen. Namun, finishing-nya kurang tajam. Buktinya, dari 19 tembakan yang mereka berondongkan, hanya tiga yang on target, dan dua yang menjadi gol. Sementara itu, dari 11 percobaan yang Carpi lakukan, hanya satu yang mengarah ke gawang Bianconeri, dan tidak ada yang menembus Buffon.
***
Ratings
Juventus (3-5-2): 6.5
Buffon 7; Rugani 6.5, Bonucci 6, Evra 6.5; Cuadrado 6/Lichtsteiner 6 (74′), Asamoah 6.5/Sturaro 6 (84'), Hernanes 6, Pogba 7, Alex Sandro 6.5; Morata 6/Zaza 6.5 (46′),Mandžukić 6.5.
Coach: Allegri 7.
Carpi (3-5-1-1): 5.5
Belec 5.5; Zaccardo 5.5, Romagnoli 5.5, Suagher 5.5; Sabelli 5, Crimi 5.5/Porcari 6 (74′), Cofie 6, Martinho 5/Lasagna 5.5 (66′), Gagliolo 5.5; Verdi 6.5/De Guzman 6 (84'); Mbakogu 5.5.
Coach: Castori 5.5.
Referee: Irrati 6.
Man of the Match: Paul Pogba.