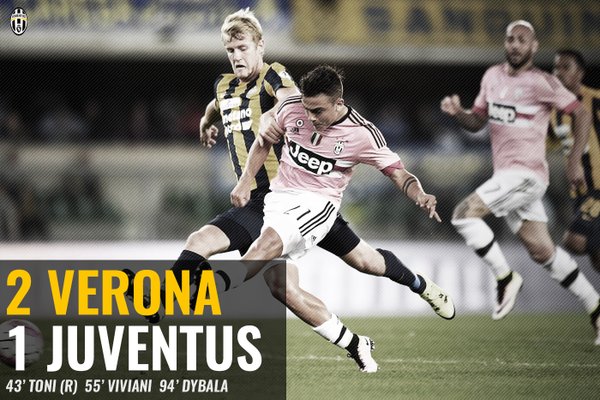 Rekor 26 pertandingan tidak terkalahkan di Liga Italia yang sudah dipegang Juventus sejak bulan Oktober tahun lalu akhirnya putus di tangan Hellas Verona. Untung saja, laga pada giornata ke-37, hari Senin (09/05) dini hari WIB tadi, sudah tidak menentukan. Juve sudah pasti menjadi juara Serie A musim ini dan Verona sudah pasti terdegradasi ke Serie B musim depan.
Turun tanpa sejumlah pemain inti yang sedang cedera dan terkena hukuman akumulasi kartu, Bianconeri sebenarnya langsung tampil menyerang sejak awal laga. Namun, tim tuan rumah mampu bertahan dengan disiplin dan sesekali melancarkan serangan balik. Alhasil, bola yang dikuasai Juve lebih banyak berputar di lini tengah yang ditempati oleh Stefano Sturaro, Mario Lemina, dan Kwadwo Asamoah.
Ketiadaan Claudio Marchisio dan Paul Pogba memang membuat kreativitas Juve menjadi macet. Paulo Dybala yang berduet dengan Simone Zaza di depan harus bekerja sendirian untuk membongkar benteng pertahanan Verona. Serangan-serangan tim Zebra selalu mengalami kebuntuan dan gagal menembus kotak penalti Luca Marrone dkk.
Sepanjang babak pertama, berbagai upaya sudah dilakukan oleh sang Nyonya Tua untuk membombardir pertahanan tim tuan rumah, termasuk melancarkan umpan melalui kedua sayap yang dihuni oleh Juan Cuadrado dan Alex Sandro. Hanya saja, Verona bertahan dengan sangat taktis dan "memarkir bus" di dalam kotak penalti.
Menjelang turun minum, Alex Sandro melakukan pelanggaran yang berakibat jatuhnya Eros Pisano di kotak terlarang. Wasit pun langsung menghadiahi bek asal Brasil itu dengan kartu kuning dan menunjuk titik putih. Luca Toni, yang bermain untuk terakhir kalinya di Stadio Marc-Antonio Bentegodi sebelum gantung sepatu, kemudian maju sebagai algojo. Tembakan penalti ala Panenka mantan striker Juve itu mampu mengecoh kiper Norberto Neto dan membuat skor menjadi 1-0.
Di babak kedua, meski terus berusaha menyamakan kedudukan, Juve tetap gagal menjebol gawang Verona. Malah, tim rival sekota Chievo itu yang akhirnya mampu menambah keunggulan dengan memanfaatkan lengahnya pertahanan tim tamu. Melalui counter-attack cepat, Federico Viviani dengan mudah mencetak gol dan mengubah skor menjadi 2-0.
Di ambang kekalahan, para pemain Juve tampak frustrasi. Masuknya Roberto Pereyra, Simone Padoin, dan Giorgio Chiellini tak mampu mengubah keadaan. Serangan-serangan yang mereka lancarkan selalu kandas. Malah, di masa injury time, Alex Sandro mendapat kartu kuning kedua dan diusir wasit keluar lapangan.
Meski demikian, Juve akhirnya mendapatkan gol hiburan lewat eksekusi Dybala beberapa saat sebelum peluit panjang dibunyikan. Wasit menunjuk titik penalti setelah Zaza dijatuhkan Filip Helander di dalam kotak terlarang. Skor pun menjadi 2-1, tetap untuk keunggulan Verona.
Selama 90 menit, La Vecchia Signora sebenarnya lebih dominan dalam penguasaan bola. Hingga mencapai 59 persen. Namun, dari 16 tembakan yang mereka berondongkan, hanya 5 yang on target, dan 1 yang menjadi gol. Itu pun lewat penalti. Sementara itu, Verona bermain sedikit lebih efektif. Dari 12 percobaan, 4 di antaranya mengarah ke gawang Neto, dan 2 menjadi gol.
***
Ratings
Hellas Verona (4-2-3-1): 7
Gollini 7; Pisano 6.5, Bianchetti 6, Helander 6.5, Emanuelson 6.5; Viviani 7.5, Marrone 6/Greco 6 (80′); Wszolek 6.5, Ionita 6.5, Siligardi 6.5/Romulo 6 (65′); Toni 7.5/Juanito Gomez 6 (85′).
Coach: Delneri 7.
Juventus (3-5-2): 5
Neto 6; Barzagli 6/Chiellini 6 (72′), Bonucci 5, Rugani 6.5; Cuadrado 5.5, Sturaro 5.5/Pereyra 5.5 (62′), Lemina 5.5, Asamoah 5.5/Padoin 5.5 (71′), Alex Sandro 4.5; Zaza 6, Dybala 6.5.
Coach: Allegri 5.5.
Man of the Match: Luca Toni.