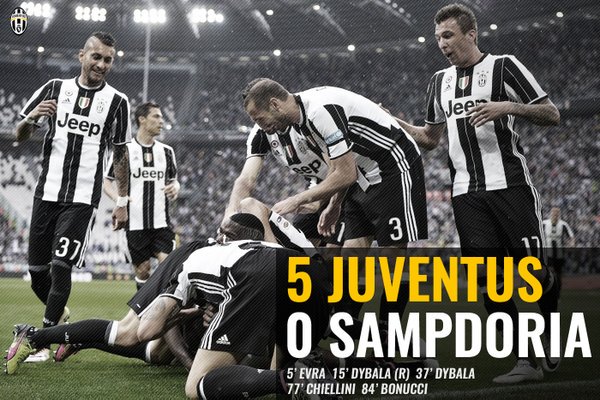 Juventus menutup kompetisi Liga Italia musim ini dengan membantai Sampdoria di kandang sendiri. Lima gol kemenangan La Vecchia Signora dicetak oleh trio bek Patrice Evra, Giorgio Chiellini, dan Leonardo Bonucci, serta man of the match Paulo Dybala yang memborong dua gol pada hari Sabtu (14/05) malam WIB yang lalu.
Setelah secara mengejutkan ditumbangkan oleh tim juru kunci Hellas Verona sepekan sebelumnya, Juve memang tidak mau kecolongan saat menjamu Sampdoria. Sejak menit awal, Paul Pogba dkk sudah menekan pertahanan tim asuhan Vincenzo Montella tersebut. Hasilnya, pada menit ke-5, sang Nyonya Tua sudah membuka keunggulan melalui Patrice Evra. Bek kiri berpengalaman asal Prancis itu memanfaatkan umpan tendangan bebas dari Dybala.
Tertinggal satu gol, bukannya membalas, Sampdoria malah membuat blunder. Milan Skriniar menjegal Mario Mandzukic dari belakang di kotak terlarang. Tak pelak, wasit pun langsung menunjuk titik putih dan menghadiahi bek 21 tahun tersebut dengan kartu merah. Dybala yang maju sebagai eksekutor tak membuang peluang dengan menjebol gawang tim tamu pada menit ke-14.
Bermain dengan 10 orang dan tertinggal 2 gol, Sampdoria praktis sudah game over. Juventus pun semakin merajalela. Alhasil, pada menit ke-37, Dybala kembali merobek gawang Alberto Brignolli dengan gol spektakuler dari luar kotak penalti. Skor berubah menjadi 3-0 dan tetap bertahan hingga turun minum.
Pada babak kedua, Juve mulai menurunkan tempo permainan. Pelatih Max Allegri menarik keluar Roberto Pereyra, Mario Mandzukic, dan Paulo Dybala karena tenaga mereka masih dibutuhkan untuk melawan Milan di final Coppa Italia pekan depan. Meski demikian, Sampdoria tetap sulit berkembang. Fabio Quagliarella dkk tak kuasa memberi perlawanan yang membahayakan gawang Norberto Neto.
Juventus baru mampu menambah keunggulan pada menit ke-77. Giorgio Chiellini berhasil memanfaatkan bola muntah hasil sepak pojok untuk mengubah skor menjadi 4-0. Sekitar delapan menit berselang, Leonardo Bonucci tak mau ketinggalan dengan menutup pesta tuan rumah menjadi 5-0. Lagi-lagi melalui umpan dari tendangan sudut.
Juventus akhirnya mengakhiri Serie A musim ini dengan 91 poin. Unggul 9 angka dari Napoli yang termehek-mehek di posisi kedua. Pesta juara dan penganugerahan piala langsung digelar di J-Stadium setelah laga giornata ke-38. Sejarah sudah dicatat. Tim Zebra meraih scudetto lima kali beruntun dalam lima musim terakhir. Meski demikian, misi musim ini belum tuntas. Masih ada partai final Coppa Italia melawan AC Milan pada hari Minggu (22/05) dini hari WIB yang akan datang.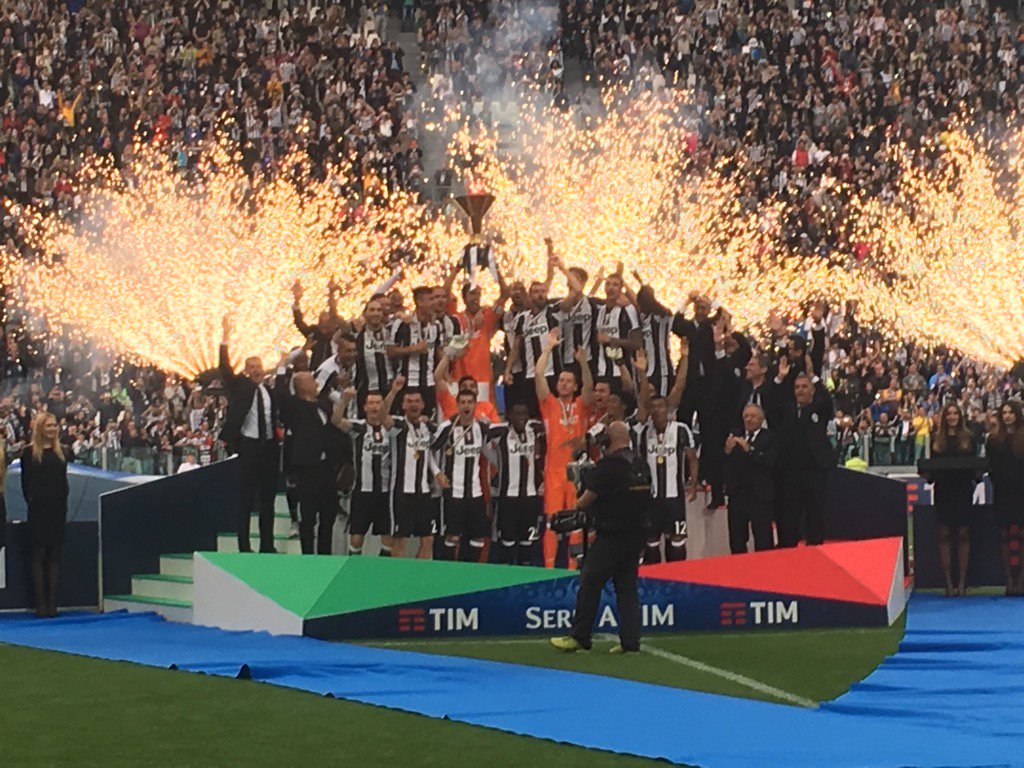 ***
Ratings
Juventus (3-5-2): 7.5
Neto 6.5; Barzagli 6.5, Bonucci 6.5, Chiellini 6.5; Lichtsteiner 6.5, Pereyra 6/Sturaro 6 (66′), Hernanes 6.5, Pogba 7, Evra 6.5; Mandzukic 6.5/Zaza 6 (75′), Dybala 8/Morata 6.5 (67′).
Coach: Allegri 8.
Sampdoria (3-5-2): 5
Brignoli 6; Diakite 5, Silvestre 5, Skriniar 4.5; Sala 5/Ranocchia 5.5 (55′), Correa 5/Soriano 5.5 (76′), Krsticic 5, Barreto 5, Dodo 5; Alvarez 6, Quagliarella 5/Ponce 6 (86′).
Coach: Montella 5.
Man of the Match: Paulo Dybala.