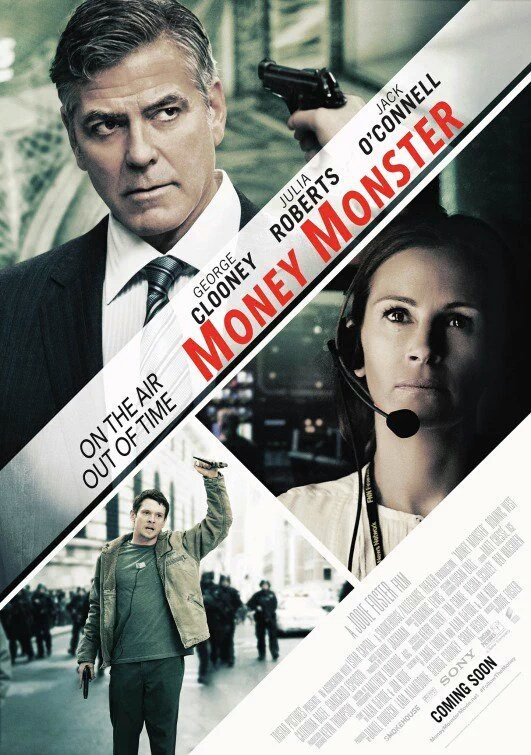 Selama ini Jodie Foster dikenal sebagai aktris kawakan pemenang Piala Oscar. Tidak banyak yang tahu bahwa lawan main Anthony Hopkins di The Silence of the Lambs (1991) itu juga seorang sutradara. Salah satu karya terbarunya bisa kita nikmati lewat Money Monster yang tayang di Indonesia mulai hari Jumat (27/5) ini.
Film yang mengusung bintang-bintang ternama tersebut mengisahkan tentang acara televisi "Money Monster". Membahas tentang perkembangan jual beli saham Wall Street. Bertindak sebagai host adalah Lee Gates (George Clooney) yang sangat karismatis dan mampu menarik perhatian penonton. Sementara itu, Patty Fenn (Julia Roberts) adalah produsernya.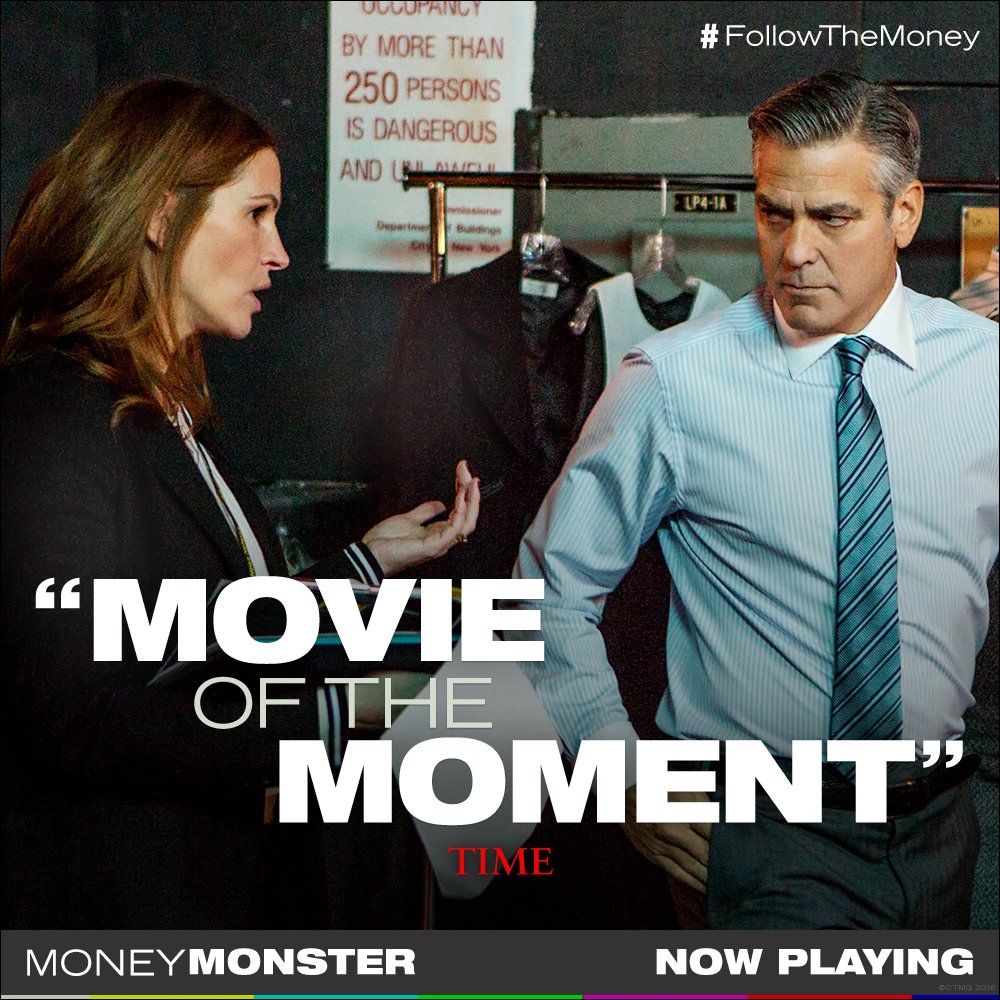 Dalam perkembangannya, acara televisi ini sukses meraih rating tinggi. Para penonton di seluruh dunia menyaksikannya. Banyak investor yang akhirnya menanam saham berdasarkan saran dari Money Monster. Lee Gates pun menjadi sangat terkenal.
Namun, ternyata, di balik kesuksesan tersebut. Ada satu sosok hater bernama Kyle Budwell (Jack O'Connell) yang tidak suka. Dia adalah seorang investor yang merasa dirugikan dan dibohongi karena menuruti Money Monster. Sakit hati, Kyle lalu menyelinap ke dalam stasuin televisi. Dengan bersenjatakan pistol dan bom C4, dia menyandera Gates yang sedang melakukan siaran live.
Kepanikan pun terjadi. Kyle lalu memasang bom baju ke tubuh Gates dan memaksanya untuk membongkar konspirasi di balik Money Monster ke penonton. Dengan dibantu oleh polisi, sang produser Patty Fenn pun berencana membebaskan Gates. Mampukah mereka menyelamatkan Gates? Kebohongan apa yang sebenarnya disembunyikan oleh program televisi terkenal tersebut?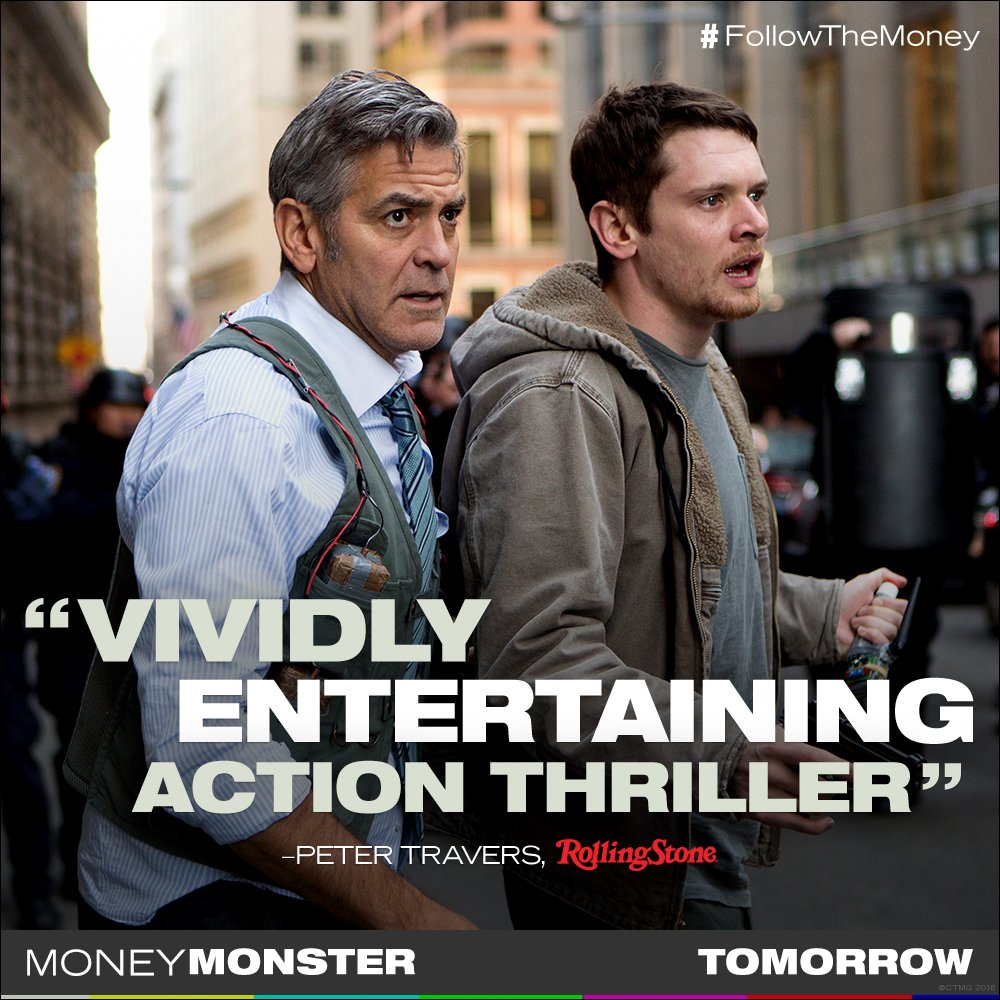 Di film ini, Jodie Foster selaku sutradara dianggap mampu menampilkan dapur produksi sebuah acara televisi dengan detail. Selain itu, aktris berusia 53 tahun tersebut juga berhasil mengelola konflik yang terjadi di antara tokoh-tokohnya dengan apik. Tak heran, Money Monster mendapat sambutan positif di Festival Film Tribeca dan Festival Film Cannes ke-69 yang lalu.
Jodie Foster pun mendapat banyak pujian. Tak banyak film besutan sutradara perempuan yang mampu memikat perhatian penonton. Apalagi di festival internasional semacam Cannes. Money Monster dinilai mampu menyajikan cerita yang mendalam dan menghadirkan thriller yang mencekam.
Selaku sutradara wanita, Jodie Foster sebenarnya tidak ingin diistimewakan. Selain itu, dia juga berusaha mengusung kesetaraan gender dengan mengangkat tema feminis dalam filmnya. Maka dari itu, ditampilkanlah sosok produser dalam diri Patty Fenn yang tegas. Yang diperankan secara apik oleh Julia Roberts.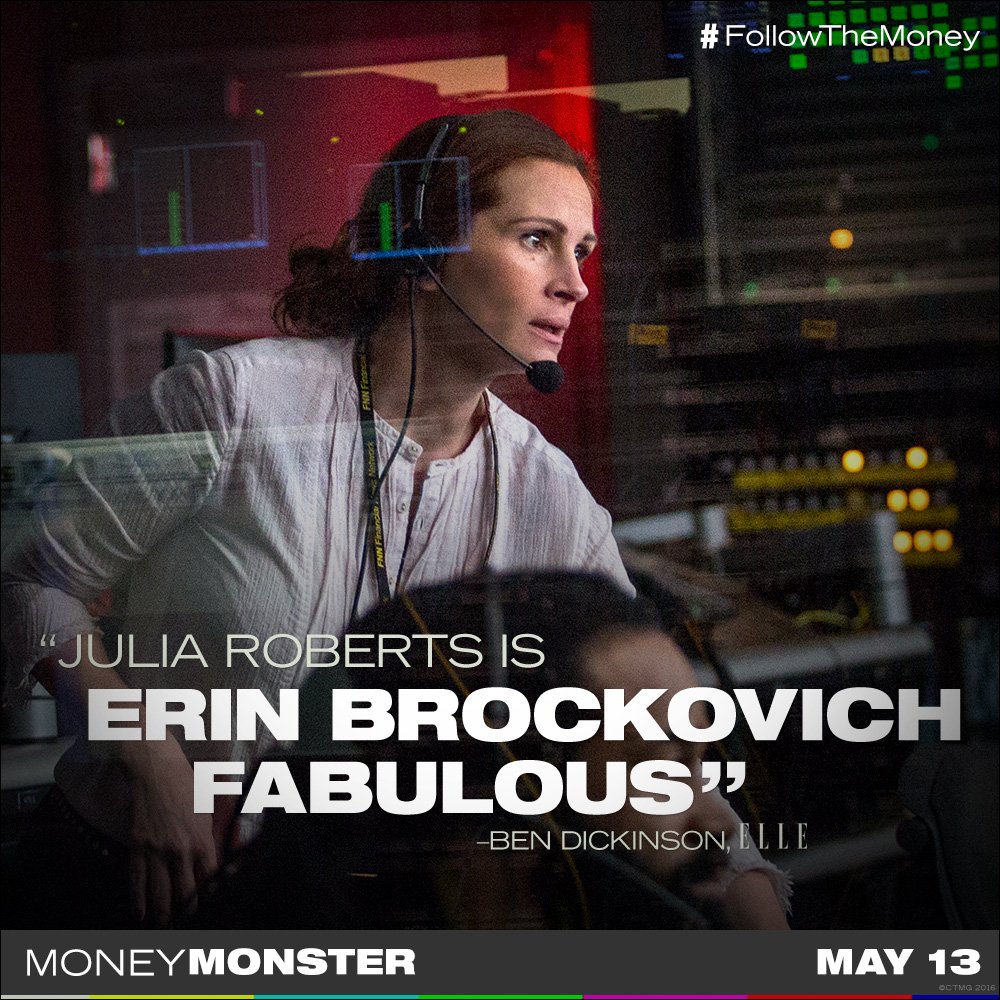 Kehadiran dua bintang papan atas semacam Julia Roberts dan George Clooney memang menjadi salah satu kekuatan utama Money Monster. Ditambah lagi, ada Jack O'Connell, tokoh antagonis yang membuat film ini semakin menarik.
Meski tergolong muda jika dibandingkan dengan Clooney dan Roberts, O'Connell mampu bekerja sama dengan baik. Aktingnya bisa mengimbangi dua bintang kawakan tersebut. Mungkin itu ditunjang oleh pengalamannya yang pernah tampil bareng Clooney di Ocean Eleven (2001).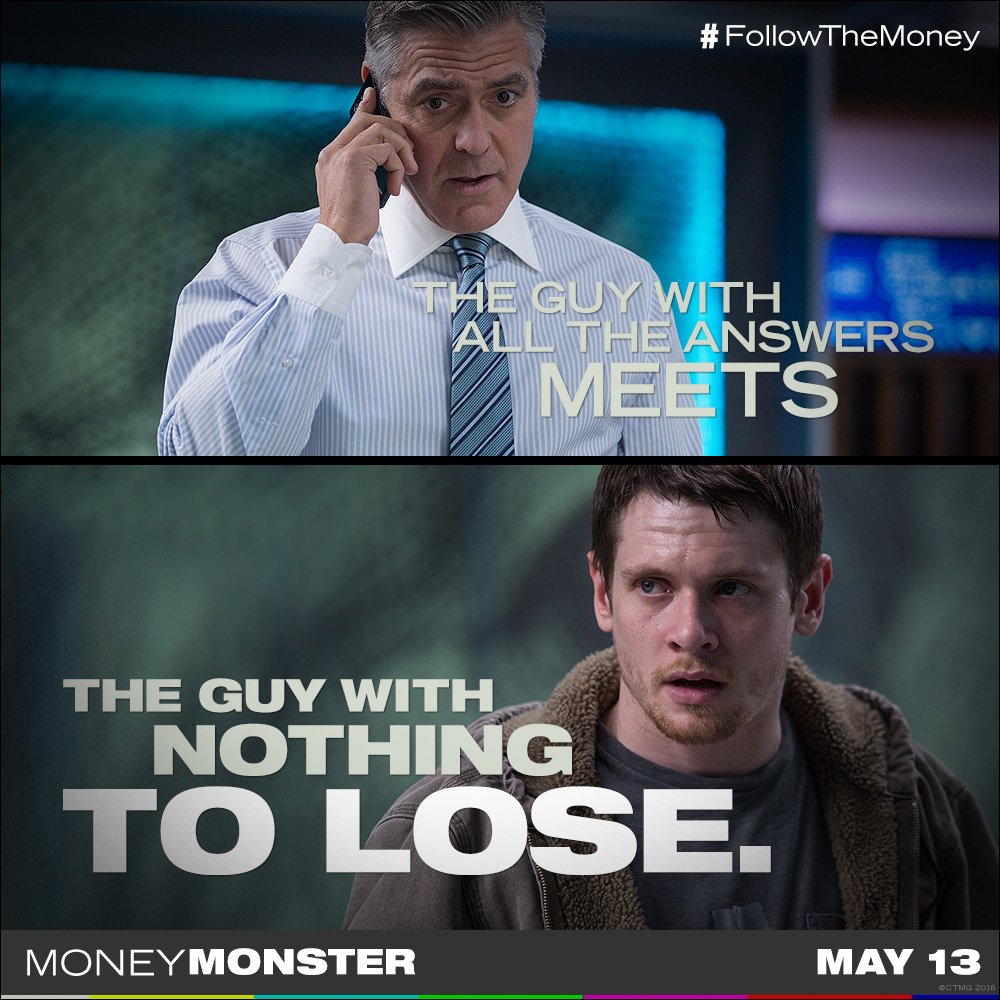 Secara garis besar, setelah dirilis sejak tanggal 13 Mei 2016 di Amerika Serikat, Money Monster mendapat rating yang lumayan dari sejumlah situs review. Di tengah himpitan blockbuster semacam Captain America: Civil War, film berdurasi 98 menit ini juga berhasil mengumpulkan pemasukan yang melewati bujetnya, USD 27 juta. Sayangnya, di Indonesia tampaknya masih sedikit bioskop-bioskop yang menayangkannya.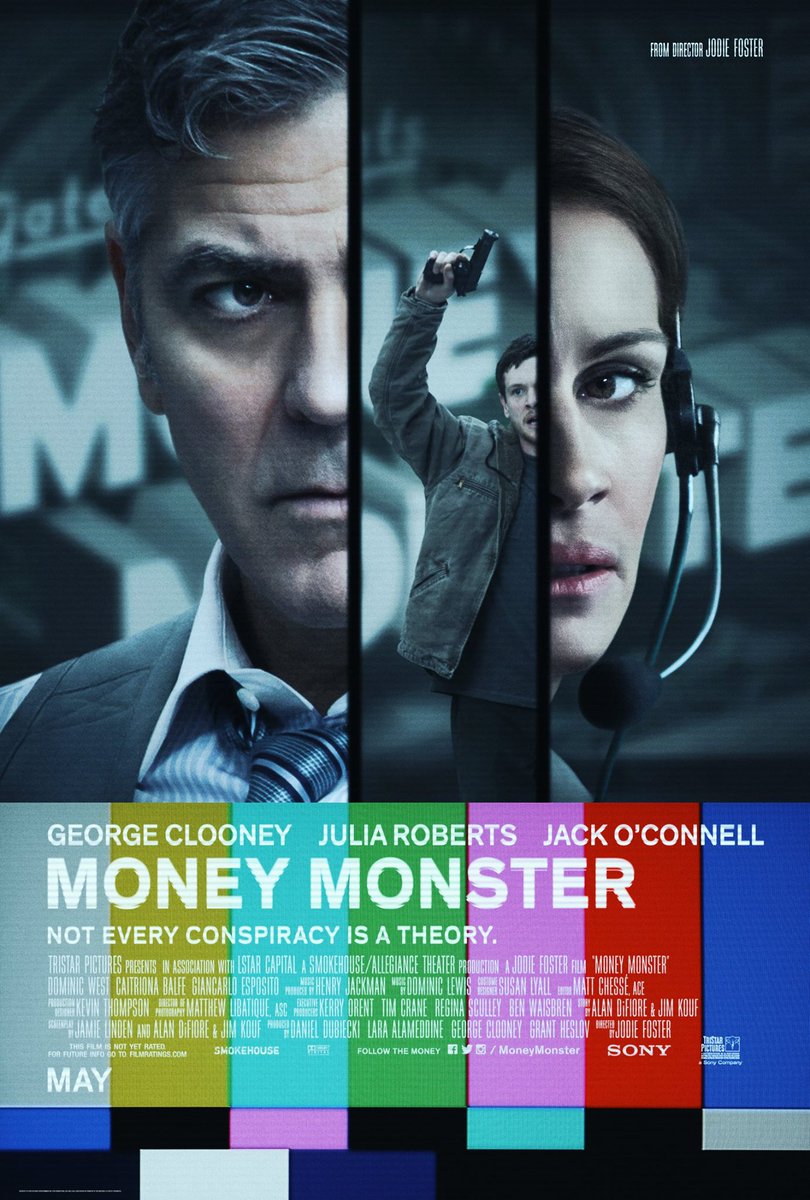 ***
Money Monster
Sutradara: Jodie Foster
Produser: Lara Alameddine, George Clooney, Daniel Dubiecki, Grant Heslov
Penulis Skenario: Alan Di Fiore, Jim Kouf, Jamie Linden
Pengarang Cerita: Alan Di Fiore, Jim Kouf
Pemain: George Clooney, Julia Roberts, Jack O'Connell, Dominic West, Caitriona Balfe, Giancarlo Esposito
Musik: Dominic Lewis
Sinematografi: Matthew Libatique
Penyunting: Matt Chesse
Produksi: The Allegiance Theater, IM Global, Smoke House Pictures
Distributor: TriStar Pictures
Budget: USD 27 juta
Durasi: 98 menit
Rilis: 13 Mei 2016 (Amerika Serikat), 27 Mei 2016 (Indonesia)
Ratings
IMDb: 6,8
Rotten Tomatoes: 5,9
Metacritic: 5,4