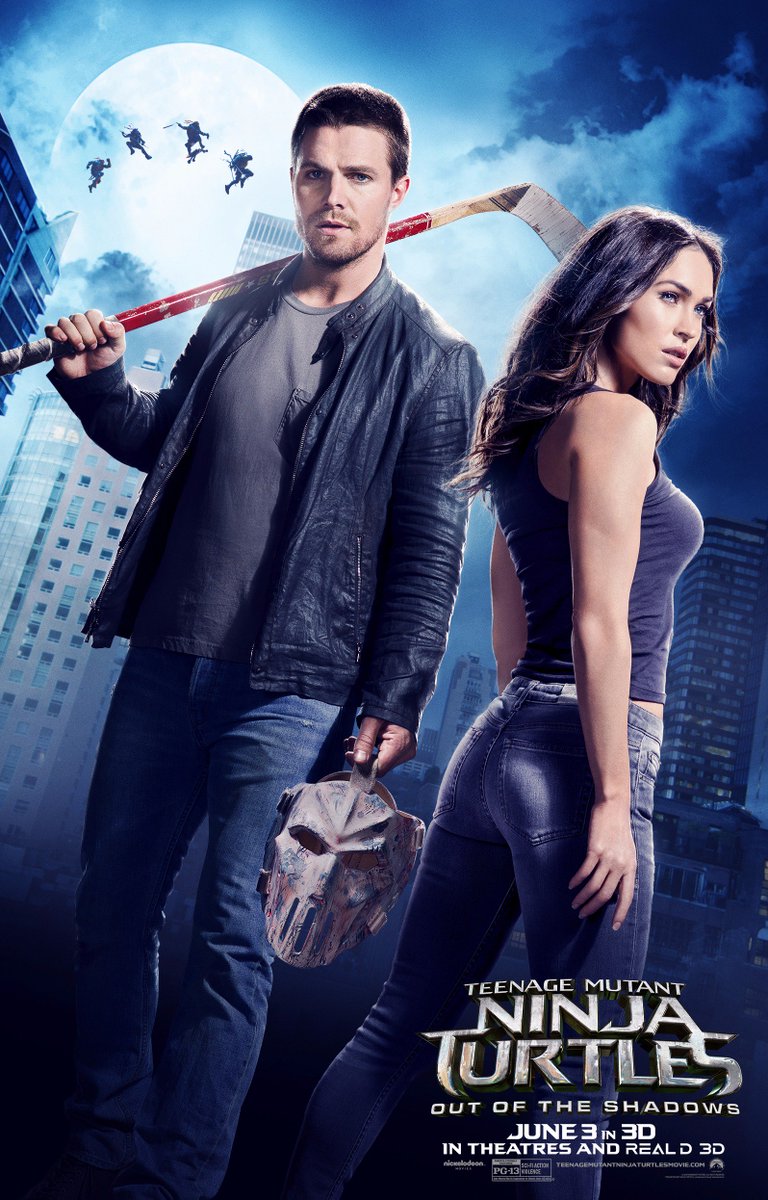 Meski mendapat review negatif, film reboot Teenage Mutant Ninja Turtles (TMNT) yang dirilis pada tahun 2014 mampu mereguk pemasukan hampir USD 500 juta. Dengan modal hanya USD 125 juta. Mungkin, kesuksesan inilah yang memicu Paramount Pictures dan Nickelodeon Movies untuk membuat sekuelnya, TMNT2. Yang semula diberi subjudul Half Shell, sebelum akhirnya diganti menjadi Out of the Shadows.
Berbeda dengan TMNT seri pertama yang dibesut Jonathan Liebesman, TMNT2 digarap oleh Dave Green, sutradara Earth to Echo (2014). Sementara itu, Michael Bay, yang terkenal dengan franchise Transformers-nya, tetap bertindak sebagai produser. Tak heran, aroma adegan action ala Transformers terasa kental di film berdurasi 112 menit ini. Demikian juga dengan musiknya yang diracik oleh Steve Jablonsky.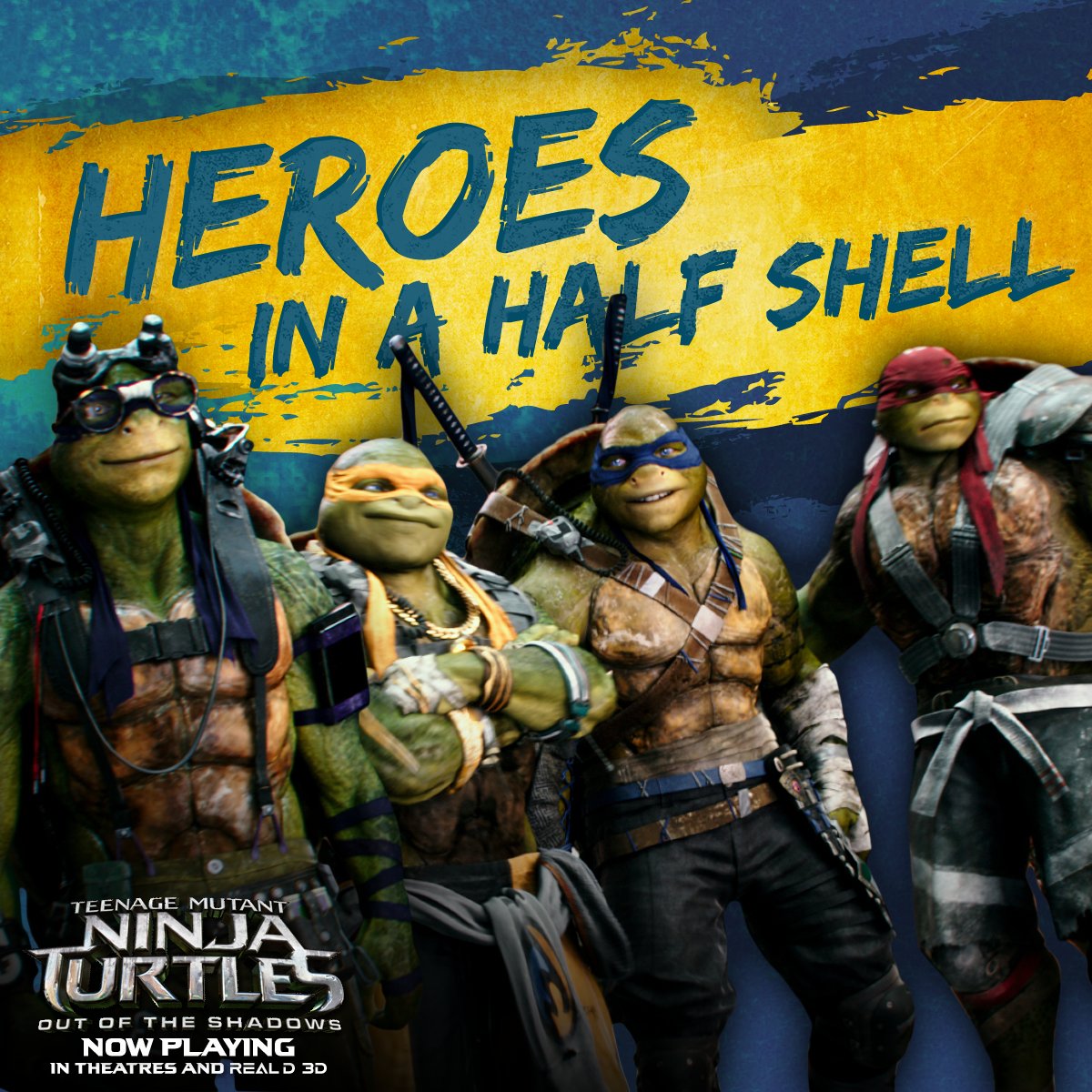 Kabarnya, budget yang dihabiskan untuk membuat TMNT2 mencapai USD 135 juta. Sedikit lebih mahal daripada film pendahulunya. Biaya sebesar itu tergolong wajar. Karena penggunaan teknologi sangat mendominasi film berformat 3-dimensi (3D) ini.
Special effect CGI (computer generated imagery) yang ditampilkan juga cukup lumayan. Banyak adegan seru yang dihasilkan. Salah satunya, saat keempat kura-kura ninja terjun bebas dari pesawat. Sutradara Dave Green menjamin, para penonton bakal merasa ikut terbang saat melihat kualitas gambar yang mereka sajikan.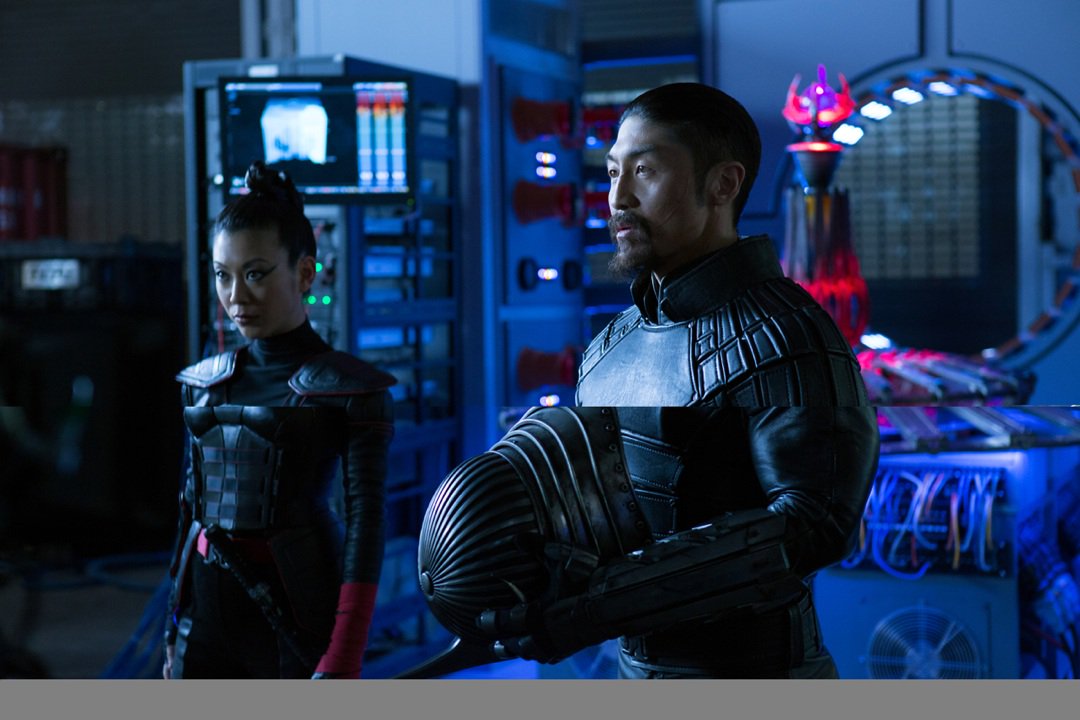 Dibandingkan dengan film yang pertama, TMNT2 menampilkan lebih banyak karakter. Baik protagonis maupun antagonis. Selain Bebop (Gary Anthony Williams) dan Rocksteady (Stephen Farelly), serta The Shredder (Brian Tee) dengan penampilan barunya, juga bakal muncul villain yang cukup ikonis, yaitu Krang (Brad Garrett).
Di versi kartun, Krang adalah sosok alien dari galaxy Dimension X yang berbentuk semacam otak bertentakel dan berwarna pink. Dia melakukan aktivitas dengan hidup di perut sebuah robot gendut. Makhluk menjijikkan ini kemudian bekerja sama dengan Shredder, yang dibantu oleh Karai (Brittany Ishibashi), Bebop, Rocksteady, dan Foot Clan-nya, untuk menginvasi bumi. Yang dimulai dari Kota New York.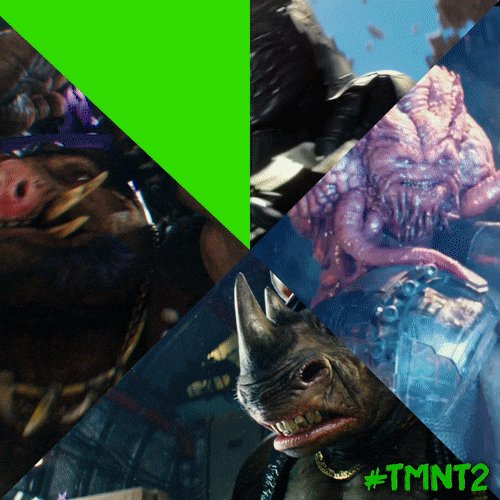 Selain Krang, tokoh antagonis yang tak boleh dilupakan adalah Dr. Baxter Stockman (Tyler Perry). Yang diperintahkan oleh Shredder untuk membuka portal Dimension X. Sosok ilmuwan sinting ini pulalah yang mengubah dua berandalan, Bebop dan Rocksteady, menjadi mutan pandir berwujud badak dan babi hutan. Dengan menggunakan serum pemberian Krang.
Di lain pihak, Leonardo (Pete Ploszek), Donatello (Jeremy Howard), Raphael (Alan Ritchson), dan Michaelangelo (Noel Fisher) kali ini juga mendapat bantuan tambahan untuk melawan Shredder dkk. Selain Master Splinter (Danny Woodburn), April O'Neil (Megan Fox) dan sang kameramen, Vern Fenwick (Will Arnett), empat sekawan Kura-Kura Ninja tersebut disokong oleh Casey Jones (Stephen Amell). Sosok pahlawan bertopeng yang bersenjatakan stick hockey.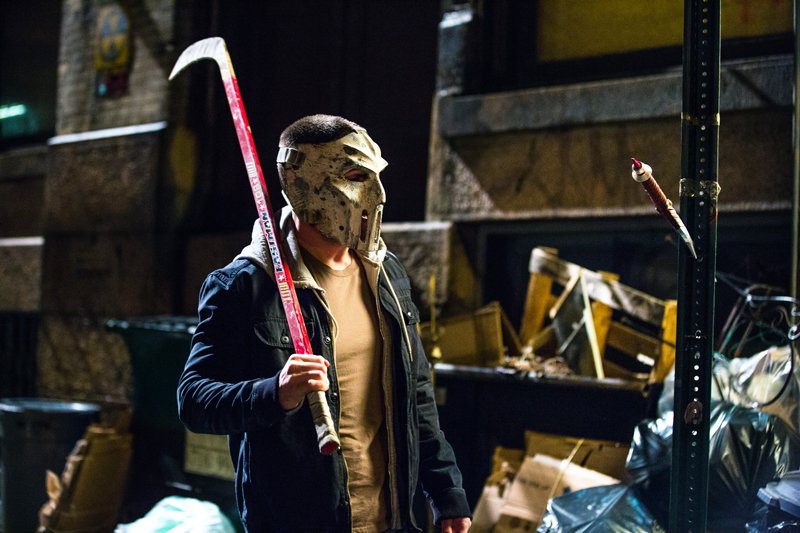 Bagi penggemar serial televisi Arrow-nya DC Comics, Stephen Amell tentu bukan wajah yang asing. Menurut Amell, ada kemiripan antara Casey dengan Oliver Queen alias Arrow yang dia perankan. Keduanya sama-sama vigilante. Yang membela kebenaran di luar koridor hukum.
Dibandingkan dengan film-film superhero lainnya, dari segi cerita, franchise TMNT memang agak berbeda. Selain aksi dan animasi, unsur humornya juga sangat kental. Bahkan, sutradara Dave Green menjadikan komedi sebagai segi utama yang dia tonjolkan, terutama lewat sosok Michaelangelo.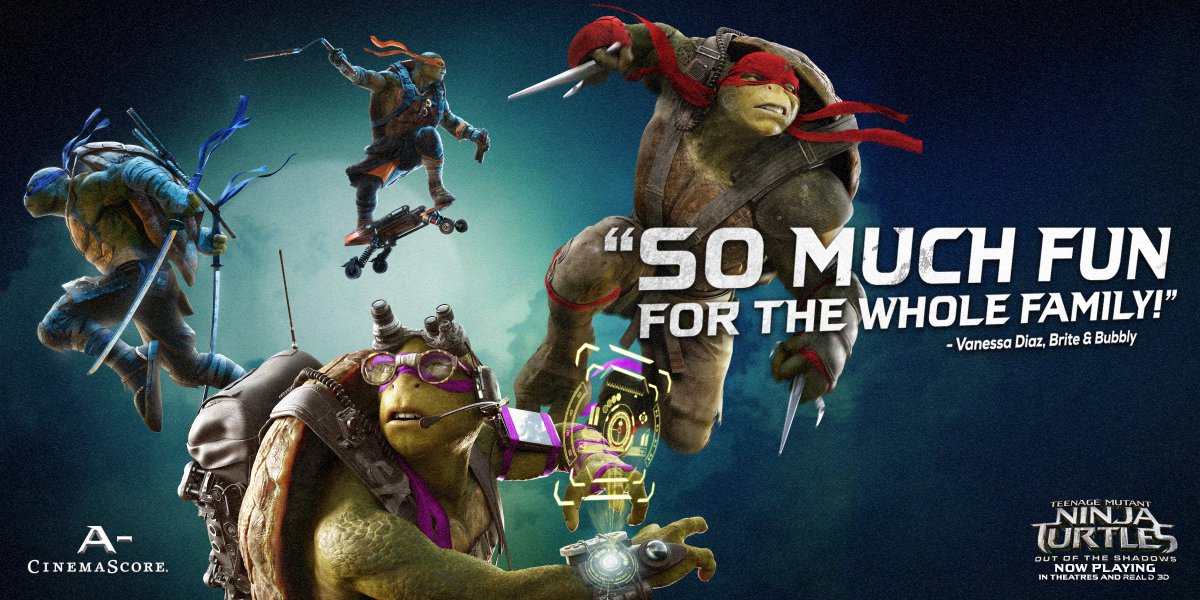 Sayangnya, setelah diputar secara terbatas di Madison Square Garden, New York, pada tanggal 22 Mei 2016 yang lalu, para pengamat menyambut negatif TMNT2. Plot ceritanya dianggap mengalir terlalu cepat. Karakter tokoh-tokohnya, terutama para villain, tidak tergali dengan maksimal. Mereka hanya mendapat porsi kecil.
Alhasil, sejauh ini, sejumlah situs review memberi rating yang kurang positif untuk TMTN2. Meski demikian, seperti seri pendahulunya, film yang sudah tayang di Indonesia sejak hari Rabu (1/6) ini diramal tetap mampu menuai profit. Kehadiran si sexy Megan Fox tetap menjadi magnet tersendiri untuk menarik penonton. Para produser pun kabarnya sudah menyiapkan sekuel ketiganya.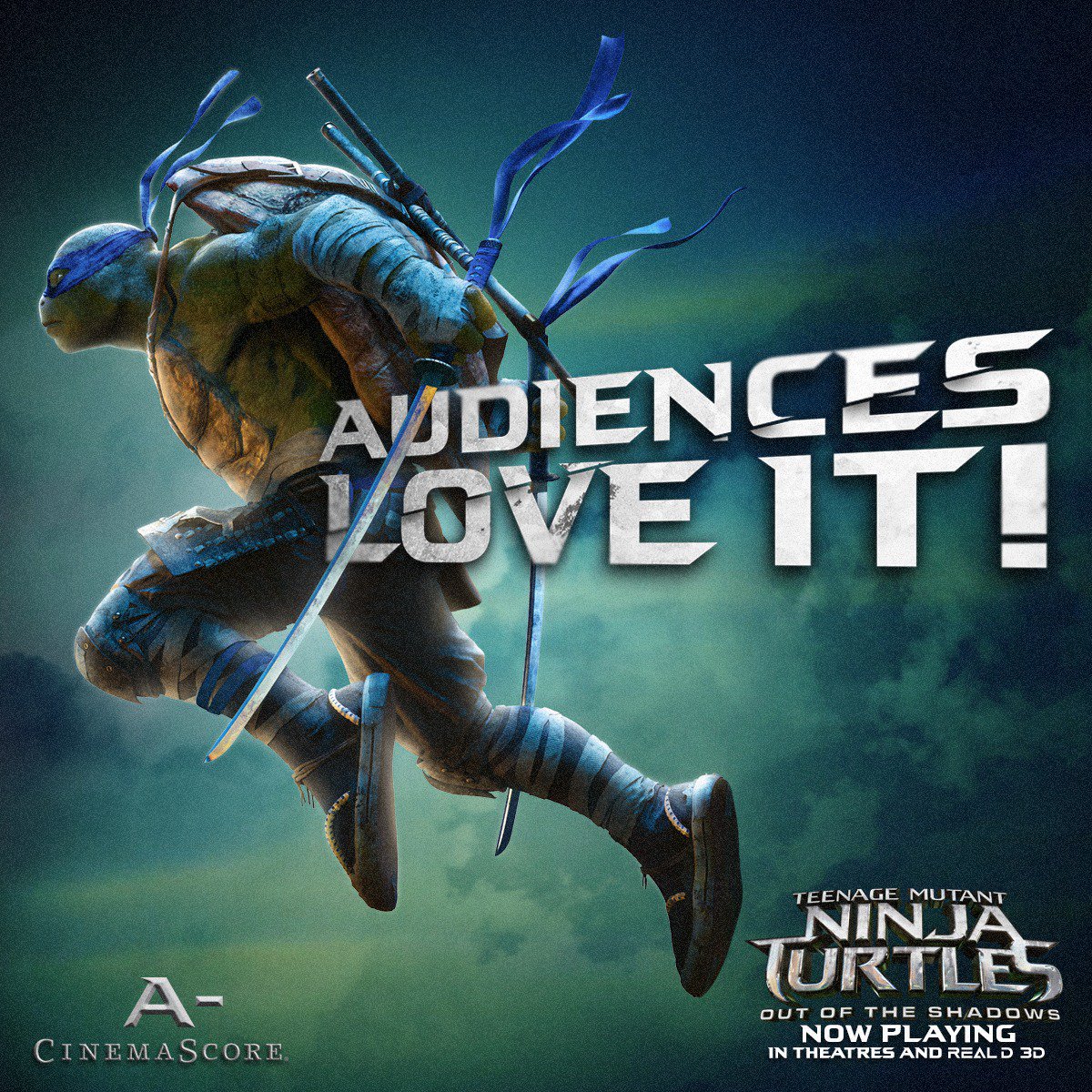 ***
Teenage Mutant Ninja Turtles: Out of the Shadows
Sutradara: Dave Green
Produser: Michael Bay, Andrew Form, Brad Fuller, Scott Mednick, Galen Walker
Penulis Skenario: Josh Appelbsum. Andre Nemec
Diadaptasi dari: Teenage Mutant Ninja Turtles by Kevin Eastman & Peter Laird
Pemain: Megan Fox, Stephen Amell, Will Arnett, Brian Tee, Tyler Perry, Brittany Ishibashi, Laura Linney
Musik: Steve Jablonsky
Sinematografi: Lula Carvalho
Penyunting: Jim May, Bob Ducsay
Produksi: Nickelodeon Movies, Platinum Dunes, Gama Entertainment, Mednick Production, Smithrowe Entertainment
Distributor: Paramount Pictures
Budget: USD 135 juta
Durasi: 112 menit
Rilis: 1 Juni 2016 (Indonesia), 3 Juni 2016 (Amerika Serikat)
Ratings
IMDb: 6,8
Rotten Tomatoes: 4,7
Metacritic: 4,2