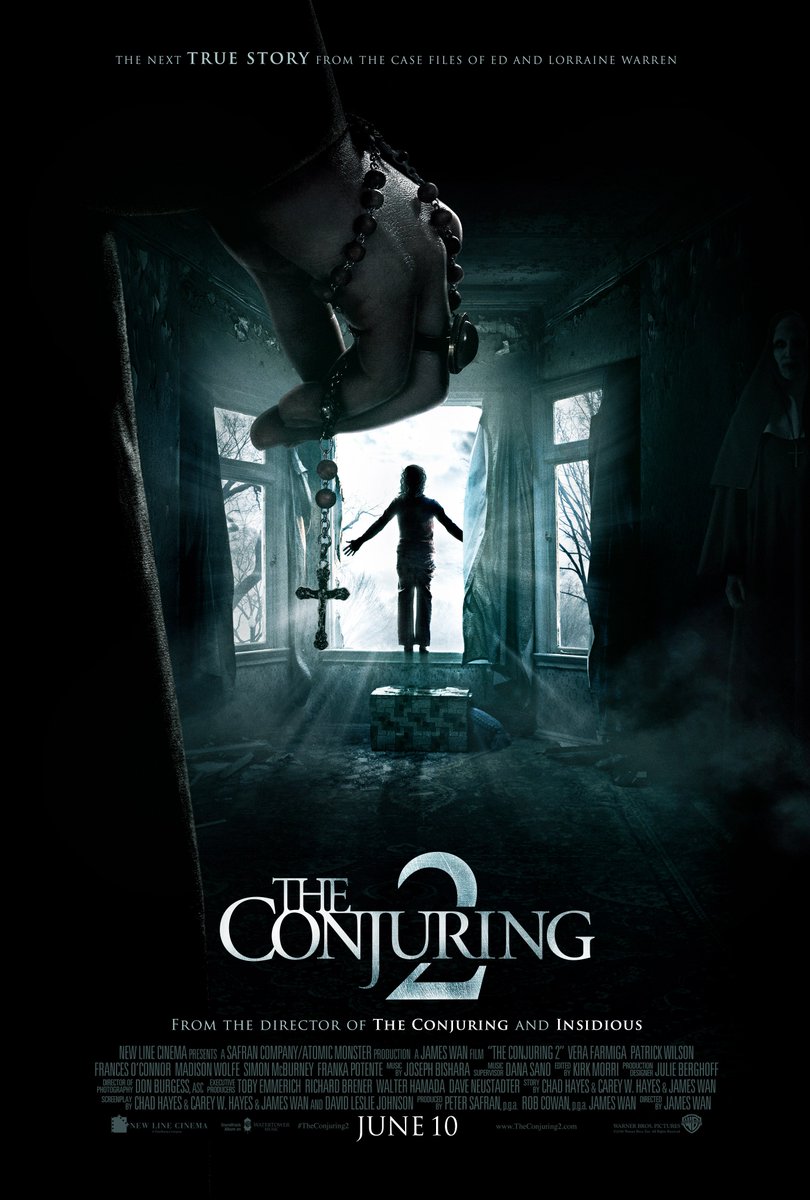 Inilah film horror yang paling ditunggu tahun ini. Tayang mulai hari Jumat (10/6) di Indonesia. The Conjuring 2. Sekuel dari The Conjuring (2013). Salah satu film horror terbaik dan terseram sepanjang masa selain The Exorcist (1973) dan Poltergeist (1982). Mahakarya sutradara kelahiran Malaysia. James Wan.
Seperti film pertamanya, The Conjuring 2 kembali mengangkat kisah nyata suami-istri investigator paranormal, Ed dan Lorraine Warren. Kasus-kasus supranatural yang pernah ditangani oleh pasangan ini sudah banyak yang difilmkan. Antara lain, The Amityville Horror (1979 dan 2005), The Haunted (1991), The Haunting in Connecticut (2009), The Conjuring (2013), Annabelle (2014), dan yang terbaru, The Conjuring 2: The Enfield Poltergeist (2016) ini.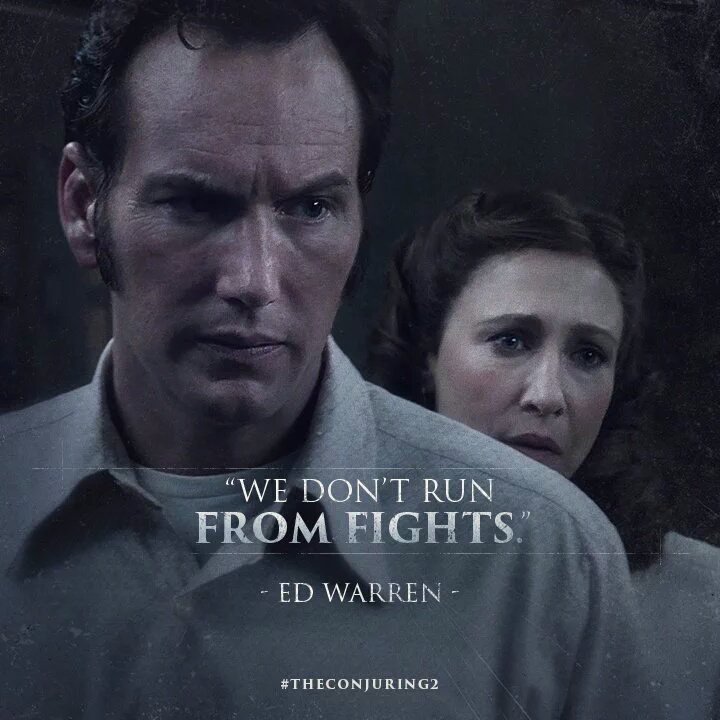 Ceritanya, pada 1977, Ed Warren (Patrick Wilson) dan Lorraine Warren (Vera Farmiga) dimintai bantuan oleh Peggy Hodgson (Frances O'Connor). Ibu empat anak itu merasa desperate karena mendapati roh jahat telah menghantui rumah yang dihuni keluarganya di Enfield, London.
Di antara keempat anak Peggy, yang paling sering diganggu adalah Janet (Madison Wolfe). Peristiwa poltergeist (benda-benda tajam tiba-tiba melayang seperti memiliki kekuatan magis) kerap menghantui gadis berusia 11 tahun tersebut. Bahkan, ada satu foto asli yang memperlihatkan tubuh Janet melayang di atas kasur setelah dirasuki roh.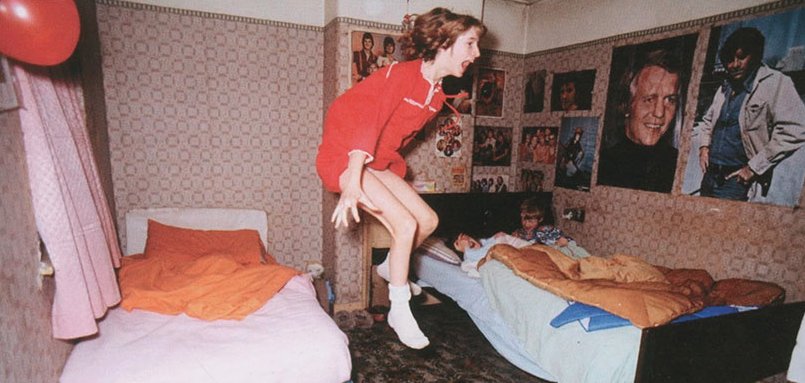 Ed dan Lorraine Warren pun memutuskan untuk membantu keluarga Hodgson agar bisa kembali hidup tenang. Mampukah mereka mengusir roh jahat tersebut? Bagaimana dengan nasib Janet? Apakah dia bisa diselamatkan?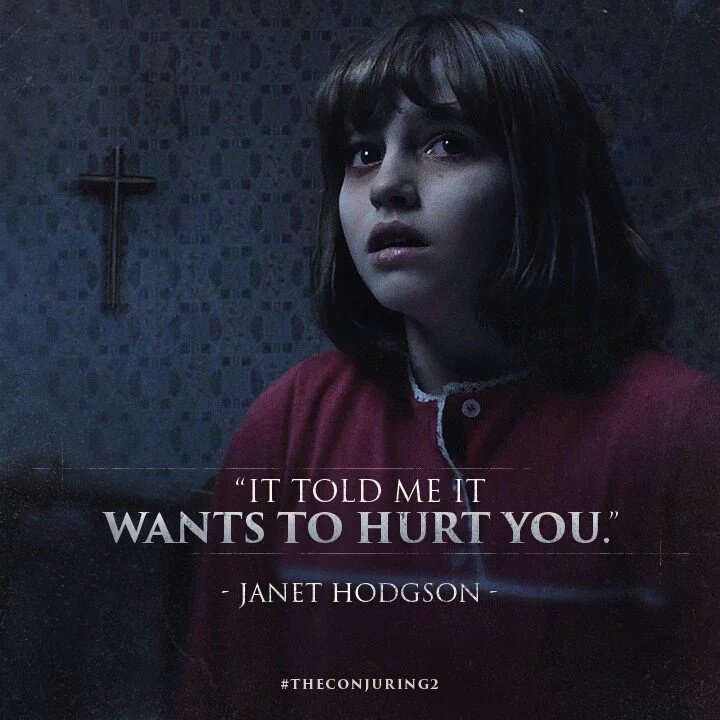 Dalam menggarap The Conjuring 2 ini, James Wan memang berusaha tidak menyimpang dari kisah aslinya. Sutradara berusia 39 tahun yang terobsesi dengan boneka-boneka seram itu membuat cerita berdasarkan dokumen asli dari keluarga Hodgson.
Untuk memperkuat orisinalitas film ini, James Wan sampai memasukkan rekaman suara asli roh jahat yang merasuki tubuh Janet pada tahun 1977. Warner Bros. pun tak ketinggalan merilis video trailer berjudul Strange Happenings in Enfield yang menampilkan cuplikan foto-foto asli peristiwa poltergeist yang menghantui keluarga Hodgson.
Lewat YouTube, Warner Bros. juga telah merilis video 360 yang menampilkan suasana rumah Peggy yang mencekam. Dengan menggerakkan mouse, para penonton bisa dengan bebas mengamati setiap sudut ruangan yang menjadi tempat tinggal keluarga Hodgson.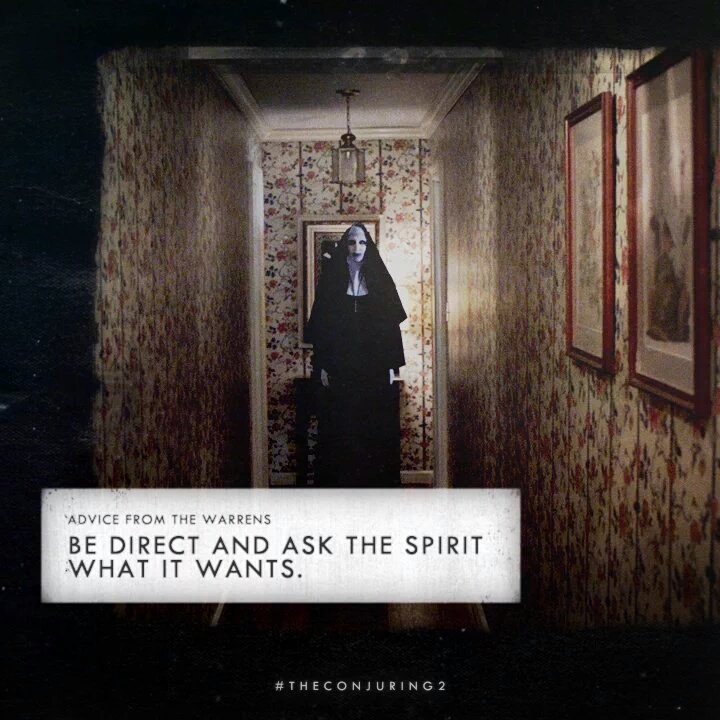 Demi menjaga orisinalitas, James Wan memang membangun rumah sesuai dengan detail aslinya. Warna tembok, dekorasi ruangan, dan kondisi halaman belakang dibuat semirip mungkin dengan rumah keluarga Hodgson pada tahun 1977. Bahkan, rumah para tetangga juga dibangun lengkap seperti aslinya. Pokoknya, harus menggambarkan kondisi perumahan penduduk London pada tahun 1970-an.
Selama ini, James Wan memang dikenal sebagai sutradara yang menekankan sisi artistik pada film-film horror yang digarapnya. Mungkin karena itulah, karya-karya bujangan kelahiran Sarawak ini hampir selalu sukses di pasaran. Sebut saja franchise film Saw (2004) dan Insidious (2011).
Kritikus Owen Geilberman dari Variety pun melontarkan pujian. Teknik pengambilan gambar yang dilakukan oleh Wan memang artistik. Kameranya menyorot tajam, bergerak cepat, dan bergetar. Membuat The Conjuring 2 tampak sangat nyata dan mencekam.
Selain itu, Wan juga menggunakan peralatan canggih untuk menambah efek dramatis dalam film berbujet USD 40 juta ini. Misalnya, dalam adegan yang memperlihatkan Janet berada di ruangan yang penuh salib. Tiba-tiba, salib-salib yang menempel di dinding itu memutar terbalik satu-persatu. Untuk menghasilkan efek tersebut, Wan menggunakan rangkaian mechanical rigs.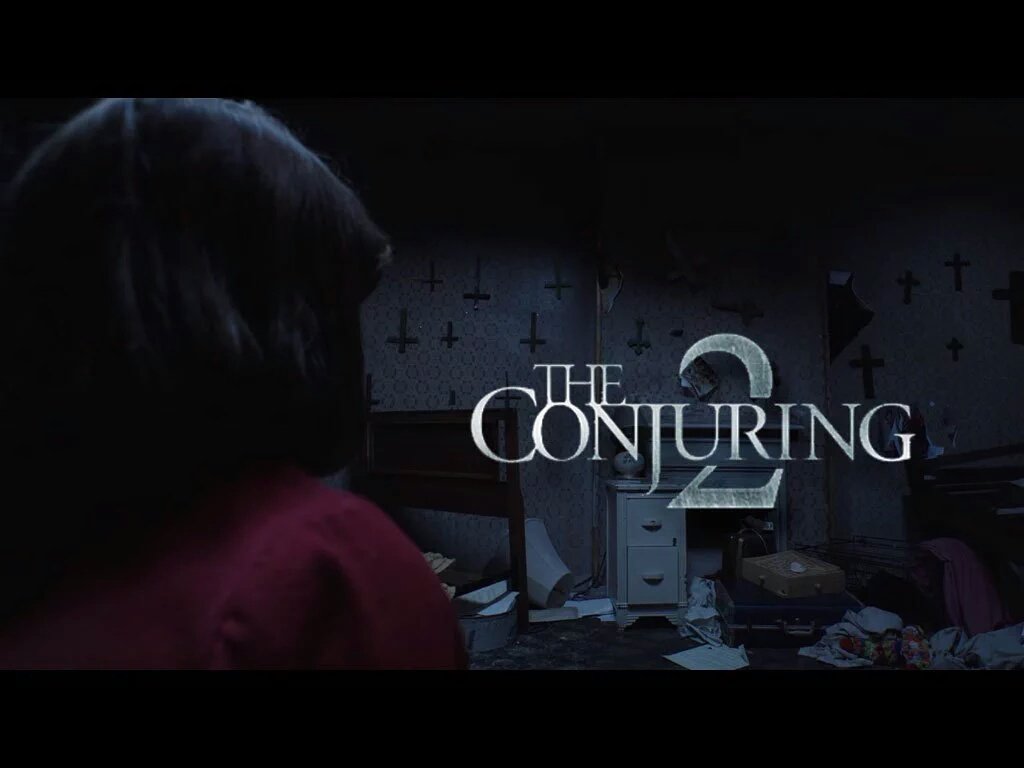 Untuk menghasilkan hujan buatan, Wan juga menggunakan built-in rain system. Jadi, saat syuting, adegan yang terjadi benar-benar tampak nyata dan mencekam. Sutradara Fast & Furious 7 tersebut memang ingin memastikan kengerian yang dialami oleh keluarga Hodgson kala itu juga dirasakan oleh para penonton.
Jika respon yang diterima The Conjuring 2 cukup baik, Wan menyatakan ada peluang besar untuk dibuat sekuel ketiganya. Masih banyak kasus dari Ed dan Lorraine Warren yang belum difilmkan. Namun, sepertinya, Wan tidak bisa menjadi sutradaranya karena dia sudah diikat oleh Warner Bros. untuk menggarap proyek lain. Yaitu, Aquaman.
Sejauh ini, sejumlah situs review memberi rating yang cukup positif untuk film berdurasi 134 menit ini. Memang, tidak seseram The Conjuring edisi pertama, menurut beberapa kritikus. Namun, tetap wajib untuk ditonton. Dan tetap mencekam. Terutama, bagi para penonton yang selama ini takut tidur sendirian setelah menonton film horror. Hiiiy..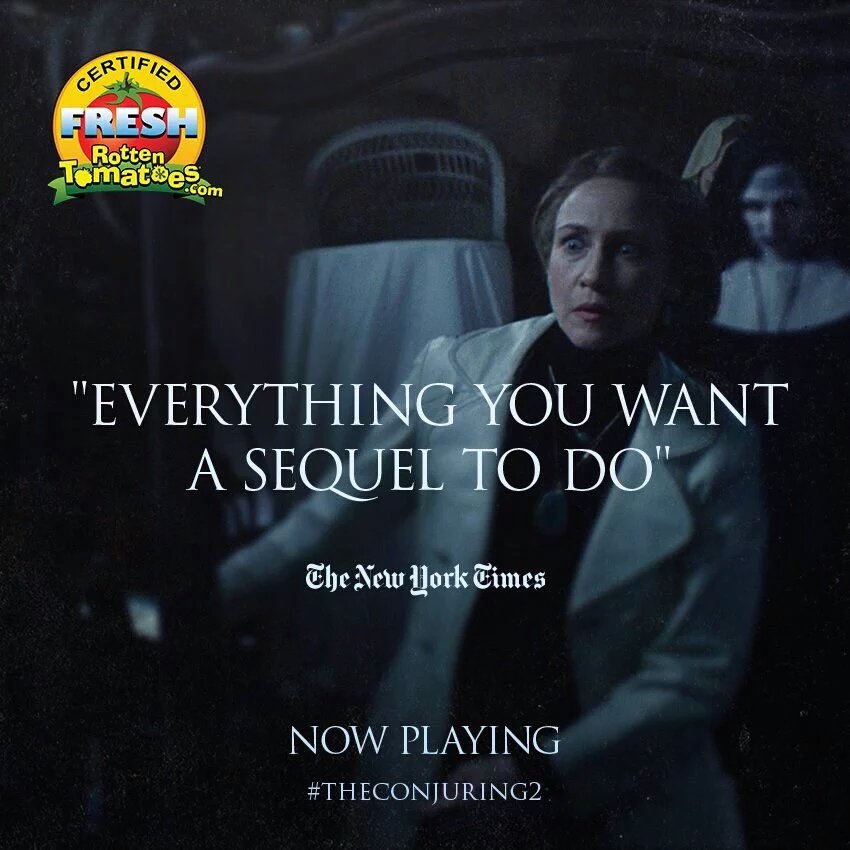 ***
The Conjuring 2
Sutradara: James Wan
Produser: Peter Safran, Rob Cowan
Penulis Skenario: Chad Hayes, Carey Hayes, James Wan, David Leslie Johnson
Pengarang Cerita: Chad Hayes, Carey Hayes, James
Pemain: Vera Farmiga, Patrick Wilson, Frances O'Connor, Madison Wolfe, Simon McBurney, Franka Potente
Musik: Joseph Bishara
Sinematografi: Don Burgess
Penyunting: Kirk M. Morri
Produksi: New Line Cinema, The Safran Company, Atomic Monster, RatPac-Dune Entertainment
Distributor: Warner Bros. Pictures
Budget: USD 40 juta
Durasi: 134 menit
Rilis: 10 Juni 2016
Ratings
IMDb: 8,7
Rotten Tomatoes: 6,6
Metacritic: 6,4