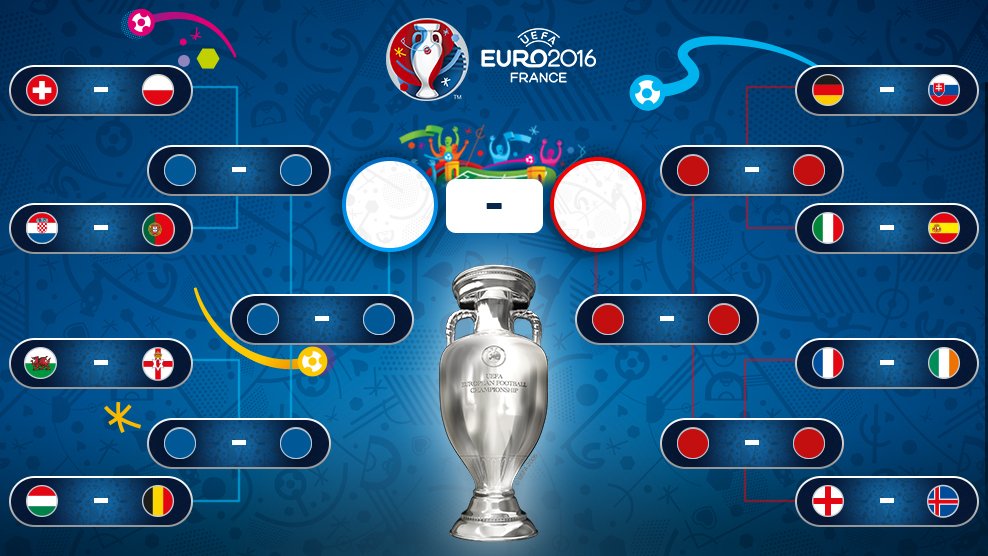 Tidak terasa, fase grup EURO 2016 sudah usai. Setelah melalui 36 pertandingan, delapan tim harus mengepak koper dan pulang ke negara masing-masing. Sementara itu, 16 tim lainnya melaju ke fase knockout. Fase hidup-mati. Do or die. Yang kalah bakal langsung terbuang.
Bisa dibilang, di babak 16 besar inilah EURO 2016 yang sesungguhnya baru dimulai. Setiap tim akan bermain mati-matian untuk kelangsungan hidup mereka. Tidak seperti di fase grup yang terkesan membosankan, karena setiap tim lebih sibuk bertahan untuk mengais poin. Alhasil, jumlah gol yang tercipta pun hanya sedikit. Hanya 69 gol. Alias, hanya 1,92 gol per laga.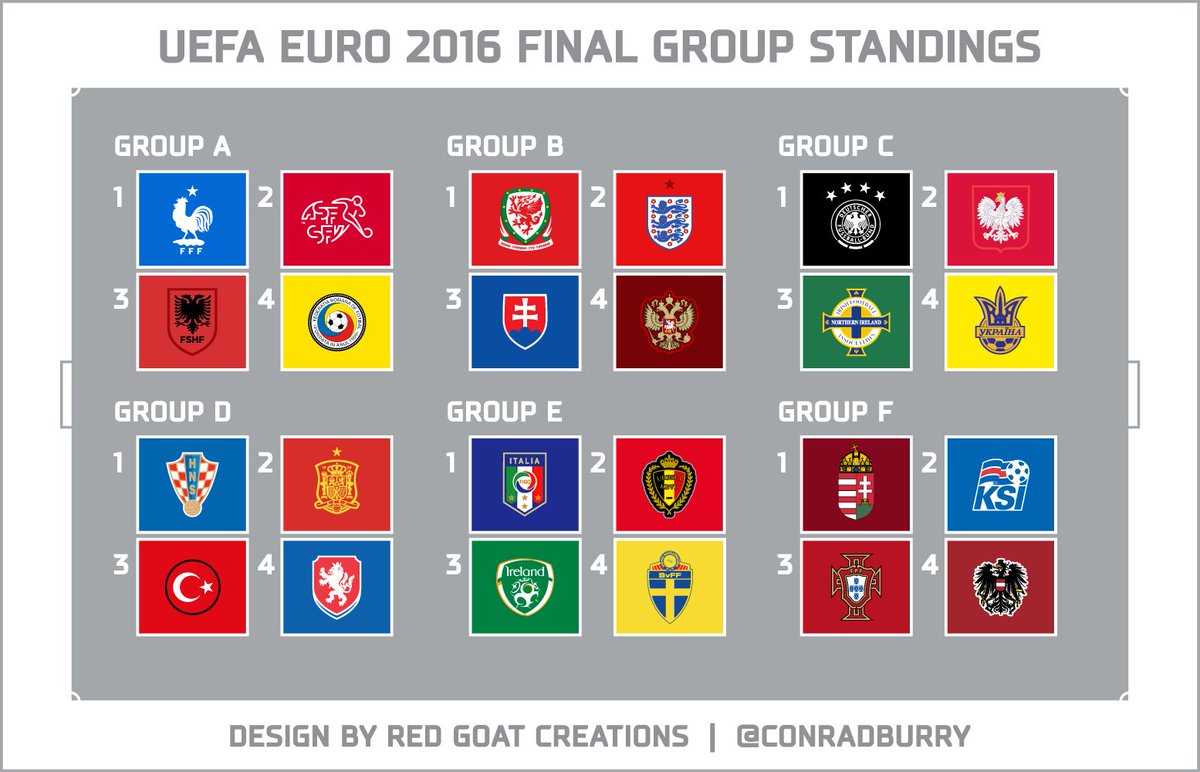 Jika kita flashback lagi ke fase grup, nyaris semua tim unggulan melaju ke babak 16 besar. Satu-satunya yang gagal mungkin hanya Austria. David Alaba dkk diperkirakan bakal berbicara banyak. Nyatanya, mereka harus pulang lebih awal karena hanya menjadi juru kunci Grup F.
Portugal yang segrup dengan Austria juga nyaris gagal. Cristiano Ronaldo dkk mencetak hat-trick seri dalam tiga laga di fase grup. Untungnya, nasib mereka tidak sesial gadis-gadis sexy yang biasanya mati duluan di film-film horror. Seleccao das Quinas masih bisa melaju ke round of 16 sebagai salah satu tim peringkat ketiga terbaik.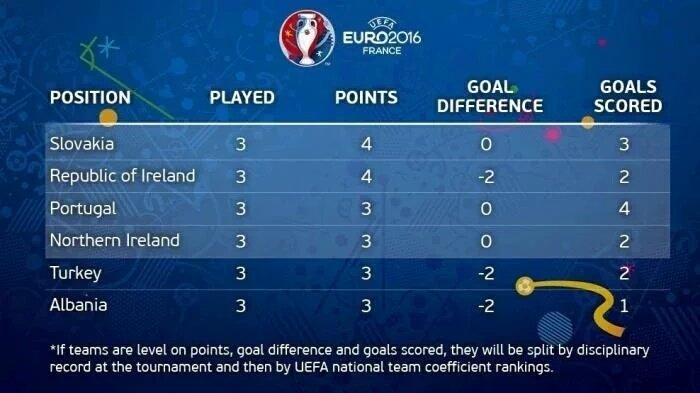 Di lain pihak, meski sempat keok di laga perdana, tim unggulan Belgia berhasil lolos ke fase knockout sebagai runner-up Grup E. Demikian juga dengan lima tim juara dunia, Jerman, Italia, Inggris, Prancis, dan Spanyol yang mampu mengunci tiket ke babak 16 besar meski harus dilalui dengan susah-payah.
Inggris dan Spanyol bahkan sampai gagal memuncaki Grup B dan D setelah kalah bersaing dengan Wales dan Kroasia. Alhasil, tim Matador harus menerima kenyataan pahit, bertemu Italia di 16 besar. Sementara itu, the Three Lions sedikit beruntung, karena "hanya" bertemu tim kejutan, Islandia.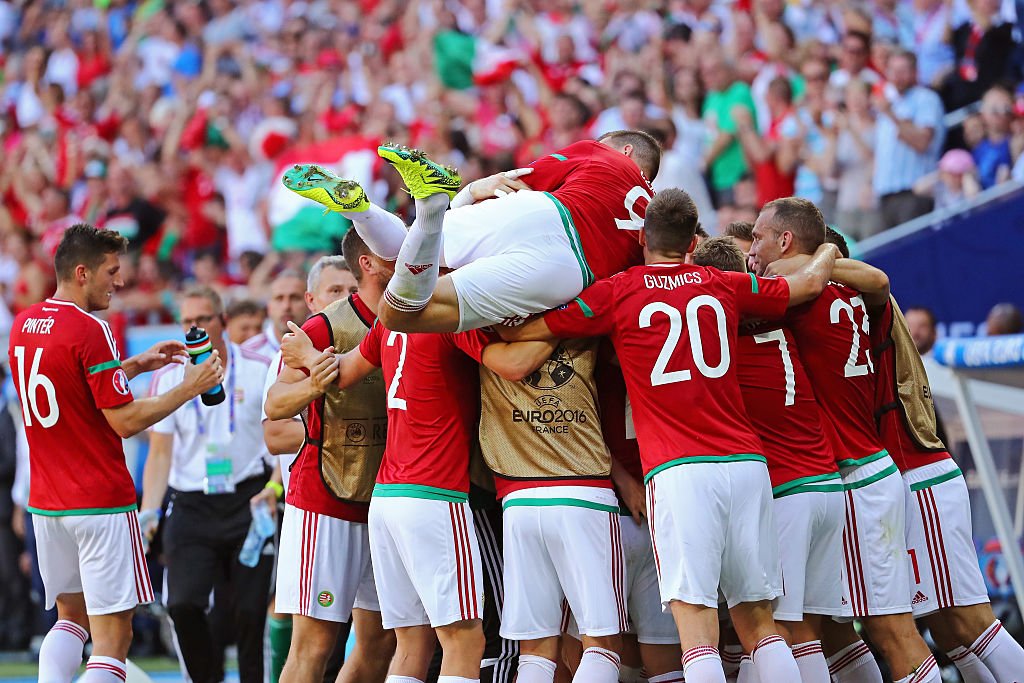 Status sebagai tim kejutan juga layak disandang oleh Hungaria. Negara yang dulu pernah mendominasi sepak bola di jamannya Ferenc Puskas itu berhasil memuncaki Grup F yang dihuni oleh Portugal. Bersama dengan Islandia, Hungaria layak disebut sebagai Cinderella di EURO 2016 ini.
Selain itu, duo Irish, Irlandia Utara dan Republik Irlandia, yang semula diramal bakal pulang cepat, ternyata mampu lolos ke fase knockout setelah menduduki peringkat ketiga di grup masing-masing. Mereka melengkapi wakil Britania, Wales dan Inggris, yang juga selamat dari kejamnya eliminasi fase grup.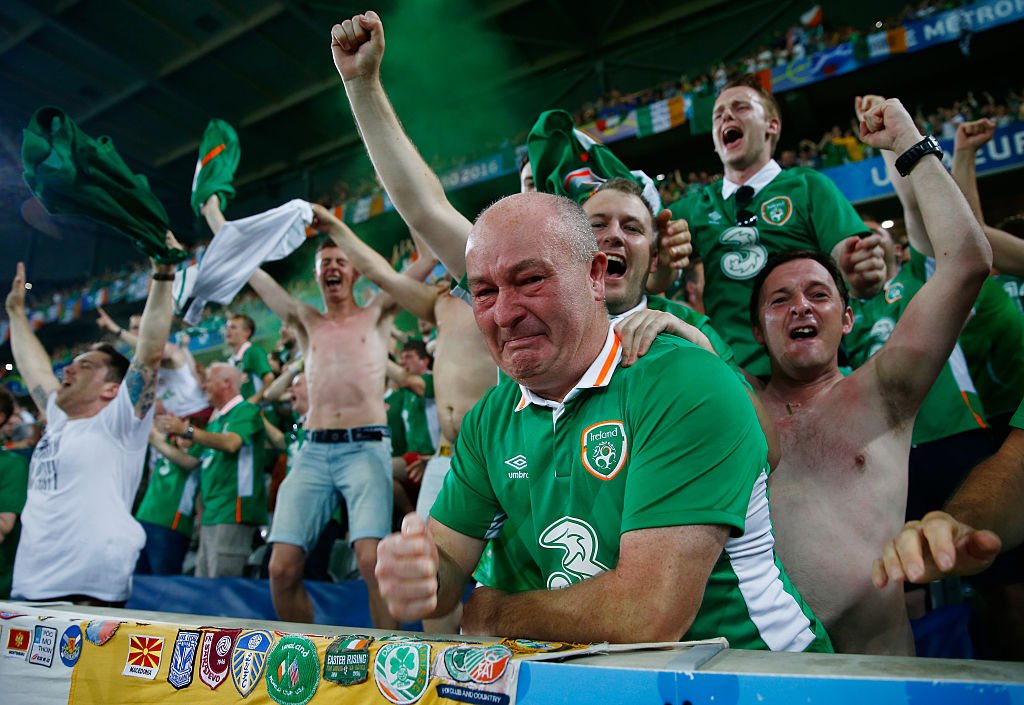 Jika melihat bagan fase knockout, lolosnya tim-tim kejutan dan kegagalan Inggris dan Spanyol memuncaki grup masing-masing, mengakibatkan sisi kanan sebagai sisi neraka, alias "deadpool". Bagaimana tidak, di situ bercokol lima juara dunia (Jerman, Italia, Inggris, Prancis, dan Spanyol) yang harus saling bantai dulu sebelum menapak ke partai puncak.
Sebaliknya, di sisi kiri, dihuni oleh tim-tim kejutan dan kuda hitam. Yang bisa disebut sebagai tim "top", menilik kualitas pemain yang mereka miliki, mungkin hanya Portugal dan Belgia. Oleh karena itu, laga final EURO 2016 ini hampir pasti akan mempertemukan tim juara dunia melawan tim kejutan atau tim kuda hitam.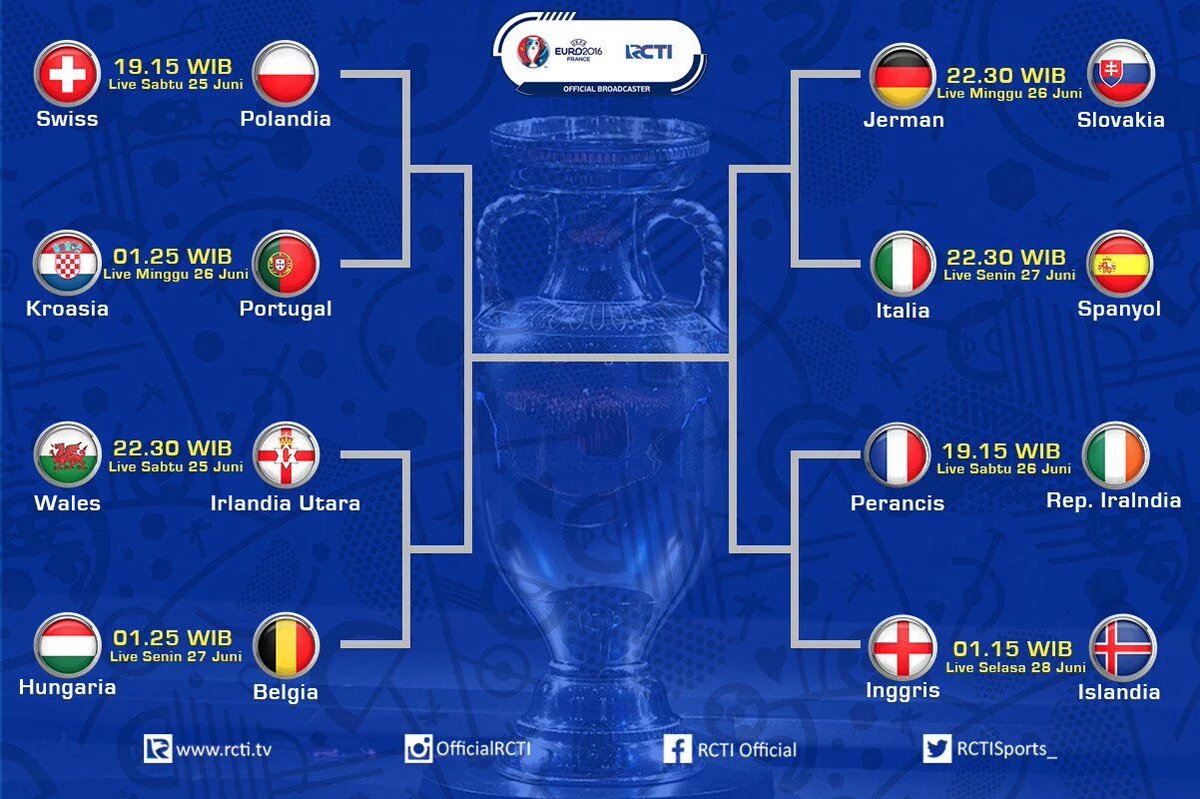 Melihat konfigurasi delapan partai yang tersaji di babak 16 besar, memang cukup sulit untuk memperkirakan tim mana saja yang bakal melangkah ke perempat final. Kekuatan masing-masing tim yang berhadapan, bisa dibilang, cukup merata. Nyaris serata dada Cameron Diaz sebelum melakukan implan silikon.
Ambil contoh laga Swiss melawan Polandia yang sepertinya bakal ketat. Seketat rok mini para cabe-cabean. Demikian juga dengan Kroasia menghadapi Portugal dan Italia yang akan bertemu Spanyol, yang merupakan ulangan partai final EURO 2012.
Jika melihat situasi dan kondisi terakhir, Kroasia dan Spanyol memang sedikit diunggulkan. Namun, jangan pernah meremehkan Portugal dan Italia yang sewaktu-waktu bisa meledak. Apalagi, Ronaldo sudah mulai membuka kran golnya setelah membobol gawang Hungaria dua kali.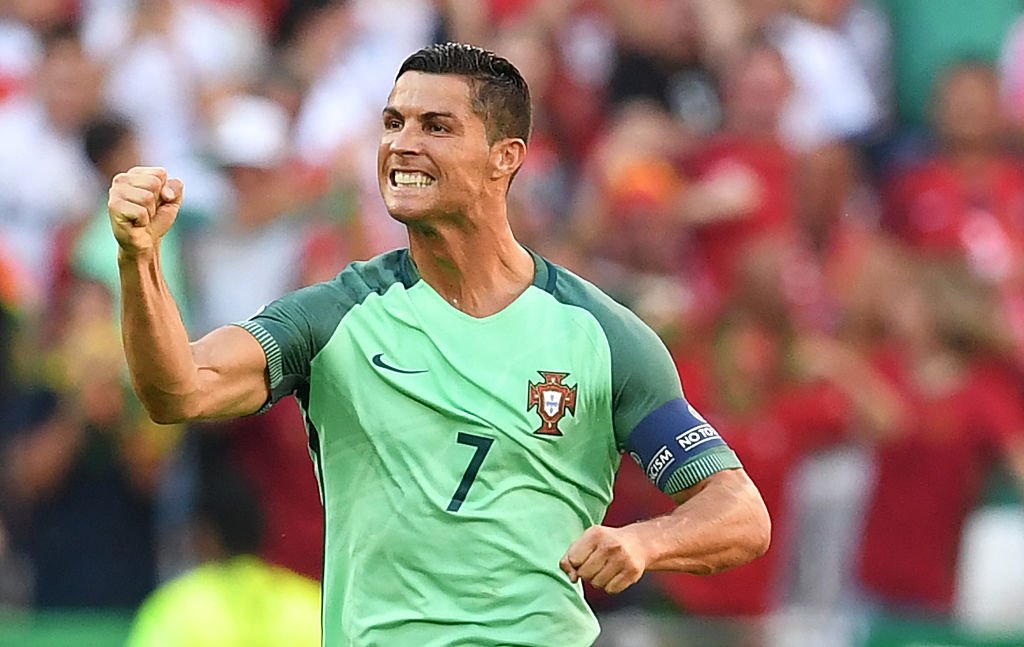 Begitu juga dengan Italia. Kekalahan dari Republik Irlandia di laga terakhir Grup E lebih disebabkan oleh kebijakan Antonio Conte yang menurunkan banyak pemain cadangan. Gli Azzurri sudah menggenggam tiket ke fase knockout. Jadi, laga tersebut memang tidak menentukan lagi.
Sementara itu, Wales, Belgia, Jerman, Prancis, dan Inggris seharusnya bisa melaju ke perempat final. Kualitas lawan yang mereka hadapi, di atas kertas, masih sedikit di bawah. Meski demikian, khusus untuk Belgia dan Inggris, wajib mewaspadai dua tim Cinderella, Hungaria dan Islandia. Kejutan yang sudah mereka sajikan di fase grup, bisa saja berlanjut di fase knockout ini.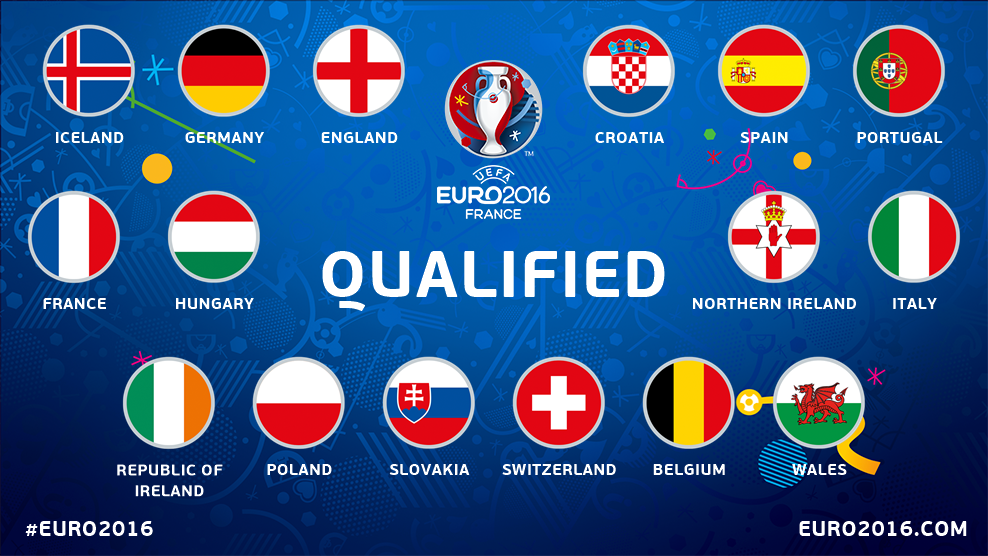 Prediksi:
Swiss 50-50 Polandia
Wales 60-40 Irlandia Utara
Kroasia 55-45 Portugal
Prancis 60-40 Republik Irlandia
Jerman 60-40 Slovakia
Hungaria 40-60 Belgia
Italia 45-55 Spanyol
Inggris 60-40 Islandia