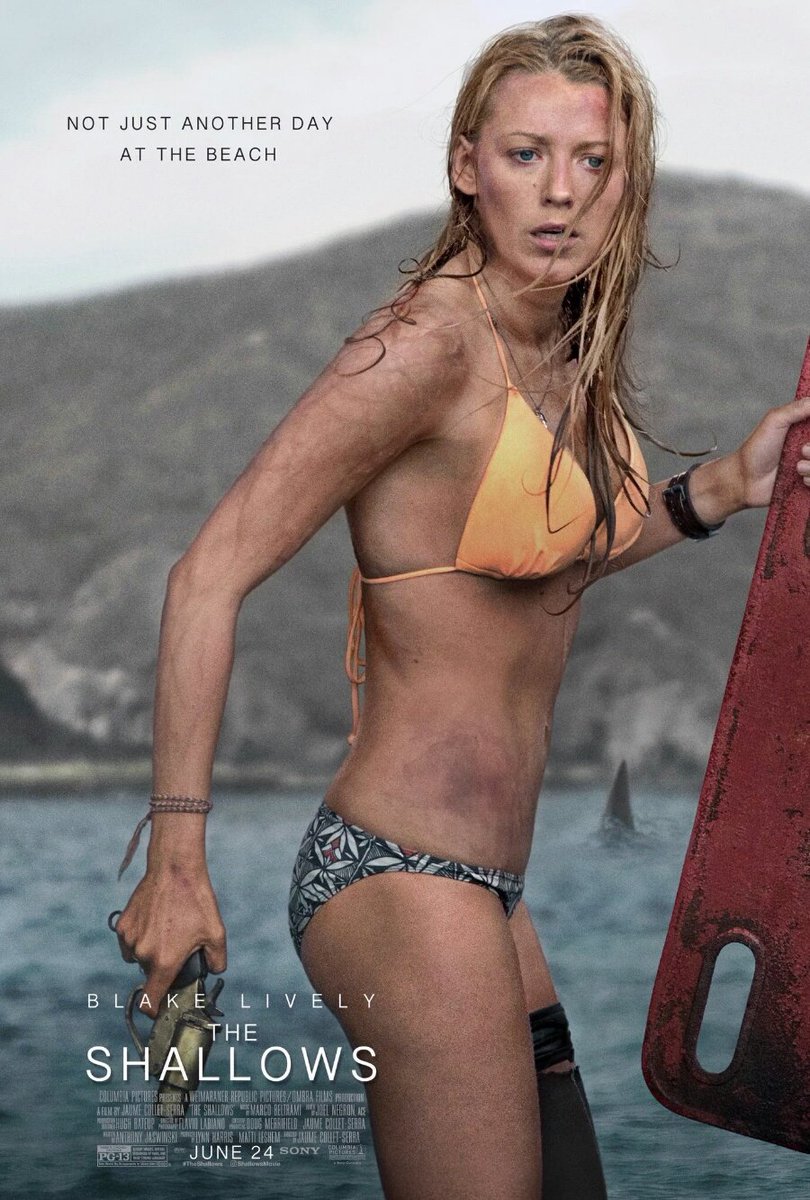 Sejak kemunculannya di film Jaws (1975) yang legendaris itu, hiu putih besar memang menjadi primadona di film-film thriller Hollywood, terutama yang ber-setting di daerah pantai. The Shallows ini adalah salah satu film terbaru yang mengangkat kisah pertarungan manusia melawan predator laut ganas tersebut.
Dibesut oleh sutradara Jaume Collet-Serra, film rilisan Columbia Pictures ini diharapkan bisa mengulang kengerian yang dulu sempat ditebarkan oleh Jaws garapan Steven Spielberg. Kisahnya pun cukup klasik dan sederhana. Pemeran utamanya tak bisa melarikan diri dan harus mempertaruhkan nyawa dalam melawan sang pemangsa. Khas film horror/thriller.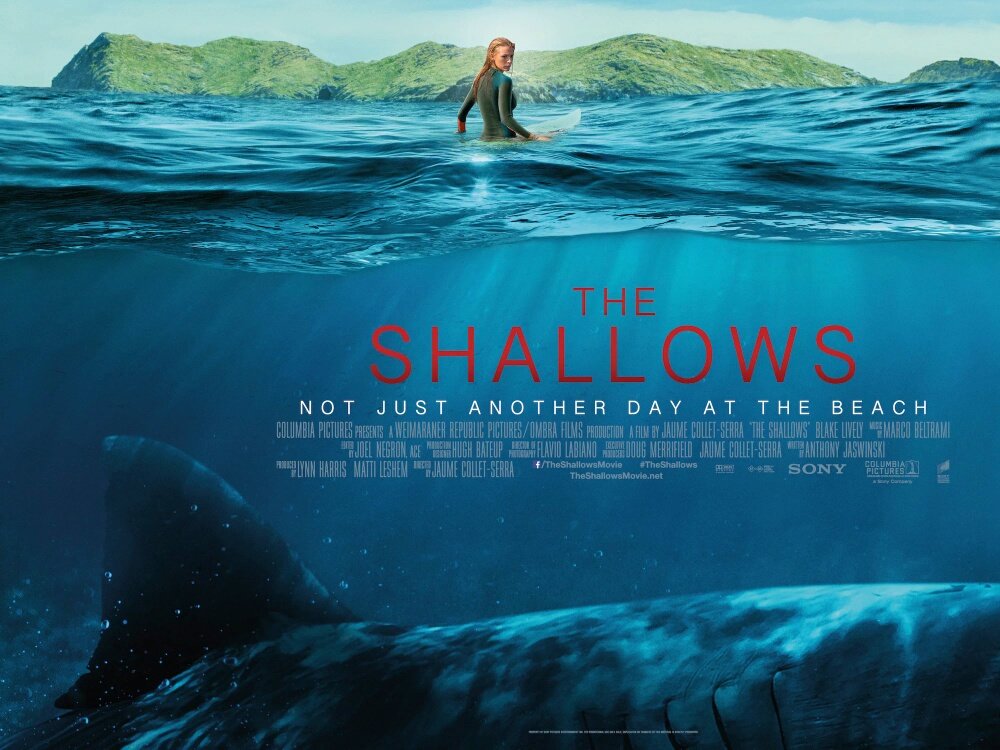 Di The Shallows kali ini, yang menjadi objek penderita adalah Blake Lively. Istri Ryan "Deadpool" Reynolds itu memerankan seorang mahasiswi kedokteran bernama Nancy Adams yang sedang berduka atas kematian ibunya.
Untuk menghilangkan kesedihan dan kegalauan, cewek asal Texas itu memutuskan untuk menapaktilasi petualangan ibunya saat mengandung dirinya dulu. Yaitu, dengan berselancar di sebuah pantai terpencil yang tak bernama di Meksiko.
Di pantai yang disebut sebagai "paradise" itu, Nancy hanya bertemu dua peselancar lokal. Namun, saat senja menjelang, mereka berdua pulang meninggalkan Nancy. Sialnya, saat sedang berselancar sendirian itulah, seekor hiu putih, yang sedari tadi bersembunyi di bawah laut dangkal, menggigit paha mulusnya.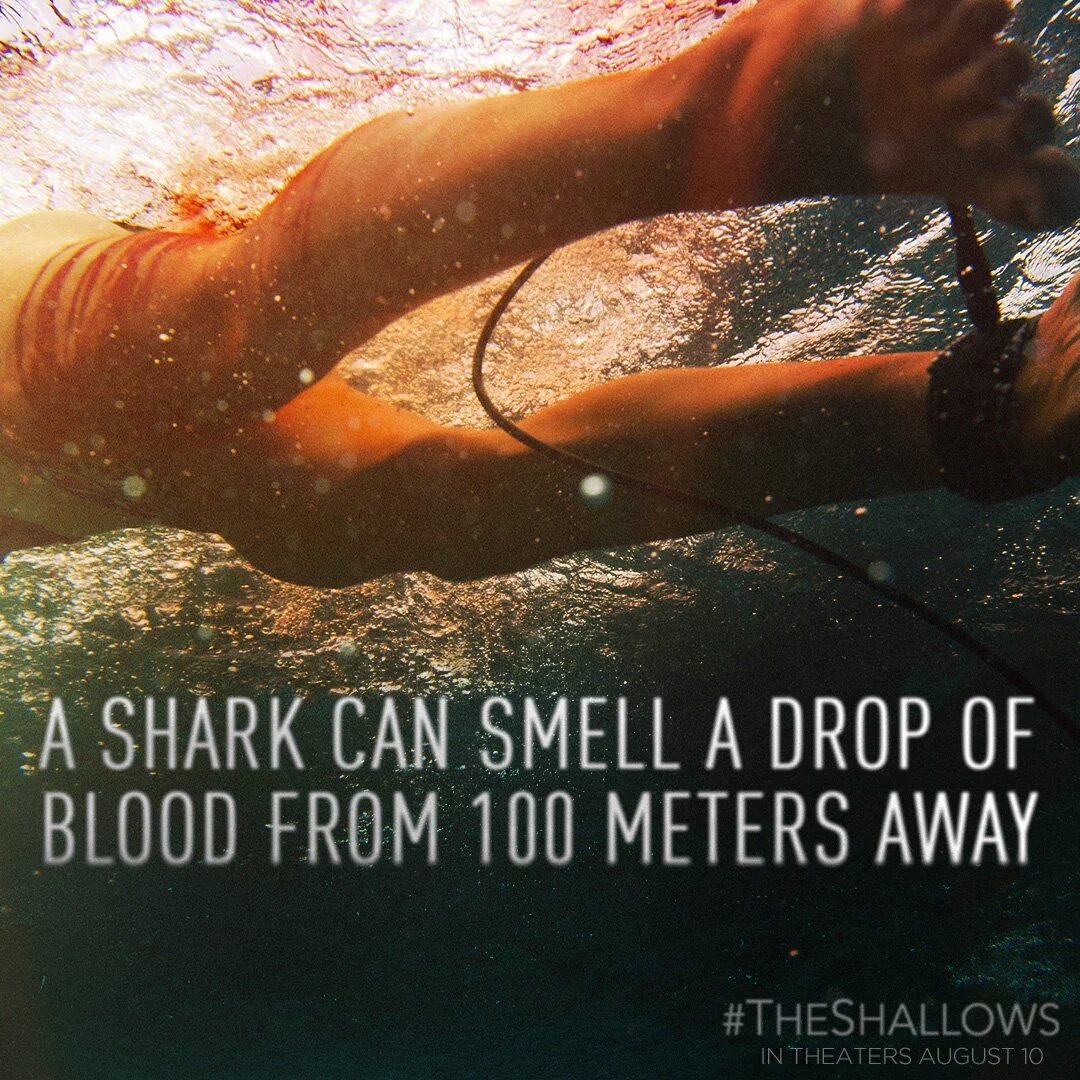 Meski jaraknya hanya sekitar 200 yard, Nancy tak berani untuk berenang pulang ke pantai. Dia takut tetesan darah dari luka di kakinya bakal memancing hiu tersebut untuk menyerangnya kembali. Gadis berambut pirang itu akhirnya terdampar di sebuah batu karang di tengah laut.
Dengan hanya ditemani seekor burung camar yang dia namai Steven Seagull (plesetan dari Steven Seagal), Nancy harus bertahan hidup dengan memakan kepiting mentah. Di samping hiu ganas yang terus mengintai, dia harus mewaspadai sengatan ubur-ubur dan karang tajam di bawah permukaan laut. Selain itu, juga ada bangkai ikan paus. Mampukah Nancy kembali ke pantai dengan selamat?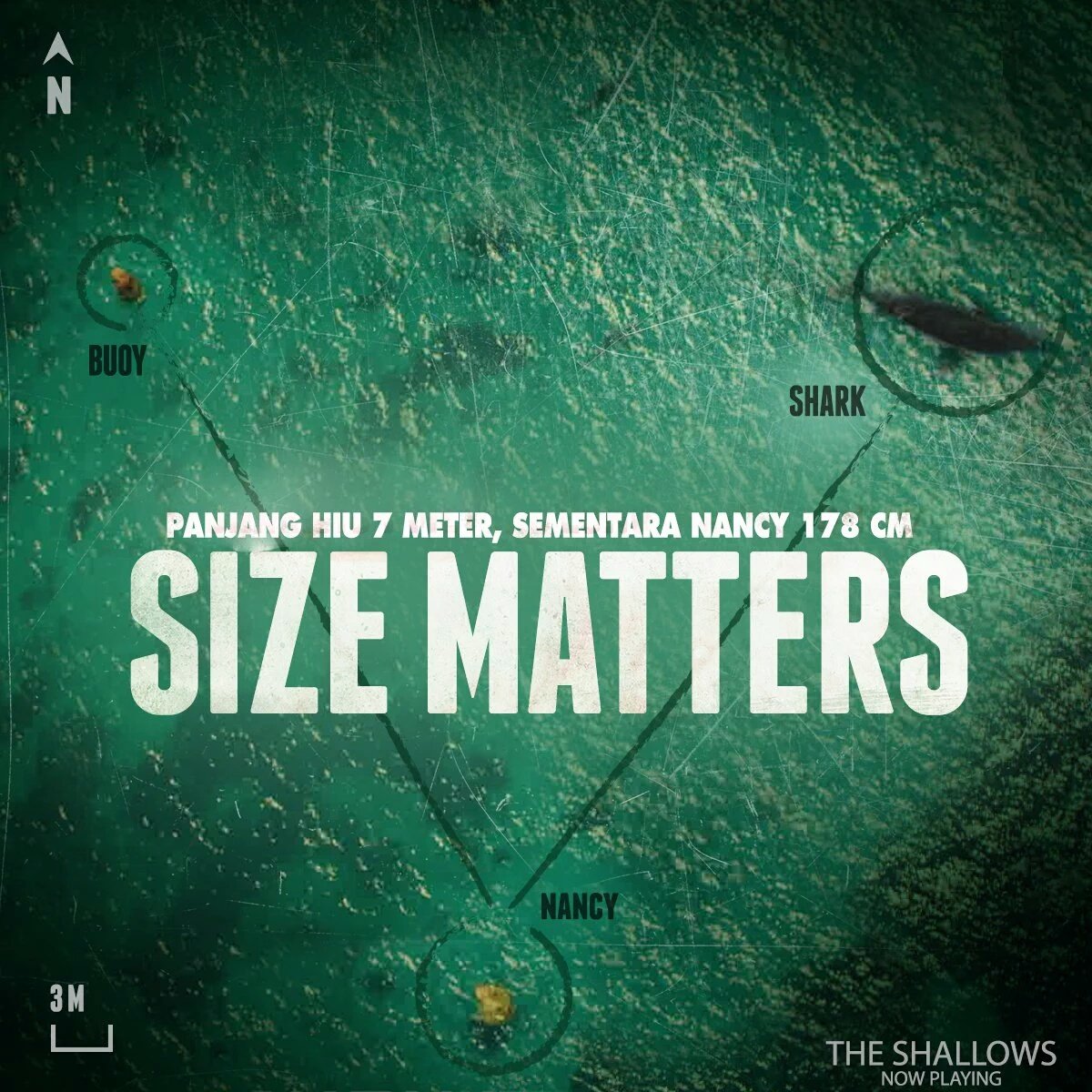 Awalnya, The Shallows ini bakal disutradarai oleh Louis Leterrier yang berpengalaman membesut The Transporter (2002), The Incredible Hulk (2008), Clash of the Titans (2010), dan Now You See Me (2013). Namun, akhirnya, dia digantikan oleh Jaume Collet-Serra, sutradara dari Catalan, yang memang spesialis film-film thriller seperti House of Wax (2005), Orphan (2009), Unknown (2011), Non-Stop (2014), dan Run All Night (2015).
Untuk lokasi syuting, film berbujet USD 17 juta ini semula bakal mengambil tempat di Gulf Coast, dekat Galveston, Texas. Tetapi, karena tidak mendapatkan izin, syutingnya kemudian pindah sangat jauh, ke Lord Howe Island, yang masuk dalam wilayah New South Wales, Australia.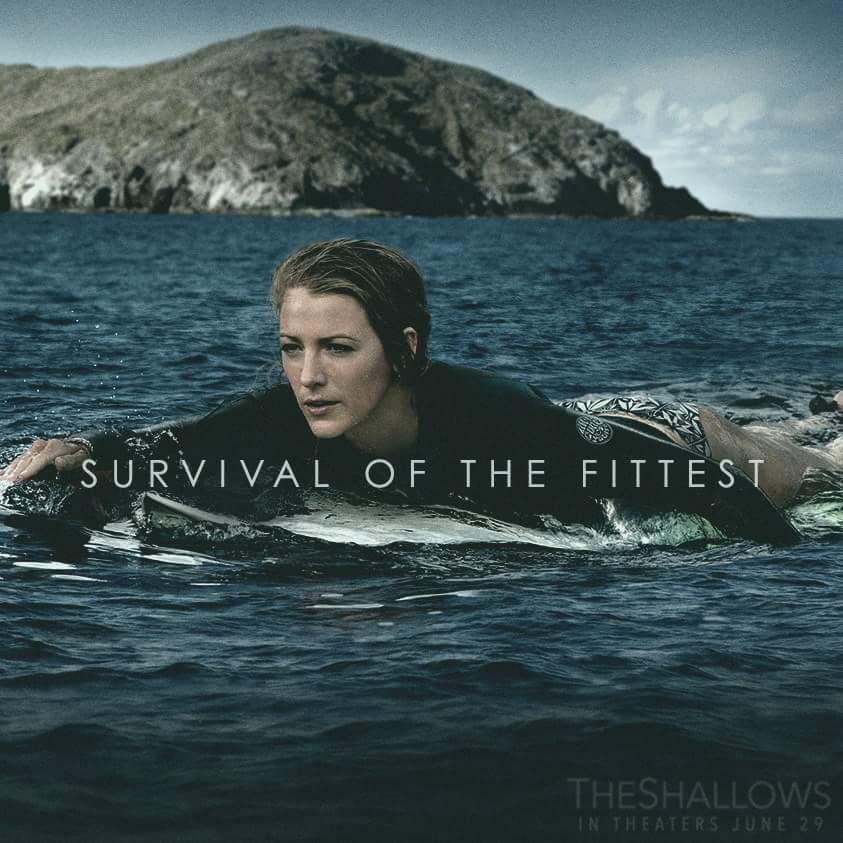 Dengan plot yang tergolong sederhana, The Shallows sebenarnya tidak menawarkan sesuatu yang baru. Namun, akting Blake Lively yang cukup apik mampu membuat film berdurasi 86 menit ini tidak membosankan. Para pengamat dan kritikus mengakui hal tersebut setelah tayang perdana di New York City pada 21 Juni 2016 yang lalu.
Nyaris berakting seorang diri, dengan setting di tengah laut sepanjang film, memang bukan sesuatu yang mudah. Tetapi, Lively mampu melakukannya dengan baik. Selain cantik dan sexy, bintang Green Lantern (2011) dan The Age of Adaline (2015) itu juga menampilkan sisi atletisnya kala harus berjibaku dan berdarah-darah melawan makhluk yang memburunya.
Selain adegan menegangkan dikejar-kejar hiu putih, Lively juga bakal membuat para penonton ikut jantungan dan bergidik ketika menampilkan scene Nancy harus menjahit lukanya sendiri dengan peralatan seadanya. Hanya saja, khusus untuk surfing, ibu satu anak berusia 28 tahun itu harus digantikan oleh body double bernama Isabella Nichols, yang memang seorang peselancar.
Sejumlah situs review pun memberi rating yang cukup lumayan. Kritikus Simon Thompson dari IGN, bahkan, menyebut Jaws menjadi seperti film anak-anak bila dibandingkan dengan The Shallows yang sangat mencekam. Bisa dibilang, film yang baru dirilis di Indonesia pada hari Rabu (10/8) ini merupakan The Blair Witch Project (1999) versi surfing.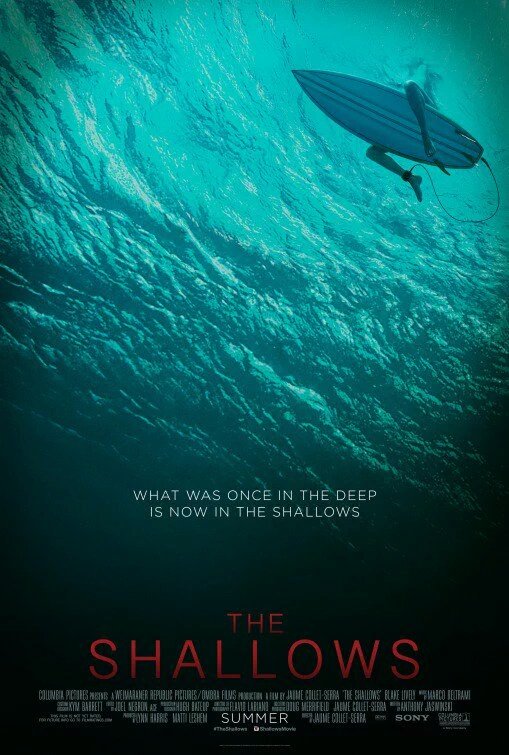 ***
The Shallows
Sutradara: Jaume Collet-Serra
Produser: Lynn Harris, Matti Leshem
Penulis Skenario: Anthony Jaswinski
Pemain: Blake Lively
Musik: Marco Beltrami
Sinematografi: Flavio Labiano
Editor: Joel Negron
Produksi: Ombra Films, Weimaraner Republic Pictures
Distributor: Columbia Pictures
Budget: USD 17 juta
Durasi: 86 menit
Rilis: 24 Juni 2016 (Amerika Serikat), 10 Agustus 2016 (Indonesia)
Ratings
IMDb: 6,8
Rotten Tomatoes: 6,5
Metacritic: 5,8