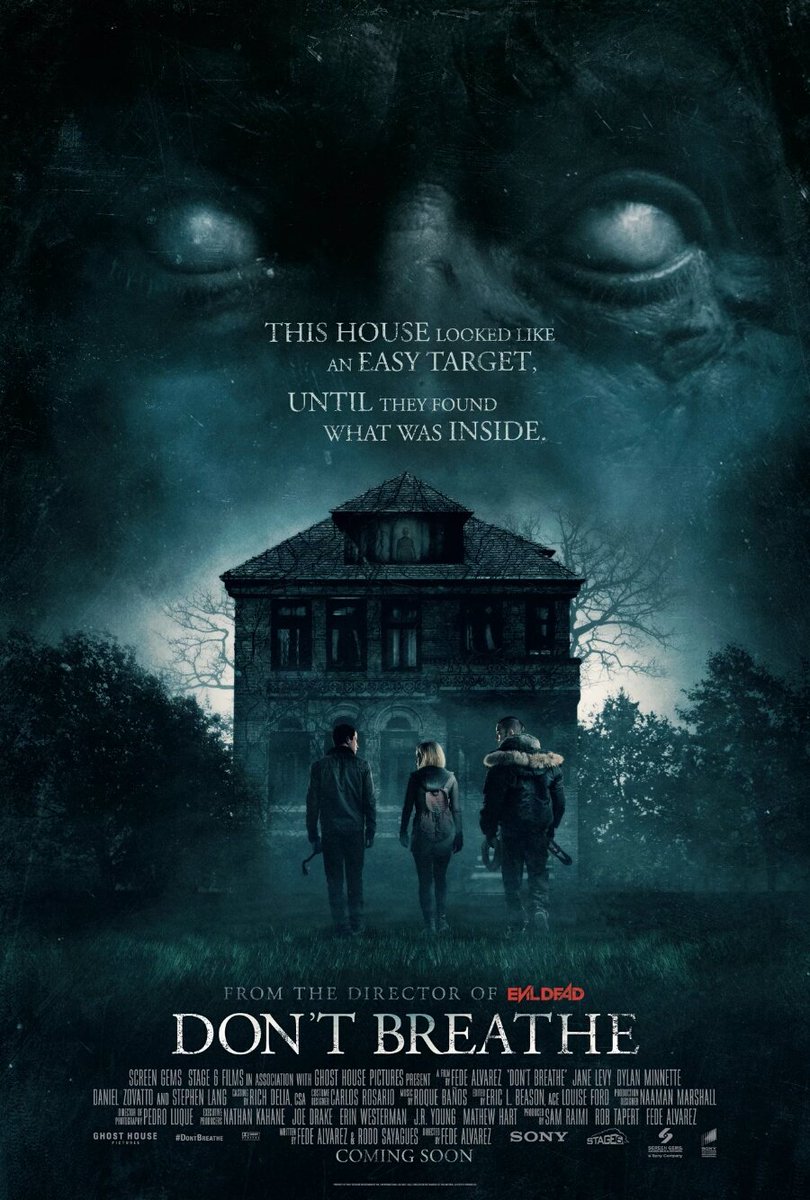 Setelah memompa adrenalin para penonton lewat The Shallows, Sony Pictures kembali menghadirkan thriller mencekam berjudul Don't Breathe melalui dua anak perusahaannya, Stage 6 Films dan Screen Gems. Film berdurasi 88 menit tersebut sudah tayang midnight di Indonesia pada hari Sabtu (27/8) yang lalu.
Dengan bujet "hanya" USD 9,9 juta, film besutan sutradara muda Fede Alvarez ini mampu menggeser Suicide Squad yang sudah hampir sebulan nangkring di puncak box office. Baru tiga hari diputar di Amerika Serikat, sejak hari Jumat (26/8) yang lalu, Don't Breathe telah mengumpulkan pemasukan hingga USD 28 juta.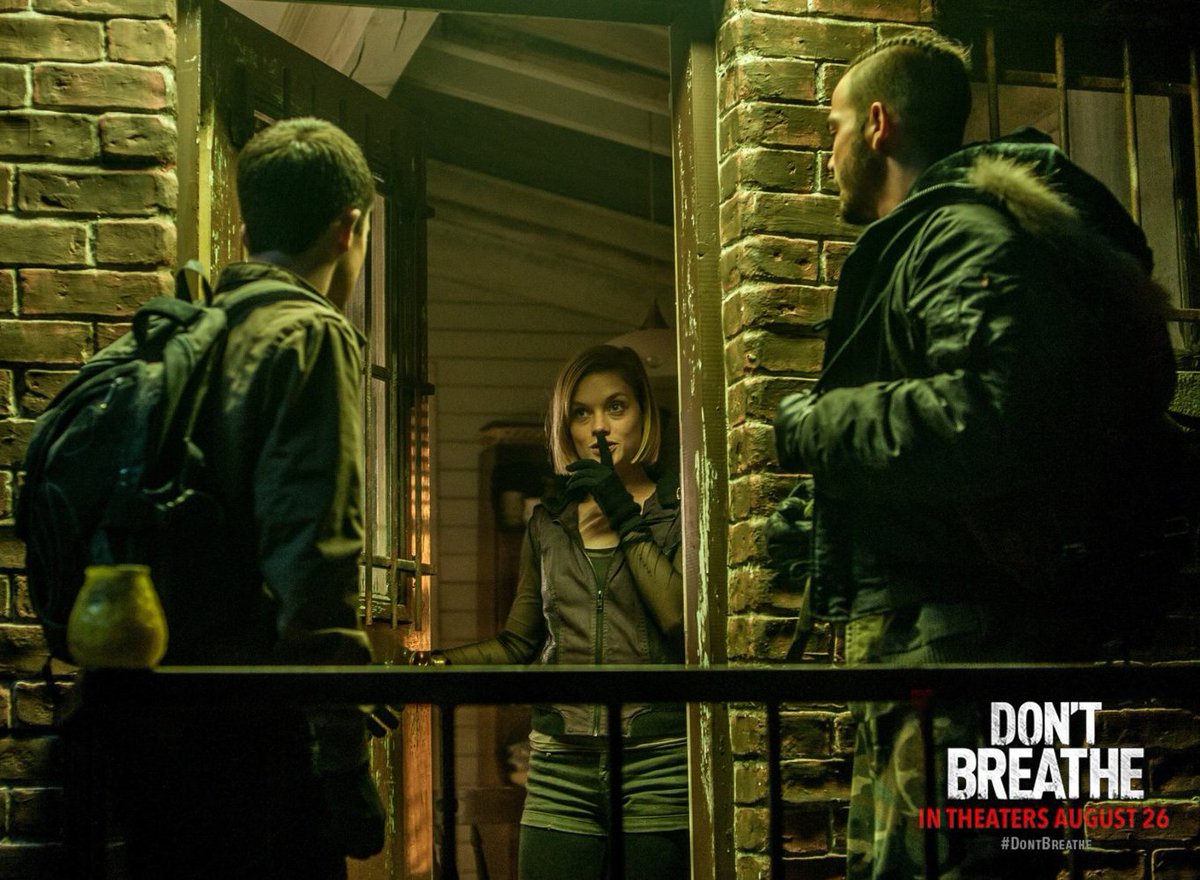 Film yang diproduksi oleh Ghost House Pictures dan Good Universe ini sebenarnya menawarkan premis yang sederhana. Tiga anak muda membobol rumah kakek-kakek buta. Namun, bukannya uang atau barang curian yang berhasil mereka bawa pulang. Melainkan, kengerian. Bahkan, kematian!
Ceritanya, seorang cewek bernama Rocky (Jane Levy) ingin kabur dari Detroit dan pindah ke California bersama adiknya. Meninggalkan ibunya yang alkoholik dan pemabuk. Untuk mewujudkan impiannya tersebut, Rocky membutuhkan uang banyak. Segala cara dia lakukan untuk mendapatkan duit. Termasuk dengan mencuri.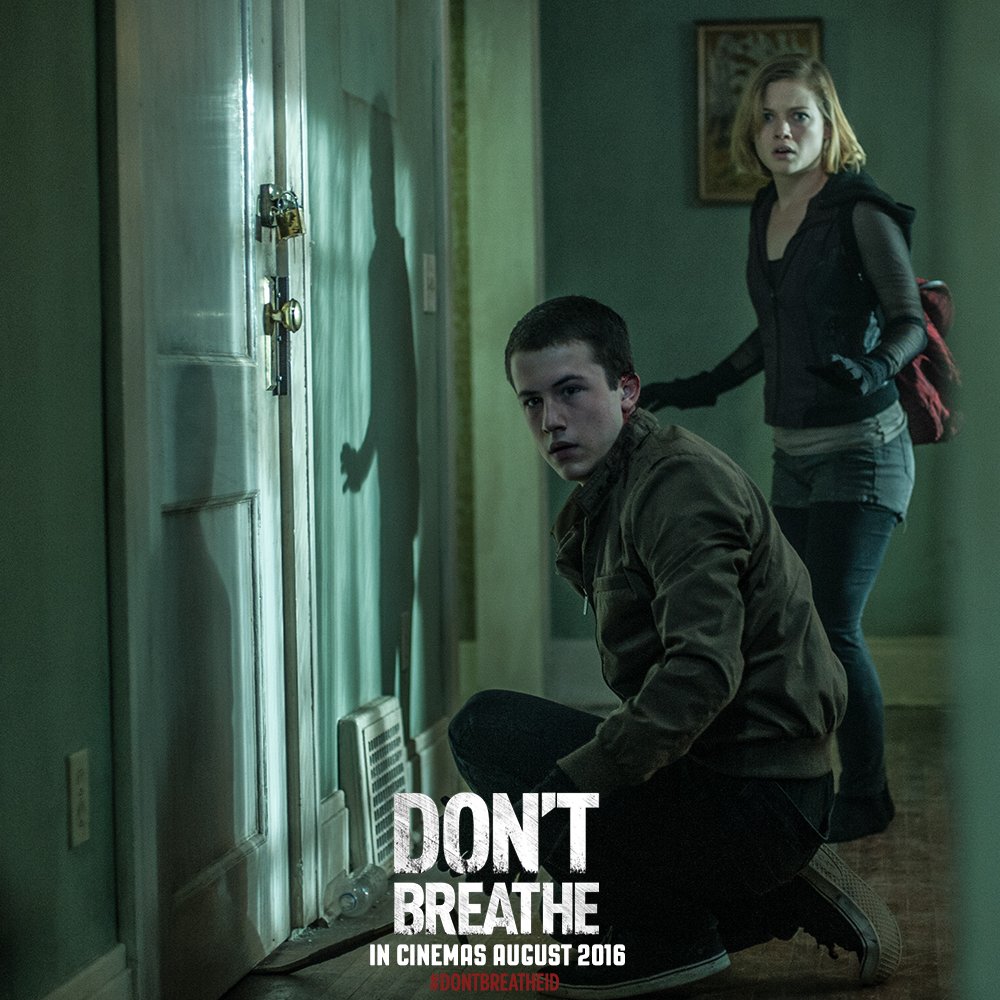 Bersama pacarnya yang bernama Money (Daniel Zovatto), Rocky kemudian menemukan sebuah target "empuk" untuk digarong. Rumah seorang pensiunan tentara tua dan buta bernama Norman Nordstrom (Stephen Lang). The Blind Man ini kabarnya menyimpan uang USD 300 ribu di rumahnya. Hasil dari ganti rugi yang dia dapatkan atas kematian putrinya yang tewas ditabrak mobil.
Berkat bantuan soerang teman bernama Alex (Dylan Minnette), yang bokapnya kebetulan bekerja di layanan sistem keamanan, Rocky dan Money bisa mendapatkan akses untuk membobol rumah The Blind Man. Situasi semakin mendukung karena suasana di kompleks perumahan tersebut sangat sepi. Nyaris tanpa penghuni.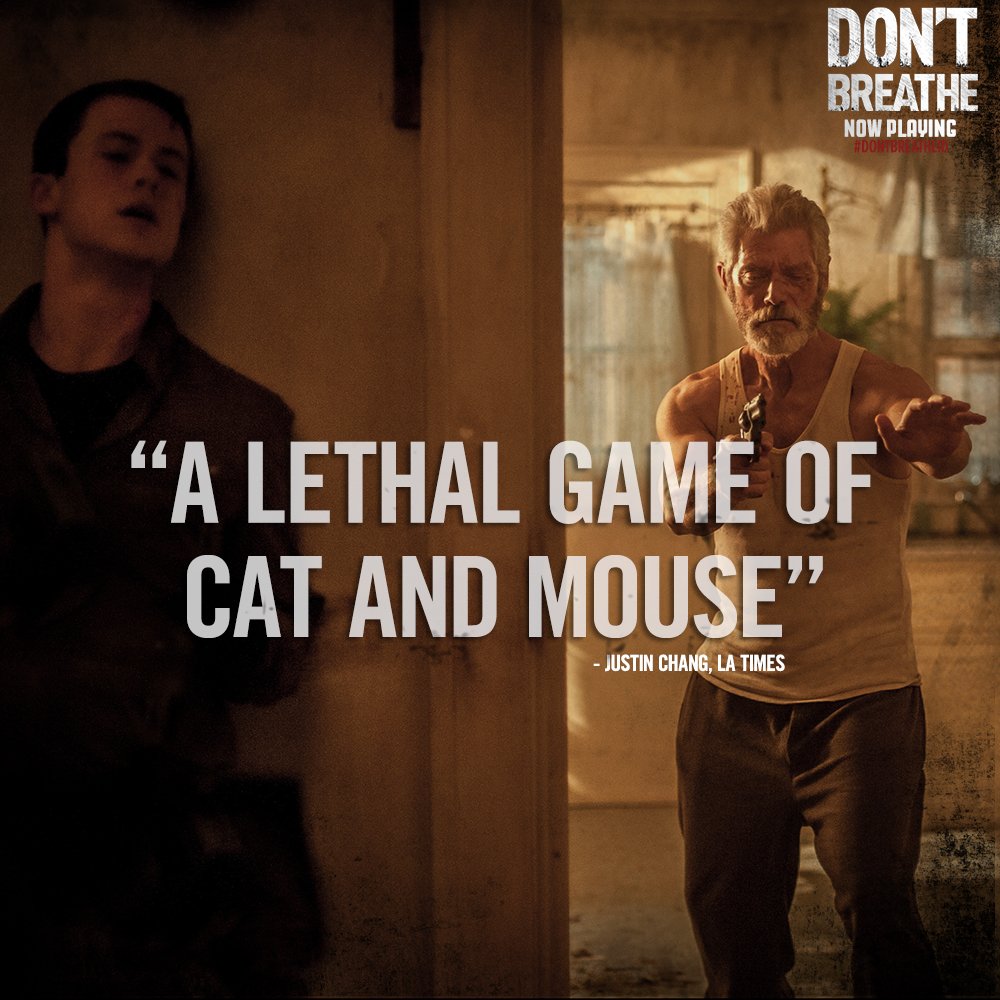 Money dan Rocky kemudian memutuskan untuk segera beraksi. Alex, dengan setengah hati, ikut serta karena didasari oleh cinta yang terpendam. Diam-diam, ternyata dia naksir Rocky. Mereka bertiga akhirnya bisa dengan mudah memasuki rumah terpencil yang suasananya mirip rumah hantu tersebut.
Di sinilah peristiwa horror mulai terjadi. Si Buta dari Rumah Hantu, yang semula diremehkan dan dianggap tak berdaya, ternyata mampu memberikan perlawanan. Bahkan, kini dialah yang gantian memburu ketiga bocah ababil tersebut. Meski tak dapat melihat, The Blind Man mampu mengendus keberadaan mangsanya lewat desahan nafas mereka! Huft..
Maka dari itu, hanya ada satu cara bagi Money, Rocky, dan Alex jika ingin selamat dari pembantaian The Blind Man. Yaitu, tahan nafas! Don't breathe! Mampukah ketiga ababil itu keluar hidup-hidup dari rumah yang mengerikan tersebut?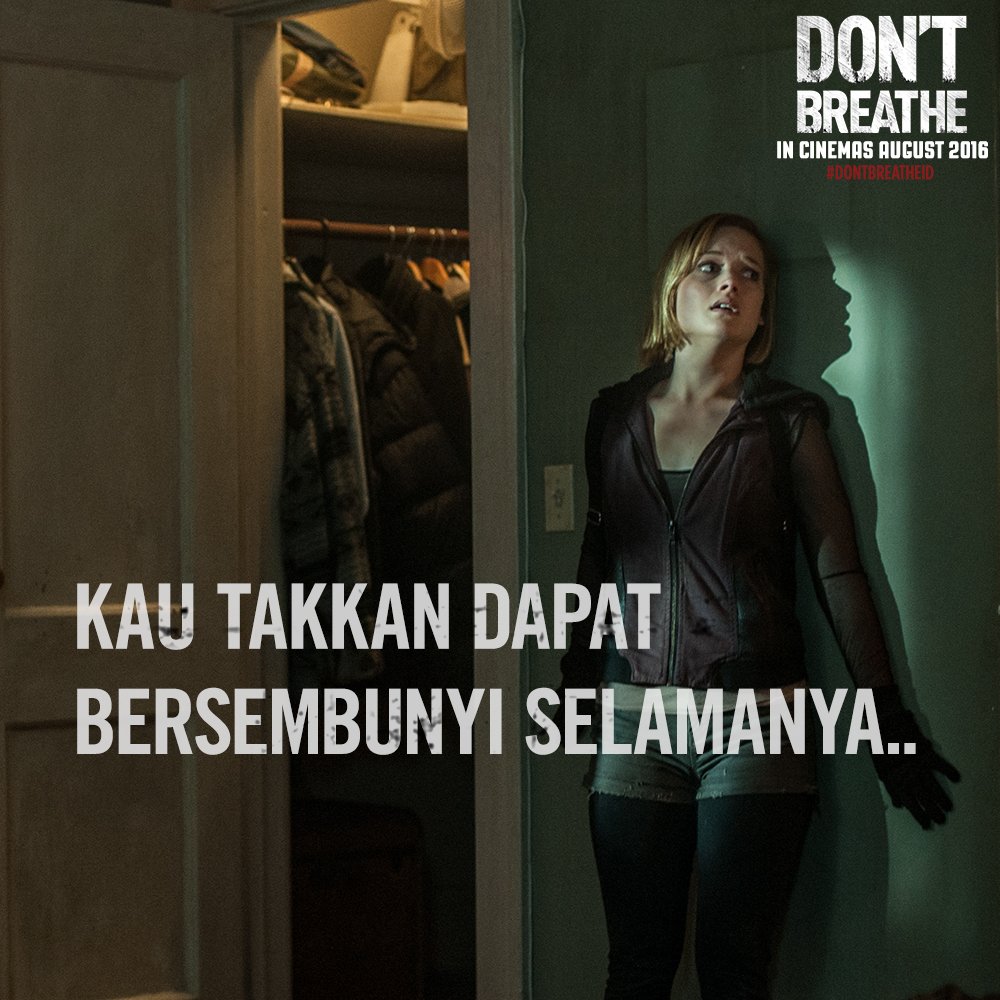 Setelah diputar secara terbatas di SXSW pada 12 Maret 2016 yang lalu, Don't Breathe langsung mendapat tanggapan positif dari para kritikus dan situs review. Pujian diberikan kepada sutradara Fede Alvarez yang dianggap mampu menghadirkan thriller yang intens dan brutal. Pencahayaan yang kelam dan adegan-adegan yang mengejutkan berhasil menyajikan ketegangan yang mencekam.
Saking mengagetkannya, dipastikan bakal banyak penonton yang berteriak saat menyaksikan film yang scoring-nya digarap oleh Roque Banos ini. Sesuai dengan judulnya, Don't Breathe, para penonton juga akan ikut menahan nafas saat disuguhi berbagai adegan yang mendebarkan. Bahkan, bagi yang jantungan, disarankan untuk berpikir ulang sebelum menonton film ini.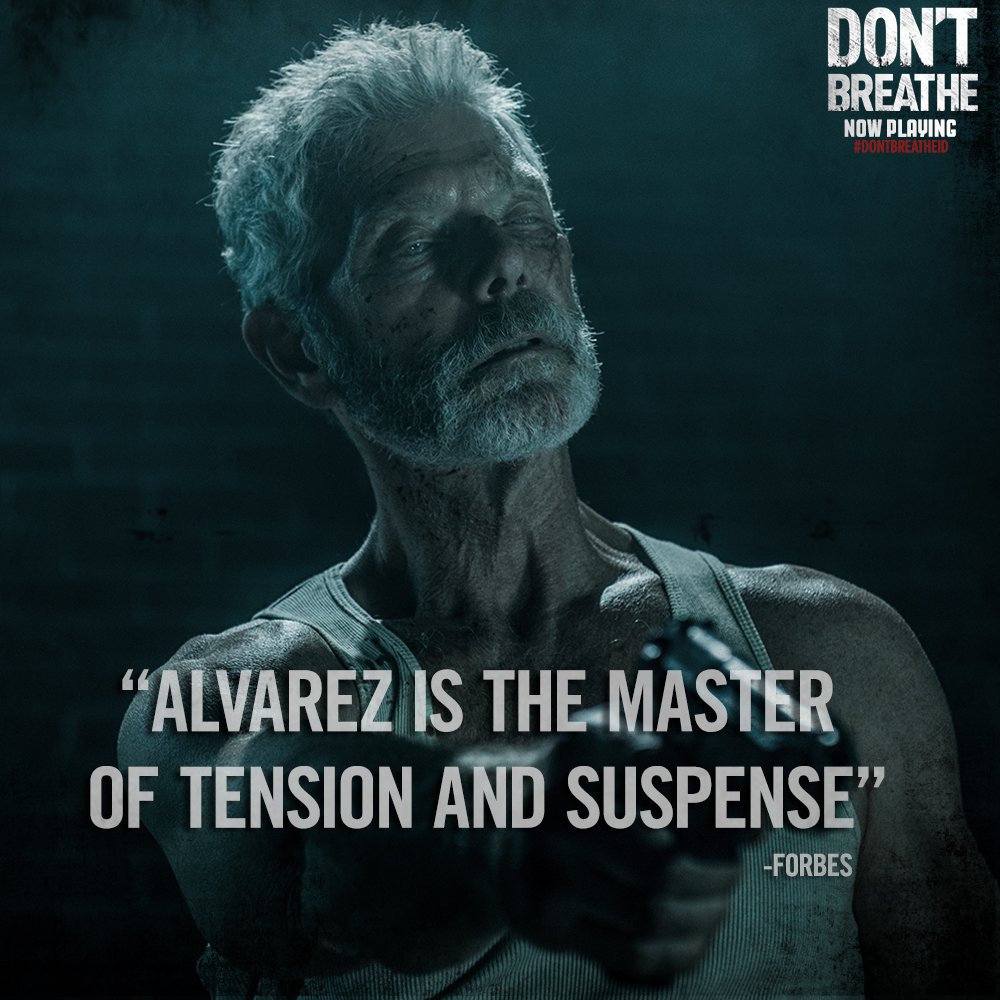 Sang sutradara, Fede Alvarez, selama ini memang dikenal jago dalam menghasilkan jump-scare di film horror. Salah satunya adalah Evil Dead (2013), yang dikritik karena terlampau banyak menampilkan darah dan terlalu mengejutkan bagi para penonton.
Meski demikian, Alvarez menyatakan Don't Breathe tidak akan se-shocking Evil Dead. Karya terbarunya ini lebih ke arah suspense dan tidak berhubungan dengan hal-hal supranatural. Para fans film bergenre psychological thriller dia jamin bakal puas.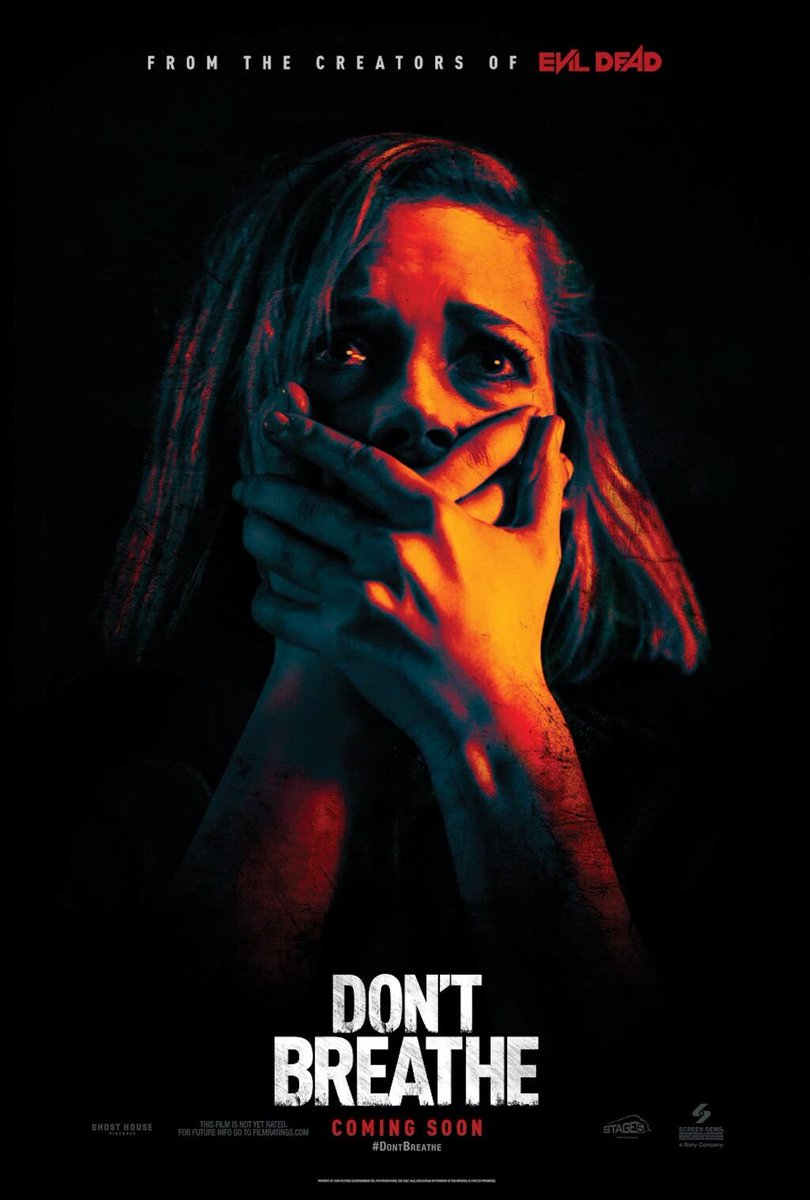 ***
Don't Breathe
Sutradara: Fede Alvarez
Produser: Sam Raimi, Robert Tapert, Fede Alvarez
Penulis Skenario: Fede Alvarez, Rodo Sayagues
Berdasarkan: Karakter ciptaan Lewis John Carlino dan Richard Wenk
Pemain: Jane Levy, Dylan Minnette, Daniel Zovatto, Stephen Lang
Musik: Roque Banos
Sinematografi: Pedro Luque
Editor: Eric L. Beason, Louise Ford, Gardner Gould
Produksi: Ghost House Pictures, Good Universe
Distributor: Screen Gems, Stage 6 Films
Budget: USD 9,9 juta
Durasi: 88 menit
Rilis: 12 Maret 2016 (SXSW), 26 Agustus 2016 (Amerika Serikat), 31 Agustus 2016 (Indonesia)
Ratings
IMDb: 7,9
Rotten Tomatoes: 87%
Metacritic: 71
CinemaScore: B+