Satu lagi film berlatar Perang Dunia II dirilis di layar lebar. Kali ini berjudul USS Indianapolis: Men of Courage. Mengangkat kisah nyata tenggelamnya kapal USS Indianapolis di Laut Filipina pada 30 Juli 1945. Dengan bintang utamanya aktor kawakan, Nicolas Cage.
Nama lain yang juga menarik perhatian adalah Thomas Jane, tokoh utama film Deep Blue Sea (1999), serta Cody Walker, adik mendiang Paul "Fast & Furious" Walker. Mereka memerankan kru kapal di USS Indianapolis: Men of Courage. Film yang disutradarai oleh Mario Van Peebles ini memang berfokus pada keberanian para awak kapal yang dipimpin oleh Kapten Charles McVay (Nicolas Cage).
Seperti yang tercatat dalam sejarah, pada medio 1945, kapal milik angkatan laut Amerika Serikat tersebut mendapat tugas mengangkut beberapa bagian penting untuk membuat bom atom ke Tinian yang terletak di Kepulauan Mariana Utara, Samudera Pasifik. Pulau kecil tersebut cukup terkenal karena menjadi basis militer Sekutu yang berniat meluluh-lantakkan Jepang dengan bom berkekuatan dahsyat.
USS Indianapolis sebenarnya berhasil menuntaskan misi mereka. Namun, sepulang dari Tinian, tepatnya di Laut Filipina, kapal yang kala itu mengangkut 1.197 kru tersebut di-torpedo oleh kapal selam I-58 milik Jepang. Sebanyak 300 orang awak kapal ikut tenggelam ke dasar laut. Sisanya, bisa menyelamatkan diri.
Akan tetapi, mimpi buruk belum berakhir. Mereka yang selamat terombang-ambing di laut tanpa makanan dan minuman selama lima hari. Selain itu, juga ada serangan dari ikan hiu! Sejarah mencatat, hanya 317 orang yang akhirnya mampu survive. Sisanya, mati dehidrasi, keracunan air laut, dan banyak yang dimakan hiu!
Nah, film yang diproduksi oleh Hannibal Classics ini bakal menonjolkan perjuangan para awak kapal USS Indianapolis dalam bertahan hidup tersebut. Penulisan skenario berlangsung hampir lima tahun karena harus menggali informasi dari kesaksian para kru yang selamat. US Navy sendiri turut membantu dalam finalisasi naskah. Tujuannya, agar kisah yang diangkat tidak melenceng dari fakta sejarah.
Proyek film yang diproduseri oleh Michael Mendelsohn dan Richard Rionda Del Castro ini sebenarnya sudah terdengar sejak 2011. Namun, karena lamanya penulisan naskah, proses syuting baru mulai dilakukan pada 19 Juni 2015. Hampir bertepatan dengan 70 tahun tenggelamnya USS Indianapolis.
Hannibal Classics kemudian menggandeng Hydroflex dan Silo Inc. untuk melakukan syuting bawah laut dan menggarap efek digitalnya. Sementara itu, Walt Conti dari Edge Innovations digaet untuk menampilkan hiu-hiu lewat teknologi CGI (computer-generated imagery).
Film rilisan Saban ini tayang perdana di Filipina pada 24 Agustus 2016. Sayangnya, USS Indianapolis: Men of Courage mendapat respon kurang positif dari situs IMDb. Meski demikian, bagi yang menyukai film-film sejarah yang berkaitan dengan Perang Dunia II, tidak ada salahnya menonton aksi terbaru dari Nicolas Cage ini. Apalagi, cerita yang diangkat tampaknya cukup seru, karena seperti perpaduan Titanic (1997) dan Jaws (1975).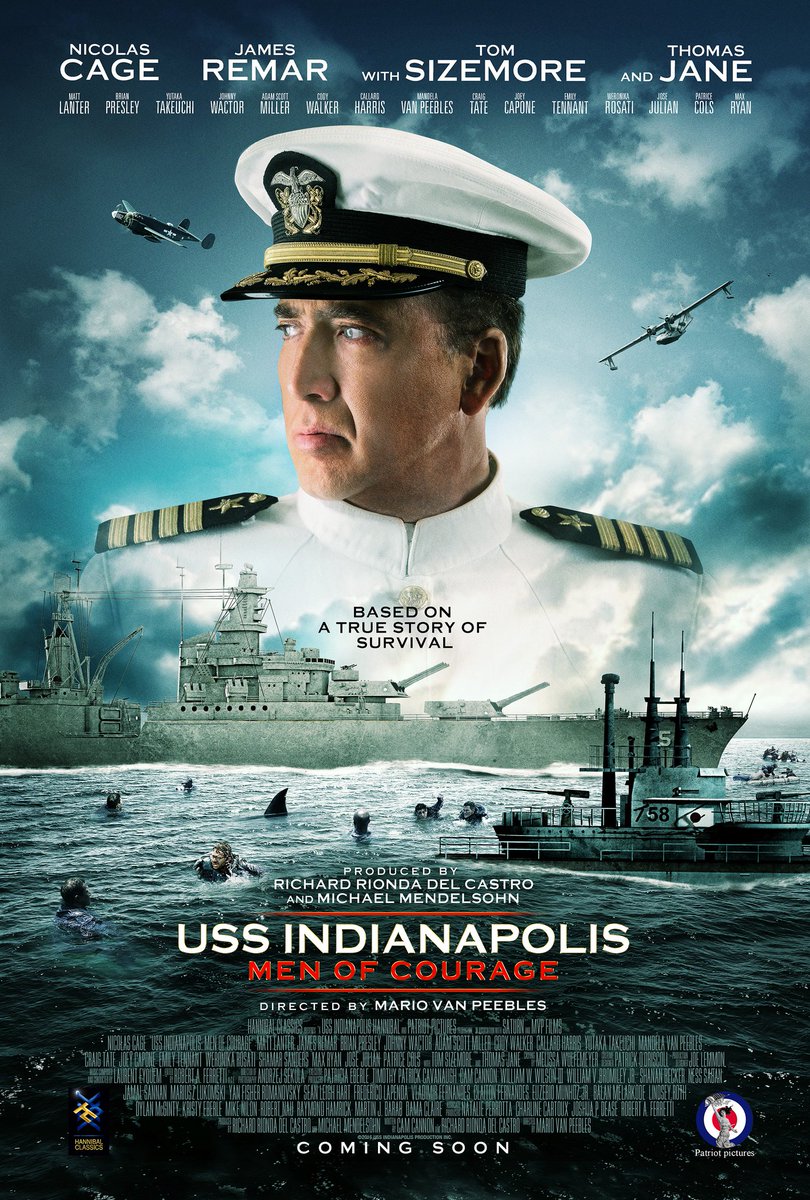 ***
USS Indianapolis: Men of Courage
Sutradara: Mario Van Peebles
Produser: Michael Mendelsohn, Richard Rionda Del Castro
Penulis Skenario: Cam Cannon, Richard Rionda Del Castro
Pemain: Nicolas Cage, Tom Sizemore, Thomas Jane, Matt Lanter, Brian Presley, Cody Walker
Musik: Laurent Eyquem
Sinematografi: Andrzej Sekula
Editor: Robert A. Ferretti
Produksi: USS Indianapolis Production, Hannibal Classics
Distributor: Saban Films
Durasi: 135 menit
Budget: USD 40 juta
Rilis: 24 Agustus 2016 (Filipina), 1 September 2016 (Amerika Serikat), 23 September 2016 (Indonesia)
Ratings
IMDb: 5,0