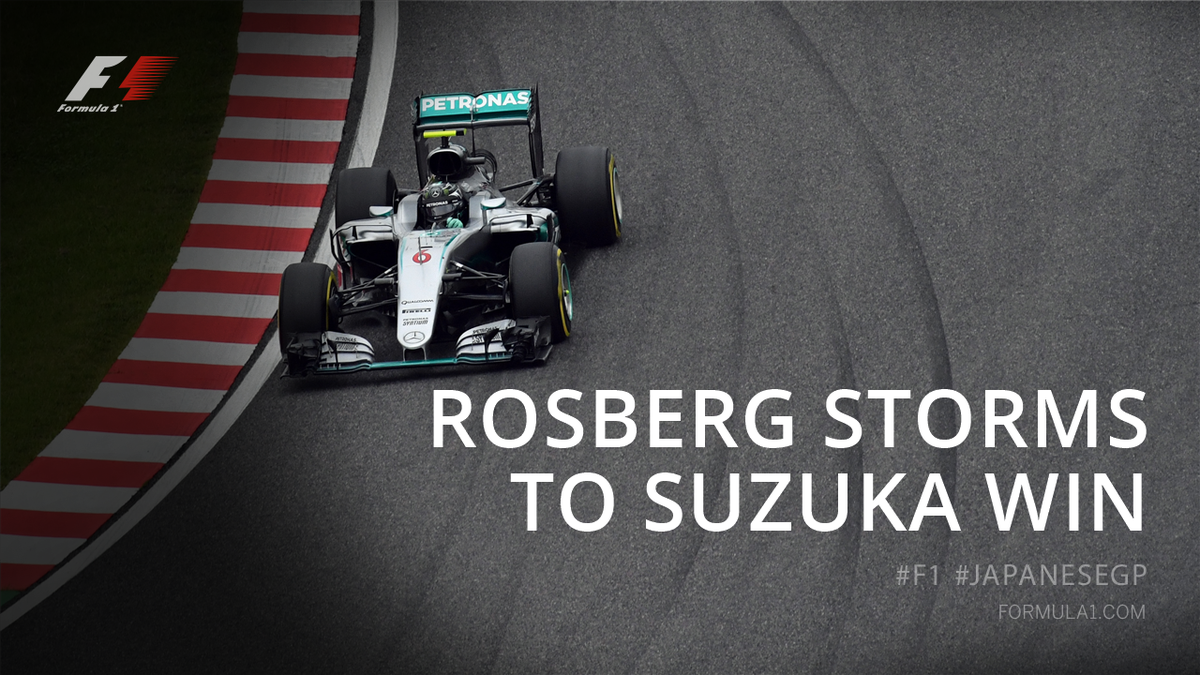 Sudah jatuh, tertimpa tangga. Itulah yang dialami oleh Lewis Hamilton di Sirkuit Suzuka, hari Minggu (9/10), kemarin. Setelah mesin mobilnya jebol di Sepang, mantan kekasih Nicole Scherzinger itu kembali gagal menang di Jepang.
Padahal, Hamilton digadang-gadang bakal tampil habis-habisan di GP Jepang. Itu tak lain karena posisinya yang semakin tertinggal dari Nico Rosberg di puncak klasemen. Namun, ternyata, pebalap asal Inggris itu malah melempem di Suzuka.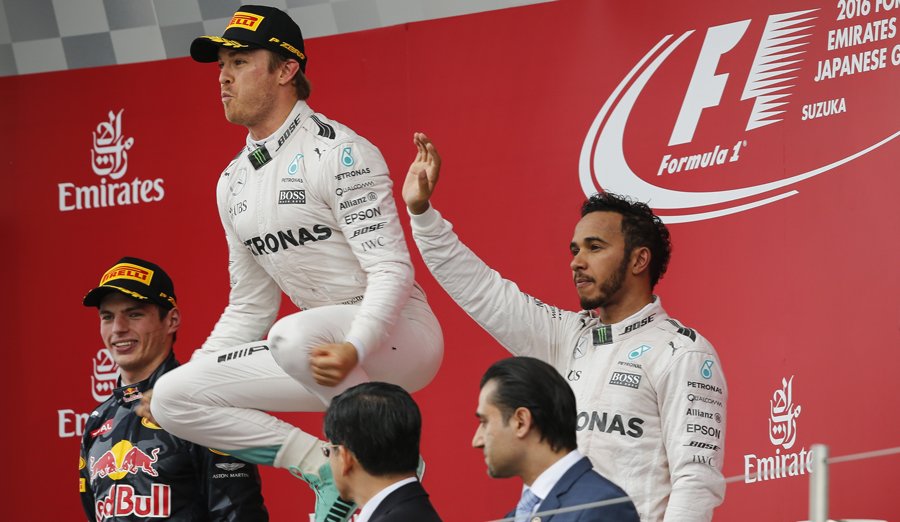 Kegagalan Hamilton untuk memangkas jarak dari Rosberg sudah terjadi di awal lomba. Start dari posisi kedua, juara dunia tiga kali itu memulai balapan dengan sangat buruk. Alhasil, dia langsung anjlok ke posisi kedelapan di tikungan pertama.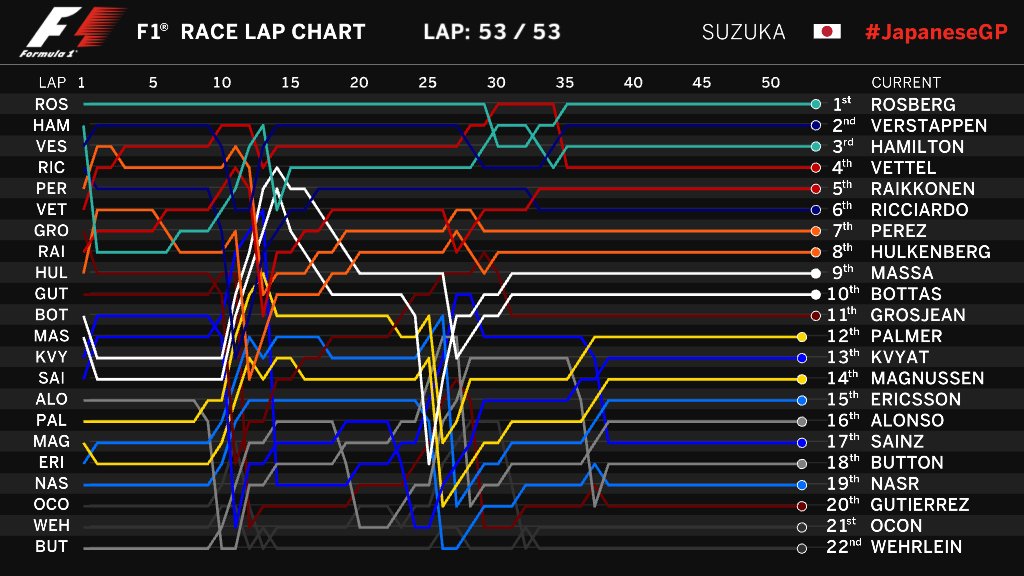 Dua musim sebelumnya, meski selalu start dari posisi kedua di belakang Rosberg, Hamilton selalu menang di Jepang, dan akhirnya menjadi juara dunia di akhir musim. Tahun ini, peruntungan Hamilton tampaknya sedang buntung.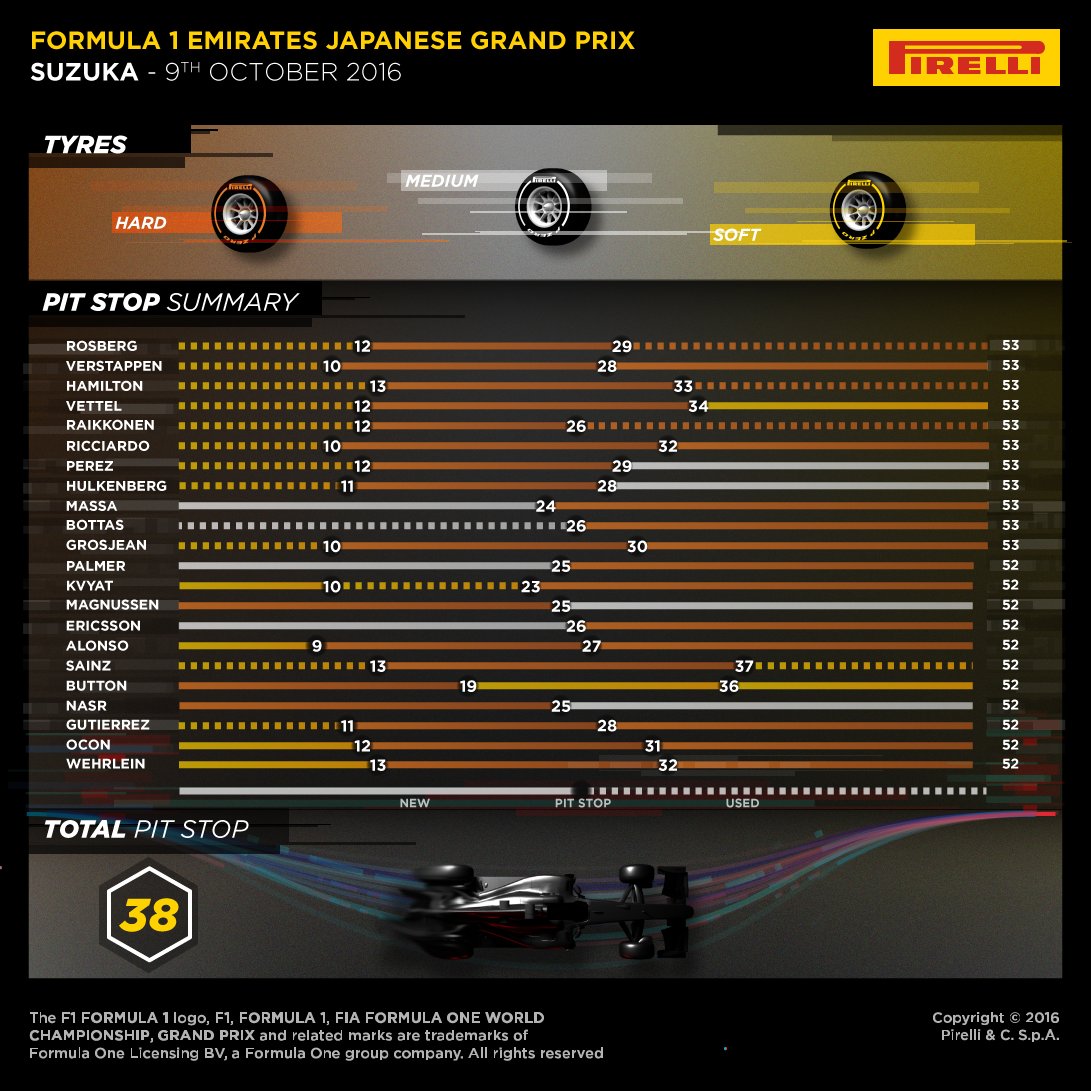 Bukan kali ini saja dia melakukan blunder saat start. Di Italia, memulai lomba dari pole position, Hamilton juga melakukan kesalahan fatal dan melorot ke posisi keenam. Begitu juga saat di Australia, Bahrain, dan Kanada. Dari tujuh kali pole position musim ini, pebalap binaan McLaren itu hanya mampu mengonversinya menjadi kemenangan sebanyak dua kali.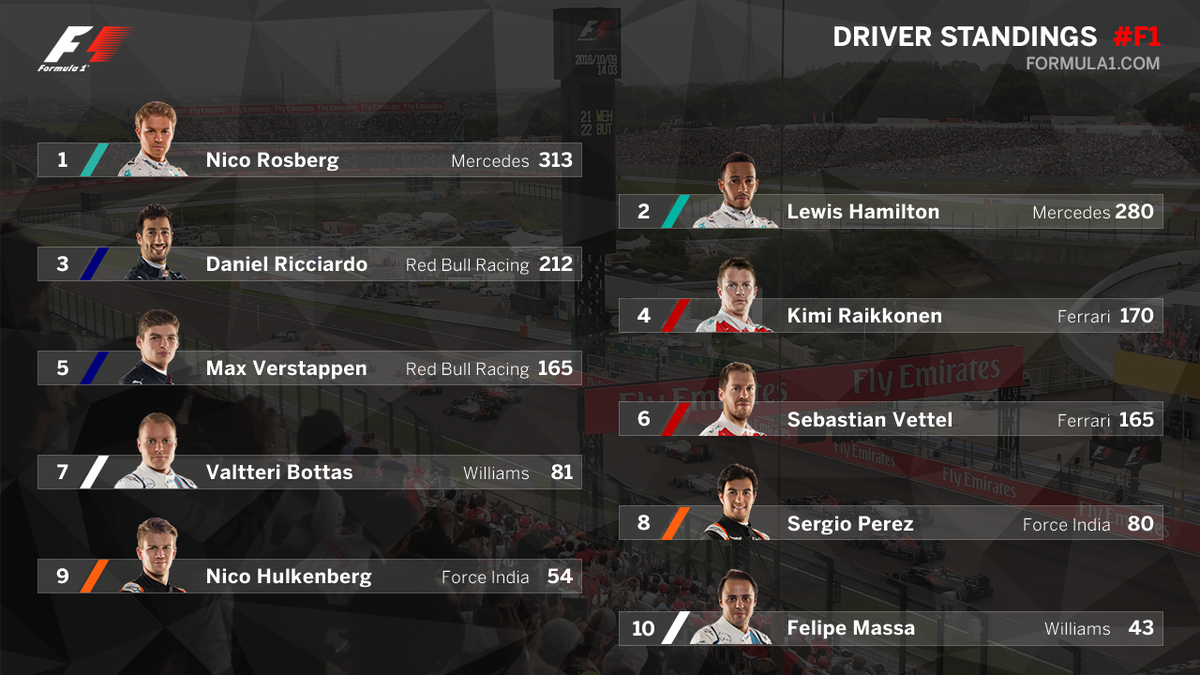 Meski demikian, kali ini Hamilton tidak lagi mengungkit-ungkit tentang teori konspirasi yang bertujuan untuk menjegalnya seperti di GP Malaysia yang lalu. Padahal, Boss Mercedes, Toto Wolff, kemarin menyatakan memang ada masalah dengan kopling sehingga membuat mobil Hamilton spin saat start. Namun, Hamilton membantahnya. Menurutnya, itu murni kesalahannya.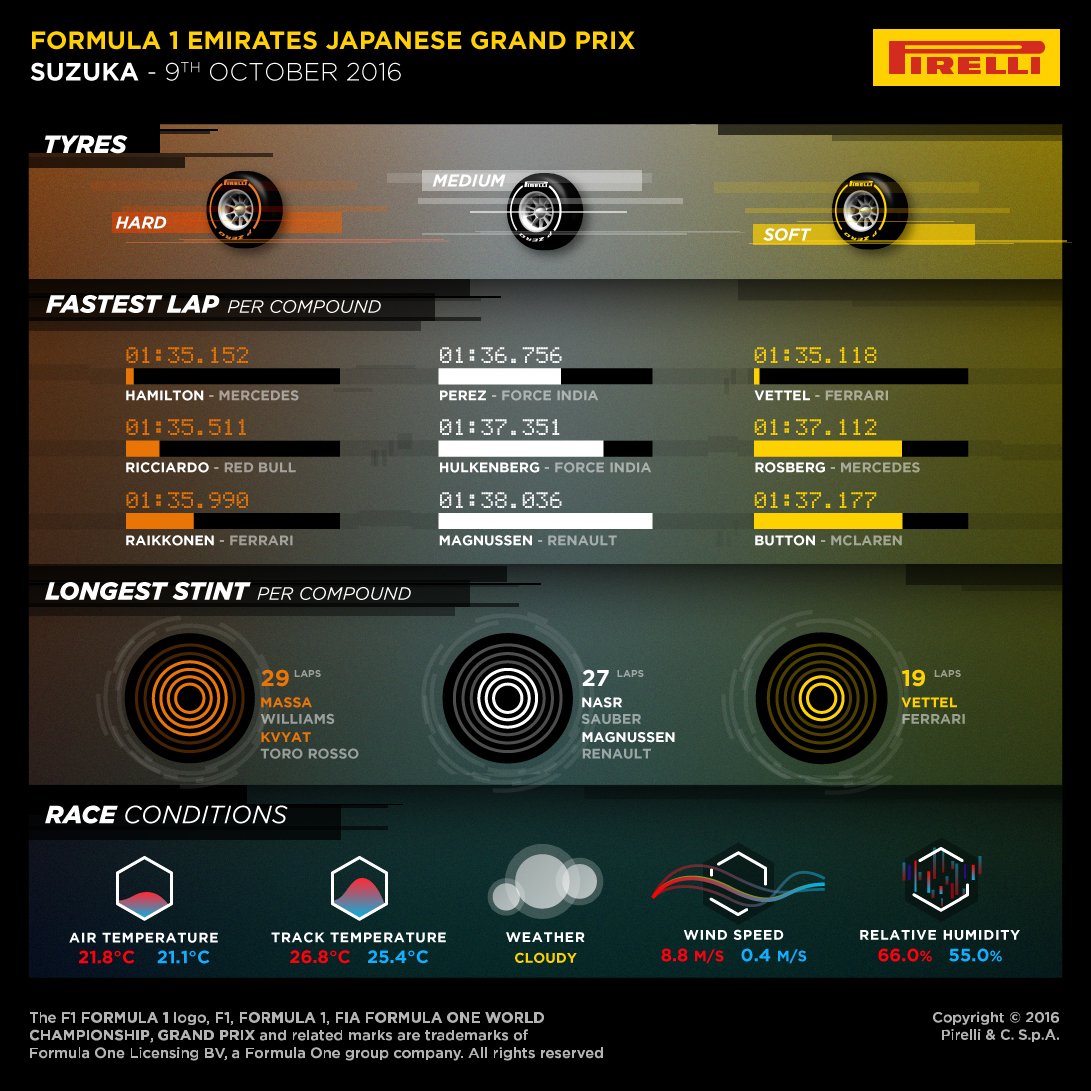 Akibat blunder Hamilton kemarin, GP Jepang berlangsung antiklimaks dan cenderung membosankan. Rosberg dengan nyaman memimpin lomba dari awal hingga finish. Meski sudah berusaha mati-matian mengejar, Hamilton akhirnya hanya mampu finish di posisi ketiga, di belakang si ababil Max Verstappen.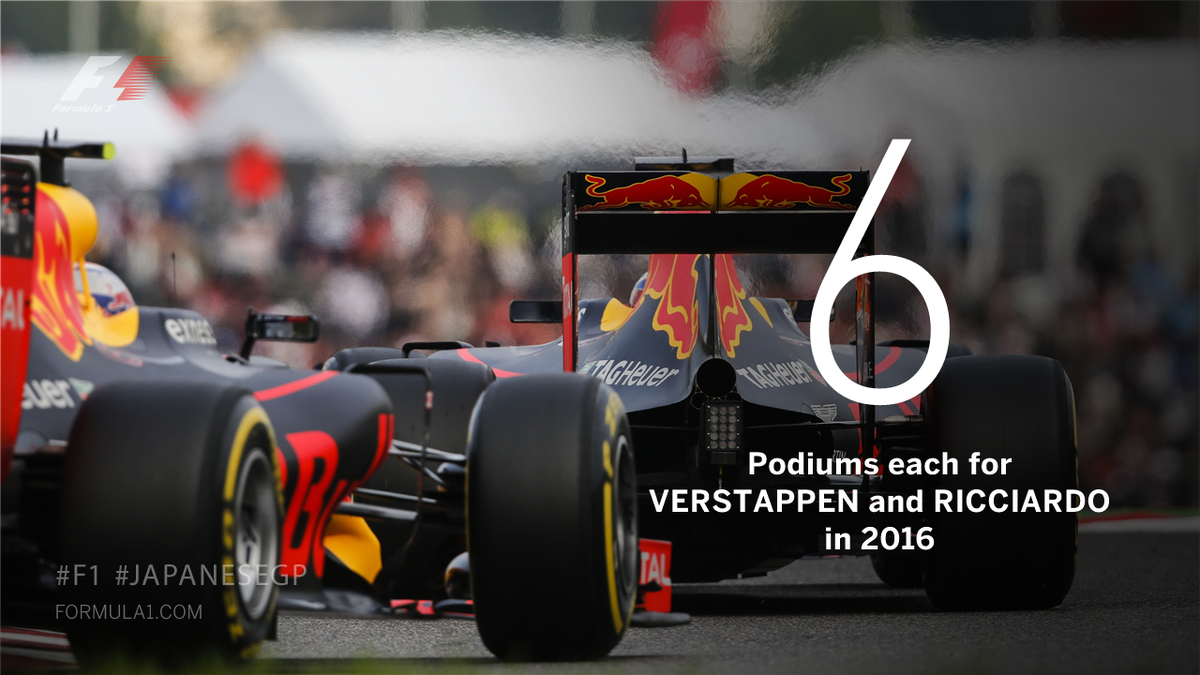 Satu-satunya "gelar" hiburan bagi Hamilton kemarin adalah kini namanya masuk jajaran pebalap yang mampu naik podium minimal 100 kali sepanjang karirnya di F1. Mantan rival Fernando Alonso itu hanya kalah dari Alain Prost (106) dan Michael Schumacher (155).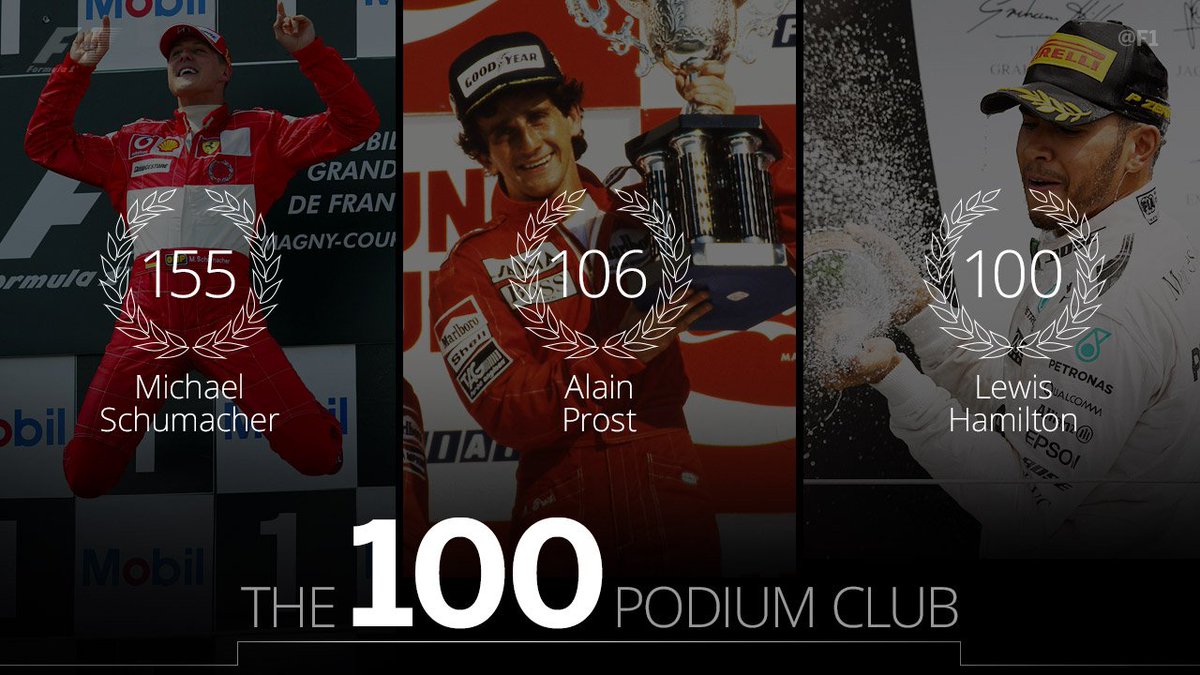 Dengan hanya empat lomba tersisa, bisa dibilang, satu kaki Rosberg saat ini sudah menginjak podium juara dunia yang belum pernah dinaikinya. Pebalap asal Jerman itu kini memimpin 33 poin di atas Hamilton. Dia hanya perlu finish runner-up di empat seri terakhir untuk menjadi jawara di akhir musim nanti.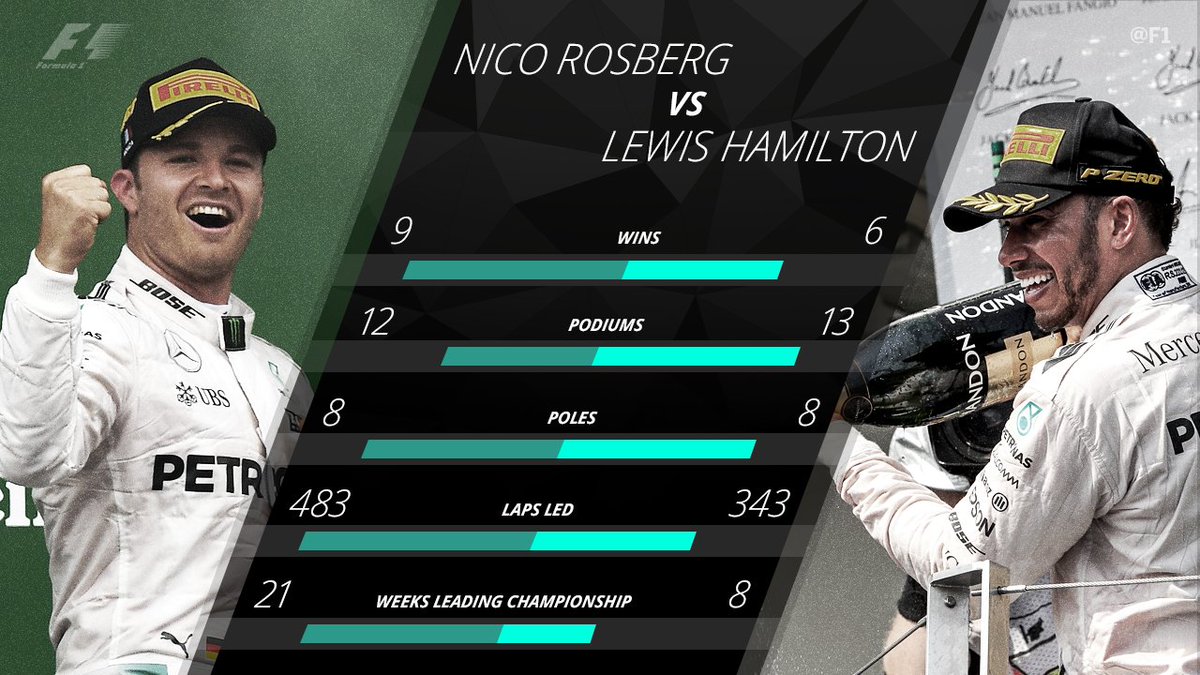 Sebaliknya, Hamilton membutuhkan miracle untuk merebut gelar juara dunia keempatnya. Selain harus selalu menang di empat lomba tersisa, dia juga berharap Rosberg finish di luar dua besar. Meski demikian, apapun masih bisa terjadi. Peluang Hamilton belum benar-benar habis.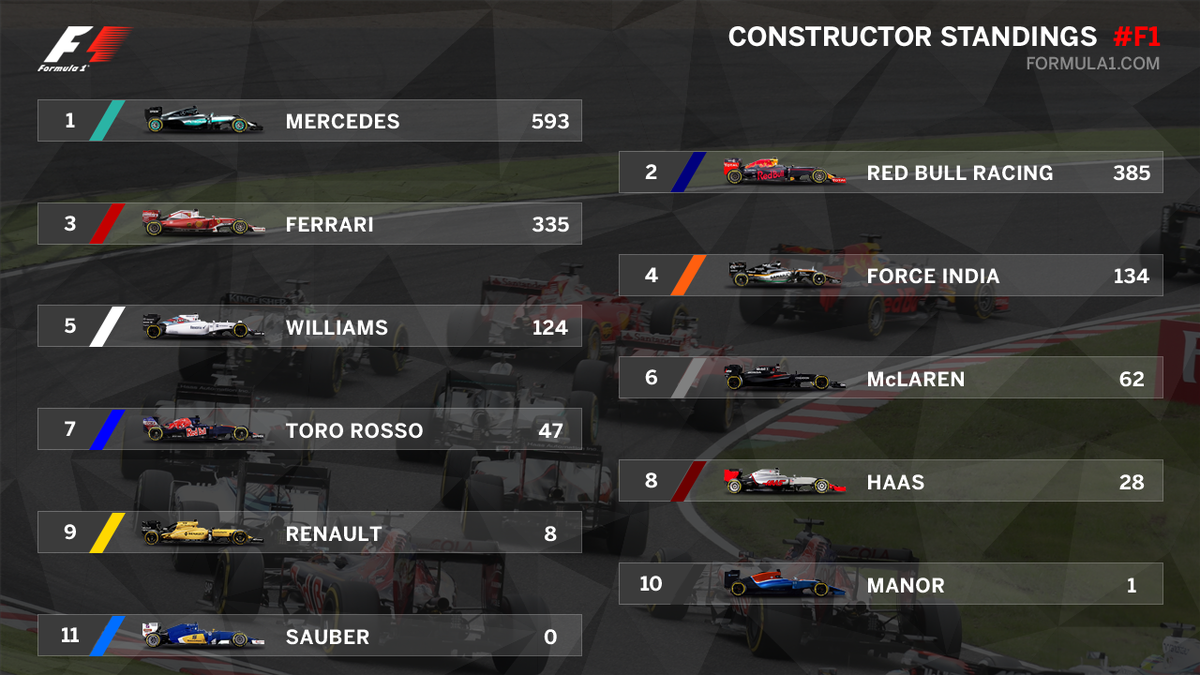 Sementara itu, keberhasilan Rosberg meraih kemenangan perdananya di Jepang kemarin juga membuat Mercedes mengunci gelar juara dunia konstruktor musim ini. Tim asal Jerman itu telah mengemas 593 poin. Dengan empat lomba tersisa, Red Bull Racing yang berada di peringkat kedua klasemen tak akan bisa mengejarnya. Apalagi, oleh Ferrari yang belum bisa bangkit dari keterpurukan.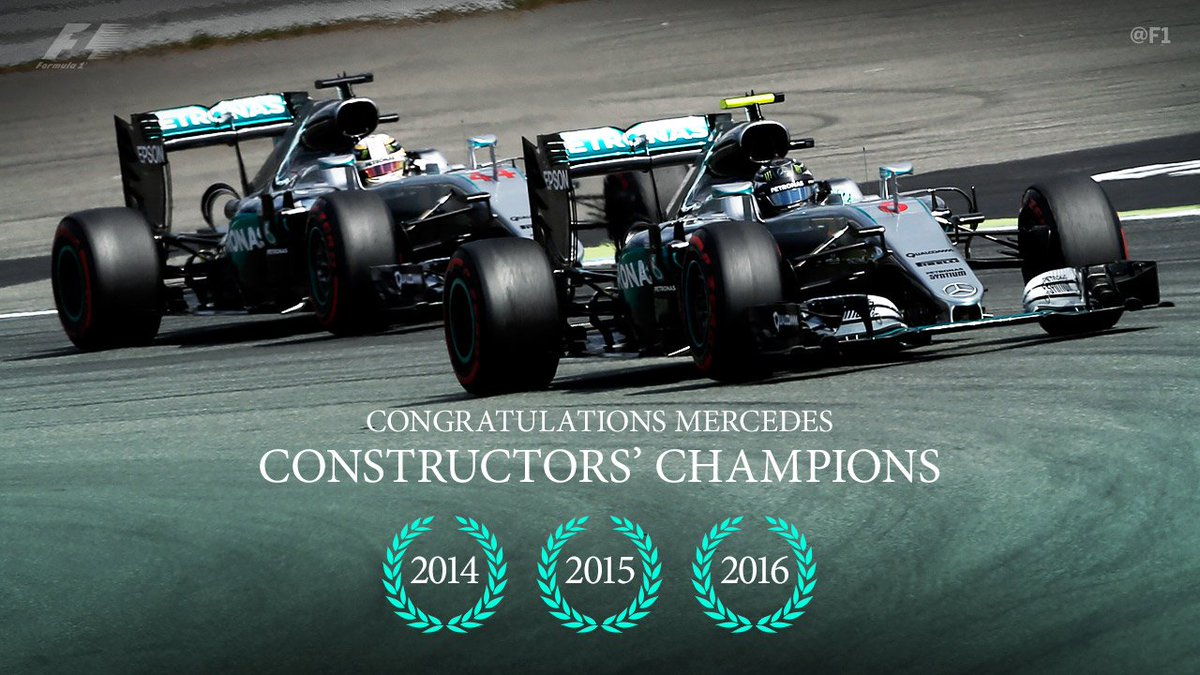 Rosberg sendiri menyambut gembira kesuksesan timnya meraih gelar juara dunia konstruktor untuk kali ketiga beruntun. Kini, misinya adalah mengamankan gelar juara dunia pebalap untuk kali pertama. Itu semua akan dimulai di Circuit of the Americas dua pekan lagi. Sampai jumpa di Texas!