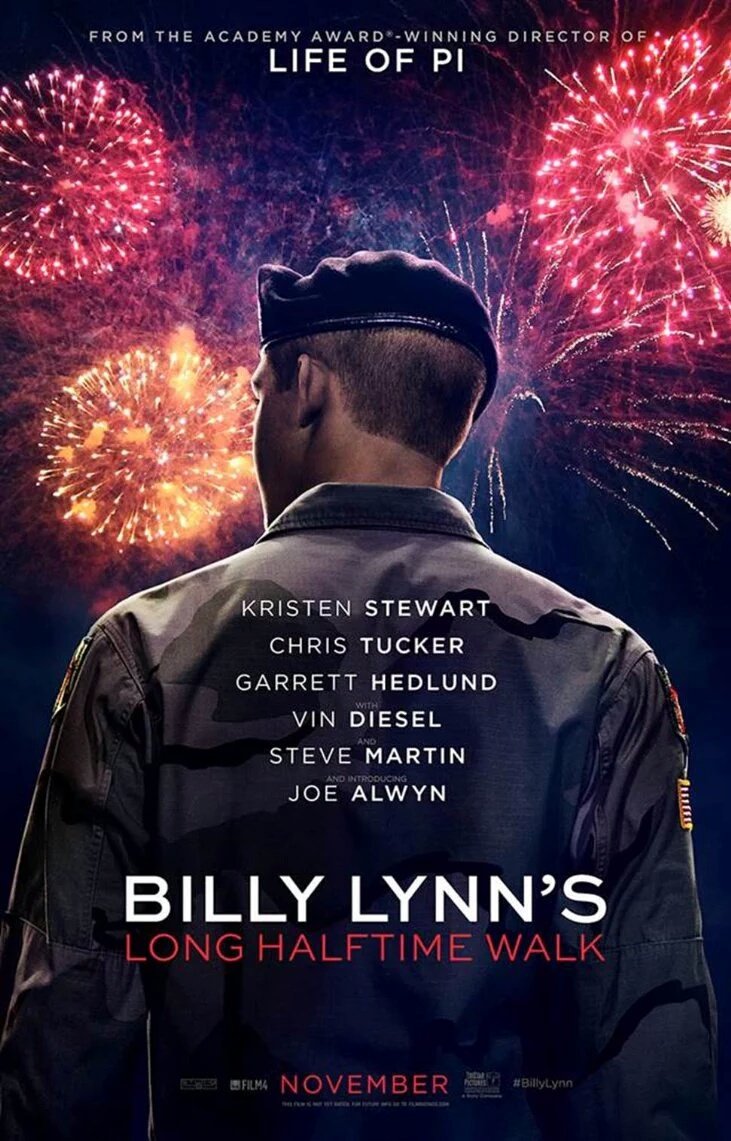 Setelah dirilis pada bulan Mei 2012 oleh Ecco Press, novel pertama karya Ben Fountain yang berjudul Billy Lynn's Long Halftime Walk mendapat sambutan sangat positif dari para kritikus. Sejumlah penghargaan pun berhasil diraih, antara lain National Book Critics Circle Award for Fiction, Flaherty-Dunnan First Novel Prize, serta menjadi finalis National Book Awards.
Kisahnya tentang seorang tentara Amerika Serikat bernama Billy Lynn. Ababil berusia 19 tahun tersebut tergabung dalam pasukan khusus Bravo Squad yang ikut berperang di Irak. Di sana, ia dan rekan-rekannya nyaris tewas dalam sebuah pertempuran dahsyat yang diliput oleh media (berita).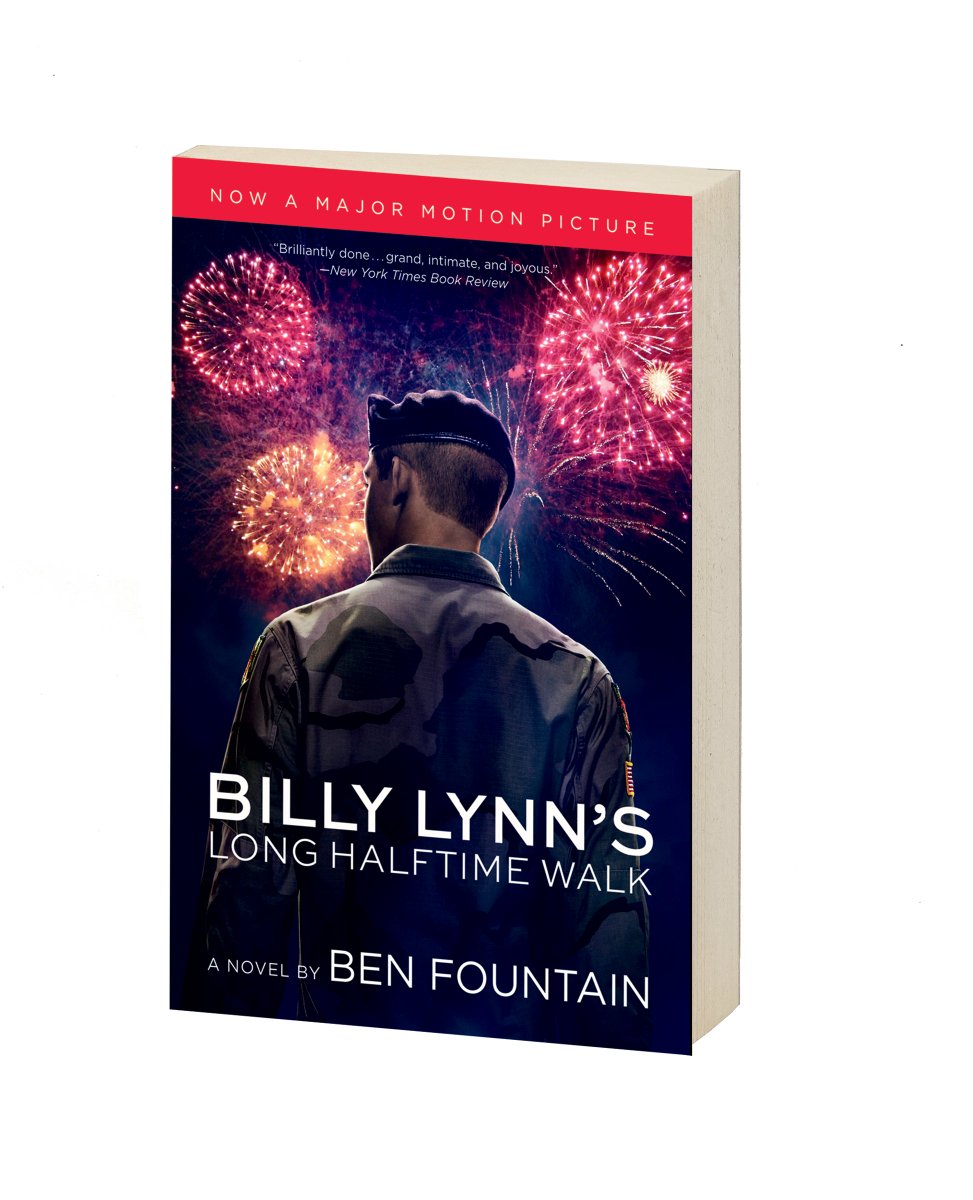 Billy dkk kemudian dinyatakan sebagai pahlawan dan dibawa pulang kembali ke kampung halaman mereka oleh Departemen Pertahanan Amerika Serikat. Para prajurit yang masih muda tersebut diarak ke seluruh negeri dan berakhir di sebuah pertandingan american football Dallas Cowboys pada Hari Thanksgiving. Saat istirahat paruh waktu (halftime), mereka diperkenalkan di tengah lapangan dan disambut dengan kembang api.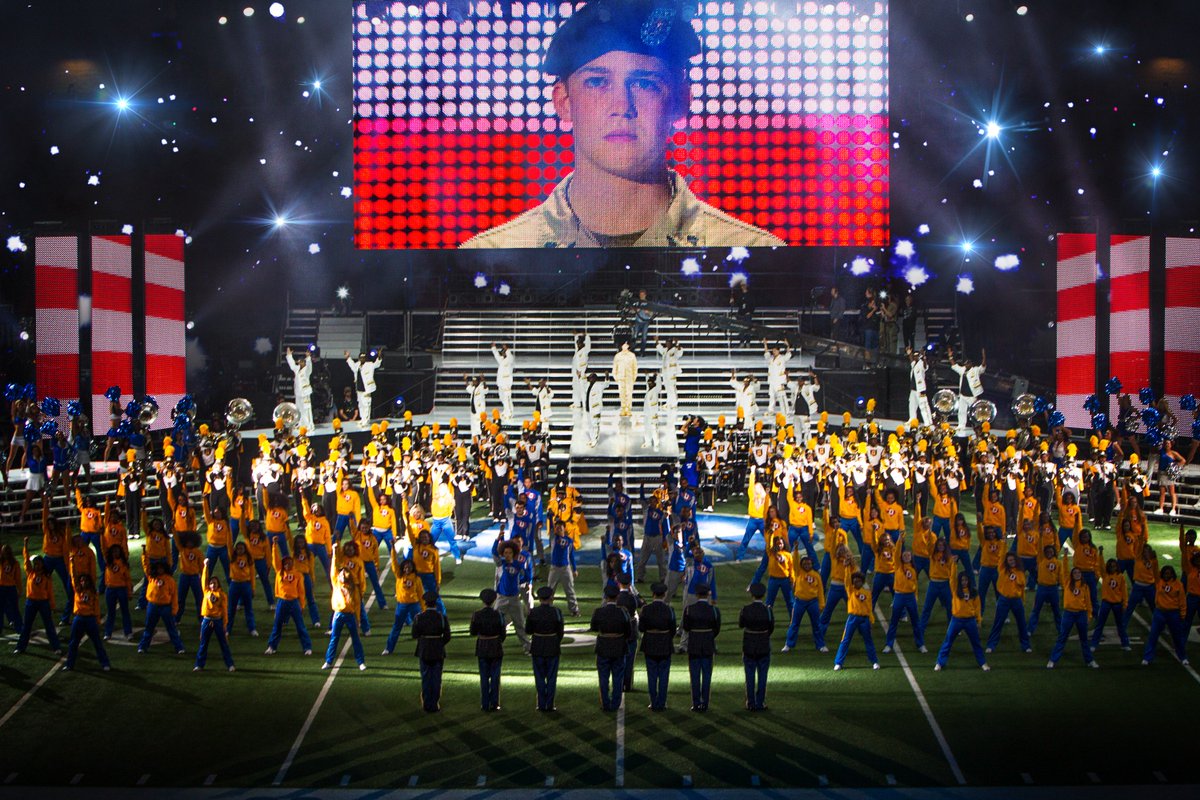 Selama acara berlangsung, Billy mengenang kembali momen-momen mencekam dan tragis saat berada di medan perang, termasuk saat ia kehilangan sang sersan dalam baku tembak. Sangat kontras dengan kemeriahan acara yang sedang terjadi.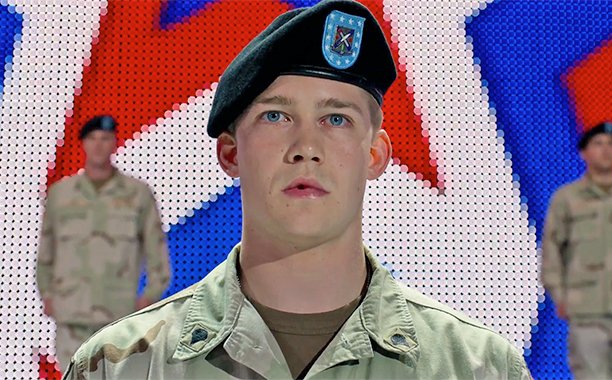 Kenangan Billy yang mengharukan itulah yang menjadi inti cerita karangan Ben Fountain tersebut. Tema yang diangkat oleh novel ini bukan hanya tentang perang yang dikomersialisasikan, melainkan juga tentang persaudaraan yang erat di antara para prajurit di medan pertempuran.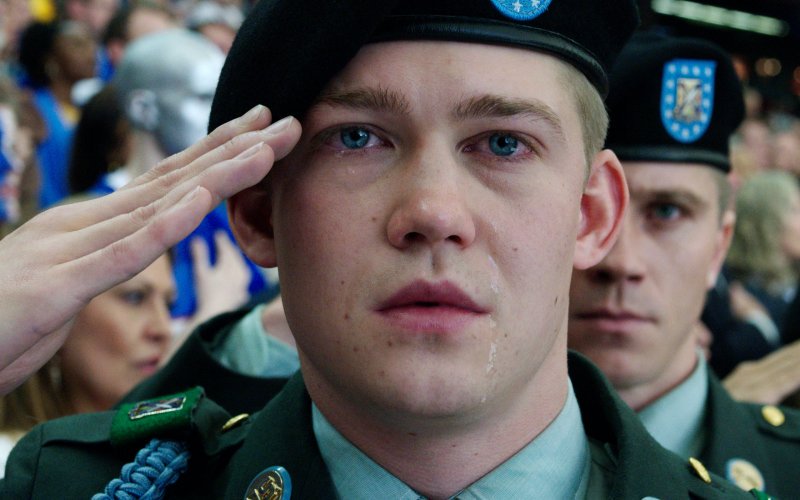 Sambutan positif dari para kritikus dan pembaca akhirnya membuat TriStar Pictures, salah satu anak perusahaan Sony Pictures, tertarik untuk mengangkat Billy Lynn's Long Halftime Walk ke layar lebar. Sutradara asal Taiwan, Ang Lee, kemudian ditunjuk untuk menggarapnya.
Meski bukan orang Amerika, sepak terjang Ang Lee di Hollywood sudah tidak perlu diragukan. Dua Piala Oscar yang dia raih adalah buktinya. Sejak melejit lewat Sense and Sensibility (1995), sutradara berusia 62 tahun tersebut memang terus melahirkan karya yang inovatif, sebut saja Crouching Tiger, Hidden Dragon (2000), Hulk (2003), Brokeback Mountain (2005), dan Life of Pi (2012).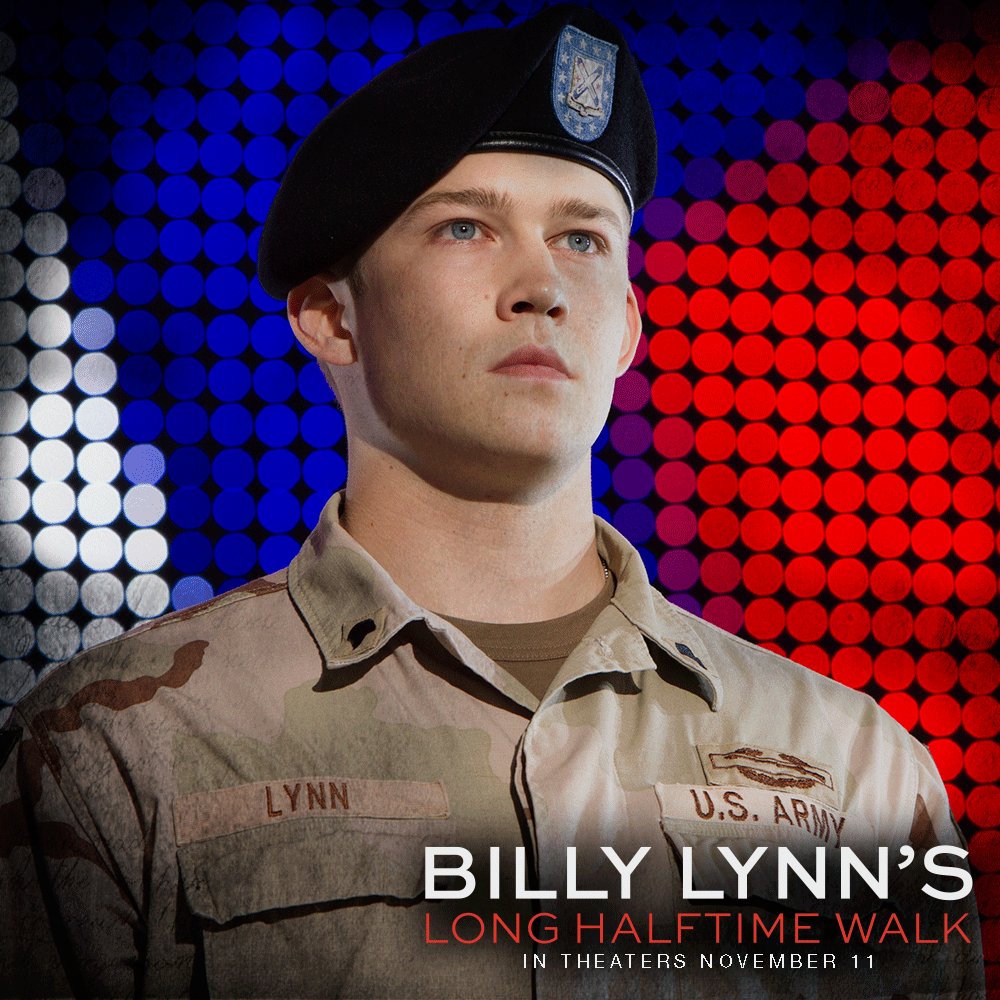 Di Billy Lynn's Long Halftime Walk ini, Ang Lee menerapkan teknologi mutakhir. Proses syuting film perang berdurasi 110 menit tersebut menggunakan kamera digital cinema 3D terbaru dengan high frame rate lima kali lipat dari kamera biasa. Produk rilisan Sony tersebut mampu merekam dengan resolusi 4K dan frekuensi gambar 120 frame per detik! Bandingkan dengan kamera biasa yang hanya 24 frame per detik.
Film terbaru Ang Lee ini pun tercatat sebagai film dengan frekuensi frame per detik tertinggi yang pernah diproduksi. Sebelum ini, rekor dipegang oleh trilogi The Hobbit (2012) garapan sutradara Peter Jackson, yang juga berformat 3D dan frekuensinya mencapai 48 frame per detik.
Dengan kamera high frame rate yang mutakhir tersebut, Billy Lynn's Long Halftime Walk ini menjanjikan sebuah adegan perang dengan sensasi tajam dalam format 3D. Jika menonton trailer-nya, terlihat visualisasi film berbujet USD 40 juta ini memang cukup megah.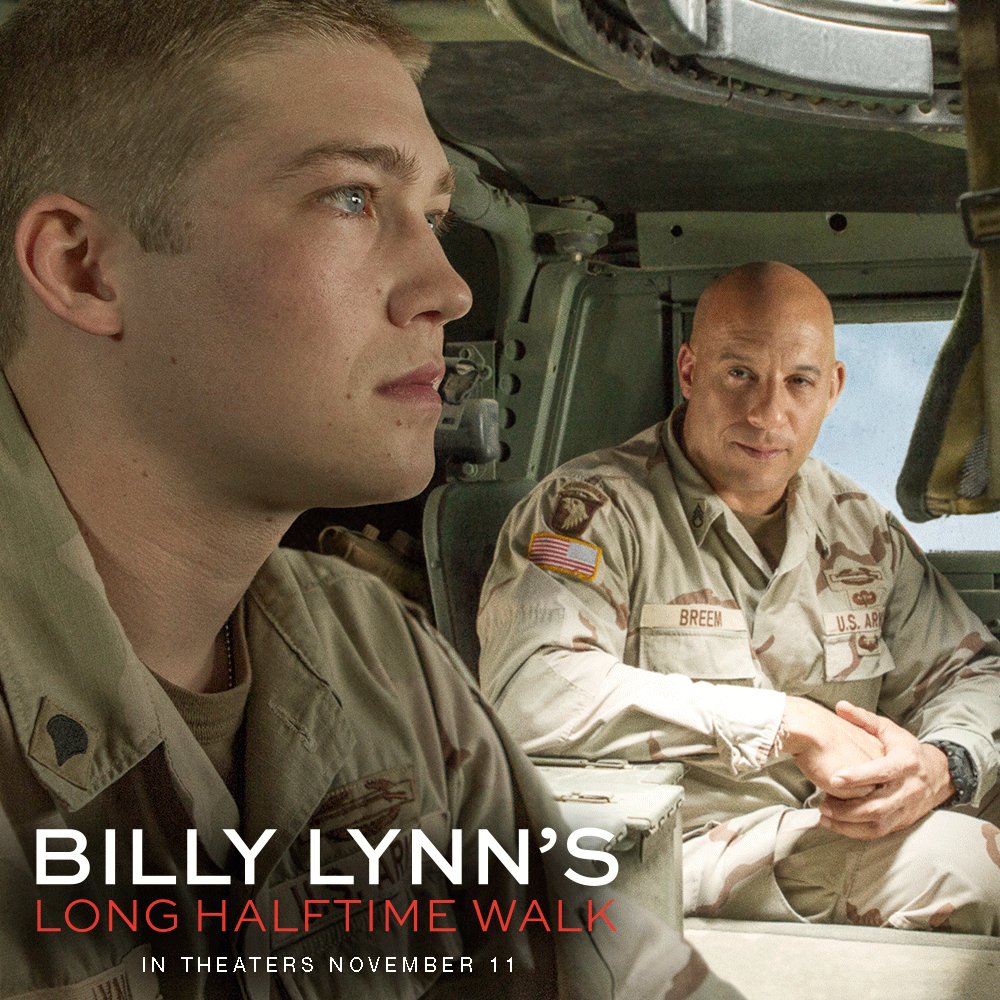 Selain menggunakan teknologi terkini, Ang Lee juga memperkuat jajaran cast dengan aktor dan aktris terkenal, antara lain Vin Diesel dan Kristen Stewart. Kemampuan akting mereka memang dibutuhkan untuk mendukung sang pendatang baru, Joe Alwyn, yang memerankan Billy Lynn. Selain itu, Lee ingin menyajikan adegan-adegan drama yang kuat, seperti di film-film dia sebelumnya.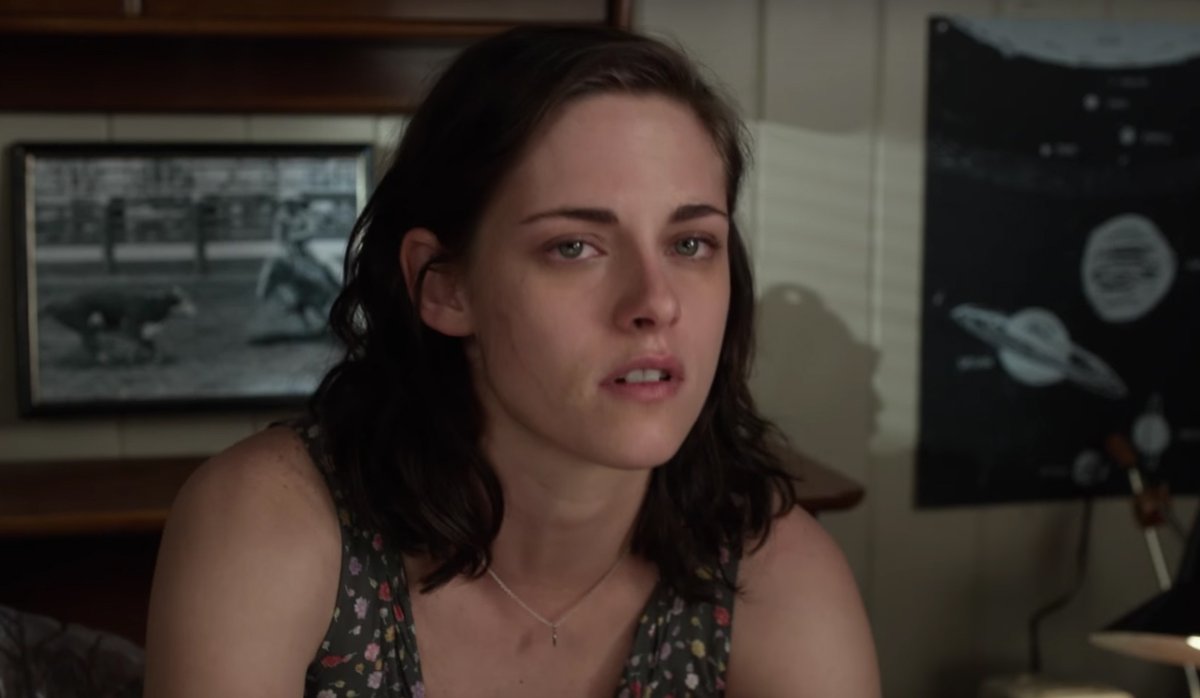 Bagi K-Stew, Billy Lynn's Long Halftime Walk ini adalah film keempatnya, atau yang terakhir, di tahun 2016 ini. Sebelumnya, pemeran karakter Kathryn (kakak Billy) tersebut sudah bermain di Certain Women, Cafe Society, dan Personal Shopper. Mantan pacar Robert Pattinson itu memang terbiasa tampil di 2-3 film setiap tahunnya.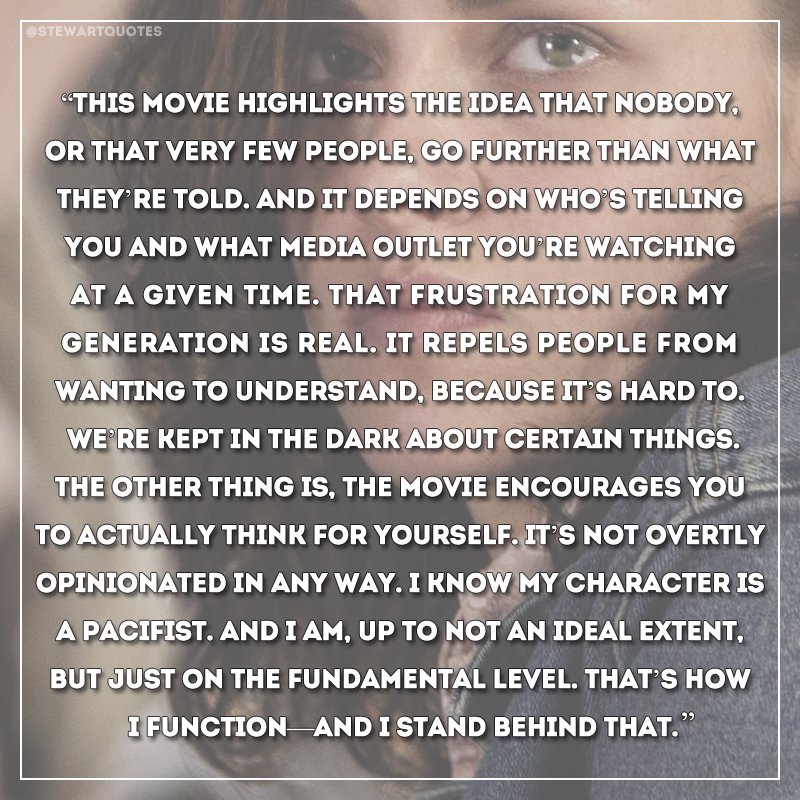 Sayangnya, kehadiran sejumlah bintang tenar tersebut tidak cukup untuk mengangkat Billy Lynn's Long Halftime Walk. Sejak tayang perdana secara terbatas di New York Film Festival pada 14 Oktober 2016, sejumlah situs review memberi rating yang kurang positif. Para kritikus menilai penggunaan kamera high frame rate sebenarnya terlalu mubazir untuk film yang unsur dramanya lebih kental daripada adegan perangnya ini.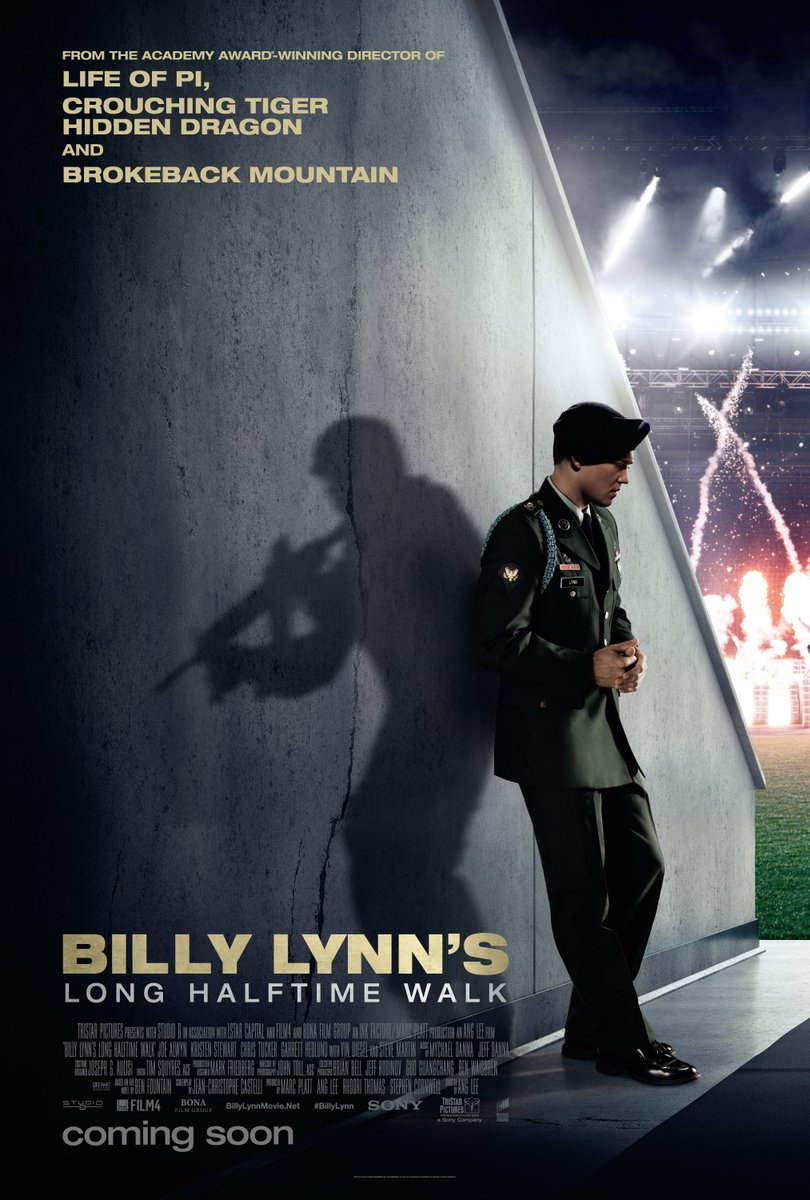 ***
Billy Lynn's Long Halftime Walk
Sutradara: Ang Lee
Produser: Simon Cornwell, Stephenson Cornwell, Marc Platt, Tom Rothman, Rhodri Thomas, Ang Lee
Penulis Skenario: Jean-Christophe Castelli
Berdasarkan: Billy Lynn's Long Halftime Walk by Ben Fountain
Pemain: Kristen Stewart, Chris Tucker, Garrett Hedlund, Vin Diesel
Steve Martin, Joe Alwyn
Musik: Jeff Danna, Mychael Danna
Sinematografi: John Toll
Penyunting: Tim Squyres
Produksi: Bona Film Group, Film4 Productions, The Ink Factory, Studio 8, TriStar Productions
Distributor: TriStar Pictures
Durasi: 110 menit
Budget: GBP 40 juta
Rilis: 14 Oktober 2016 (NYFF), 11 November 2016 (Amerika Serikat & Indonesia)
Ratings
IMDb: 6,4
Rotten Tomatoes: 50%
Metacritic: 55