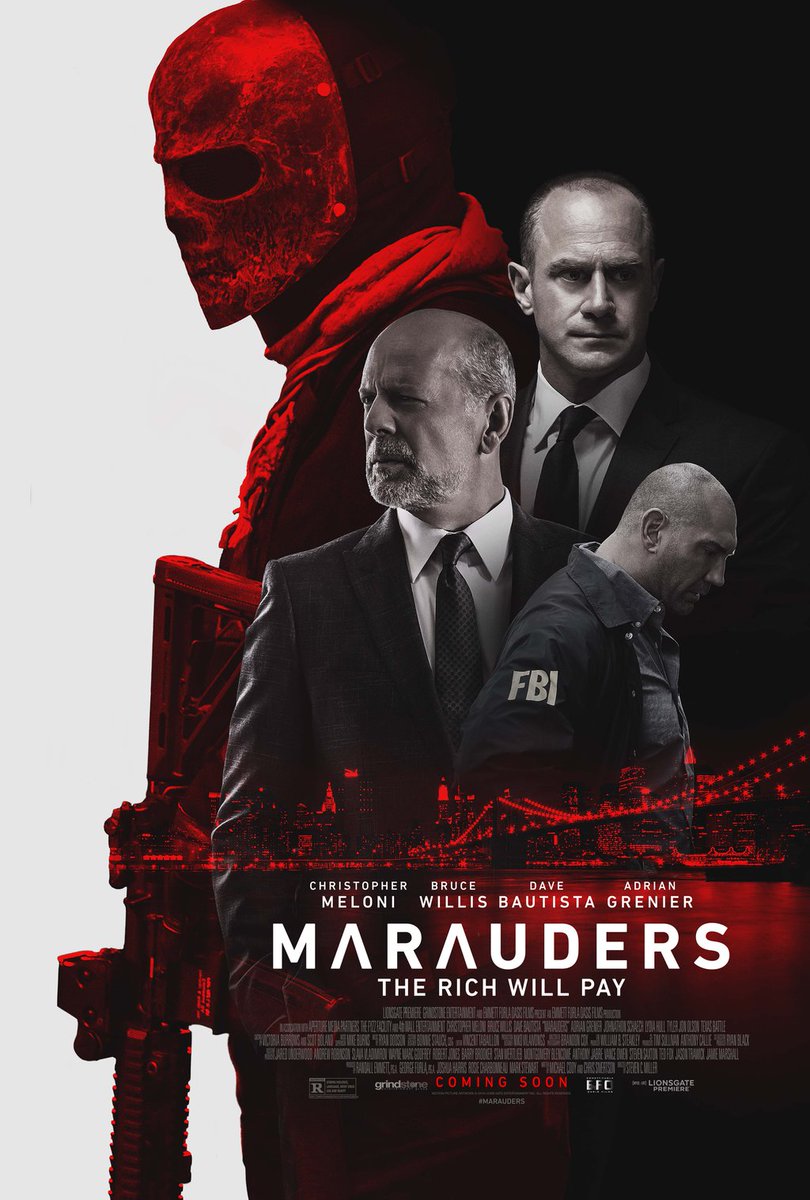 Nama Bruce Willis memang sangat lekat dengan film-film action. Sejak memerankan John McClane dalam film Die Hard (1988), mantan suami Demi Moore tersebut langsung melejit sebagai salah satu aktor laga papan atas di Hollywood.
Meski kini usianya tidak lagi muda, sudah 61 tahun, Willis masih tetap aktif. Nyaris setiap tahun namanya menghiasi layar lebar. Bahkan, tahun ini, bintang utama serial televisi Moonlighting (1985-1989) itu terlibat dalam empat proyek film. Satu di antaranya berjudul Marauders, yang baru tayang pekan ini di Indonesia.
Bergenre action crime-thriller, Marauders berkisah tentang sebuah bank milik Jeffrey Hubert (Bruce Willis) yang dirampok oleh sekelompok penjahat profesional. Selain menggondol uang USD 3 juta, dalam aksinya tersebut, mereka juga menyandera adik sang pemilik bank, yang akhirnya tewas terbunuh.
FBI pun langsung turun tangan untuk menyelidiki kasus tersebut. Dalam proses investigasi, Agent Jonathan Montgomery (Christopher Meloni) menemukan fakta bahwa ada konspirasi rumit di belakang aksi perampokan bank tersebut. Apa yang menjadi motif para penjahat itu dan siapa sebenarnya yang menjadi dalang utamanya?
Selain Bruce Willis, Marauders juga dibintangi oleh Christopher Meloni yang dulu mulai dikenal setelah membintangi serial televisi Law & Order: Special Victims Unit di NBC dan Oz di HBO. Kedua aktor senior tersebut sebenarnya sudah pernah main bareng di beberapa film, di antaranya 12 Monkeys (1995) dan Sin City: A Dame to Kill For (2014).
Nama besar lain yang menghiasi Marauders adalah Dave Bautista. Para penggemar film superhero Marvel tentu saja mengenal mantan pegulat profesional WWE itu sebagai Drax the Destroyer dalam Guardians of the Galaxy (2014).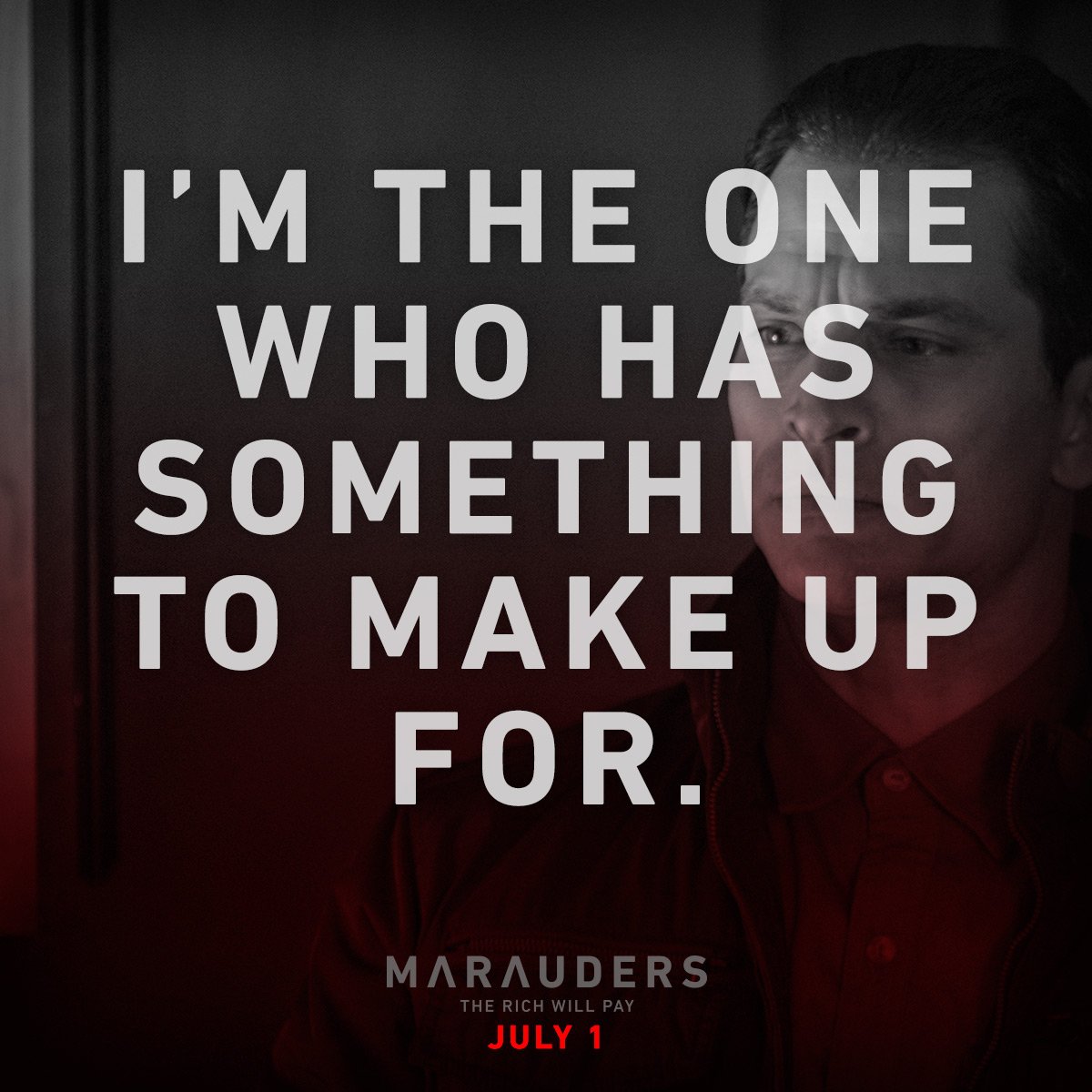 Di Amerika Serikat, film berdurasi 107 menit ini sebenarnya sudah dirilis sejak 1 Juli 2016 yang lalu oleh Lionsgate Premiere. Sayangnya, selain jeblok secara komersial, hanya meraup pemasukan USD 120 ribu hingga saat ini, Marauders juga mendapat rating kurang positif dari sejumlah situs review dan kritikus.
***
Marauders
Sutradara: Steven C. Miller
Produser: Randall Emmett, George Furla, Joshua Harris, Rosie Charbonneau, Mark Stewart
Penulis Skenario: Michael Cody, Chris Sivertson
Pemain: Christopher Meloni, Bruce Willis, Dave Bautista, Adrian Grenier, Johnathon Schaech, Lydia Hull, Tyler Jon Olson, Texas Battle
Musik: Ryan Dodson
Sinematografi: Brandon Cox
Penyunting: Vincent Tabaillon
Produksi: Grindstone Entertainment, Emmett/Furla/Oasis Films, Aperture Media Partners, The Fyzz Facility, 4th Wall Entertainment
Distributor: Lionsgate Premiere
Durasi: 107 menit
Rilis: 1 Juli 2016 (Amerika Serikat), 20 November 2016 (Indonesia)
Ratings
IMDb: 5,4
Rotten Tomatoes: 40%
Metacritic: 42