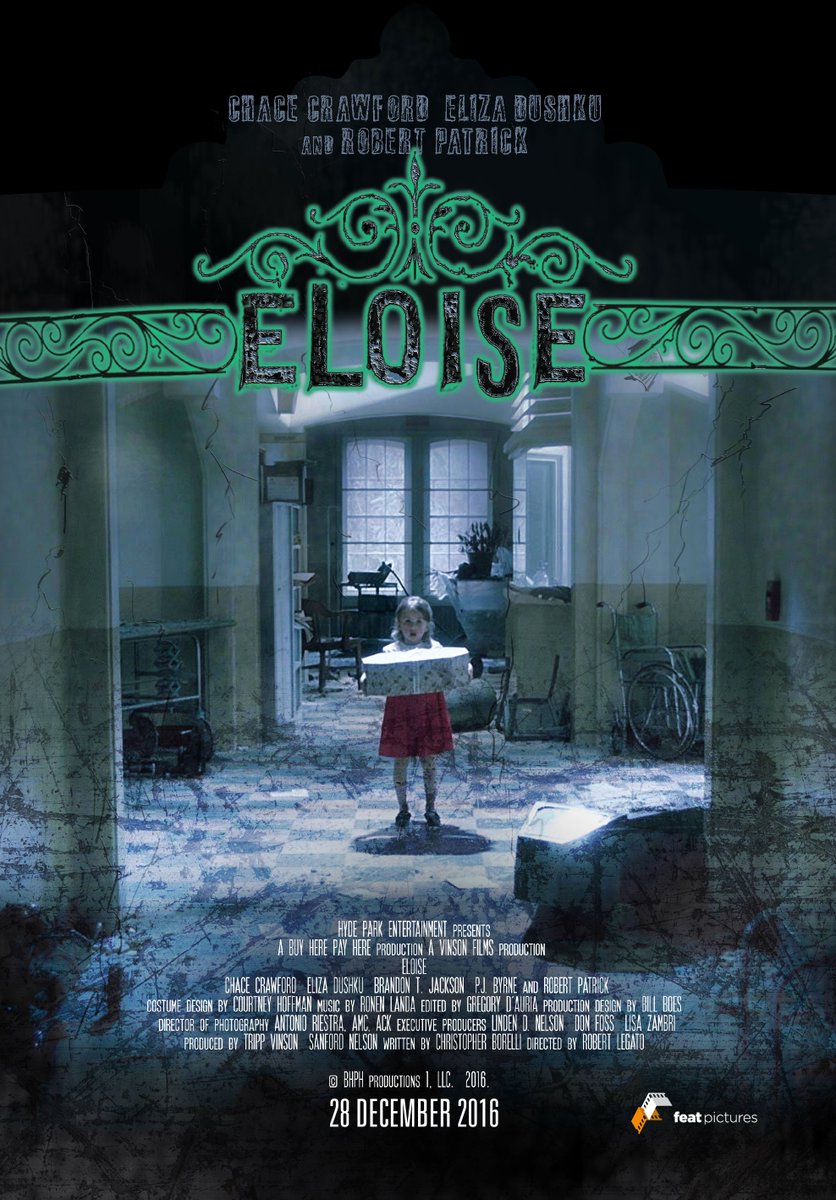 Film horror, meskipun menyeramkan, memang selalu bikin nagih untuk ditonton. Apalagi, jika berdasarkan kisah nyata, atau terinspirasi dari lokasi yang benar-benar ada dan terkenal angker. Seperti halnya Eloise, yang tayang di Indonesia mulai hari Rabu (28/12) ini.
Film besutan Robert Legato tersebut memang melakukan syuting di Eloise Insane Asylum. Bekas rumah sakit jiwa terbesar di dunia yang kini tercampakkan itu terletak di Nankin Township, Wayne County, Michigan, Amerika Serikat.
Dibangun pada tahun 1892, Eloise awalnya hanya berupa satu gedung penampungan orang-orang miskin. Namun, institusi tersebut kemudian berkembang menjadi sebuah kompleks rumah sakit jiwa yang terdiri atas 78 gedung, yang dilengkapi dengan pemadam kebakaran, kantor polisi, stasiun kereta api, kantor pos, hingga lahan pertanian sendiri!
Menariknya, kantor pos di kompleks tersebut, yang dibangun pada 20 Juli 1894, kemudian disebut "Eloise", berasal dari nama putri sang kepala kantor pos: Eloise Dickerson Davock. Nama itu akhirnya menjadi terkenal dan diadopsi sebagai nama resmi untuk seluruh institusi.
Pada tahun 1913, Eloise terdiri dari tiga divisi besar: The Eloise Hospital (rumah sakit jiwa), The Eloise Infirmary (poorhouse), dan The Eloise Sanitarium (rumah sakit khusus penderita TBC). Namun, pada 1945, nama resmi "Eloise" kemudian diubah menjadi Wayne County General Hospital.
Masa kejayaan Eloise berlangsung cukup lama, sebelum akhirnya ditutup sepenuhnya pada tahun 1982, yang diawali dengan penutupan rumah sakit jiwanya pada 1979. Dari 78 bangunan, kini hanya tersisa empat gedung yang digunakan untuk kantor, pusat perawatan, dan penampungan tuna wisma. Selain itu, juga ada tempat pemakaman umum.
Bangunan-bangunan lain yang tak terpakai, seperti toko roti, pemadam kebakaran, ruang kelistrikan, dan lain-lain, dibiarkan terbengkalai begitu saja dan menjadi angker. Pada bulan Maret 2016 yang lalu, bahkan, sempat terjadi kebakaran hebat di area pembangkit listrik tenaga batubara yang digunakan sebagai penghasil uap panas dan listrik untuk seluruh kawasan Eloise.
Keangkeran kompleks tersebut akhirnya menginspirasi para produser untuk membuat sebuah film horror. Robert Legato, yang sebelum ini lebih dikenal sebagai visual effects supervisor, diangkat menjadi sutradara. Eloise pun tercatat sebagai film pertama yang dibesut oleh pria kelahiran 1956 tersebut.
Film yang baru akan tayang di Amerika Serikat pada 3 Februari 2017 ini mengisahkan tentang empat sekawan yang diperankan oleh Eliza Dushku, Chace Crawford, Brandon T. Jackson, dan P. J. Byrne. Mereka menerobos masuk ke dalam Eloise, bekas rumah sakit jiwa yang seram dan tak bertuan.
Misi Jacob Martin (Chace Crawford) adalah mencari sepucuk surat kematian yang disimpan di Eloise, yang nantinya bakal ia gunakan untuk mendapatkan harta warisan. Namun, bukan hanya situasi menyeramkan yang Jacob dkk temui di sana, melainkan juga rahasia kelam yang menyelimuti tragedi masa lalu di bekas rumah sakit jiwa tersebut.
Salah satu produser Eloise, Tripp Vinson, selama ini memang dikenal kerap menghasilkan film-film horror serta action-thriller yang bernuansa kelam. Sebut saja, Hansel & Gretel: Witch Hunters (2013), Red Dawn (2012) yang dibintangi Chris Hemsworth, The Number 23 (2007)-nya Jim Carey, hingga The Exorcism of Emily Rose (2005) yang didasarkan pada kisah nyata.
Sementara itu, meski Eloise ini merupakan debutnya sebagai sutradara, track record Robert Legato di dunia perfilman juga tidak bisa diremehkan. Jagoan visual efek itu sudah pernah meraih dua Piala Oscar lewat karyanya di film Titanic (1997) dan Hugo (2011). Selain itu, dia juga terlibat dalam film-film terkenal, seperti Apollo 13 (1996), Shutter Island (2010), dan The Jungle Book (2016).
Jadi, meski nantinya kisah Eloise tidak semenegangkan yang diharapkan, minimal, para penonton bakal dipuaskan oleh efek visual garapan sutradara Robert Legato. Setidaknya, begitulah perkiraan para kritikus, yang hingga kini belum bisa memberi penilaian karena film ini memang belum tayang, baik di Eropa maupun Amerika Utara.
***
Eloise
Sutradara: Robert Legato
Produser: Sanford Nelson, Tripp Vinson
Penulis Skenario: Christopher Borrelli
Pemain: Eliza Dushku, Robert Patrick, Chace Crawford, Brandon T. Jackson, Nicole Forester, P. J. Byrne
Musik: Ronen Landa
Sinematografi: Antonio Riestra
Penyunting: Greg D'Auria
Produksi: SLAM Productions, Palm Drive Productions, Vinson Films
Rilis: 28 Desember 2016 (Indonesia), 3 Februari 2017 (Amerika Serikat)