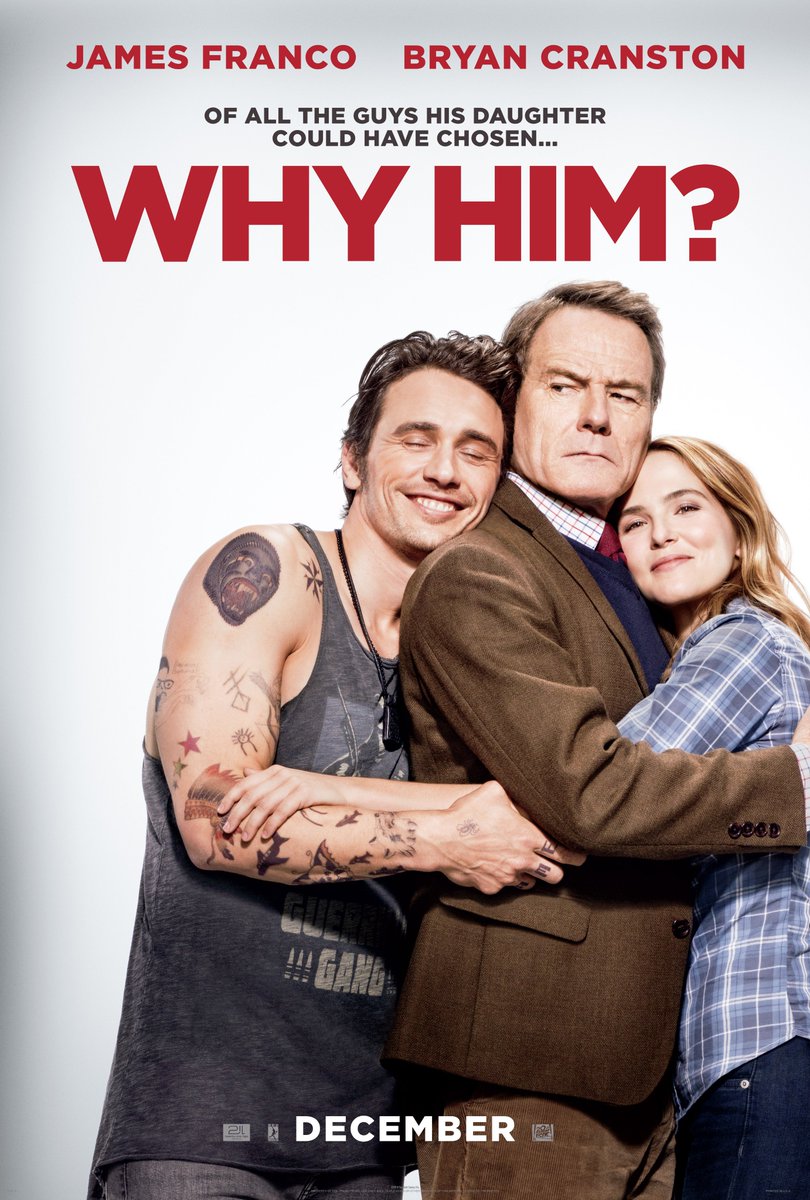 Sebagai aktor berbakat, James Franco sudah membintangi berbagai genre film. Aktingnya yang memukau sebagai Aron Ralston di 127 Hours (2010), yang didasarkan pada kisah nyata, membuatnya masuk nominasi Aktor Terbaik di Academy Awards 2011.
Tahun ini, kakak Dave Franco itu sebenarnya juga membintangi beberapa film. Namun, yang bisa dianggap "besar" hanya dua, yaitu film animasi Sausage Party, di mana dia menjadi salah satu pengisi suaranya, serta film komedi Why Him?, yang bakal tayang mulai hari Jumat (30/12) ini di Indonesia.
Bermain dalam film komedi romantis semacam Why Him? sebenarnya bukan hal yang baru bagi James Franco. Sebelum melejit lewat trilogi Spider-Man (2002-2007), bintang Rise of the Planet of the Apes (2011) ini melakoni debut layar lebarnya di Never Been Kissed (1999) bareng si sexy Drew Barrymore.
Di Why Him?, Franco bakal beradu akting dengan aktor kawakan Bryan Cranston, yang dikenal sebagai pemeran Walter White di serial televisi Breaking Bad (2008-2013). Selain itu, juga ada Zoey Deutch, aktris muda nan cantik yang sebelum ini pernah membintangi Beautiful Creatures (2013), Vampire Academy (2014), dan Dirty Grandpa (2016).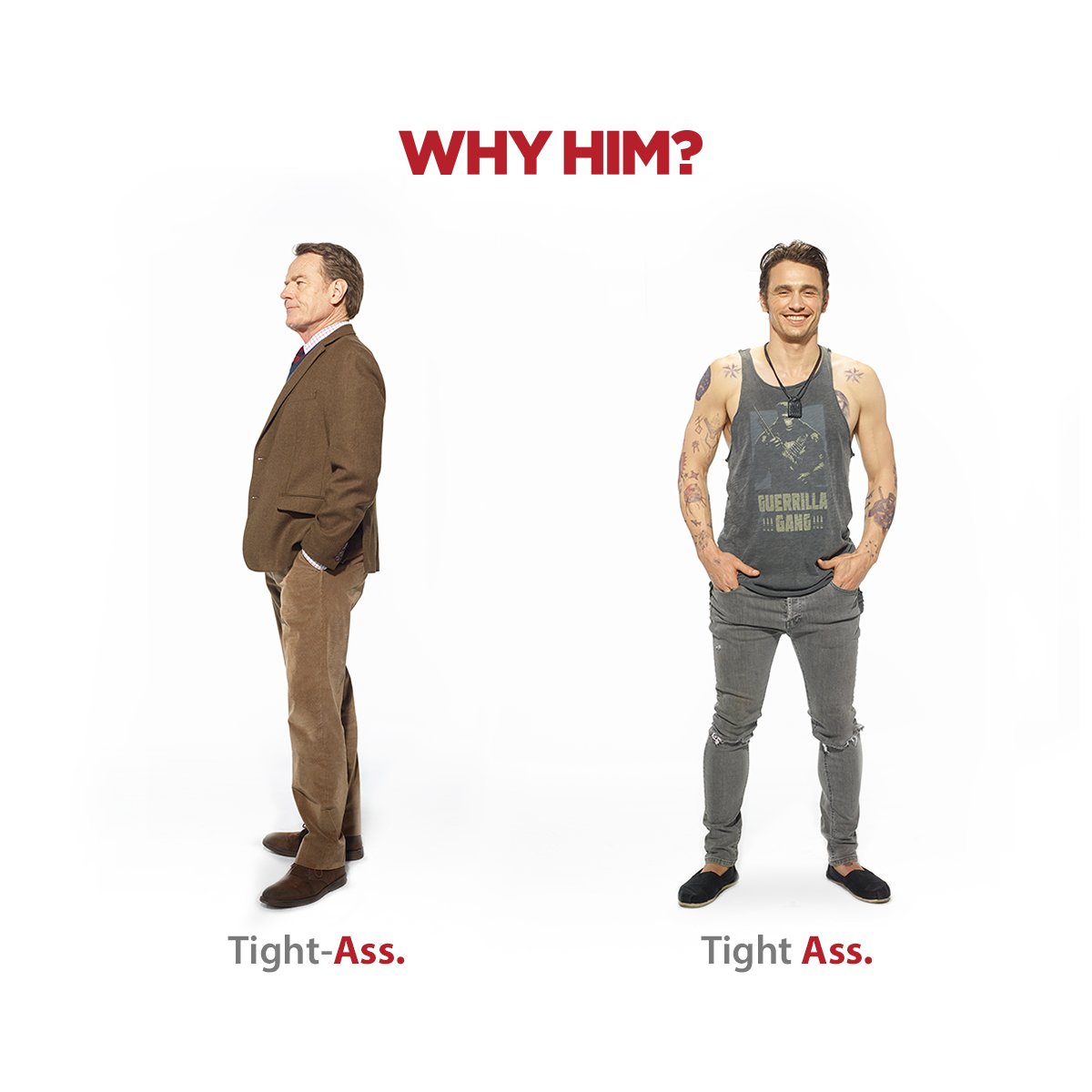 Kisah Why Him? sendiri tergolong sederhana. Tentang seorang ayah, Ned Fleming (Bryan Cranston), yang tidak setuju putrinya, Stephanie (Zoey Deutch), menikah dengan tunangannya, Laird Mayhew (James Franco).
Saat mengunjungi Stephanie yang sedang kuliah di Stanford University, Ned beserta istrinya, Barb (Megan Mullaly), dan putranya yang masih ababil, Scott (Griffin Gluck), diperkenalkan kepada pacar putrinya, Laird, seorang milyuner muda tapi urakan. Sikap Laird yang slengekan dan vulgar itu membuat Ned langsung ilfil. Apalagi, saat dia menyampaikan niatnya untuk melamar Stephanie.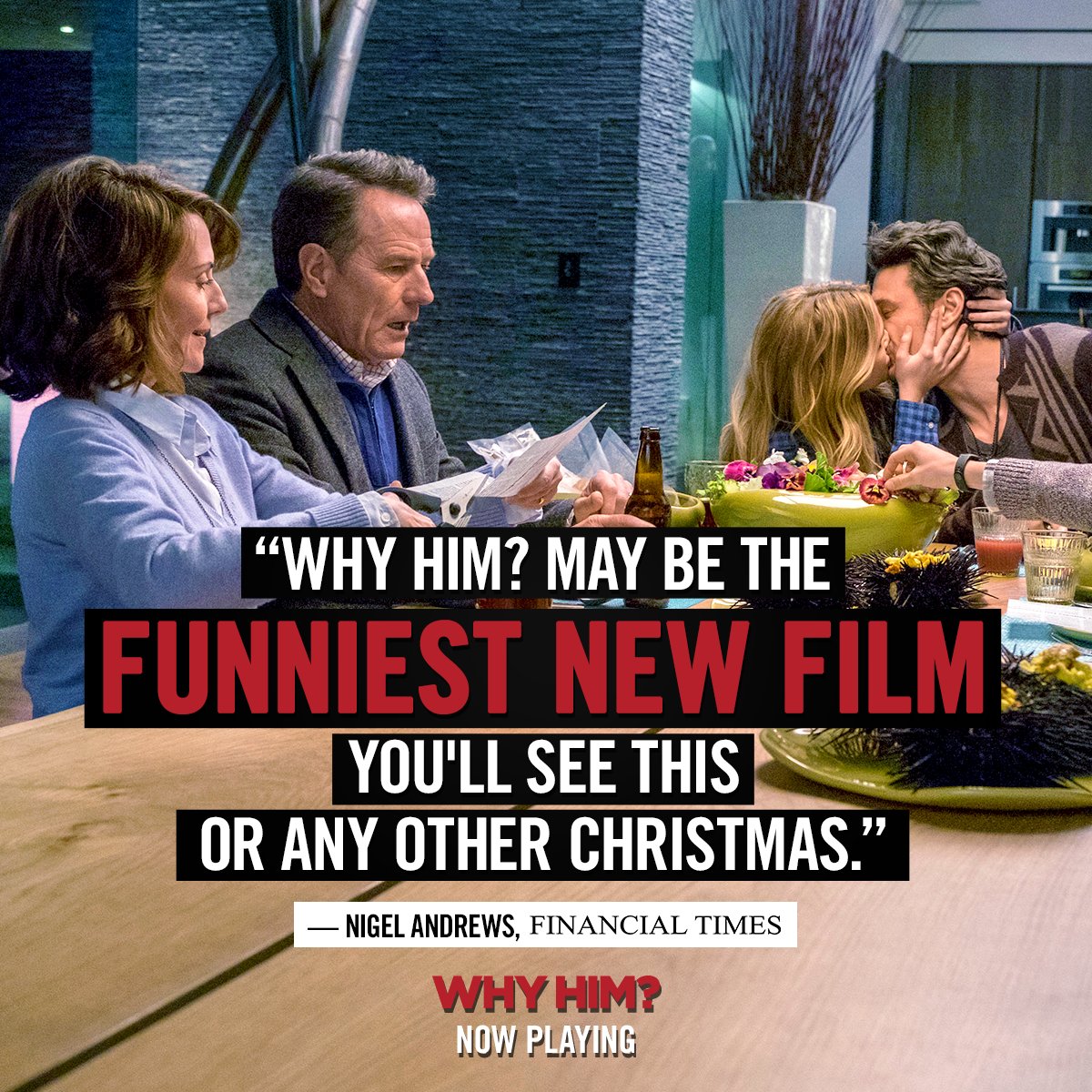 Ned pun mencari segala cara agar anak gadisnya tidak jadi menikah. Sebaliknya, Laird yang kaya raya juga melakukan segala upaya untuk mengambil hati Stephanie beserta ibu dan adik laki-lakinya. Berbagai hal lucu dan kocak pun terjadi. Siapakah yang bakal menang, sang camer, Ned, atau sang calon mantu yang tak dirindukan, Laird?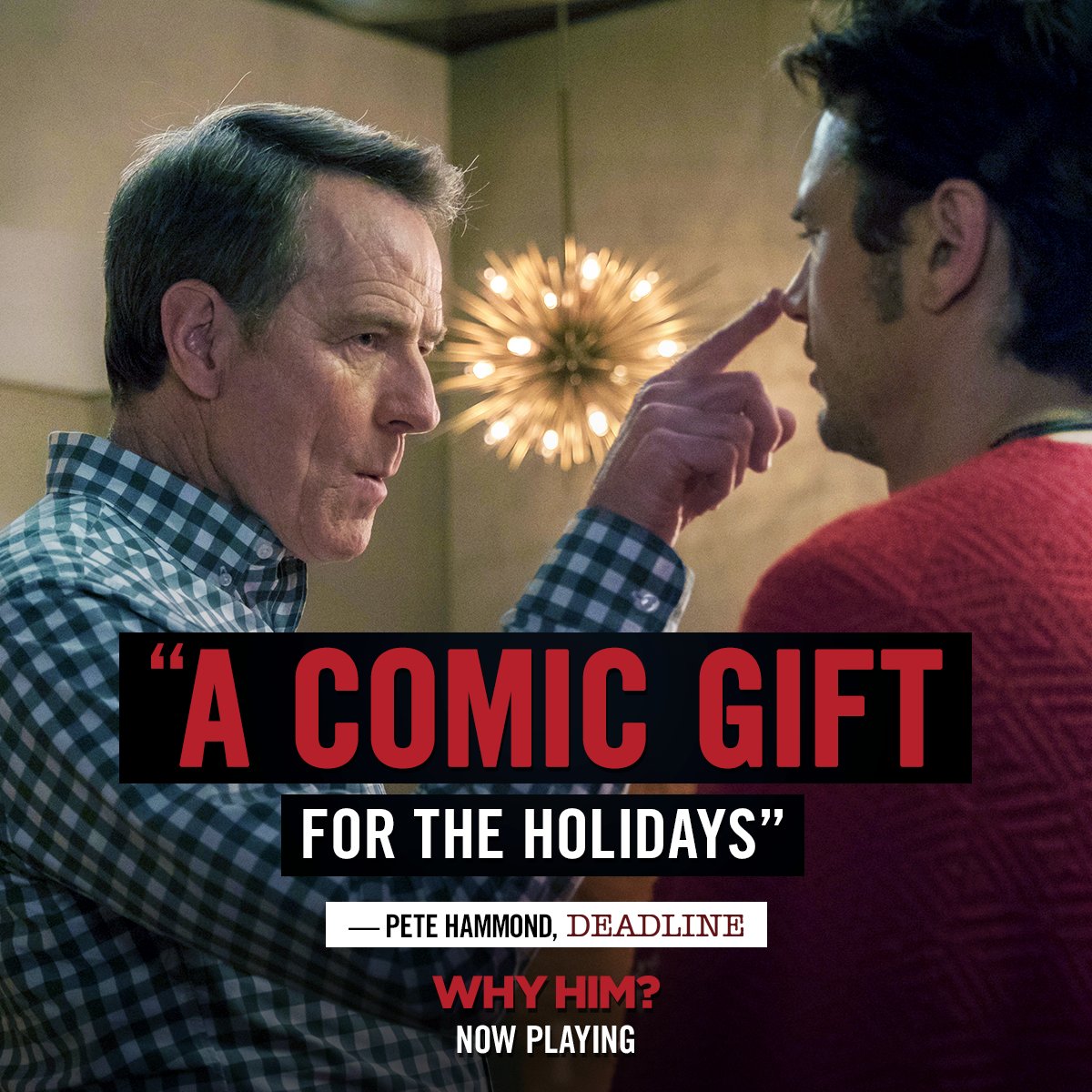 Dengan mengusung nama James Franco dan menghabiskan bujet yang cukup besar, hingga USD 38 juta, Why Him? digadang-gadang menjadi salah satu film komedi tersukses tahun ini. Setelah tayang di Amerika Serikat sejak 23 Desember 2016 yang lalu, rilisan 20th Century Fox ini mampu meraup pemasukan USD 10 juta hanya dalam empat hari pemutaran. Sesuai dengan target para produser.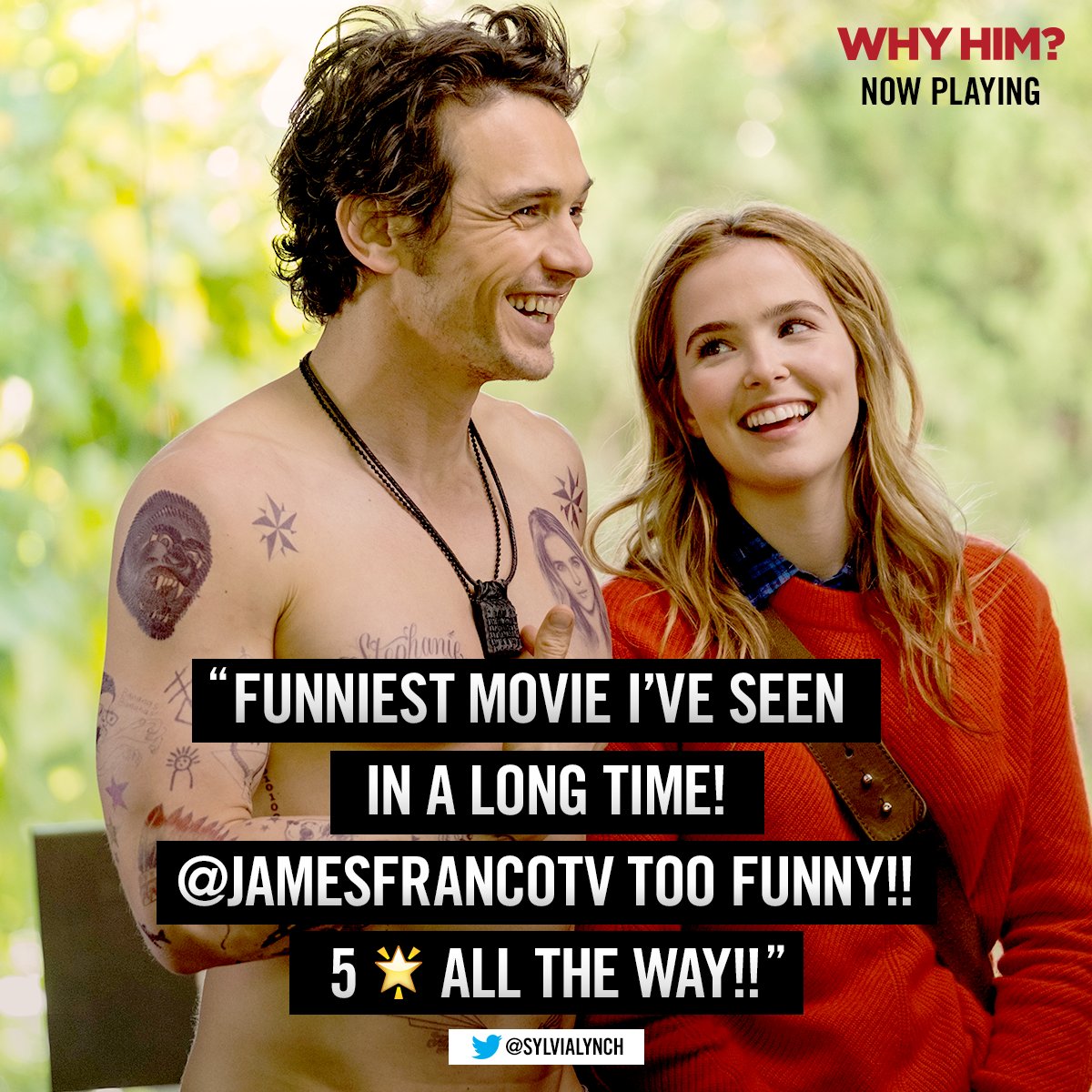 Sayangnya, sejumlah situs review dan kritikus memberi respon kurang positif. Penampilan James Franco dan Bryan Cranston memang tidak perlu diragukan. Namun, Why Him? dianggap agak membosankan karena mengandalkan formula bokap-vs-tunangan yang tidak ada habisnya.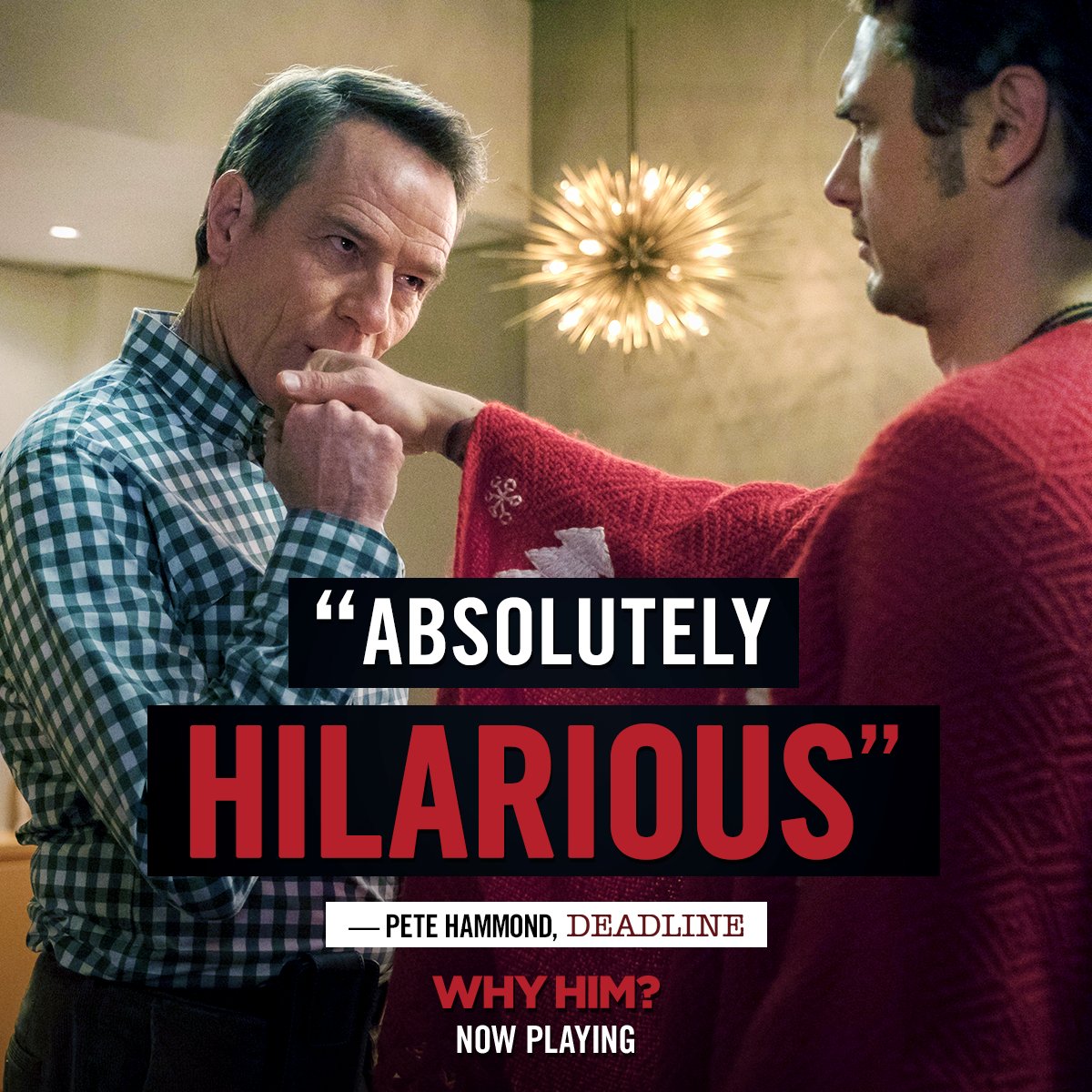 ***
Why Him?
Sutradara: John Hamburg
Produser: Stuart Cornfeld, Dan Levine, Shawn Levy, Ben Stiller
Penulis Skenario: John Hamburg, Ian Helfer
Pengarang Cerita: Jonah Hill, John Hamburg, Ian Helfer
Pemain: James Franco, Bryan Cranston, Zoey Deutch, Megan Mullally, Griffin Gluck, Keegan-Michael Key, Kaley Cuoco
Musik: Theodore Shapiro
Sinematografi: Kris Kachikis
Penyunting: William Kerr
Produksi: 21 Laps Entertainment, Red Hour Productions, TSG Entertainment
Distributor: 20th Century Fox
Durasi: 111 menit
Budget: USD 38 juta
Rilis: 17 Desember 2016 (Los Angeles), 23 Desember 2016 (Amerika Serikat), 30 Desember 2016 (Indonesia)
Ratings
IMDb: 6,5/10
Rotten Tomatoes: 40%
Metacritic: 38/100
CinemaScore: B+