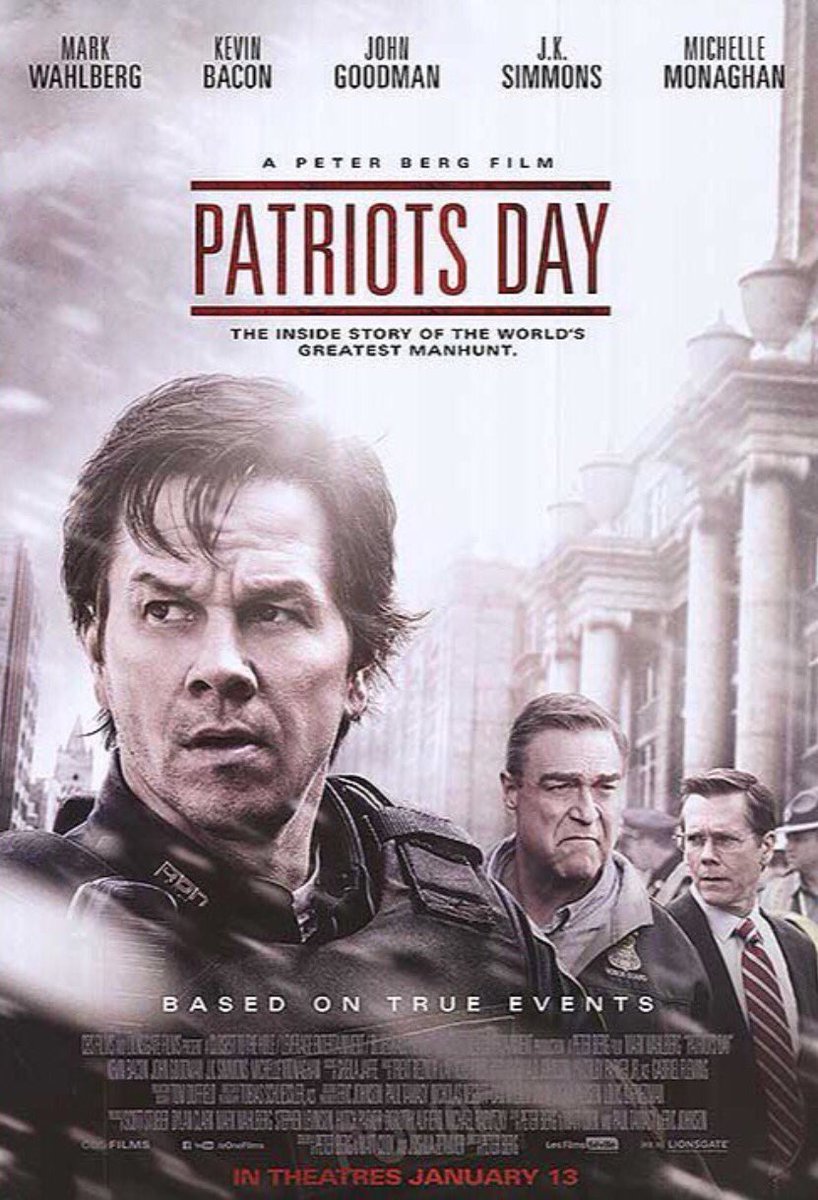 Tanggal 15 April 2013 tidak akan pernah dilupakan oleh warga Boston, Massachusetts, Amerika Serikat. Pada hari yang nahas itu, beberapa saat menjelang finish ajang Boston Marathon, sebuah bom meledak dan mengakibatkan tiga korban meninggal, serta melukai sedikitnya 264 orang. Tragedi tersebut kemudian dikenal sebagai Boston Marathon Bombing.
Boston Marathon sendiri merupakan salah satu dari enam World Marathon Majors, alias lomba lari marathon paling bergengsi di dunia. Lima lainnya adalah Tokyo, London, Berlin, Chicago, dan New York City Marathon, yang diadakan setiap tahun. Tak heran, peristiwa pengeboman tersebut lantas menyedot perhatian internasional.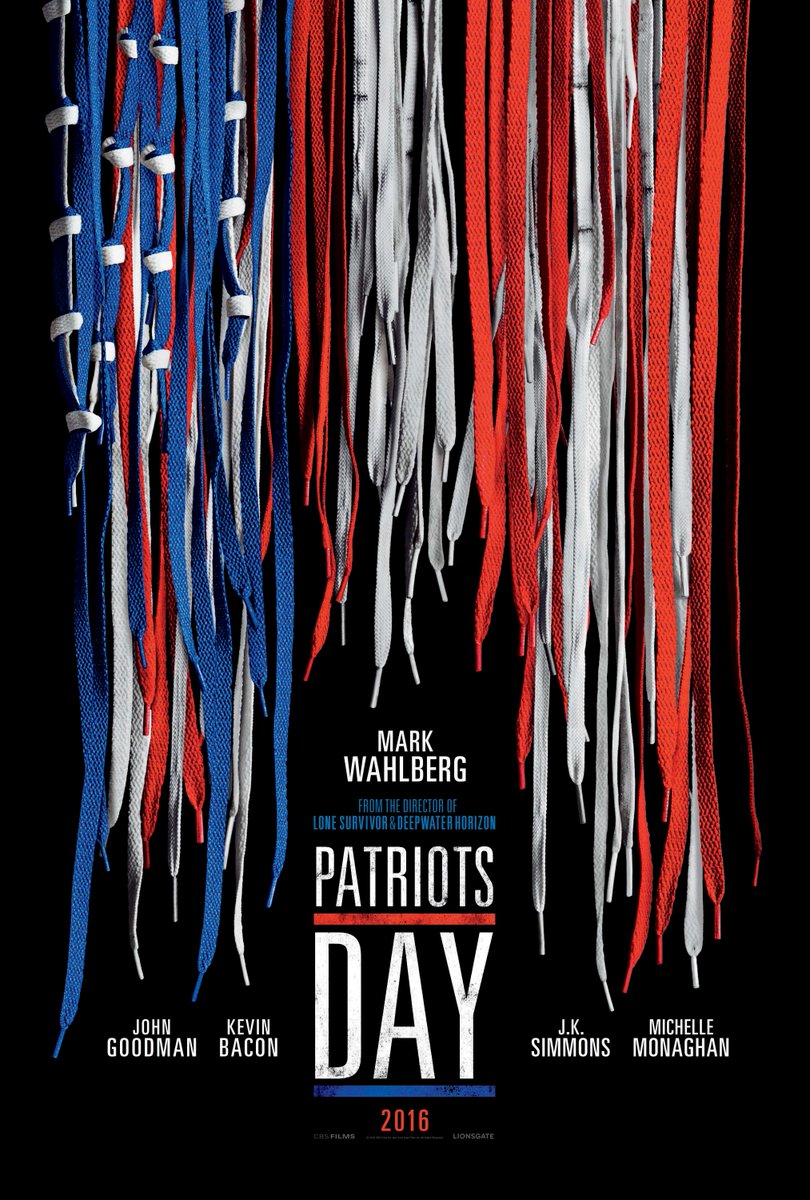 Seperti tragedi-tragedi lainnya, Boston Marathon Bombing kemudian juga menjadi inspirasi bagi insan perfilman untuk diangkat ke layar lebar. Salah satu film yang berkisah tentang peristiwa tersebut adalah Patriots Day, yang bakal tayang mulai hari Jumat (13/1) ini.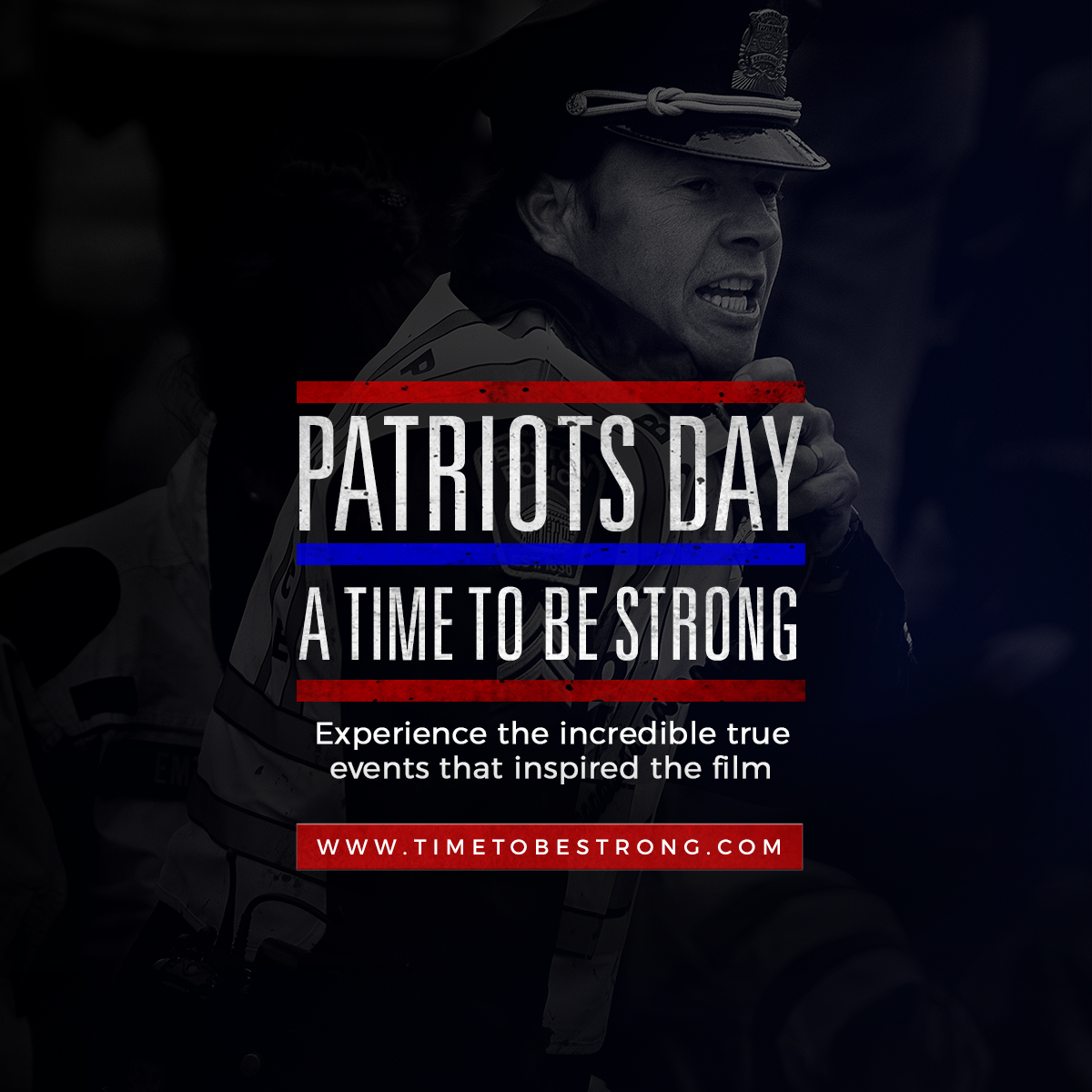 Disutradarai oleh Peter Berg, fokus cerita Patriots Day adalah pada hari terjadinya pengeboman, pelacakan pelaku pengeboman, serta perjuangan warga Boston untuk bersama-sama melewati tragedi tersebut. Yang menjadi tokoh utama adalah seorang polisi bernama Sersan Tommy Saunders yang diperankan oleh Mark Wahlberg.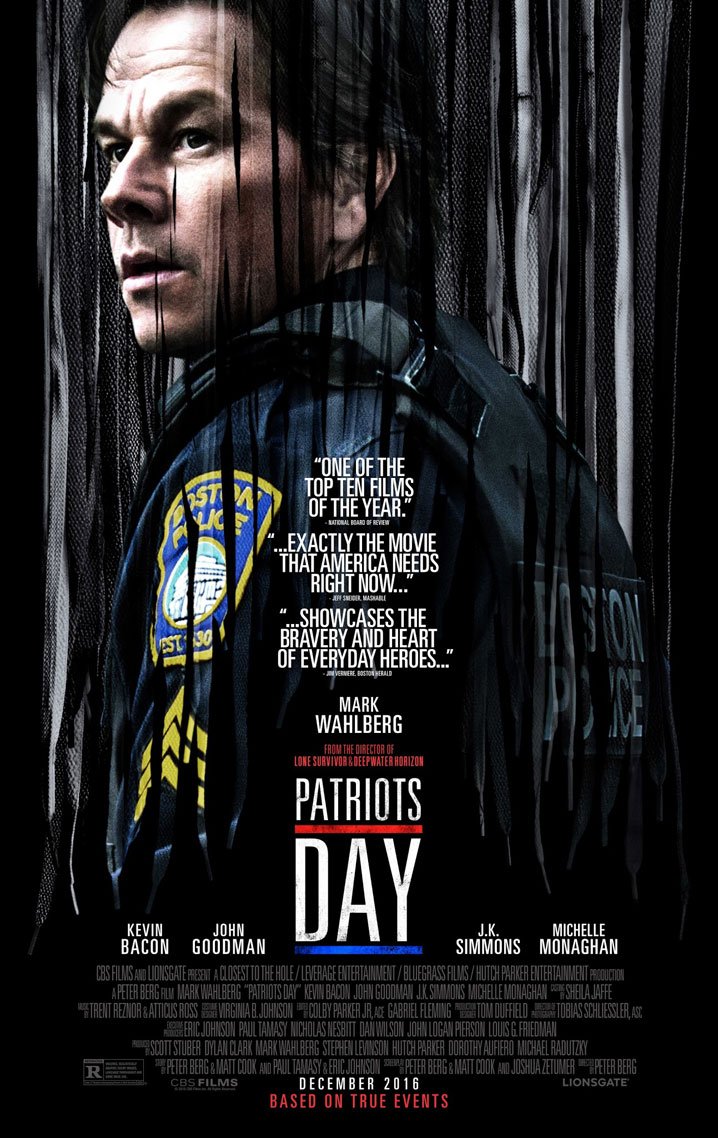 Dari teaser trailer yang dirilis beberapa waktu yang lalu, terlihat kehidupan normal Sersan Saunders di rumahnya bersama sang istri, Carol (Michelle Monaghan) yang berprofesi sebagai perawat. Dia sedang bersiap-siap untuk mengamankan ajang Boston Marathon. Tommy tidak pernah menyangka bahwa hari itu bakal menjadi peristiwa yang tak terlupakan.
Pada saat Boston Marathon berlangsung, Tommy dan polisi lainnya berjaga-jaga agar ajang tersebut berlangsung aman. Namun, beberapa saat menjelang akhir lomba, dengan diiringi lagu patriotik "America the Beautiful", tiba-tiba terdengar suara ledakan bom. Suasana pun menjadi kacau. Banyak korban berjatuhan.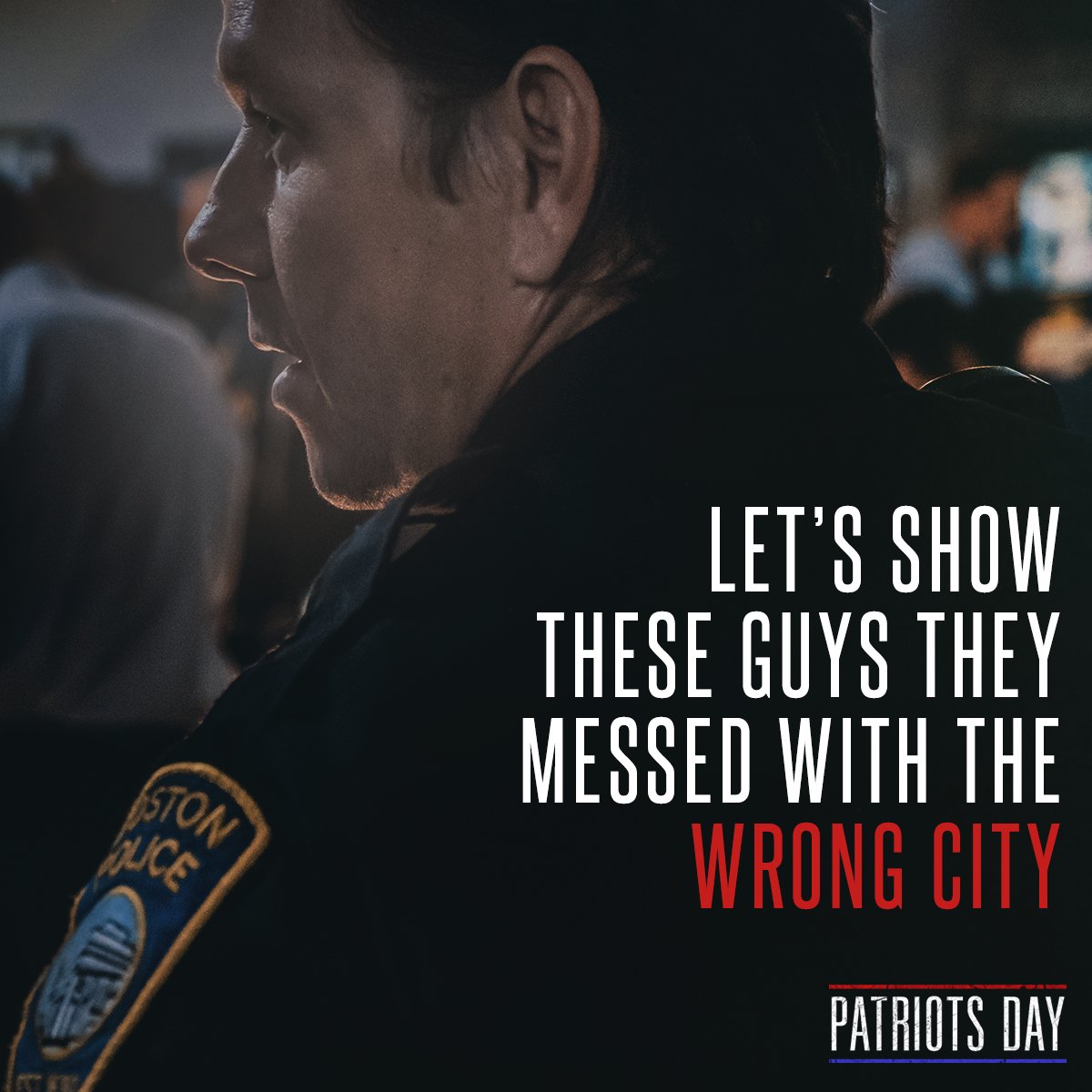 Sebagai salah satu polisi yang berada di tempat kejadian, Sersan Saunders kemudian bergabung dengan masyarakat lainnya untuk mencegah serangan bom berikutnya, sekaligus mencari pelakunya. Selama empat hari, Tommy ikut serta memburu sang teroris, Dzhokhar Tsarnaev (Alex Wolff), bersama dengan Sersan Polisi Watertown, Jeffrey Pugliese (J. K. Simmons), dan Agen Khusus FBI, Richard DesLauriers (Kevin Bacon).
Selain Mark Wahlberg, Patriots Day ini memang diperkuat oleh sejumlah aktor kawakan. Sebut saja J. K. Simmons, Kevin Bacon, John Goodman, yang memerankan Komisaris Kepolisian Boston, Ed Davis, serta Vincent Curatola yang menjadi Walikota Boston, Thomas Menino.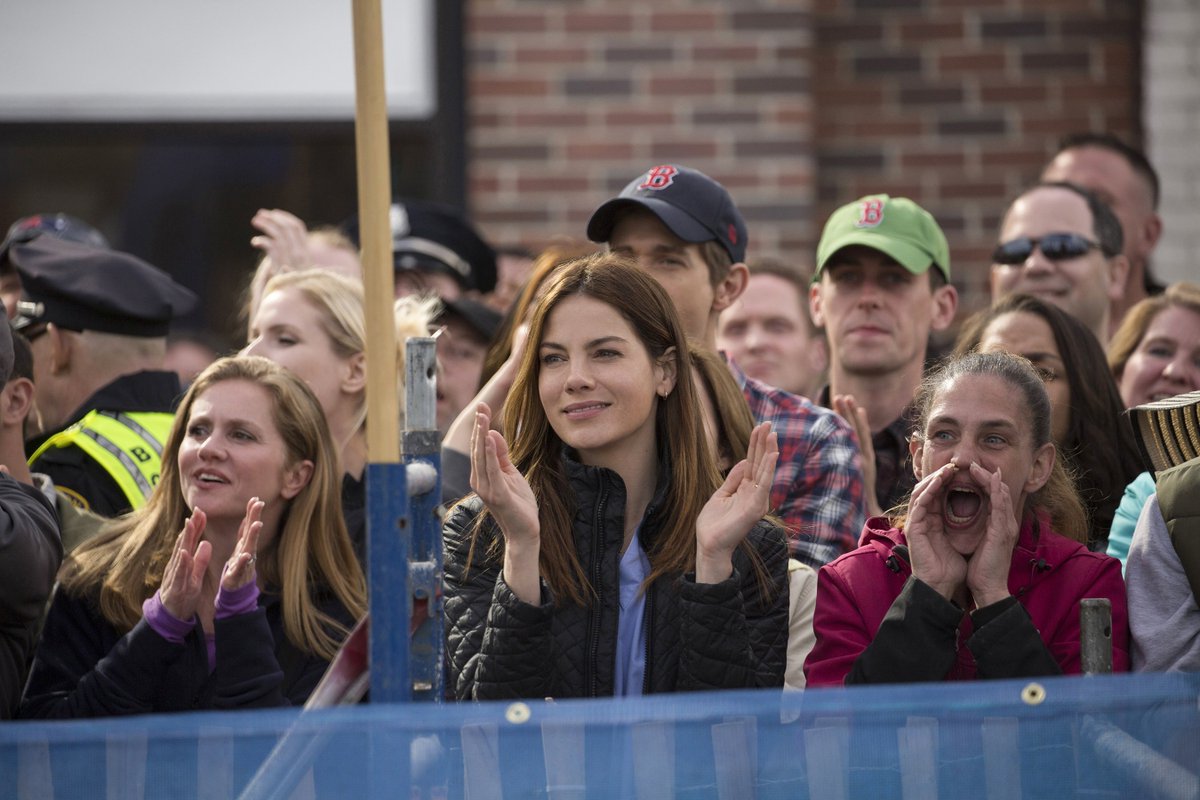 Sementara itu, sebagai pemanis, ada Michelle Monaghan, yang berperan sebagai Carol Saunders. Sebelum ini, MILF berukuran dada 34B tersebut sudah berpengalaman tampil di beberapa film terkenal, antara lain: The Bourne Supremacy (2004), Mr. & Mrs. Smith (2005), Mission: Impossible III (2006), Eagle Eye (2008), Source Code (2011), dan Machine Gun Preacher (2011).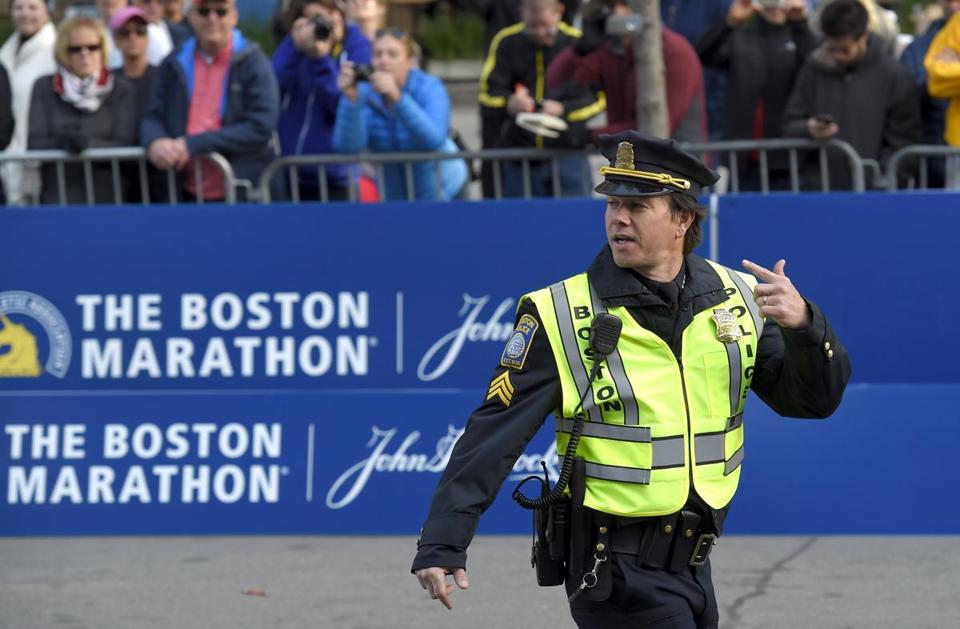 Di lain pihak, bagi sutradara Peter Berg, Patriots Day ini adalah untuk ketiga kalinya dia memasang Mark Wahlberg sebagai aktor utama. Sebelumnya, mereka sudah pernah bekerja sama di Lone Survivor (2013) dan Deepwater Horizon (2016). Uniknya, tiga-tiganya adalah film yang didasarkan pada kisah nyata.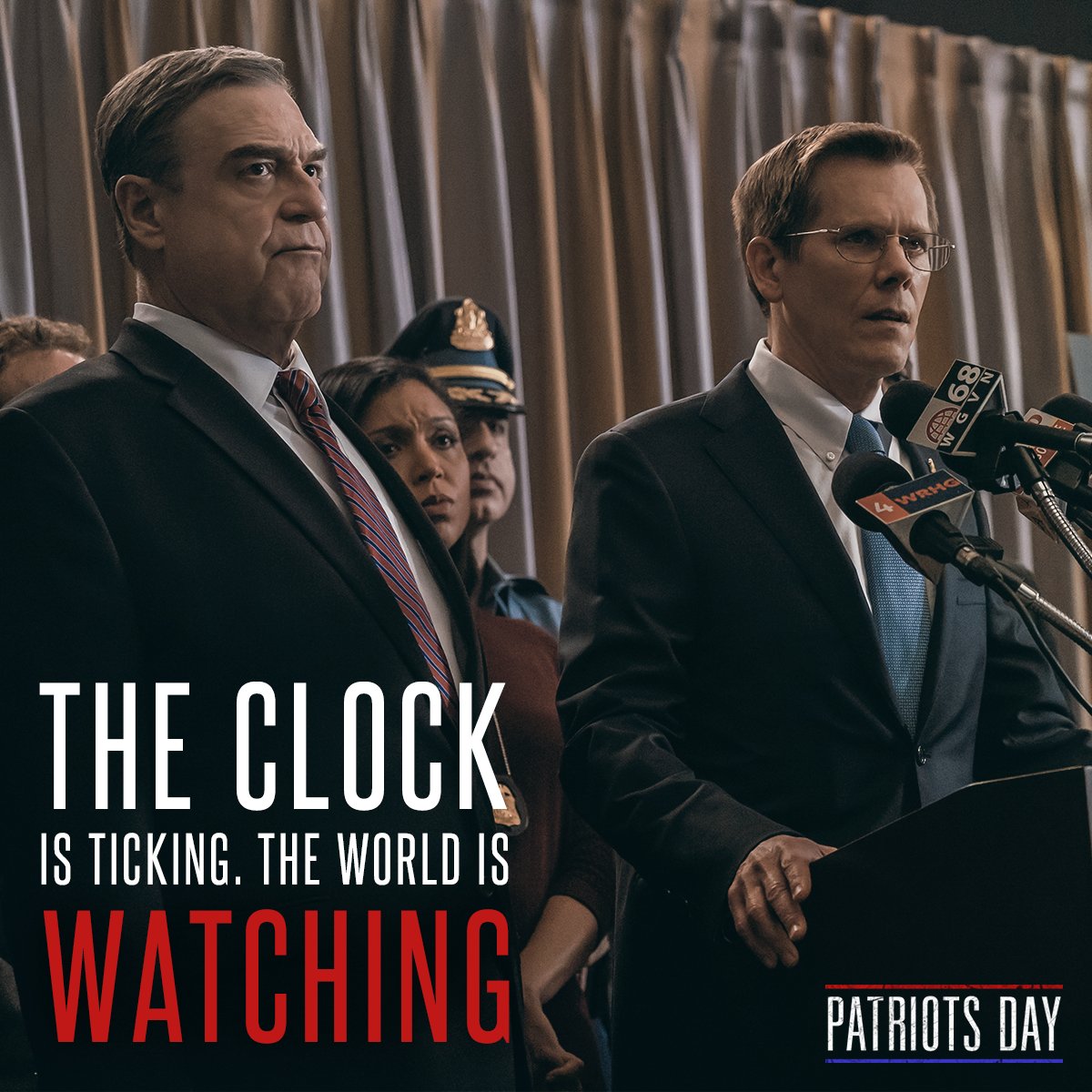 Patriots Day sebenarnya adalah salah satu dari tiga film yang rencananya dibuat untuk mengenang tragedi Boston Bombing. Dua film lainnya adalah Boston Strong, yang didasarkan pada buku berjudul sama karya Casey Sherman dan Dave Wedge, serta Stronger, yang mengisahkan tentang korban pengeboman, Jeff Bauman, yang dibintangi oleh Jake Gyllenhaal.
Namun, CBS Films kemudian membeli hak untuk memfilmkan Boston Strong dan menggabungkan naskahnya dengan Patriots Day. Skenarionya dikembangkan berdasarkan sudut pandang Komisaris Kepolisian Boston, Ed Davis.
Peran Komisaris Davis, kala itu, memang sangat penting. Dia menggalang kerja sama antara polisi dan FBI dengan warga lokal Boston. Mereka kemudian menggunakan kecanggihan teknologi untuk mengidentifikasi, melacak, dan memburu para tersangka. Setelah empat hari pencarian, para teroris akhirnya berhasil dilumpuhkan.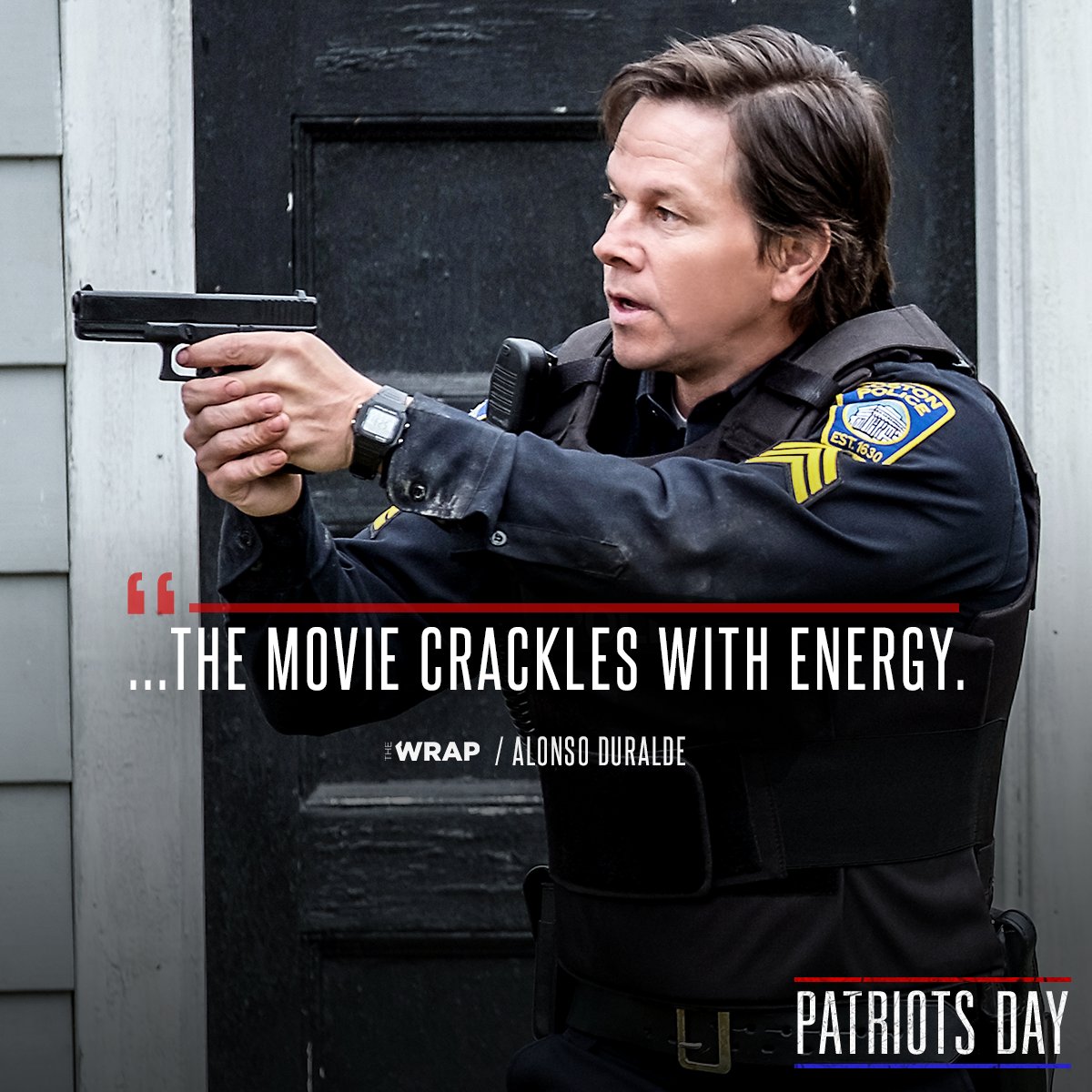 Warga Boston kabarnya memang menginginkan kisah tentang masyarakat lokal yang terkait dengan Boston Bombing diangkat ke layar lebar. Oleh karena itu, kemudian dihadirkan karakter polisi biasa bernama Tommy Saunders yang dekat dengan kehidupan sehari-hari.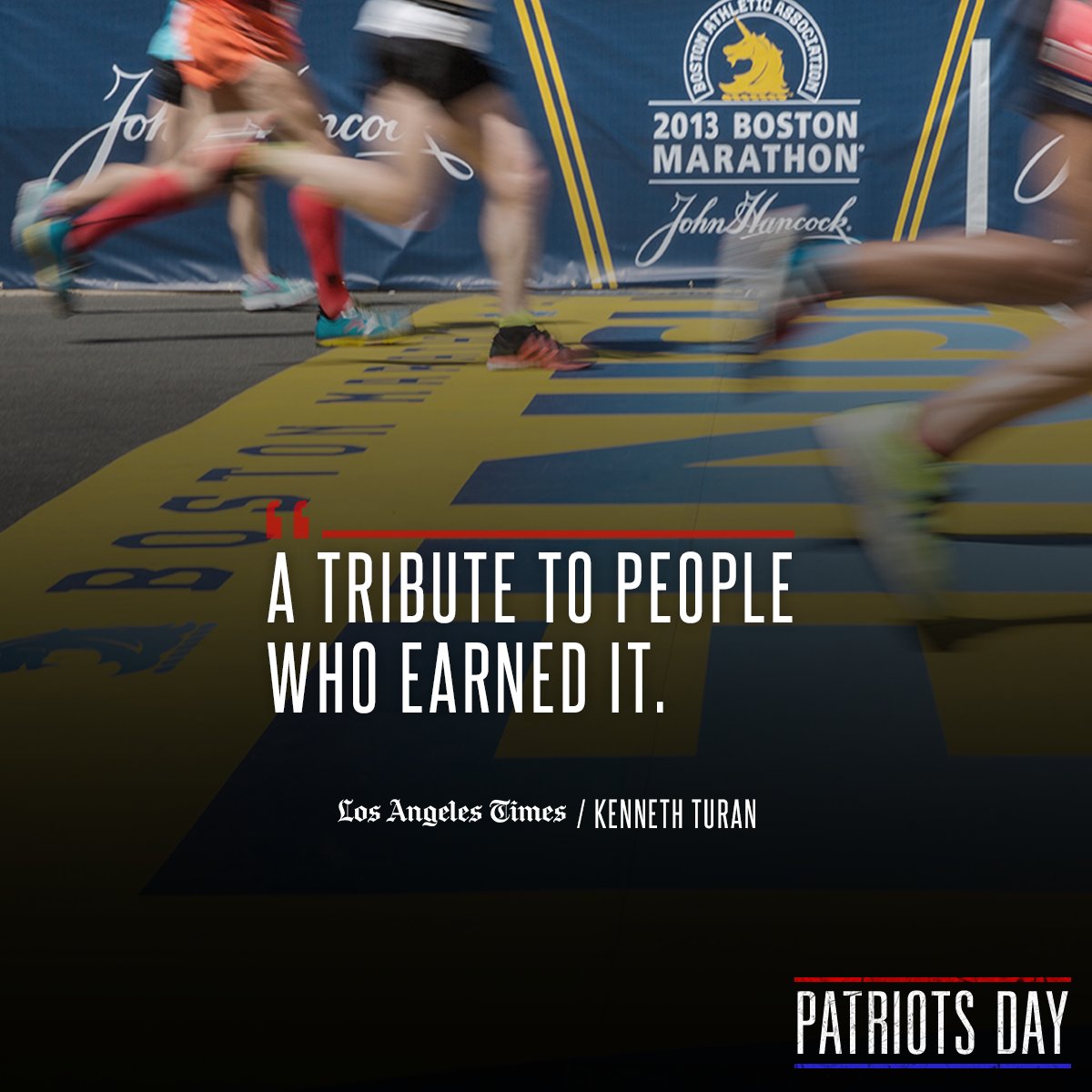 Menurut Terry Press dari CBS Films, Patriots Day akan memberi gambaran yang sangat personal pada para penonton tentang apa yang terjadi saat itu. Film berdurasi 133 menit ini adalah kisah nyata tentang sekelompok pahlawan lokal dalam menghadapi peristiwa yang tak pernah mereka duga sebelumnya.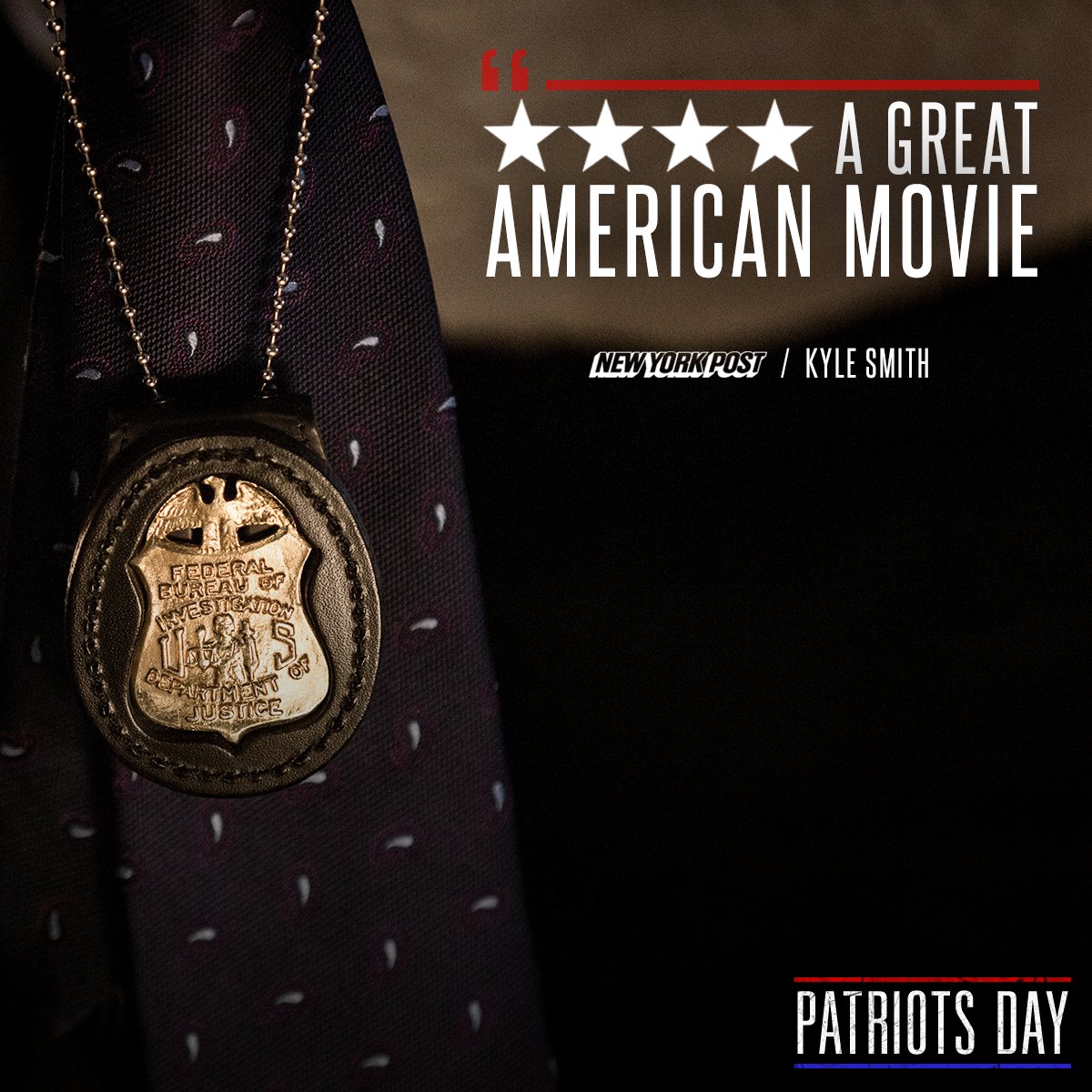 Setelah tayang secara terbatas di Amerika Serikat pada 21 Desember 2016 yang lalu, Patriots Day mendapat rating cukup positif dari sejumlah kritikus dan situs review. Menurut Guardian, ketegangan yang dibangun oleh film berbujet USD 45 juta ini memang sangat perlahan, namun berujung dengan klimaks yang brilian. Naskahnya juga ditulis dengan baik serta musiknya bakal membuat bulu kuduk para penonton berdiri.
***
Patriots Day
Sutradara: Peter Berg
Produser: Scott Stuber, Dylan Clark, Mark Wahlberg, Stephen Levinson, Hutch Parker, Dorothy Aufiero, Stephen Stapinski, Michael Radutzky
Penulis Skenario: Peter Berg, Matt Cook, Joshua Zetumer
Pengarang Cerita: Peter Berg, Matt Cook, Paul Tamasy, Eric Johnson
Pemain: Mark Wahlberg, Kevin Bacon, John Goodman, J. K. Simmons, Michelle Monaghan
Musik: Trent Reznor, Atticus Ross
Sinematografi: Tobias Schliessler
Penyunting: Colby Parker Jr., Gabriel Fleming
Produksi: Closest to the Hole Productions, Bluegrass Films
Distributor: CBS Films, Lionsgate
Durasi: 133 menit
Budget: USD 45 juta
Rilis: 17 November 2016 (AFI Fest), 21 Desember 2016 (Amerika Serikat), 13 Januari 2017 (Indonesia)
Ratings
IMDb: 7,2/10
Rotten Tomatoes: 80%
Metacritic: 71/100