Bergelut selama lebih dari tiga dekade di dunia perfilman, kualitas akting Naomi Watts memang tidak perlu diragukan lagi. Berbagai genre film sudah pernah dibintangi oleh aktris cantik asal Inggris tersebut. Bahkan, MILF beranak dua itu sempat dua kali masuk nominasi Piala Oscar kategori Best Actress lewat film 21 Grams (2003) dan The Impossible (2012).
Tahun 2016 kemarin, wanita yang dinobatkan sebagai 50 Most Beautiful People pada 2002 oleh majalah People tersebut kembali menghiasi layar lebar lewat film thriller berjudul Shut In. Bagi Naomi, ini bukan kali pertama dia membintangi film yang bertema mencekam dan menegangkan. Sebelumnya, mantan pacar almarhum Heath "The Joker" Ledger itu sudah pernah tampil di Mulholland Drive (2001) dan remake horror Jepang, The Ring (2002), yang diikuti oleh sekuelnya, The Ring Two (2005).
Kisah Shut In, yang baru tayang di bioskop-bioskop Indonesia mulai hari Jumat (31/3) ini, berfokus pada kehidupan janda sexy, Mary Portman (Naomi Watts), yang juga seorang psikolog. Suaminya, Richard (Peter Outerbridge), baru saja meninggal karena kecelakaan mobil. Anaknya yang masih ababil, Steven (Charlie Heaton), berhasil lolos dari maut. Namun, tragedi itu membuat bocah tersebut koma dan lumpuh.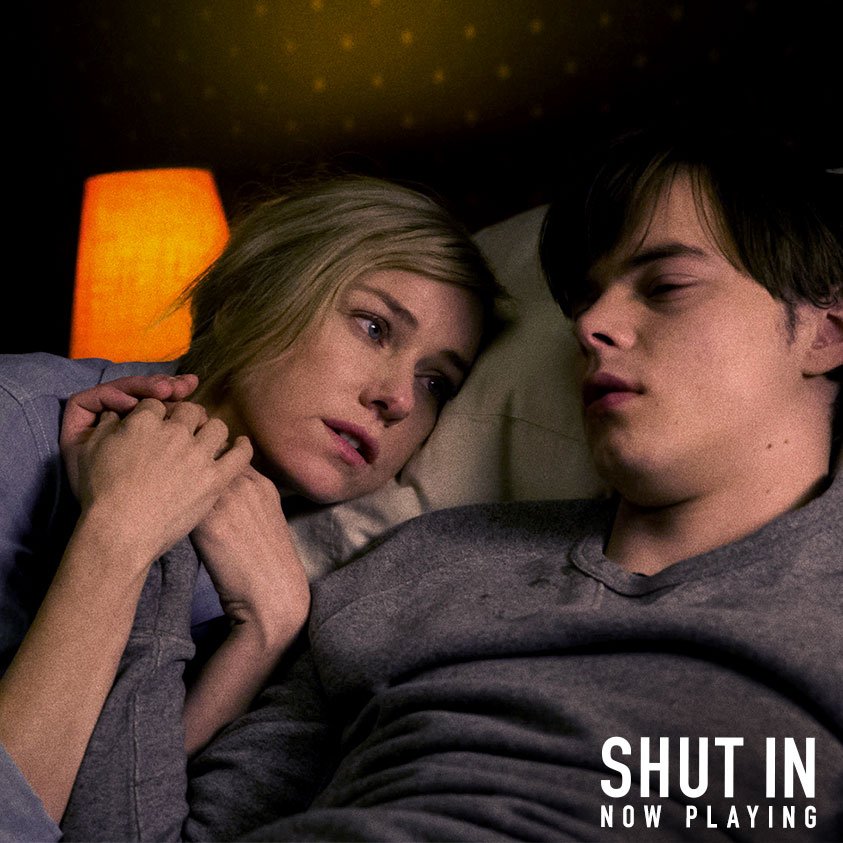 Sambil merawat putra semata wayangnya, Mary membuka praktek sebagai psikolog di rumahnya. Suatu ketika, dia mendapat pasien baru bernama Tom Patterson (Jacob Tremblay), seorang anak kecil yang ibunya baru saja meninggal. Saat mendengar Tom akan dibawa ke Boston, Mary kemudian memutuskan untuk mengasuhnya. Namun, tak lama kemudian, bocah yatim piatu tersebut melarikan diri saat terjadi badai salju dan dinyatakan meninggal oleh polisi, meski tubuhnya tak pernah ditemukan.
Mary, yang merasa bersalah, kemudian mulai mendengar suara dan melihat bayangan Tom. Dia yakin yang menghantuinya adalah arwah bocah tersebut. Keadaan semakin mencekam karena badai salju masih berlangsung dan Mary terjebak di dalam rumah, hanya berdua bersama anaknya yang lumpuh..
Naskah Shut In sebenarnya sudah selesai ditulis oleh Christina Hodson pada 2012 dan masuk dalam Black List, yaitu kumpulan skenario-skenario bagus yang belum difilmkan. Tahun 2014, studio asal Prancis, EuropaCorp, kemudian memutuskan untuk memproduksinya bersama dengan Lava Bear Films.
Proses syuting baru dilakukan pada pertengahan bulan Maret 2015 di Quebec dan Vancouver, Kanada. Selain menggandeng Naomi Watts sebagai bintang utamanya, EuropaCorp juga menggaet Jacob Tremblay, aktor cilik yang melejit namanya setelah tampil memukau di film Room (2015) bersama Brie Larson.
Bagi Tremblay, Shut In adalah film mencekam keduanya di 2016. Sebelumnya, bocah yang baru berusia 10 tahun itu juga membintangi film fantasy horror, Before I Wake, bersama Kate Bosworth. Jadi, soal akting, anak kecil yang berasal dari Kanada ini sebenarnya tidak perlu diragukan. Dia sudah berpengalaman main bareng aktris-aktris terkenal.
Namun, sayangnya, nama "besar" Jacob Tremblay, dan Naomi Watts, tampaknya, tidak mampu mengangkat film yang di Prancis dirilis dengan judul Oppression tersebut. Bahkan, gara-gara aktingnya di Shut In, dan juga di The Divergent Series: Allegiant (2016), Naomi sampai masuk nominasi Golden Raspberry Awards, alias Razzie Awards, kategori Worst Actress.
Setelah Shut In tayang di Amerika pada 11 November 2016 yang lalu, respon dari para kritikus memang sangat negatif. Plotnya dianggap membingungkan dan unsur ketegangannya kurang. Secara box office, film berbujet USD 10 juta ini juga jeblok karena hanya mampu meraup pemasukan USD 8,4 juta, alias belum balik modal.
***
Shut In
Sutradara: Farren Blackburn
Produser: Ariel Zeitoun, Claude Leger, Christine Haebler
Penulis Skenario: Christina Hodson
Pemain: Naomi Watts, Oliver Platt, Charlie Heaton, Jacob Tremblay, David Cubitt, Clementine Poidatz
Musik: Nathaniel Mechaly
Sinematografi: Yves Belanger
Penyunting: Baxter, Maryline Monthieux
Produksi: Transfilm International, Lava Bear Films, Canal+, Ocs, Cine+
Distributor: EuropaCorp
Durasi: 91 menit
Budget: USD 10 juta
Rilis: 11 November 2016 (Amerika Serikat), 16 November 2016 (Prancis), 31 Maret 2017 (Indonesia)
Rating (hingga 31 Maret 2017)
IMDb: 4,6/10
Rotten Tomatoes: 6%
Metacritic: 25/100
CinemaScore: C