Selama ini, Blumhouse Productions dikenal sebagai produsen film-film berbujet murah, terutama horror dan thriller, yang mampu meneguk keuntungan besar secara box office. Di antara karya-karya yang pernah mereka hasilkan, terdapat judul-judul legendaris. Sebut saja Paranormal Activity (2009), Insidious (2011), Sinister (2012), The Purge (2013), dan Ouija (2014), yang semuanya sudah menjadi franchise.
Awal tahun ini, Blumhouse kembali menggebrak box office lewat film Split yang dibintangi James McAvoy. Dengan modal hanya USD 9 juta, mahakarya M. Night Shyamalan tersebut mampu meraup pemasukan USD 270 juta. Memang, belum sefenomenal Paranormal Activity yang bujetnya sangat minimalis (cuma USD 15 ribu), tapi berhasil meraih pendapatan hingga USD 193 juta. Namun, capaian Split tersebut sudah membuktikan bahwa Blumhouse masih bertaji.
Belum hilang ingatan para moviemania akan dahsyatnya Split, rumah produksi yang didirikan oleh Jason Blum itu kembali bikin heboh Amerika Serikat pada bulan Maret 2017 yang lalu. Film terbaru mereka, Get Out, yang berbujet USD 4,5 juta itu mampu menembus box office dengan mencatat pemasukan USD 167 juta. Dan, angka itu kemungkinan besar bakal bertambah karena Get Out masih tayang. Termasuk di Indonesia, yang baru mulai diputar pada hari Jumat (7/4) ini.
Get Out pun berhasil memecahkan rekor sebagai karya sutradara kulit hitam pertama yang mampu menembus pendapatan di atas USD 100 juta pada film debutnya. Jordan Peele, sang sutradara, juga merangkap sebagai penulis naskah di film berdurasi 104 menit ini.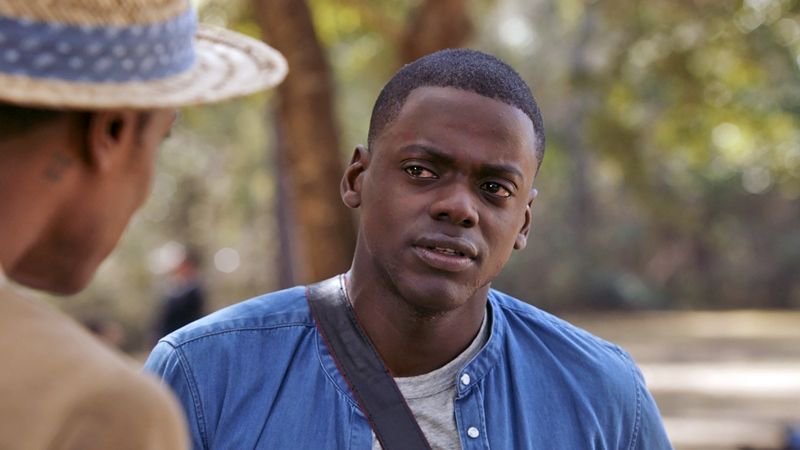 Kisah Get Out sendiri berfokus pada sosok Chris Washington (Daniel Kaluuya), seorang fotografer kulit hitam yang berpacaran dengan cewek bule sexy, Rose Armitage (Allison Williams). Setelah berhubungan selama lima bulan, Rose pun berinisiatif untuk memperkenalkan Chris kepada bonyoknya.
Mulanya, Chris merasa ragu. Dia takut orang tua Rose, yang kulit putih tulen, tidak suka dengan dirinya yang negro banget. Tapi, setelah diyakinkan oleh Rose, Chris pun menyanggupi permintaan pacar cantiknya itu untuk bertandang ke rumah ortunya.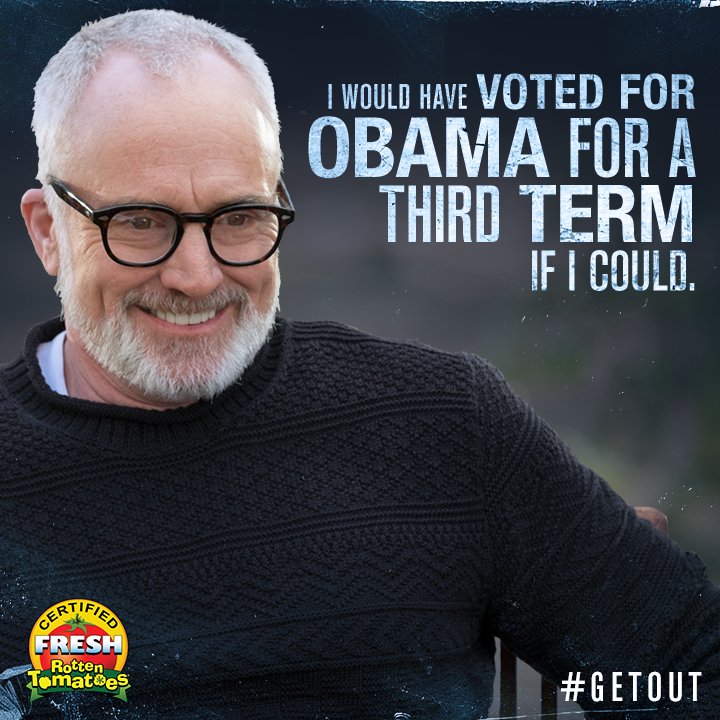 Kekhawatiran Chris, awalnya, tidak terbukti. Papa dan mama Rose, Dean (Bradley Whitford) dan Missy (Catherine Keener), menyambutnya dengan ramah. Termasuk abang Rose, Jeremy (Caleb Landry Jones), yang juga memberi pelukan hangat.
Namun, suasana nyaman itu ternyata tak berlangsung lama. Chris mulai merasakan keanehan. Terutama saat para kerabat dari keluarga Rose mulai berdatangan untuk menghadiri acara di tempat tersebut. Chris semakin tercekam setelah bertemu dengan penjaga rumah berkulit hitam yang meneriakinya "Get out!", alias menyuruhnya keluar. Misteri apa yang sebenarnya menyelimuti keluarga Rose?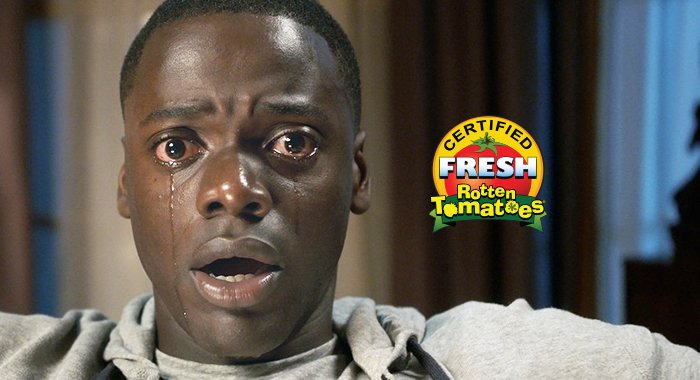 Berbeda dengan film horror dan thriller lainnya, Get Out dibumbui dengan unsur komedi yang kental. Sang sutradara, Jordan Peele, memang seorang komedian. Begitu juga dengan sang aktor utama, Daniel Kaluuya, yang pernah tampil bareng Rowan "Mr. Bean" Atkinson di Johnny English Reborn (2011). Lawan mainnya, Allison Williams, juga berpengalaman membintangi serial sitkom Girls di HBO sejak 2012.
Jordan Peele sendiri mengaku memang sudah sejak lama ingin menggarap film horror. Menurut pria berusia 38 tahun tersebut, naskah cerita Get Out yang dia tulis terinspirasi dari The Stepford Wives (1975), film horror klasik yang berpremis satire. Sedangkan, untuk tema rasisme yang dia angkat, Peele menyatakan itu sangat personal. Meski demikian, dia menegaskan Get Out bukan otobiografi dirinya.
Setelah tayang di Amerika pada 24 Februari 2017 yang lalu, Get Out langsung mendapat respon sangat positif dari para kritikus. Situs Rotten Tomatoes, bahkan, memberi rating 99%. Sepanjang sejarah, hanya ada sembilan film yang pernah mendapat angka setinggi itu.
Sutradara Jordan Peele dianggap mampu menghadirkan cerita horror yang menegangkan, penuh kejutan, sekaligus menyegarkan, lucu, dan fun. Para penonton bakal dibuat penasaran sepanjang film. Sinematografi yang apik dan penataan musik yang ciamik, menurut para pengamat, juga akan membuat kita deg-degan dalam mengikuti setiap adegannya.
Hal positif lainnya, tema rasisme yang ditampilkan secara gamblang dinilai memberi gambaran nyata tentang kehidupan kaum kulit hitam di masa kini. Daniel Kaluuya, sebagai pemeran utama, dipuji mampu tampil natural dan ekspresif dengan berbagai sindiran dan celutukan jenakanya. Para penonton dijamin bakal suka dengan karakter Chris yang diperankan oleh bintang film Kick-Ass 2 (2013) tersebut.
***
Get Out
Sutradara: Jordan Peele
Produser: Jason Blum, Edward H. Hamm Jr., Sean McKittrick, Jordan Peele
Penulis Skenario: Jordan Peele
Pemain: Daniel Kaluuya, Allison Williams, Bradley Whitford, Caleb Landry Jones, Stephen Root, Lakeith Stanfield, Catherine Keener
Musik: Michael Abels
Sinematografi: Toby Oliver
Penyunting: Gregory Plotkin
Produksi: Blumhouse Productions, QC Entertainment, Monkeypaw Productions
Distributor: Universal Pictures
Durasi: 104 menit
Budget: USD 4,5 juta
Rilis: 24 Januari 2017 (Sundance), 24 Februari 2017 (Amerika Serikat), 7 April 2017 (Indonesia)
Rating (hingga 6 April 2017)
IMDb: 8,2/10
Rotten Tomatoes: 99%
Metacritic: 84/100
CinemaScore: A-