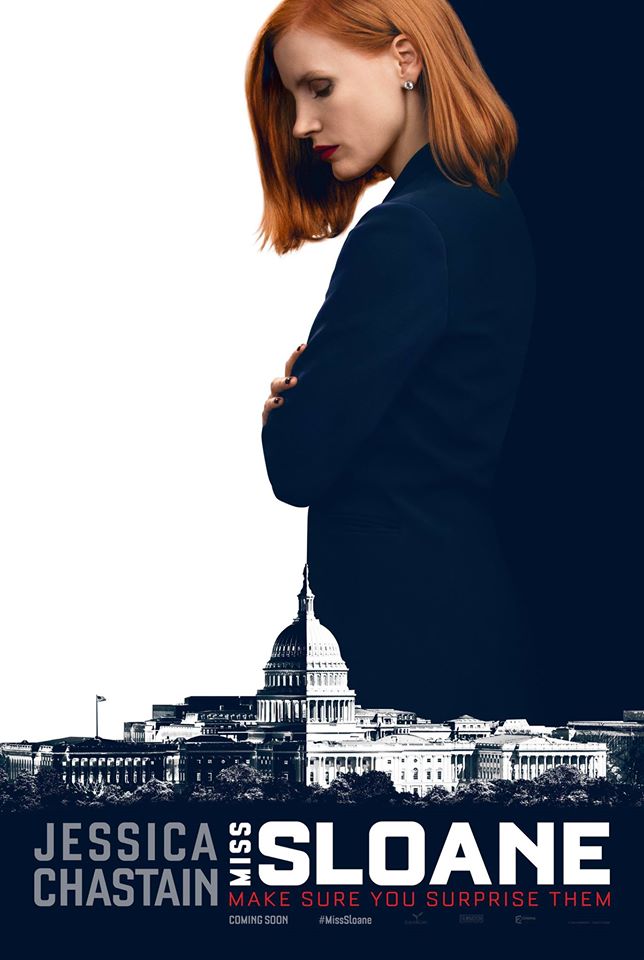 Meski sudah terjun di panggung theater sejak 1998, Jessica Chastain baru melakoni debutnya di layar lebar pada 2008 lewat film drama berjudul Jolene. Nama aktris kelahiran Sonoma, California, tersebut kemudian menjadi terkenal setelah ikut main di enam film sekaligus pada tahun 2011. Bahkan, kala itu, dia berhasil masuk nominasi Piala Oscar kategori aktris pendukung terbaik lewat film The Help (2011).
Setahun berikutnya, Jessica Chastain mencapai puncak kejayaan setelah membintangi film thriller Zero Dark Thirty (2012). Aktingnya yang brilian sebagai seorang agen CIA membawanya kembali masuk nominasi Piala Oscar kategori aktris terbaik. Meski kembali gagal menang, cewek yang kini berusia 40 tahun itu akhirnya berhasil mendapat hadiah hiburan, menggondol Golden Globe Award kategori aktris drama terbaik.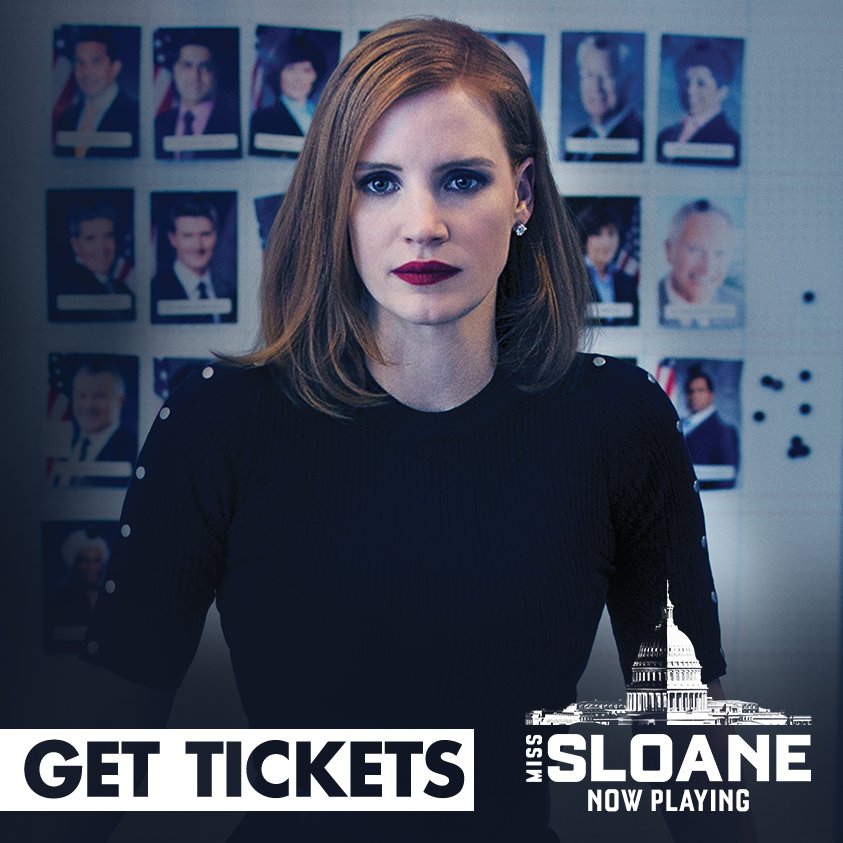 Tahun lalu, Jessica Chastain kembali membintangi dua film, yaitu The Huntsman: Winter's War bareng Chris Hemsworth dan Miss Sloane, yang baru diputar di bioskop-bioskop Indonesia mulai hari Sabtu (8/4) ini. Lewat film rilisan EuropaCorp tersebut, cewek dengan ukuran dada 34B itu kembali masuk nominasi Golden Globe Awards kategori aktris drama terbaik.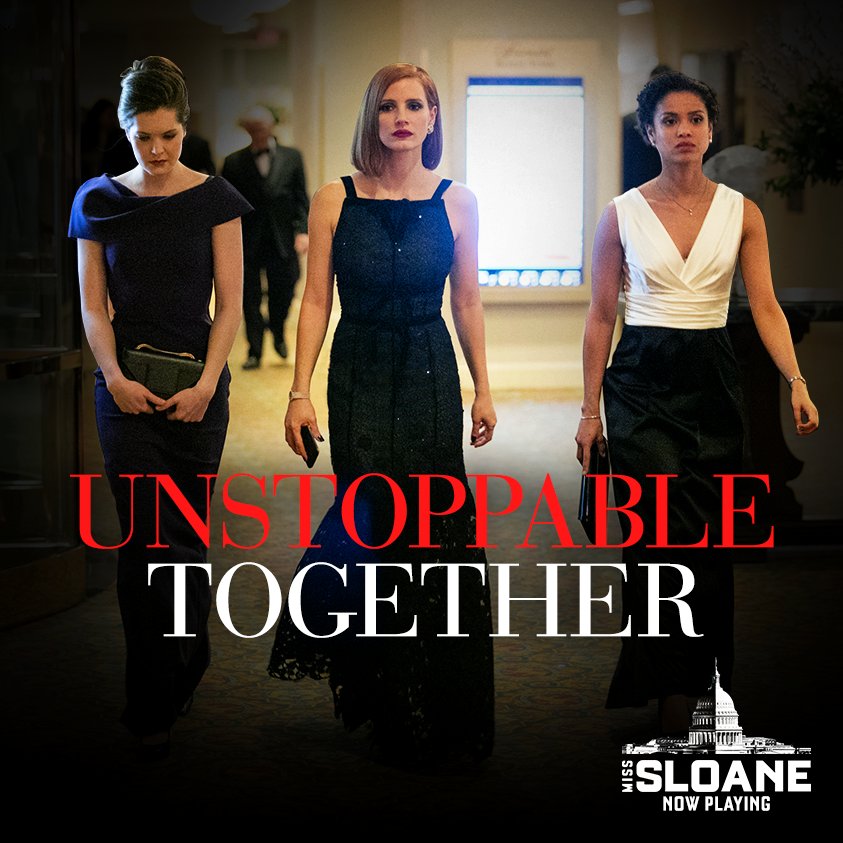 Miss Sloane sendiri merupakan drama thriller bertema politik. Mengisahkan sepak terjang Elizabeth Sloane (Jessica Chastain), seorang negosiator ulung di Washington, D.C. Nama Sloane menjadi terkenal karena lobi-lobi politik yang dia lakukan selalu berhasil mengalahkan lawan-lawannya.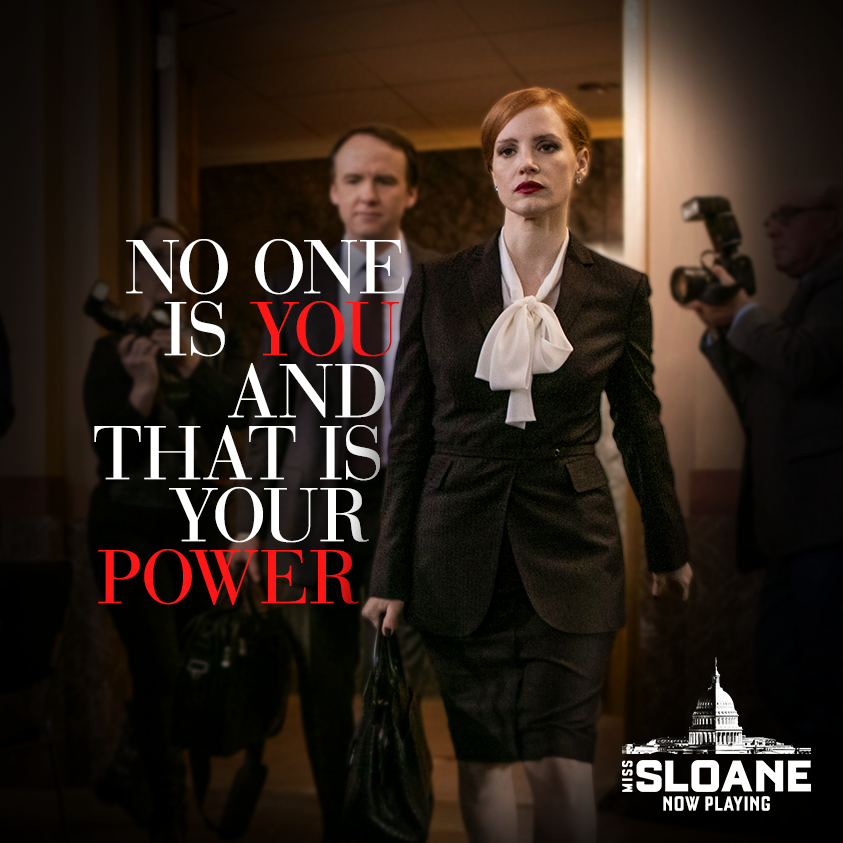 Suatu ketika, Miss Sloane harus menghadapi kasus yang sangat dilematis. Dia menjadi pelobi bagi salah satu pihak yang tengah berseteru dalam pengujian sebuah undang-undang yang kontroversial, yaitu tentang melegalkan atau mencabut hak kepemilikan senjata api.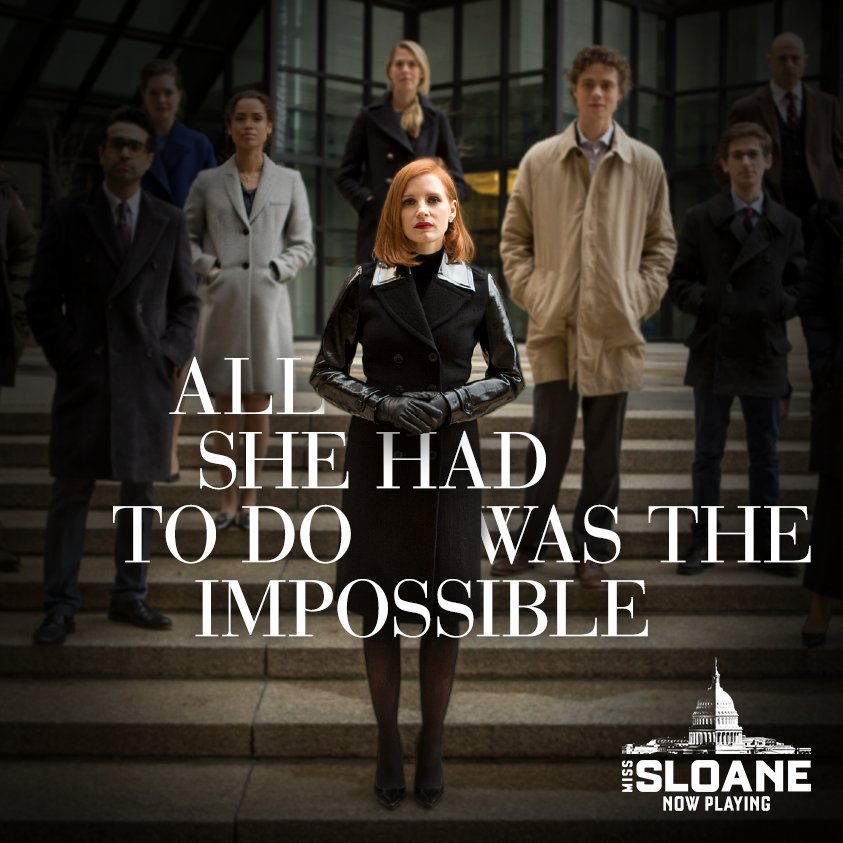 Pengujian undang-undang tersebut membuat Kongres terbagi dua, antara yang setuju legalisasi kepemilikan senjata api dan yang menolak. Sloane pun harus menghadapi berbagai tekanan dari para politikus yang berseberangan dengannya. Bahkan, kali ini, karirnya yang moncer pun terancam tamat. Mampukah wanita cantik itu meloloskan pendapatnya meski dia hanya menjadi pihak minoritas di Kongres?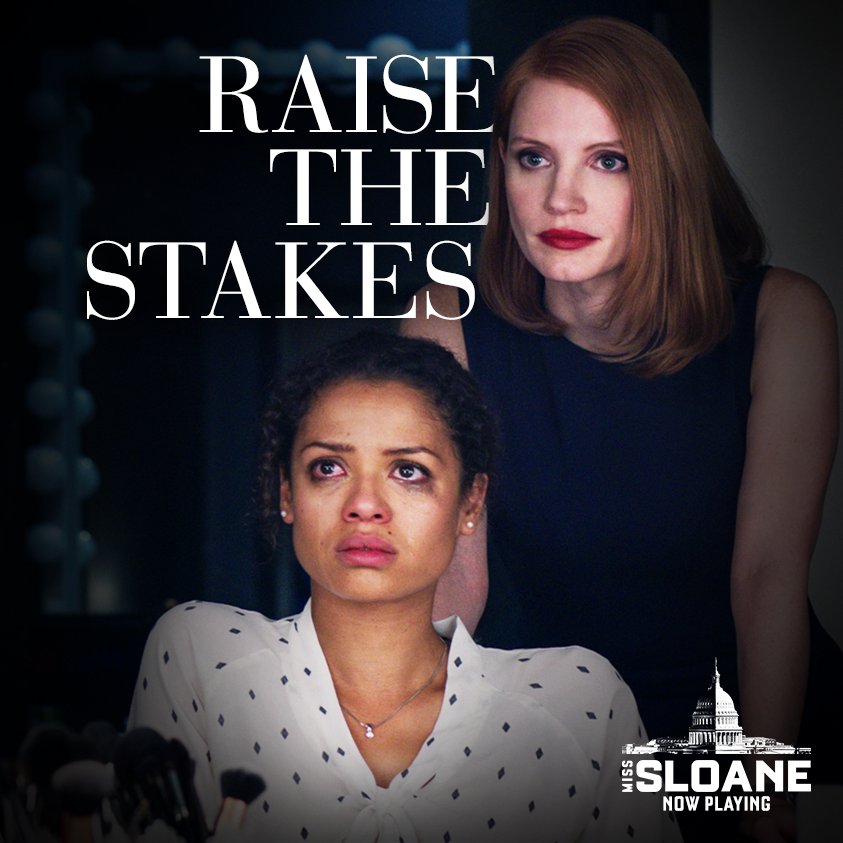 Setelah tayang di Amerika Serikat pada 25 November 2016 yang lalu, Miss Sloane mendapat respon positif dari para kritikus. Sutradara John Madden dianggap berhasil mengangkat tema drama politik yang lebih mengedepankan diskusi diplomatik, termasuk dengan lika-liku dan intrik-intrik politik di dalamnya yang digambarkan secara nyata.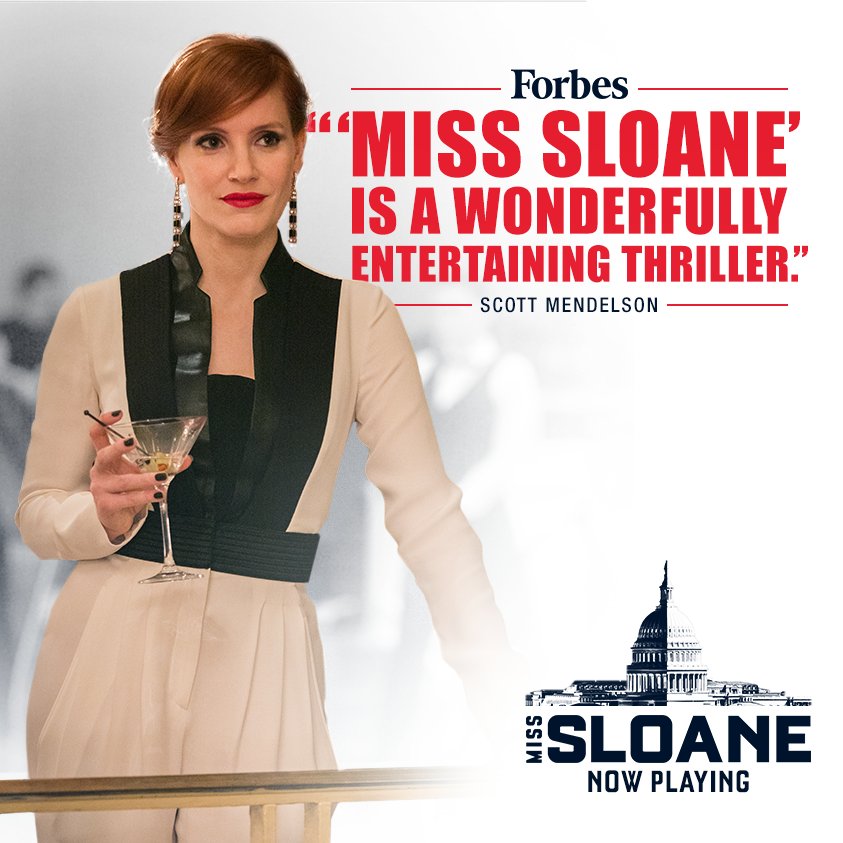 Akting Jessica Chastain kabarnya juga sangat memukau. Aktris yang masuk dalam daftar 100 Most Influential People in the World pada tahun 2012 versi majalah TIME tersebut menjadi kekuatan utama dari film Miss Sloane. Tak heran, para juri Golden Globe Awards menobatkannya sebagai salah satu nominator aktris drama terbaik tahun 2016.
Sayangnya, meski mendapat review positif dan dipuji oleh para kritikus, Miss Sloane gagal total secara komersial. Film berbujet USD 13 juta itu, hingga kini, hanya meraup pemasukan USD 4,6 juta, alias belum balik modal. Bahkan, film yang juga dibintangi oleh Mark Strong ini masuk dalam daftar film dengan pendapatan opening weekend terendah sejak 1982 versi Box Office Mojo.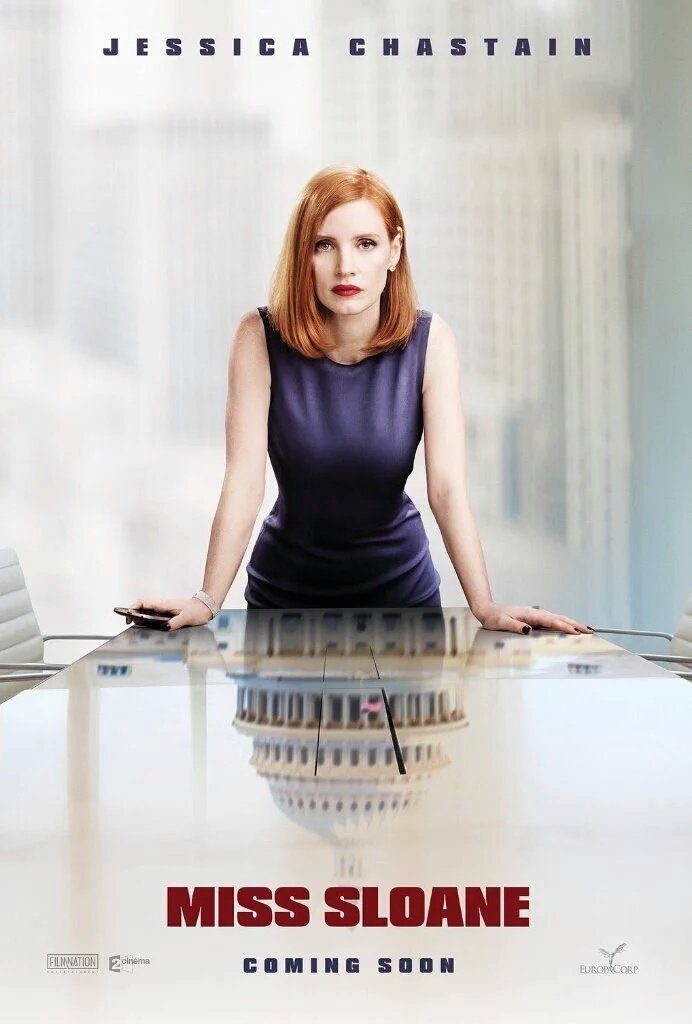 ***
Miss Sloane
Sutradara: John Madden
Produser: Ariel Zeitoun, Ben Browning, Kris Thykier
Penulis Skenario: Jonathan Perera
Pemain: Jessica Chastain, Mark Strong, Gugu Mbatha-Raw, Michael Stuhlbarg, Alison Pill, Jake Lacy, John Lithgow, Sam Waterston
Musik: Max Richter
Sinematografi: Sebastian Blenkov
Penyunting: Alexander Berner
Produksi: FilmNation Entertainment, Archery Pictures, France 2 Cinema, Canal+, Ciné+, France Televisions
Distributor: EuropaCorp
Durasi: 132 menit
Budget: USD 13 juta
Rilis: 11 November 2016 (AFI Fest), 25 November 2016 (Amerika Serikat), 8 April 2017 (Indonesia)
Rating (hingga 9 April 2017)
IMDb: 7,2/10
Rotten Tomatoes: 71%
Metacritic: 63/100
CinemaScore: A-