Tanggal 1 Juli 2002 awalnya menjadi hari yang ditunggu-tunggu oleh 45 siswa sekolah dari Kota Ufa, Rusia. Dengan ditemani oleh sebagian orang tua, mereka terbang menuju ke Costa Dorada, Spanyol, untuk mengikuti karya wisata yang digagas oleh sebuah komite UNESCO lokal.
Namun, menjelang tengah malam, keceriaan anak-anak sekolahan tersebut berubah menjadi tragedi. Saat melintas di atas udara Uberlingen, sebuah kota kecil di Jerman, pesawat jet Tupolev Tu-54 milik maskapai Bashkirian Airlines yang mereka tumpangi bertabrakan dengan pesawat jet kargo Boeing 757 milik DHL.
Kecelakaan udara yang kemudian dikenal sebagai Tragedi Uberlingen tersebut menewaskan total 71 orang (60 penumpang yang mayoritas masih abege, sembilan orang kru pesawat Bashkirian Airlines Flight 2937, dan dua orang kru pesawat kargo DHL Flight 611). Hasil investigasi dari BFU (Badan Penyelidik Kecelakaan Udara Jerman) menyatakan insiden maut tersebut disebabkan oleh kelalaian petugas air traffic controller.
Dua tahun kemudian, Peter Nielsen, air traffic controller yang bertugas saat tragedi tersebut terjadi, ditemukan tewas terbunuh. Hasil penyelidikan pihak berwajib menemukan fakta bahwa pembunuhnya adalah Vitaly Kaloyev. Warga Rusia tersebut melakukan aksi balas dend am setelah istri dan kedua anaknya menjadi korban dari Tragedi Uberlingen.
Tahun ini, kisah pilu yang terjadi lebih dari satu dekade yang lalu tersebut diangkat ke layar lebar oleh para produser film Hollywood dengan judul Aftermath. Hanya saja, nama-nama karakter di film rilisan Lionsgate ini diubah, tidak sama dengan orang-orang aslinya. Plot ceritanya juga sedikit berbeda.
Film yang semula diberi judul 478 ini dibintangi oleh Arnold Schwarzenegger. Aktor kawakan yang mulai terkenal gara-gara Conan the Barbarian (1982) itu memerankan sang tokoh utama, Roman. Karakter tersebut didasarkan pada sosok Vitaly Kaloyev, arsitek asal Rusia yang dianggap bertanggung jawab atas kematian Peter Nielsen, sang air traffic controller asal Denmark.
Di film Aftermath, Roman dikisahkan harus kehilangan istri dan anak perempuannya yang sedang hamil dalam sebuah kecelakaan pesawat. Pria yang berprofesi sebagai mandor bangunan itu kemudian menyalahkan air traffic controller yang bernama Jake Bonanos (Scoot McNairy) dan menuntutnya untuk bertanggung jawab.
Bagi Arnold, Aftermath ini merupakan film pertamanya setelah hampir dua tahun vakum sejak membintangi Terminator Genysis (2015) bareng Emilia Clarke. Mantan Mr. Olympia kelahiran Austria itu memang kembali aktif di Hollywood setelah tidak lagi menjabat sebagai Gubernur California. Di masa comeback-nya, pria 69 tahun ini juga tampil di franchise The Expendables (2010-2014), The Last Stand (2013), Escape Plan (2013) dan Sabotage (2014).
Sayangnya, meski diperkuat oleh Arnold, Aftermath gagal mendapat respon positif dari para kritikus. Film bergenre thriller ini dianggap kurang dramatis dan tidak cukup menawarkan ketegangan.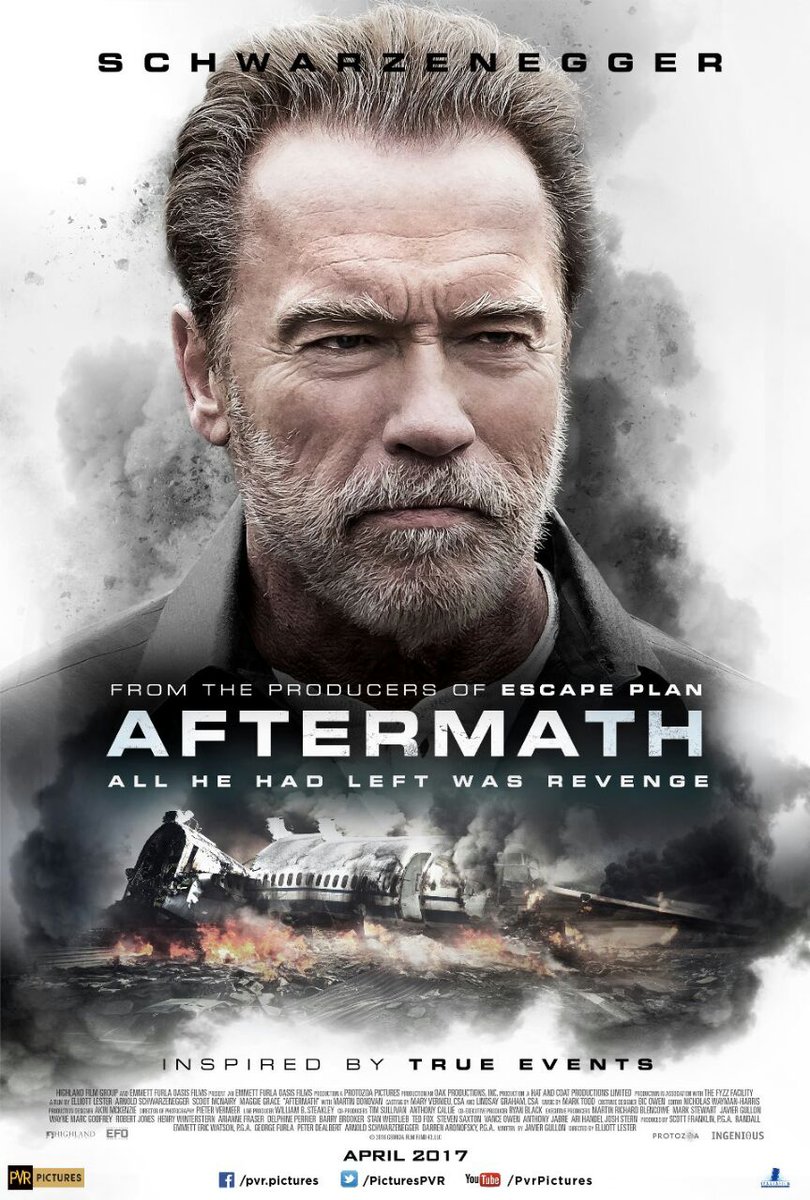 ***
Aftermath
Sutradara: Elliott Lester
Produser: Darren Aronofsky, Peter Dealbert, Randall Emmett, Scott Franklin, George Furla, Eric Watson
Penulis Skenario: Javier Gullón
Pemain: Arnold Schwarzenegger, Scoot McNairy, Maggie Grace, Martin Donovan
Musik: Mark Todd
Sinematografi: Peter Vermeer
Penyunting: Nicholas Wayman-Harris
Produksi: Emmett/Furla/Oasis Films, Pacific View Management, Protozoa Pictures, thefyzz, Grindstone Entertainment Group
Distributor: Lionsgate Premiere
Durasi: 136 menit
Rilis: 7 April 2017 (Amerika Serikat), 21 April 2017 (Indonesia)
Rating (hingga 21 April 2017)
IMDb: 5,8/10
Rotten Tomatoes: 39%