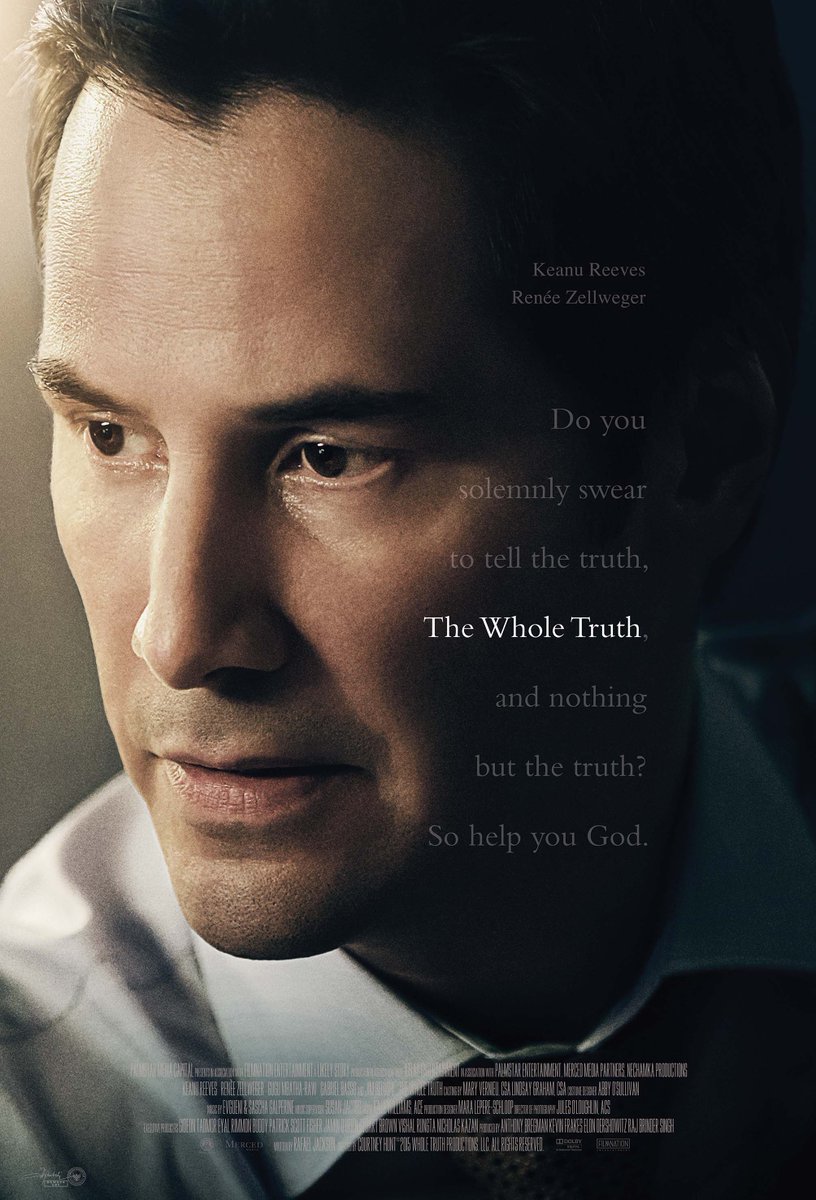 Sebagai aktor yang malang-melintang di Hollywood sejak tahun 1985, Keanu Reeves sudah berpengalaman membintangi berbagai genre film. Mulai dari action, drama, sci-fi, hingga thriller. Meski belum pernah meraih Piala Oscar, kualitas aktingnya yang serba bisa, tentu saja, tidak perlu diragukan lagi.
Awal tahun ini, wajah ganteng pria kelahiran Beirut, Lebanon tersebut sebenarnya sudah menghiasi layar lebar lewat film laga John Wick: Chapter 2. Namun, sebelum tampil sebagai pembunuh bayaran bertangan dingin itu, Keanu Reeves terlebih dahulu membintangi The Whole Truth, yang dirilis di Amerika Serikat pada bulan Oktober 2016, tapi baru tayang di bioskop-bioskop Cinema 21 Indonesia mulai hari Kamis (8/6) kemarin.
Kisah film berdurasi 93 menit ini berfokus pada sosok pengacara kondang bernama Richard Ramsey (Keanu Reeves). Dia dimintai bantuan oleh Loretta Lassiter (Renee Zellweger) untuk membebaskan putranya, Mike (Gabriel Basso), dari kasus pembunuhan.
Ababil yang baru berusia 17 tahun itu dituduh membunuh bokapnya sendiri, Boone Lassiter (Jim Belushi), seorang pengacara kaya raya yang kerap bersikap kasar dan melakukan KDRT terhadap Loretta, istrinya. Hal tersebut menguatkan dugaan kenapa Mike tega menghabisi nyawa ayahnya.
Posisi Mike semakin terjepit dengan ditemukannya bukti sidik jari yang tertinggal di pisau serta pengakuan yang keluar dari mulutnya sendiri. Selain itu, hampir semua saksi yang dihadirkan di persidangan menyudutkan dirinya.
Merasa sulit untuk memenangkan kasus tersebut, Richard Ramsay kemudian meminta bantuan seorang pengacara muda, Janelle Brady (Gugu Mbatha-Raw), untuk menemukan kebenaran tentang apa yang sebenarnya terjadi pada hari pembunuhan sadis itu. Mampukah mereka berdua menyelamatkan Mike dari hukuman? Apakah memang benar dia yang telah menamatkan riwayat bokapnya?
Sebelum memilih Keanu Reeves, film yang dibesut oleh Courtney Hunt ini sebenarnya memasang Daniel Craig sebagai pemeran utamanya. Namun, entah apa sebabnya, bintang franchise James Bond itu tiba-tiba mengundurkan diri sebelum syuting dimulai pada bulan April 2014.
Keanu Reeves sendiri sebelumnya sudah pernah berperan sebagai pengacara. Yang paling terkenal adalah film The Devil's Advocate (1997), di mana dia beradu akting dengan aktor kawakan Al Pacino dan si sexy Charlize Theron.
Seperti film-film tentang persidangan lainnya, alur The Whole Truth berjalan lambat. Hampir 80 persen latarnya adalah ruang sidang dengan menampilkan flashback beberapa adegan di masa lampau.
Meski ber-genre thriller, nyaris tidak ada kejadian-kejadian yang menegangkan dalam film yang dirilis oleh Lionsgate Premiere ini. Namun, kabarnya, ending The Whole Truth ini sangat mengejutkan. Mirip dengan novel-novel Agatha Christie.
Sayangnya, meski sudah didukung oleh akting menawan Keanu Reeves, The Whole Truth gagal memikat hati para kritikus. Situs Rotten Tomatoes, sejauh ini, hanya mematok angka 29 persen dari 24 review yang masuk.
***
The Whole Truth
Sutradara: Courtney Hunt
Produser: Anthony Bregman, Elon Dershowitz, Kevin Frakes
Penulis Skenario: Nicholas Kazan
Pemain: Keanu Reeves, Renée Zellweger, Gugu Mbatha-Raw, Gabriel Basso, Jim Belushi
Musik: Evgueni Galperine, Sacha Galperine
Sinematografi: Jules O'Loughlin
Penyunting: Kate Williams
Produksi: Atlas Entertainment, Likely Story, Merced Media Partners, PalmStar Media
Distributor: Lionsgate Premiere
Durasi: 93 menit
Rilis: 21 Oktober 2016 (Amerika Serikat), 8 Juni 2017 (Indonesia)
Rating (hingga 9 Juni 2017)
IMDb: 6,1/10
Rotten Tomatoes: 29%