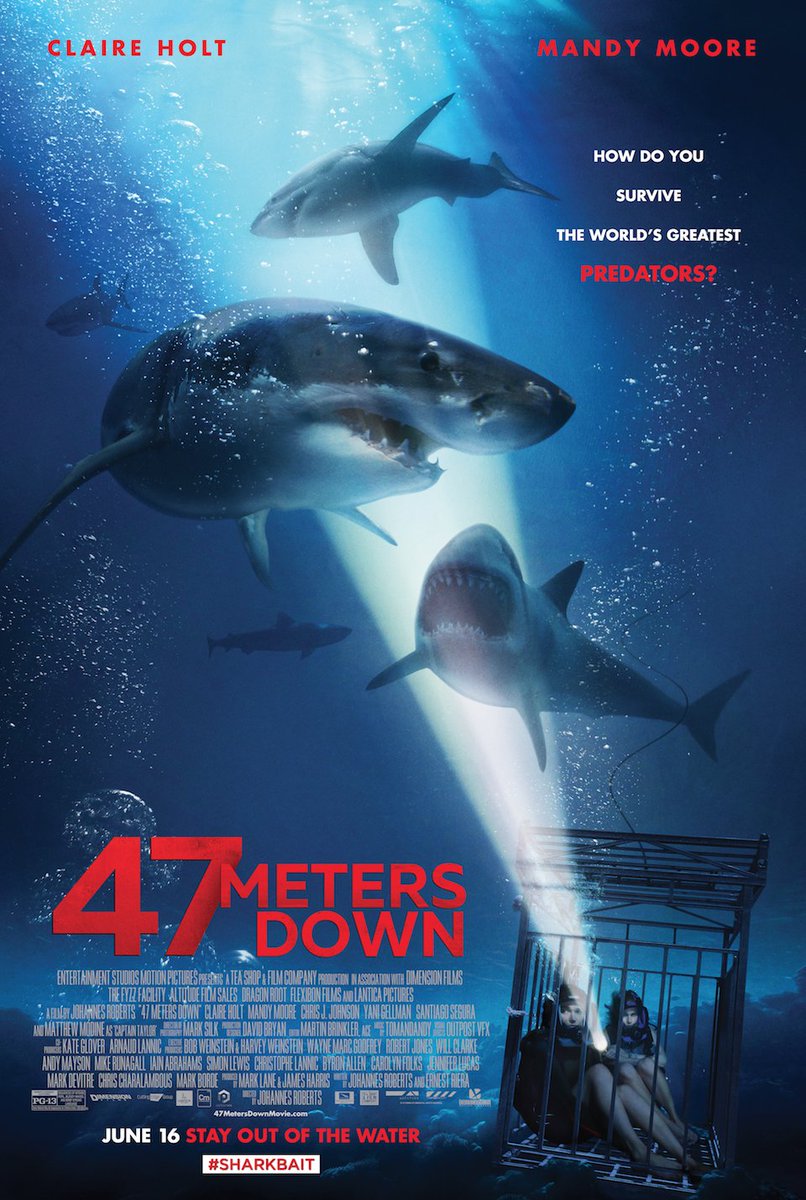 Musim panas tahun lalu, para moviemania disuguhi aksi menegangkan si sexy Blake Lively yang diburu oleh hiu ganas dalam film The Shallows. Tahun ini, menyusul kesuksesan film rilisan Sony Pictures tersebut, hadir satu lagi survival thriller berjudul 47 Meters Down. Yang sudah bisa dinikmati di bioskop-bioskop Cinema 21 mulai hari Kamis (15/6) kemarin.
Sejak kemunculannya di film legendaris Jaws (1975), hiu putih besar memang menjadi andalan para filmmaker untuk menghadirkan kisah yang memacu adrenalin. Bahkan, saking traumatisnya, banyak orang yang takut berenang di laut dan di pinggiran pantai setelah menonton karya sang Maestro Steven Spielberg tersebut.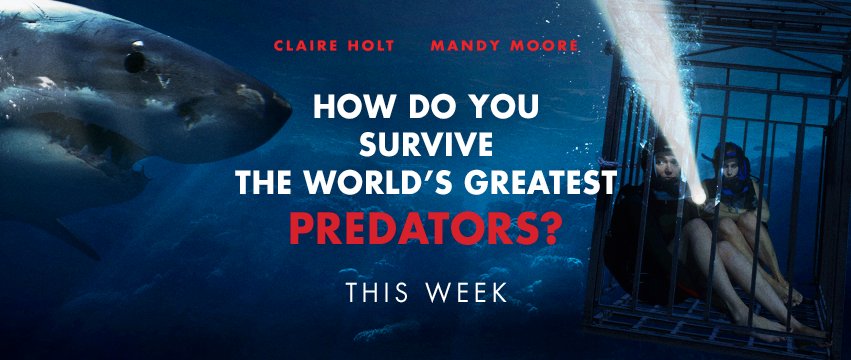 Seperti halnya Jaws dan The Shallows, 47 Meters Down juga mengangkat tema pertarungan antara manusia dan ikan hiu. Kisahnya juga sangat klasik. Sang pemeran utama tak bisa melarikan diri dan harus mempertaruhkan nyawa untuk melawan sang predator ganas tersebut.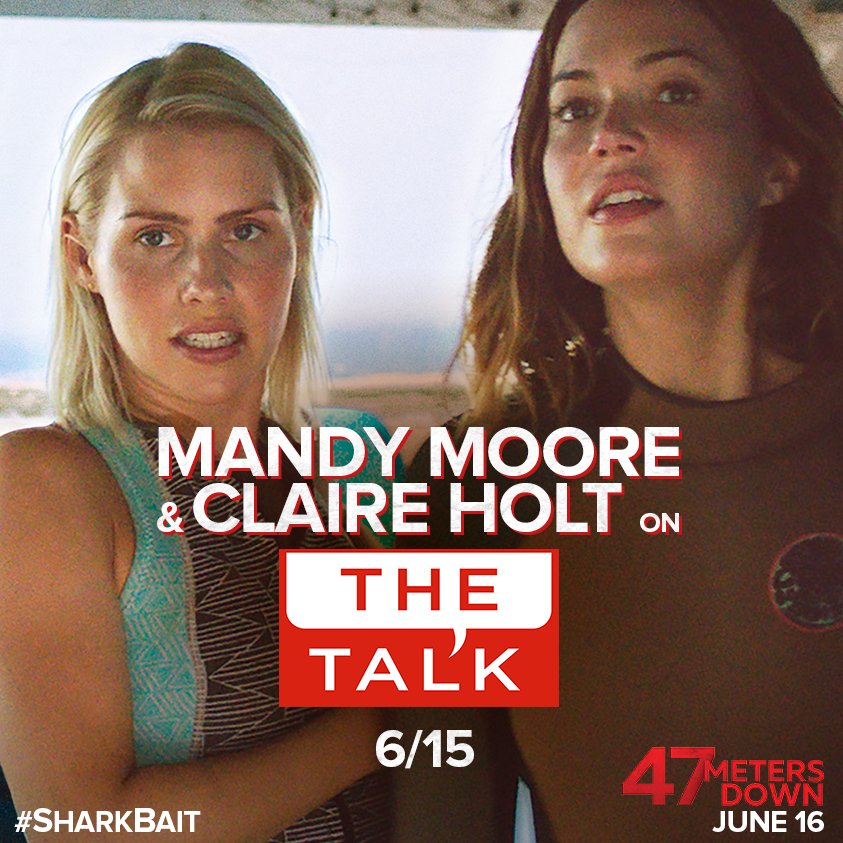 Bedanya, jika di The Shallows hanya Blake Lively seorang diri yang harus menghadapi si hiu putih, di 47 Meters Down ini ada dua orang cewek cantik yang bernasib sial. Kakak-beradik. Lisa dan Kate. Diperankan oleh Mandy Moore dan Claire Holt.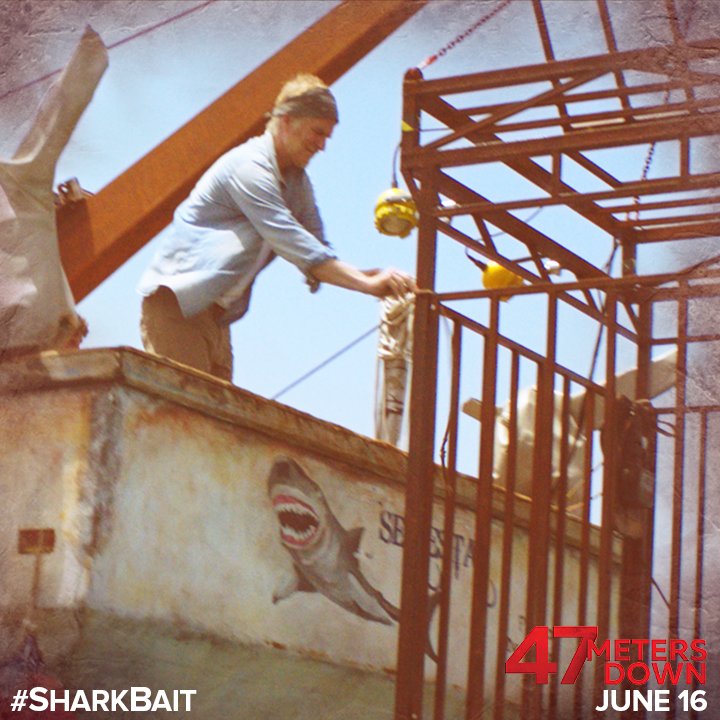 Awalnya, mereka berdua pergi berlibur ke Meksiko untuk having fun bersama. Lalu, datanglah sebuah tawaran yang berbahaya. Tapi menantang. Sejumlah penduduk lokal menawari Lisa dan Kate untuk menyelam di dalam kandang observasi hiu. Di bawah laut.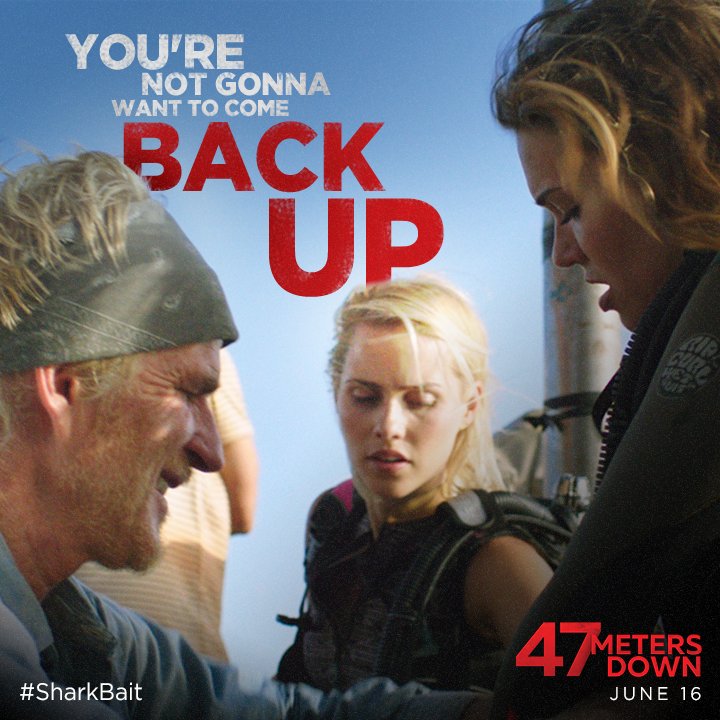 Meski pada mulanya ragu, karena penasaran dan merasa tertantang, mereka akhirnya mencoba. Dan mulai menikmatinya. Namun, petualangan yang mendebarkan itu tiba-tiba berubah menjadi bencana. Rantai yang mengikat kerangkeng besi tiba-tiba terlepas dari kapal. Mereka kemudian tenggelam hingga 47 meter ke dasar laut yang dipenuhi oleh hiu-hiu ganas!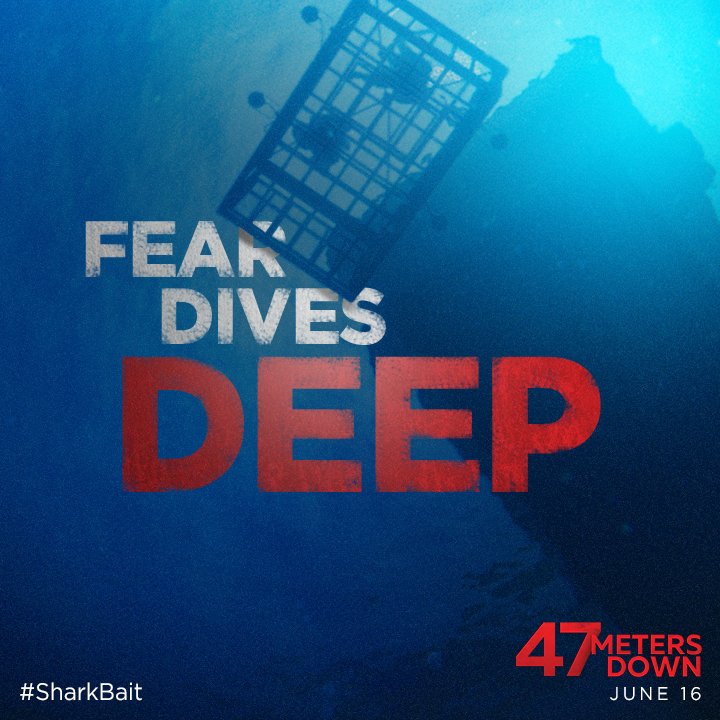 Dengan persediaan oksigen di dalam tabung yang semakin menipis, dan hiu putih lapar yang terus mengintai, Lisa dan Kate harus berpacu dengan waktu untuk menemukan cara keluar dari kerangkeng dan kembali ke permukaan laut. Berhasilkah mereka survive? Atau, tubuh mulus mereka harus berakhir sebagai santapan hiu?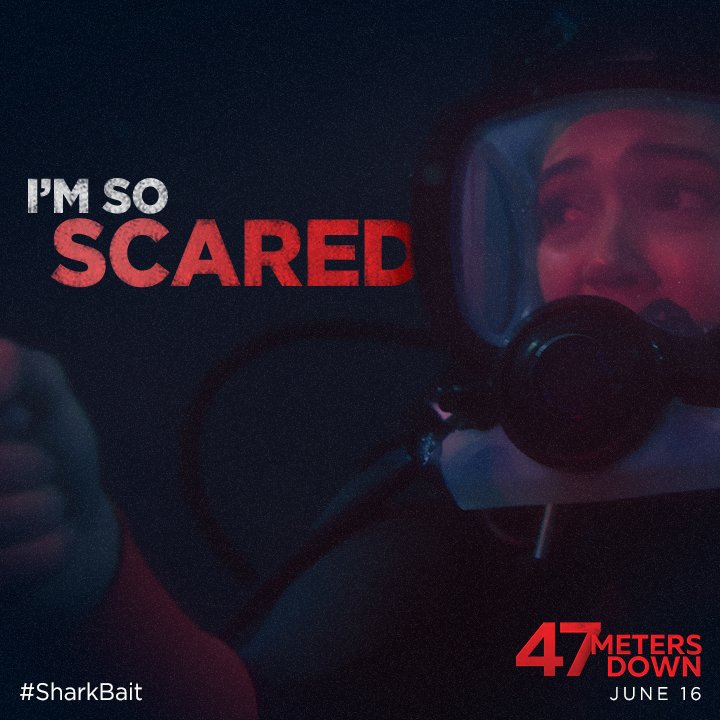 Btw, bagi yang bertanya-tanya, apakah Mandy Moore yang menjadi bintang 47 Meters Down ini adalah Mandy Moore yang penyanyi itu? Jawabannya adalah iya. Ini Mandy Moore yang dulu terkenal dengan lagu "I Wanna Be with You"-nya itu.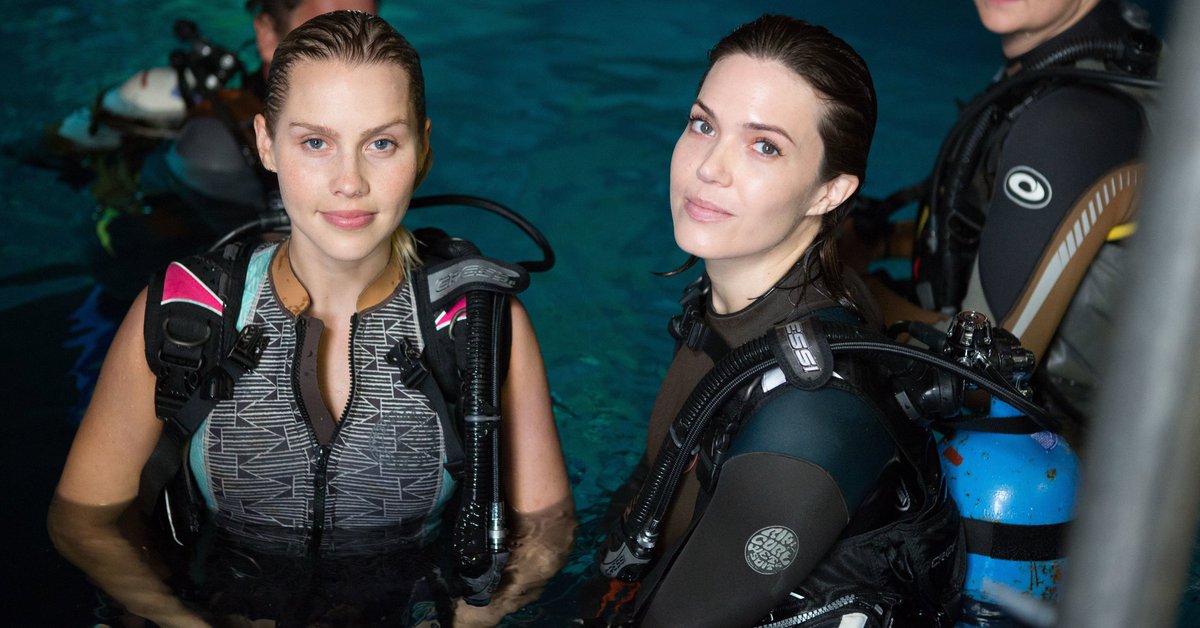 Setelah menjalani debut sebagai pengisi suara dalam film komedi Dr. Dolittle 2 (2001), penyanyi sexy tersebut memang banyak berkiprah di dunia seni peran. Film-filmnya yang terkenal antara lain The Princess Diaries (2001) bareng Anne Hathaway dan A Walk to Remember (2002) yang romantis itu.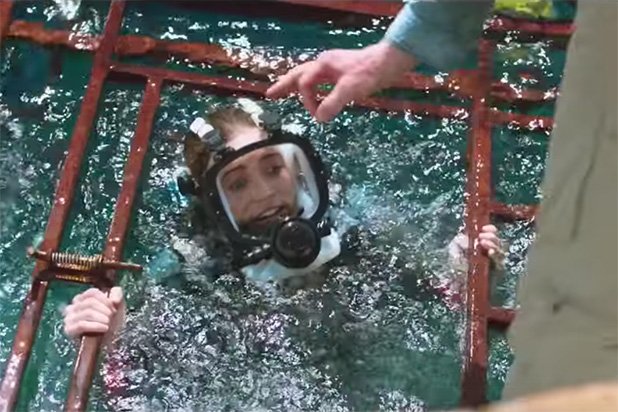 Pada tahun 2010 yang lalu, Mandy Moore juga kembali menjadi pengisi suara dalam film animasi Disney, Tangled. Janda kembang berusia 33 tahun tersebut berperan sebagai Rapunzel, si gadis berambut panjang. Dan, tahun ini, dia bakal mengulang perannya tersebut dalam Tangled versi serial televisi.
Sementara itu, 47 Meters Down sendiri awalnya hanya akan dirilis dalam bentuk DVD dan home video dengan judul In the Deep oleh Dimension Films. Namun, Entertainment Studios kemudian membeli hak pendistribusiannya dan merilisnya di bioskop-bioskop Amerika Serikat.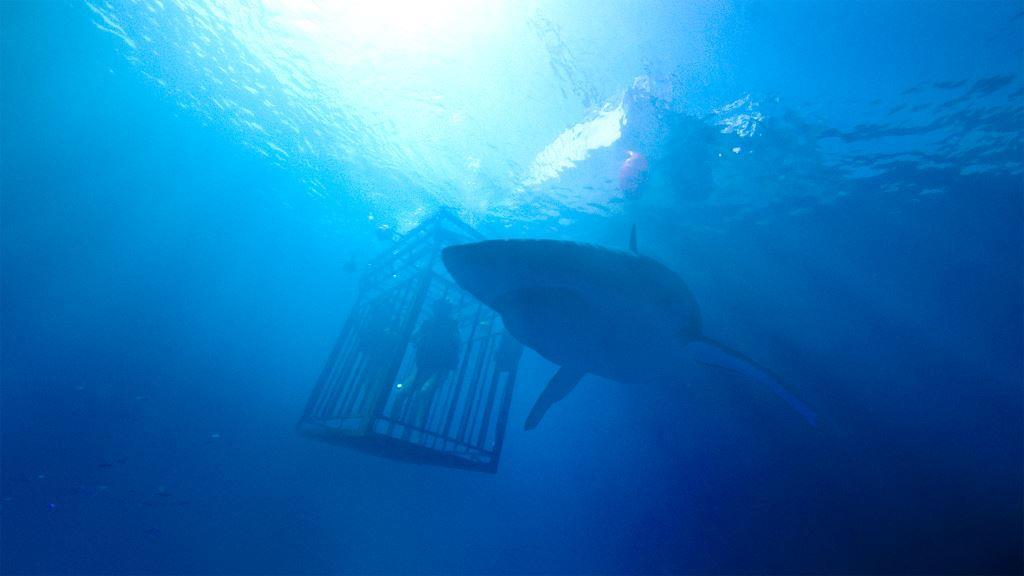 Sejauh ini, respon dari beberapa kritikus dan situs review cukup lumayan. Meski masih jauh bila dibandingkan dengan Jaws, dan tidak semenegangkan The Shallows, film berdurasi 85 menit ini tetap menawarkan adegan-adegan yang mendebarkan.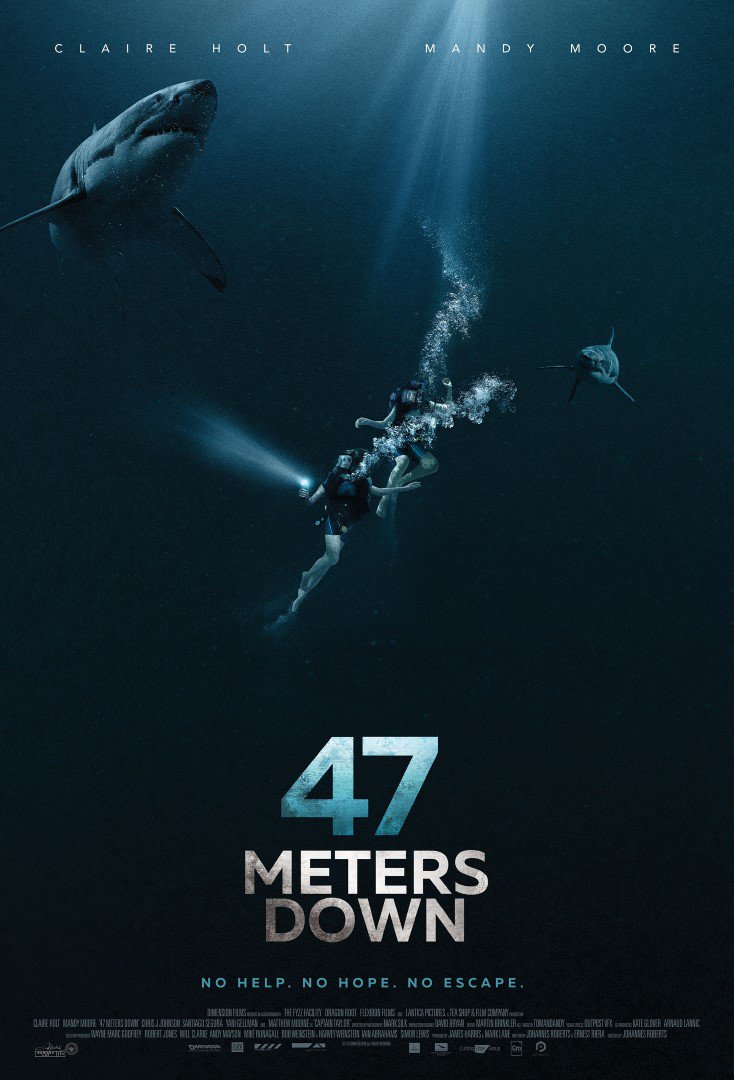 ***
47 Meters Down
Sutradara: Johannes Roberts
Produser: James Harris, Mark Lane
Penulis Skenario: Johannes Roberts, Ernest Riera
Pemain: Mandy Moore, Claire Holt, Chris J. Johnson, Yani Gellman, Santiago Segura, Matthew Modine
Musik: Tomandandy
Sinematografi: Mark Silk
Penyunting: Martin Brinkler
Produksi: The Fyzz Facility, Dragon Root, Flexibon Films, Lantica Pictures, Tea Shop & Film Company
Distributor: Entertainment Studios
Durasi: 85 menit
Rilis: 15 Juni 2017 (Indonesia), 16 Juni 2017 (Amerika Serikat)
Rating (hingga 16 Juni 2017)
IMDb: 6/10
Rotten Tomatoes: 51%
Metacritic: 53/100