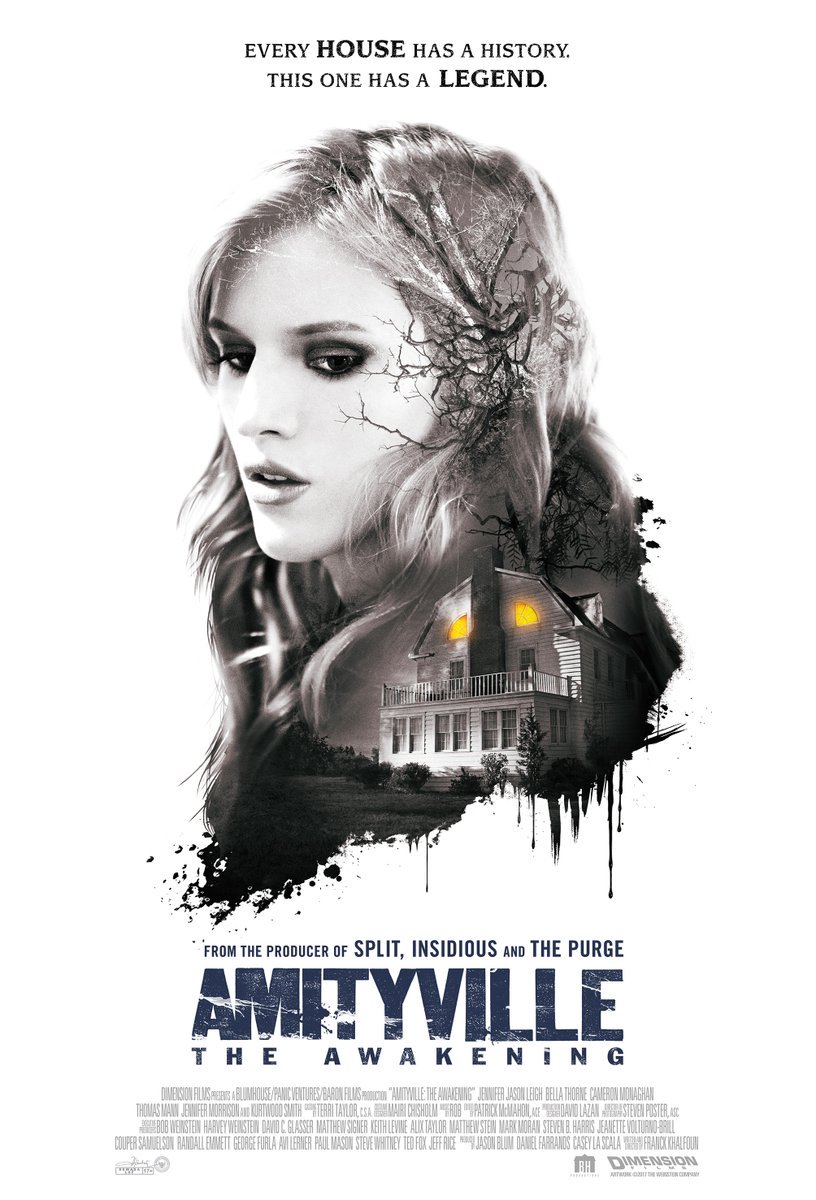 Fenomena rumah kuno berhantu masih menjadi daya tarik utama bagi para produser film-film horror. Salah satu yang paling legendaris adalah haunted house yang terletak di Amityville, New York, Amerika Serikat.
Sejak kisah nyatanya dibukukan pertama kali oleh Jay Anson pada tahun 1977, The Amityville Horror langsung menjadi fenomena global dan sukses menebar kengerian di seluruh dunia. Sebuah film adaptasinya yang dirilis pada tahun 1979 juga mampu merajai box office dan tercatat sebagai salah satu film indie dengan pendapatan tertinggi sepanjang masa.
Hingga saat ini, total sudah ada 18 film, baik yang dirilis di bioskop maupun yang berbentuk direct-to-video, yang diadaptasi dari kisah nyata rumah berhantu di Amityville tersebut. Yang terbaru, alias yang ke-19, berjudul Amityville: The Awakening, mulai tayang di bioskop-bioskop Cinema 21 Indonesia pada hari Sabtu (26/8) yang lalu.
Dari 18 film sebelumnya, yang paling sukses memang The Amityville Horror (1979) yang pertama. Versi remake-nya, yang dirilis pada tahun 2005 dan dibintangi oleh Ryan "Deadpool" Reynolds, tidak seberhasil versi original-nya.
Beberapa tahun kemudian, Dimension Films dan Miramax berniat untuk membangkitkan kembali kengerian rumah berhantu tersebut. Kali ini, dengan konsep found footage ala Paranormal Activity yang lagi nge-trend. Judulnya, Amityville: The Lost Tapes. Tentang rekaman video kamera dari seorang jurnalis cewek yang berupaya menginvestigasi sebuah haunted house.
Sayangnya, proyek di atas kemudian dibatalkan. Pihak produser mengubah konsepnya. Bukan lagi found footage. Skenarionya pun berubah total. Kisahnya juga baru, dengan judul Amityville: The Awakening.
Yang menjadi tokoh utama adalah seorang cewek bernama Belle (Bella Thorne). Dia dan dua adiknya, Juliet (McKenna Grace) dan James (Cameron Monaghan), baru saja pindah ke rumah baru bersama sang ibu, Joan (Jennifer Jason Leigh), seorang single mother. Mereka melakukan hal itu untuk menghemat uang guna membiayai perawatan James yang sedang sakit.
Tidak lama setelah mereka tinggal di sana, beberapa keanehan mulai terjadi. Yang paling ajaib adalah pemulihan kesehatan James yang sangat cepat. Belle pun menjadi curiga dan mulai berpikir bahwa ibunya menyimpan rahasia mengenai rumah kuno tersebut.
Kekhawatiran Belle ternyata memang benar. Rumah baru yang mereka huni ternyata adalah rumah Amityville yang menghebohkan itu. Tempat pembunuhan massal satu keluarga terjadi beberapa puluh tahun yang lalu. Mampukah mereka selamat dari kuasa jahat yang menjadi penunggu rumah tersebut?
Berbeda dengan di Indonesia, tanggal rilis Amityville: The Awakening di Amerika Serikat ternyata masih belum ditentukan setelah mengalami penundaan berkali-kali. Oleh karena itu, hingga kini, masih belum diketahui bagaimana respon dari para kritikus terhadap film horror berdurasi 87 menit tersebut.
***
Amityville: The Awakening
Sutradara: Franck Khalfoun
Produser: Jason Blum, Daniel Farrands, Casey La Scala
Penulis Skenario: Franck Khalfoun
Pemain: Bella Thorne, Cameron Monaghan, Jennifer Jason Leigh, Thomas Mann, Jennifer Morrison, Kurtwood Smith
Musik: Robin Coudert
Sinematografi: Steven Poster
Penyunting: Patrick McMahon
Produksi: Blumhouse Productions, Panic Ventures, Baron Films
Distributor: Dimension Films
Durasi: 87 menit
Rilis: 26 Agustus 2017 (Indonesia)
Rating (hingga 29 Agustus 2017)
IMDb: 5,5/10