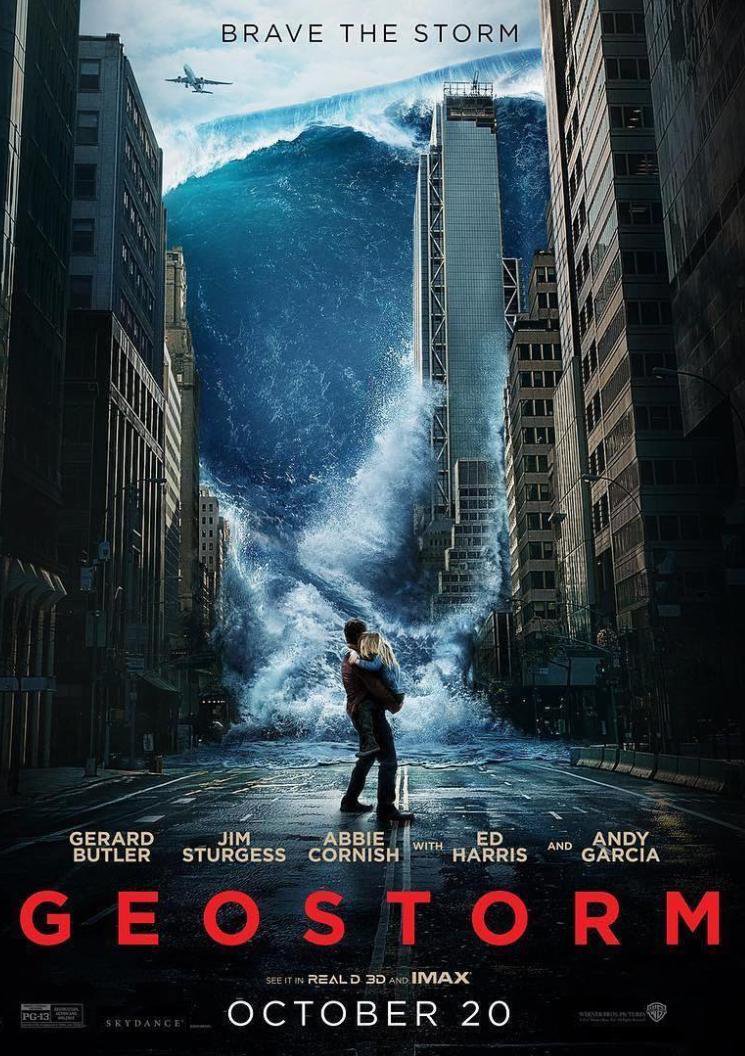 Hollywood tampaknya masih belum bosan membuat film dengan latar cerita bencana mahadahsyat yang meluluh-lantakkan bumi (seperti kamu yang meluluh-lantakkan hatiku setelah menikah dengan dia). Meski sering mendapat respon negatif dari para kritikus, film-film bertema "kiamat sudah dekat" itu memang terbukti masih laku di pasaran. Sebut saja, Deep Impact (1998), The Day After Tomorrow (2004), hingga 2012 (2009).
Tahun ini, satu lagi film global catastrophes menerjang layar lebar. Judulnya, Geostorm. Mulai tayang di bioskop-bioskop Indonesia hari Jumat (13/10) ini. Lebih cepat sepekan dari jadwal rilisnya di Amerika Serikat.
Kisahnya ber-setting di masa depan, beberapa tahun setelah masa kini. Diawali oleh para pemimpin negara di seluruh dunia yang bersatu dalam mengembangkan teknologi satelit di luar angkasa untuk mengontrol cuaca. Tujuannya sangat mulia, yaitu mencegah perubahan iklim ekstrem yang dapat mengancam keselamatan umat manusia.
Namun, apa yang kita harapkan sering kali tak sesuai dengan kenyataan (seperti aku yang mengharapkan pacaran sama kamu, ternyata kamu malah kawin sama dia). Satelit bernama Dutch Boy tersebut justru mengalami kerusakan parah tiga tahun setelah dioperasikan. Akibatnya, cuaca buruk seperti angin topan, badai, hingga tsunami tak dapat dikendalikan dan melanda seluruh belahan dada, eh dunia, maksudnya. Itulah yang disebut sebagai Geostorm.
Satu-satunya harapan umat manusia terletak di pundak Jake Lawson (Gerard Butler), ilmuwan perancang Dutch Boy yang kemudian ditugaskan untuk memperbaiki satelit tersebut di luar angkasa. Dibantu oleh adiknya, Max (Jim Sturgess), dan rekan-rekannya, mampukah ayah dari seorang gadis imut bernama Hannah (Talitha Bateman) itu berpacu dengan waktu untuk mencegah kiamat yang sudah dekat?
Selain diperkuat beberapa aktor terkenal seperti Gerard Butler, Jim Sturgess, Ed Harris, Andy Garcia, dan Daniel Wu, film rilisan Warner Bros. Pictures ini juga menampilkan dua aktris supersexy, yaitu Abbie Cornish dan Alexandra Maria Lara. Abbie berperan sebagai Sarah Wilson, seorang agen U. S. Secret Service yang juga pacar dari Max. Sementara itu, Alexandra menjadi Ute Fassbinder, komandan stasiun luar angkasa yang merupakan gacoan dari Jake.
Geostorm sendiri merupakan debut bagi sutradara Dean Devlin, yang sebelumnya berpengalaman menjadi produser Stargate (1994) dan Independence Day (1996). Proses syuting sebenarnya dimulai sejak bulan Oktober 2014 dan sudah rampung pada bulan Februari 2015.
Awalnya, Geostorm bakal dirilis pada 25 Maret 2016. Namun, karena bentrok dengan jadwal Batman v Superman: Dawn of Justice (2016), Warner Bros. Pictures kemudian menundanya hingga bulan ini.
Dari trailer dan poster yang dirilis beberapa waktu yang lalu, terlihat kengerian yang melanda seluruh dunia akibat malfungsi teknologi buatan manusia sendiri. Berbagai adegan kehancuran bangunan dan monumen bersejarah tak luput disajikan. Bahkan, tampak gelombang dahsyat yang tingginya melebihi gedung pencakar langit siap menyapu seorang ayah dan anak perempuannya yang berdiri berpelukan di tengah kota.
Sejauh ini, belum ada respon dari para kritikus, karena film berbujet USD 81 juta ini baru akan tayang di Amerika pekan depan. Yang pasti, sebanyak 92% pengunjung situs Rotten Tomatoes ingin menyaksikannya.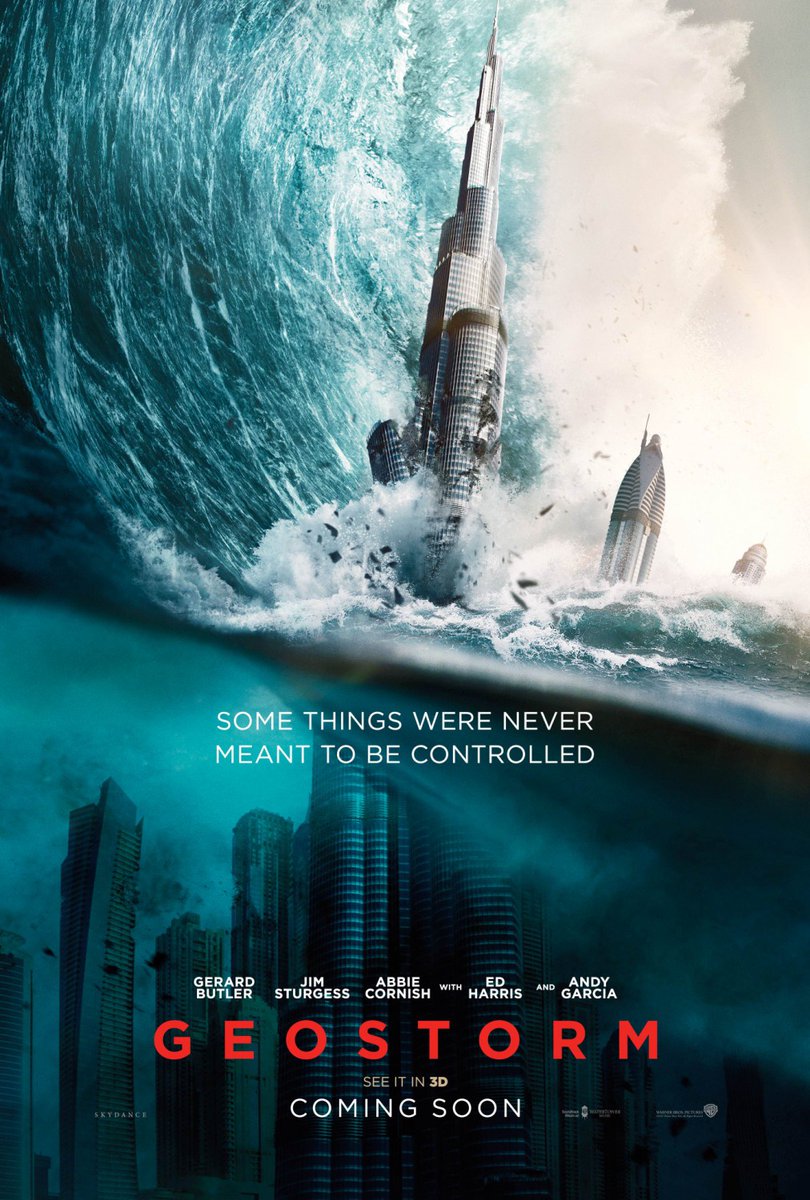 ***
Geostorm
Sutradara: Dean Devlin
Produser: David Ellison, Dean Devlin, Dana Goldberg
Penulis Skenario: Dean Devlin, Paul Guyot
Pemain: Gerard Butler, Jim Sturgess, Abbie Cornish, Alexandra Maria Lara, Richard Schiff, Robert Sheehan, Daniel Wu, Eugenio Derbez, Ed Harris, Andy García
Musik: Lorne Balfe, Steffen Thum
Sinematografi: Roberto Schaefer
Penyunting: Ron Rosen, Chris Lebenzon, John Refoua
Produksi: Warner Bros. Pictures, Skydance Media, Electric Entertainment
Distributor: Warner Bros. Pictures
Durasi: 109 menit
Budget: USD 81 juta
Rilis: 13 Oktober 2017 (Indonesia), 20 Oktober 2017 (Amerika Serikat)
Rating (hingga 13 Oktober 2017)
IMDb: 7,4/10
Rotten Tomatoes: –