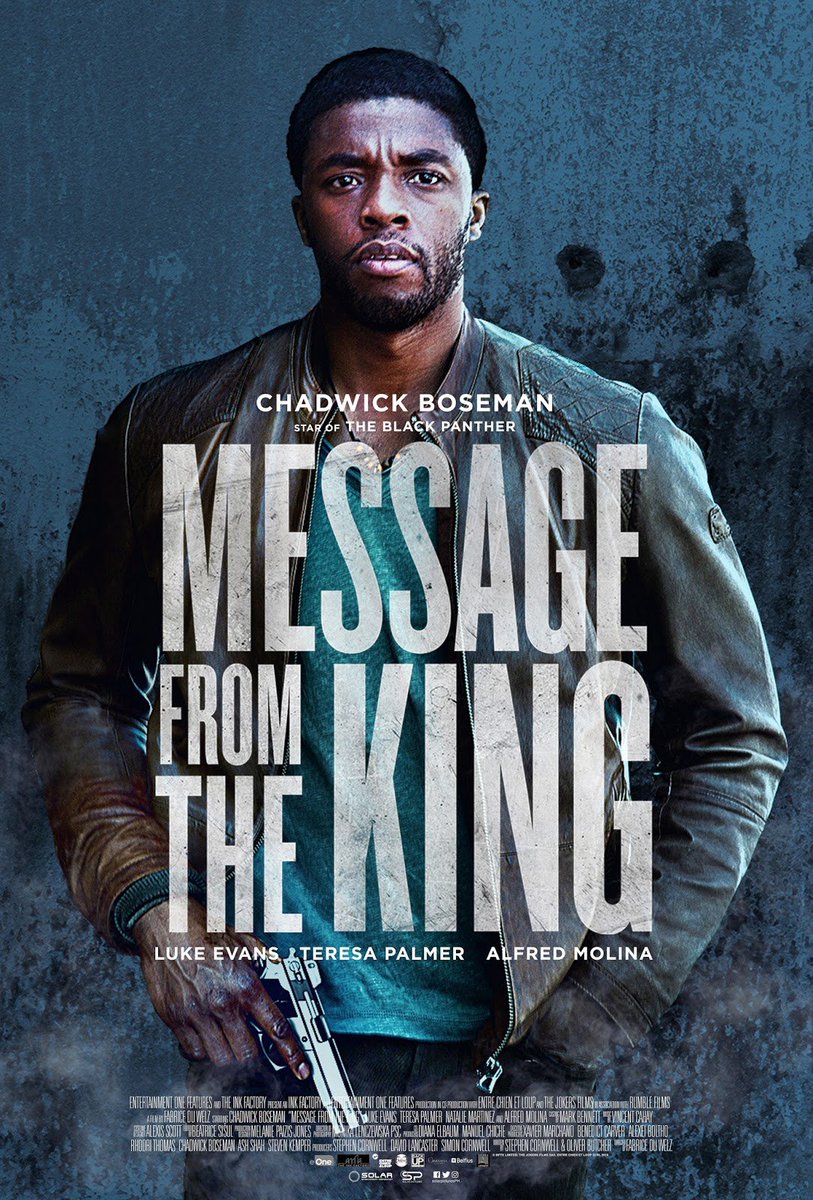 Aktif di dunia seni peran sejak tahun 2003, nama Chadwick Boseman baru mulai terkenal setelah memerankan Black Panther dalam Captain America: Civil War (2016). Tahun depan, pria keling kelahiran 29 November 1976 itu akan kembali tampil sebagai Raja Wakanda dalam film solo Black Panther dan Avengers: Infinity War.
Namun, sebelum menikmati penampilannya sebagai superhero macan kumbang di dua film Marvel Cinematic Universe (MCU) tersebut, para moviemania bisa terlebih dahulu menyaksikan aksinya dalam Message from the King. Film thriller yang sudah dirilis di Amerika pada bulan Agustus 2017 itu kini sedang tayang di bioskop-bioskop CGV Cinemas Indonesia.
Dalam Message from the King, Chadwick Boseman berperan sebagai cowok asal Afrika Selatan bernama Jacob King. Dia pergi ke Los Angeles, Amerika Serikat, untuk mencari adik perempuannya.
Namun, setibanya di LA, King mendapati adiknya telah tewas secara mengenaskan. Dengan bekal duit hanya beberapa ratus dollar, dia pun mencari siapa pembunuh adiknya dan bertekad untuk membalas dendam dalam tempo enam hari.
Selain Chadwick Boseman, Message from the King juga diperkuat oleh beberapa nama yang cukup terkenal. Sebut saja si sexy Teresa Palmer dan si ganteng Luke Evans.
Sayangnya, penampilan para bintang ternama di atas kurang mampu mengangkat film yang didistribusikan oleh Netflix tersebut. Beberapa kritikus memberi respon kurang positif untuk Message from the King.
***
Message from the King
Sutradara: Fabrice Du Welz
Produser: Stephen Cornwell, David Lancaster, Simon Cornwell
Penulis Skenario: Stephen Cornwell, Oliver Butcher
Pemain: Chadwick Boseman, Luke Evans, Teresa Palmer, Alfred Molina
Musik: Vincent Cahay, Felix Penny
Sinematografi: Monica Lenczewska
Penyunting: Beatrice Sisul
Produksi: Entertainment One, The Ink Factory, The Joker Films, Entre Chien et Loup
Distributor: Netflix
Durasi: 102 menit
Budget: USD 10 juta
Rilis: 8 September 2016 (TIFF), 4 Agustus 2017 (Amerika Serikat), 8 Nopember 2017 (Indonesia)
Rating (hingga 17 November 2017)
IMDb: 6,3/10
Rotten Tomatoes: 50%