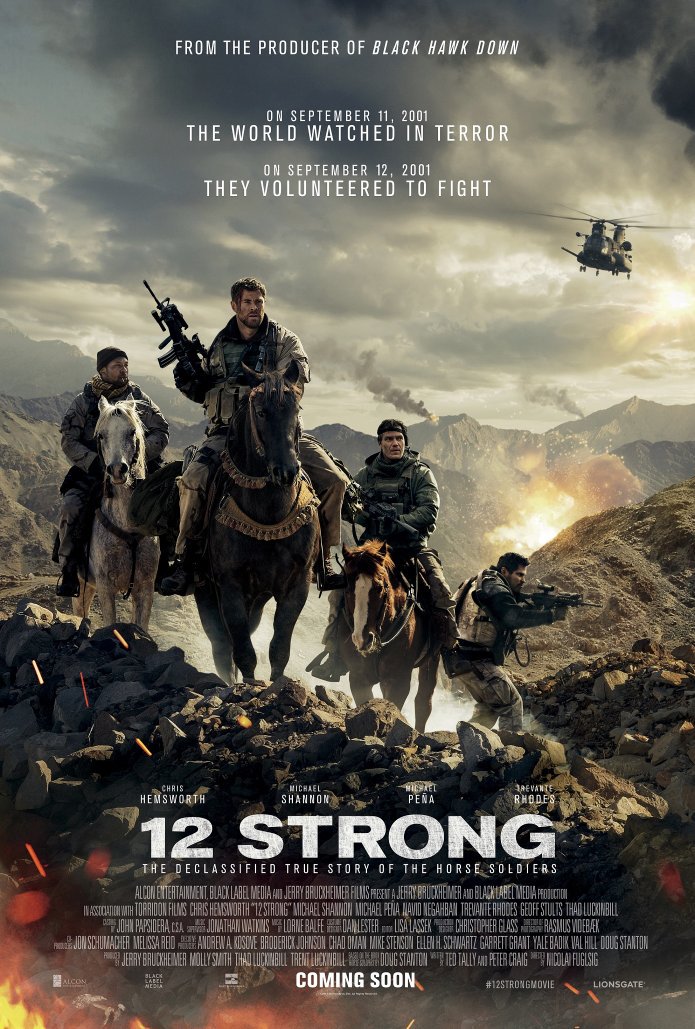 Sehari pasca menara kembar World Trade Centre (WTC) di New York diluluhlantakkan teroris Al Qaeda pada 11 September 2001, Amerika Serikat langsung melancarkan respon. Mereka mengirim pasukan khusus yang terdiri dari paramiliter CIA dan US Army Green Berets Operational Detachment Alpha 595 (ODA 595) ke Afghanistan.
Tim bernama Task Force Dagger tersebut dipimpin oleh Mark Nutsch dan berjumlah hanya 12 orang. Di sana, mereka harus bekerja sama dengan pasukan Northern Alliance yang dipimpin oleh Jenderal Abdul Rashid Dostum, yang saat ini menjabat sebagai Wakil Presiden Afghanistan.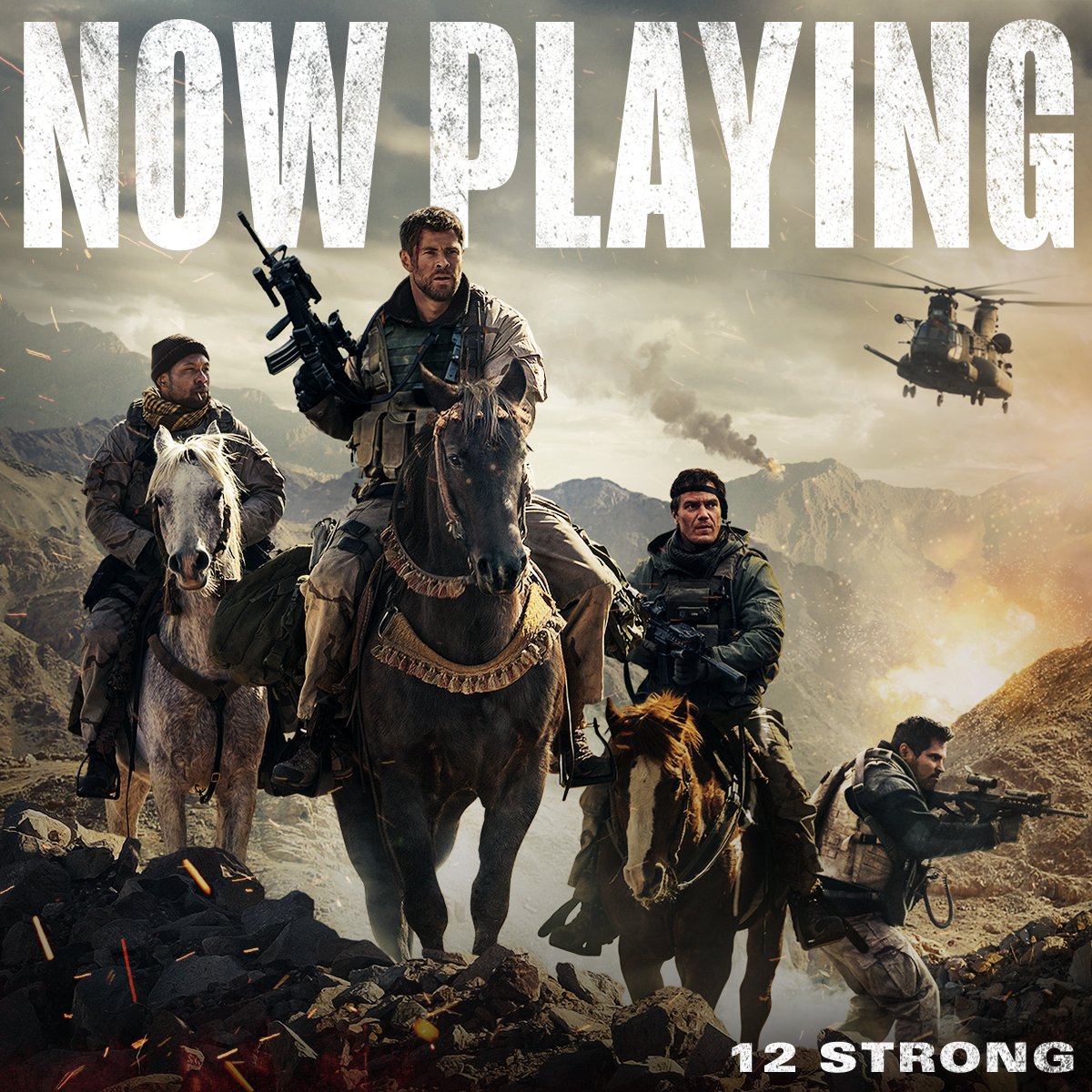 Misi Mark Nutsch dan 11 orang anggotanya adalah menemukan lokasi persembunyian pasukan Taliban dan Al Qaeda. Selanjutnya, mereka harus menyampaikan informasi tersebut ke USAF Combat Controllers untuk melakukan pengeboman menggunakan pesawat drone terhadap markas teroris tadi.
Medan Afghanistan yang bergunung-gunung, berpasir, berbatu, berliku dan terjal, seperti kisah cinta kita, membuat misi tersebut sangat berat (Kamu nggak akan kuat. Biar aku saja). Satu-satunya cara, Mark Nutsch dkk harus menunggang kuda untuk menuju wilayah Mazhar-i-Sharif yang menjadi markas Taliban. Padahal, banyak dari mereka yang tidak mahir berkuda.
Kisah nyata mission impossible 12 orang tentara Amerika tadi kemudian ditulis menjadi sebuah buku nonfiksi oleh Doug Stanton dengan judul Horse Soldiers: The Extraordinary Story of a Band of U.S. Soldiers Who Rod to Victory in Afghanistan. Film adaptasinya, berjudul 12 Strong: The Declassified True Story of the Horse Soldiers, kini sedang tayang di bioskop-bioskop Cinema 21 Indonesia.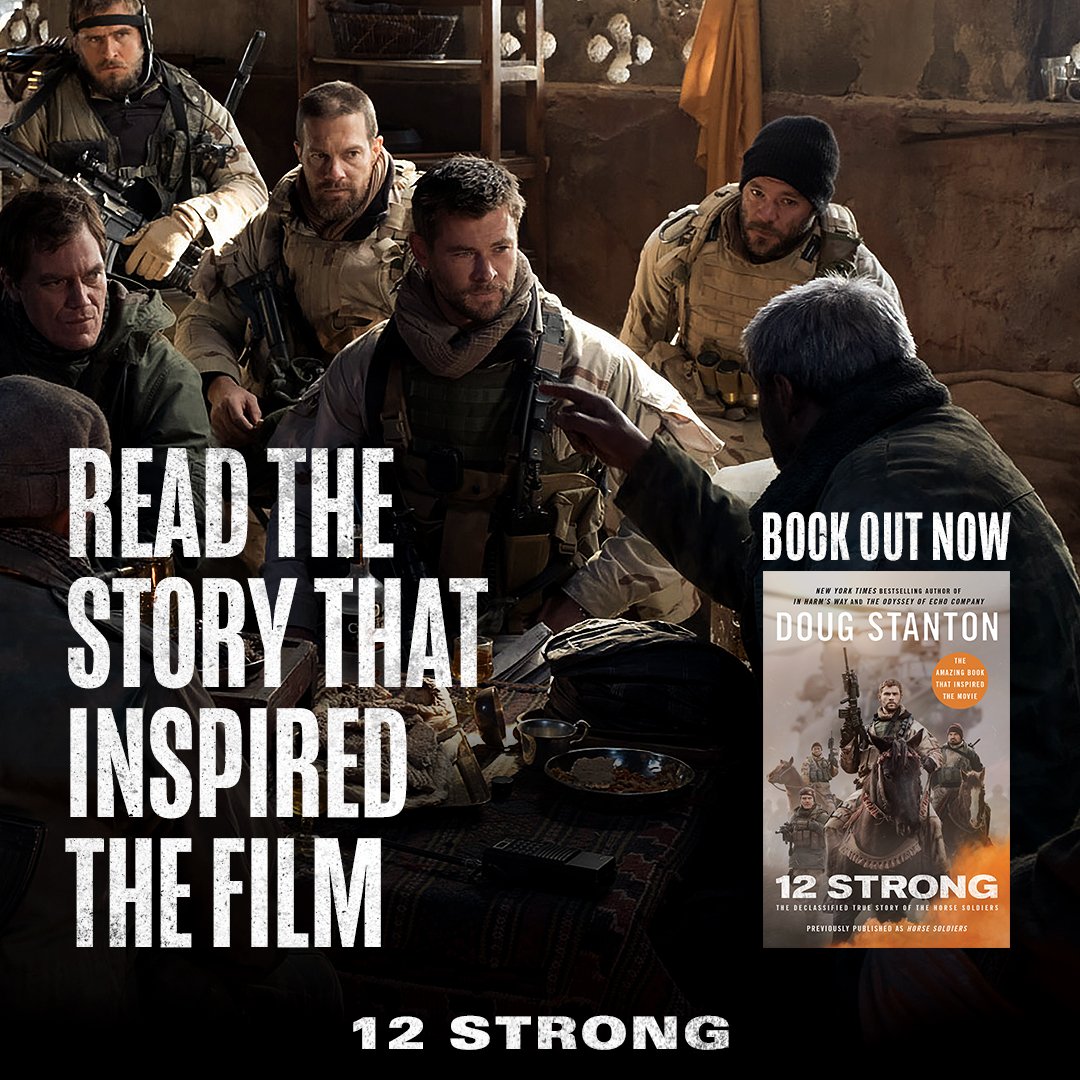 Yang menjadi tokoh utama dalam film 12 Strong adalah Captain Mitch Nelson yang diperankan oleh Chris Hemsworth. Karakter fiksi tersebut terinspirasi dari sosok nyata pemimpin Horse Soldiers, Mark Nutsch.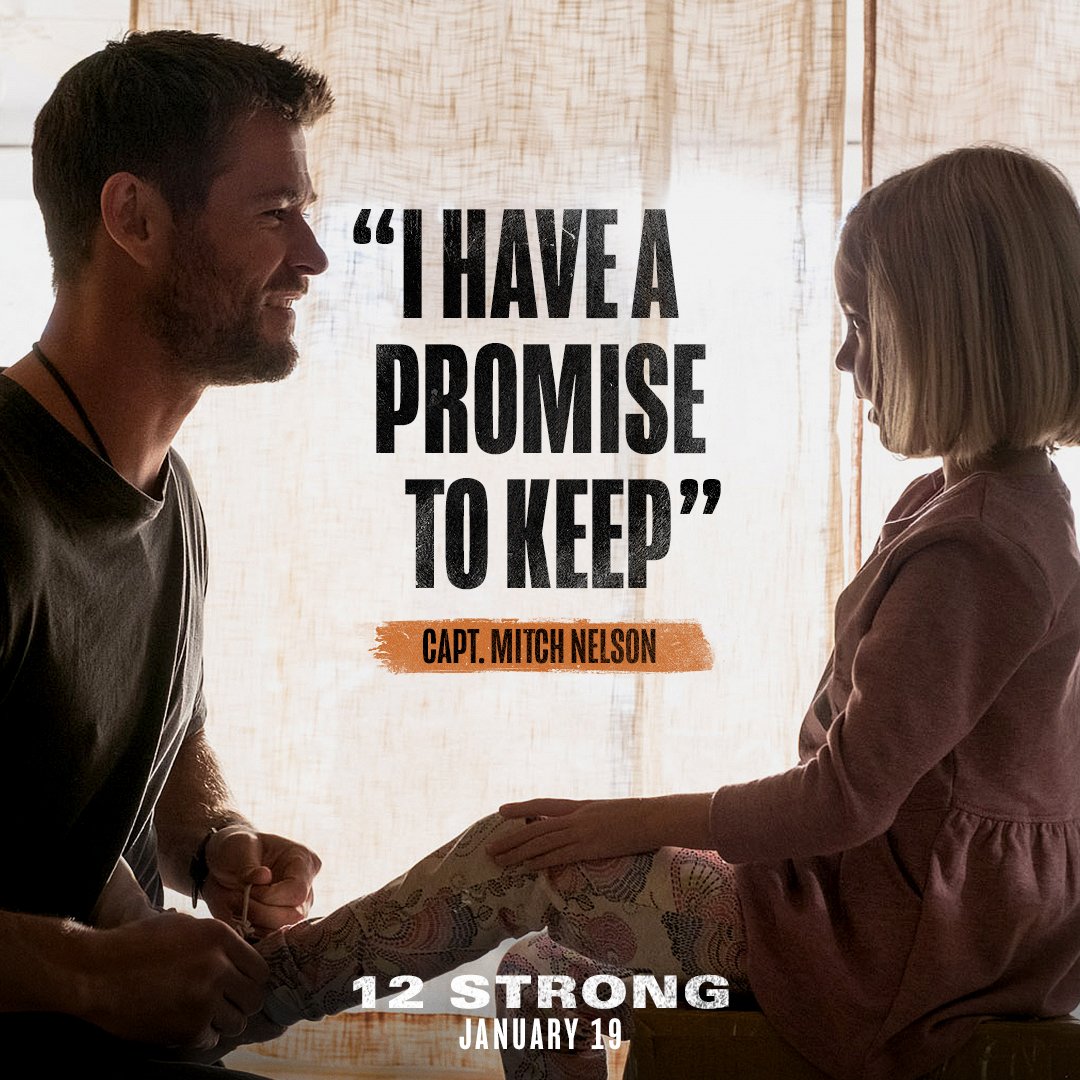 Yang menarik, dalam film drama perang berdurasi 129 menit ini, Elsa Pataky, yang notabene adalah istri Chris Hemsworth, juga ikut bermain. Aktris cantik bernama asli Elsa Lafuente Medianu itu berperan sebagai Jean, istri Mitch Nelson.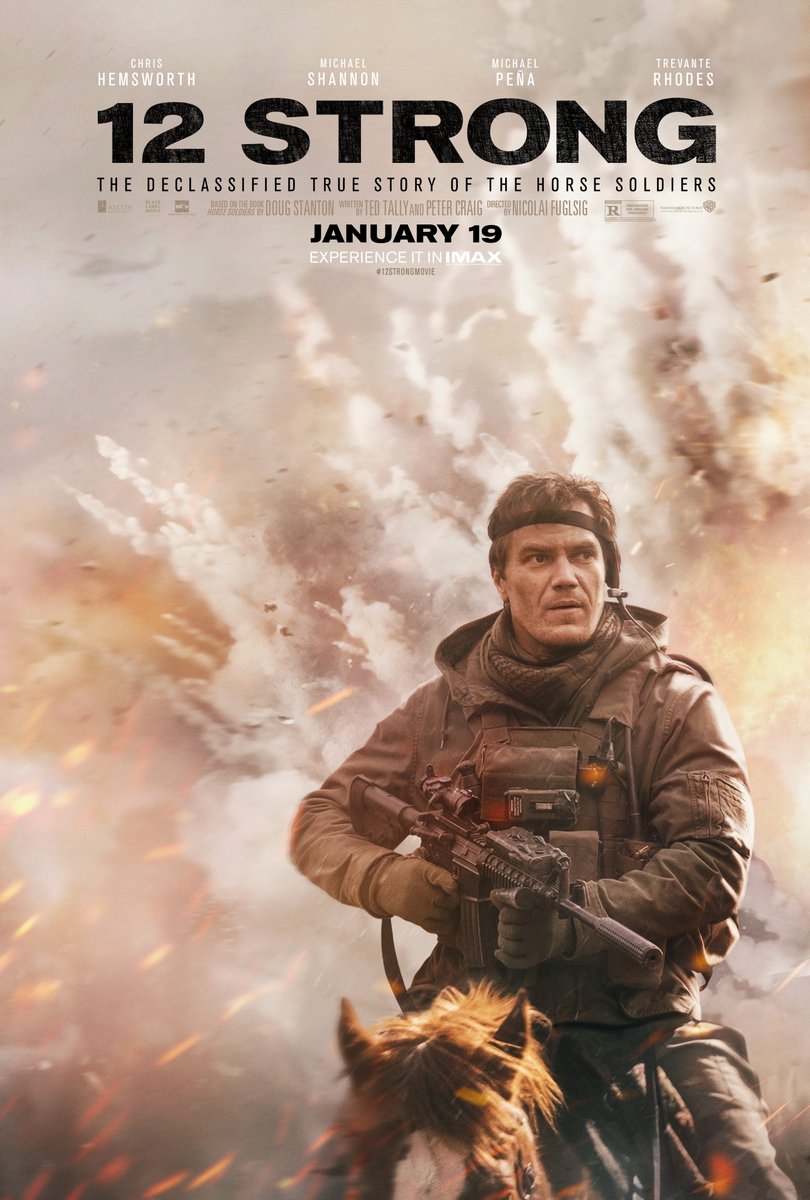 Akhir-akhir ini, film bertema perang memang berhasil menarik perhatian para moviemania. Bahkan, banyak yang masuk nominasi berbagai ajang penghargaan, seperti Hacksaw Ridge (2016) dan Dunkirk (2017).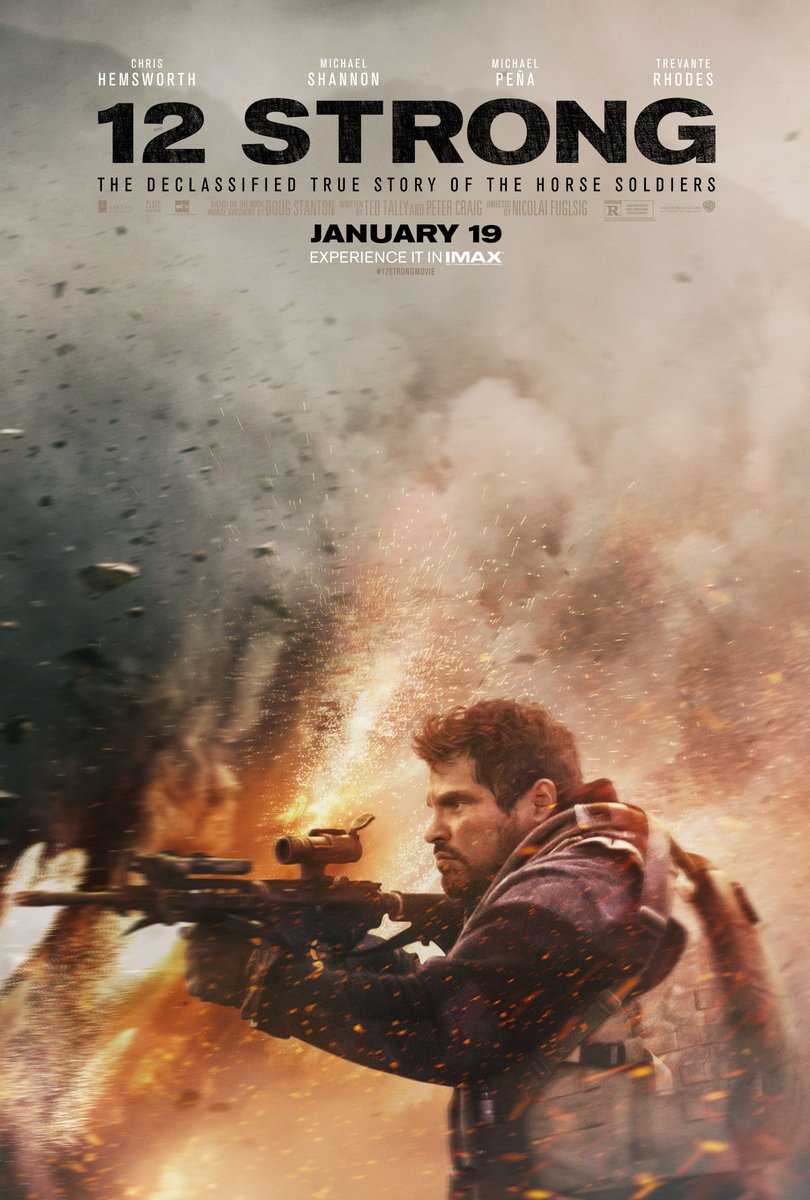 Oleh karena itu, sutradara Nicolai Fuglsig, yang berpengalaman sebagai fotografer dan pembuat film dokumenter dalam Perang Kosovo pada 1998-1999, cukup pede mengangkat kisah nyata 12 Strong ke layar lebar. Para pemainnya pun bukan nama sembarangan. Selain Chris Hemsworth, juga ada Michael Shannon, Michael Pena dan David Negahban.
Dalam menggarap 12 Strong, Nicolai Fuglsig sangat berpegang teguh pada naskah buku asli Horse Soldiers karya Doug Stanton. Bahkan, dia sampai mendatangkan sang legenda hidup, Mark Nutsch, yang menginspirasi lahirnya karakter Mitch Nelson yang diperankan oleh Chris Hemsworth.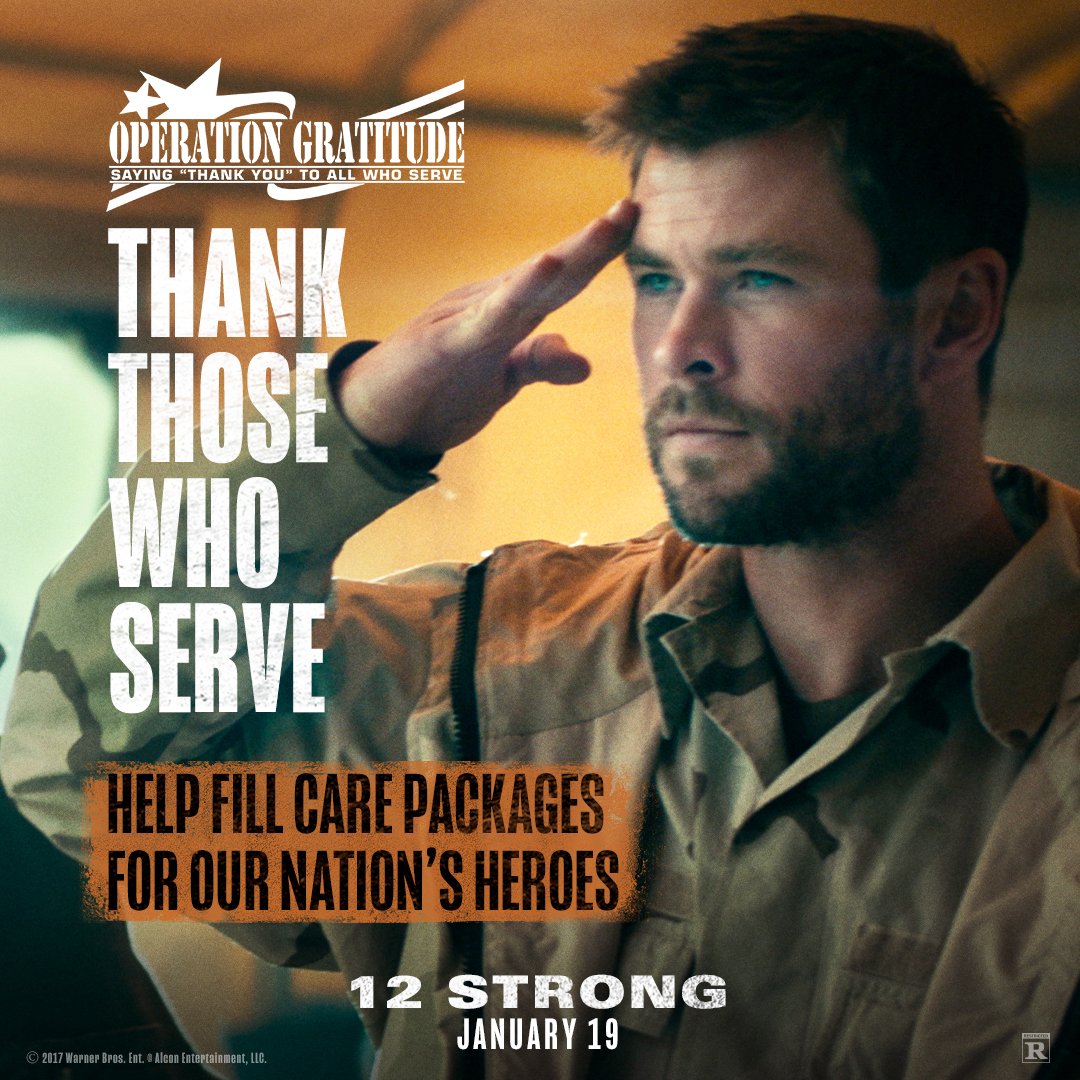 Di lokasi syuting, Hemsworth banyak ngobrol dengan Nutsch untuk mendalami karakternya. Dia menyatakan, memerankan tokoh nyata itu cukup tricky. Pemeran Thor itu tidak ingin meniru Mark secara mentah-mentah, tapi dia ingin menampilkan sosok patriotik yang rela mengorbankan diri demi negaranya.
Selain berbincang dengan Nutsch, Hemsworth juga banyak berdialog dengan Kenny Sheard. Kebetulan, dia adalah aktor yang juga mantan anggota pasukan khusus Navy SEALs.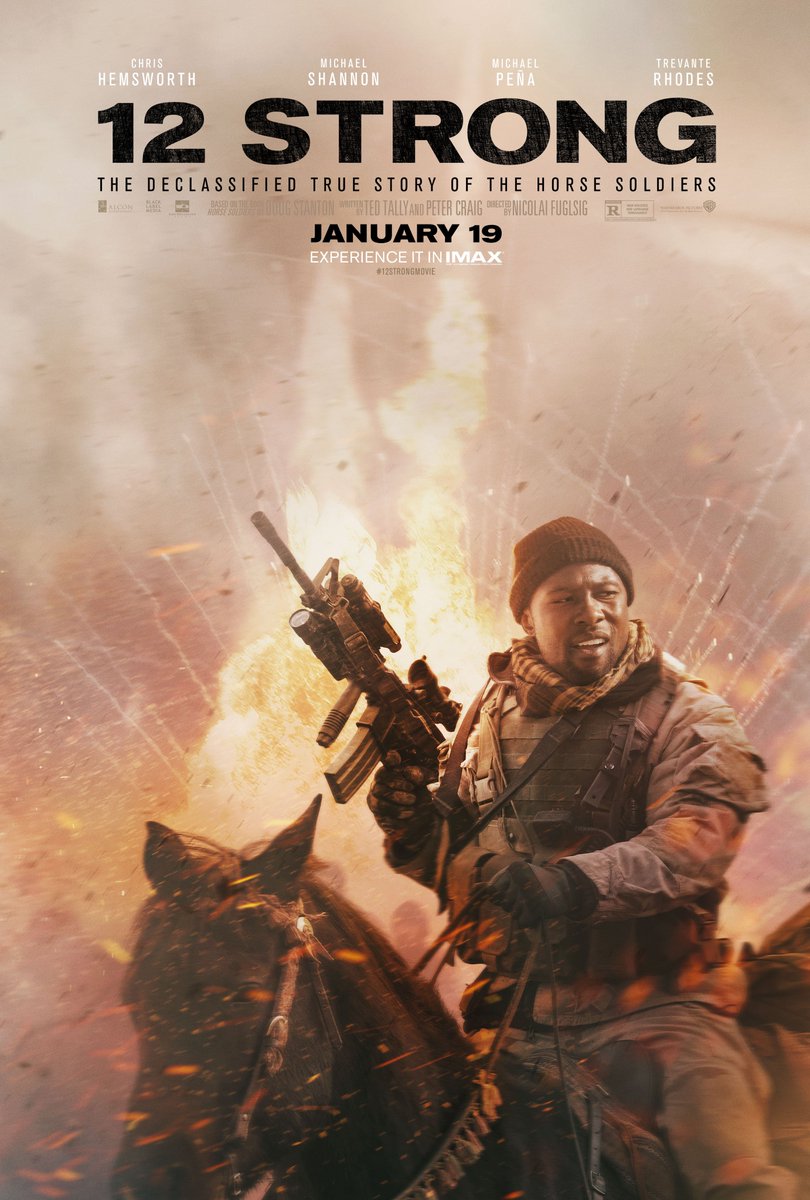 Sementara itu, saat diwawancarai, sutradara Nicolai Fuglsig mengaku sangat berhati-hati dalam menggambarkan situasi perang di Afghanistan. Menurutnya, semua perang itu sama. Namun, film 12 Strong ini bakal menampilkan drama perang dari sudut yang berbeda.
Sayangnya, upaya Fuglsig dalam film debutnya ini kurang disambut antusias oleh para kritikus. Respon terhadap 12 Strong biasa-biasa saja. Ada yang bilang bagus, tapi banyak juga yang menganggapnya jelek.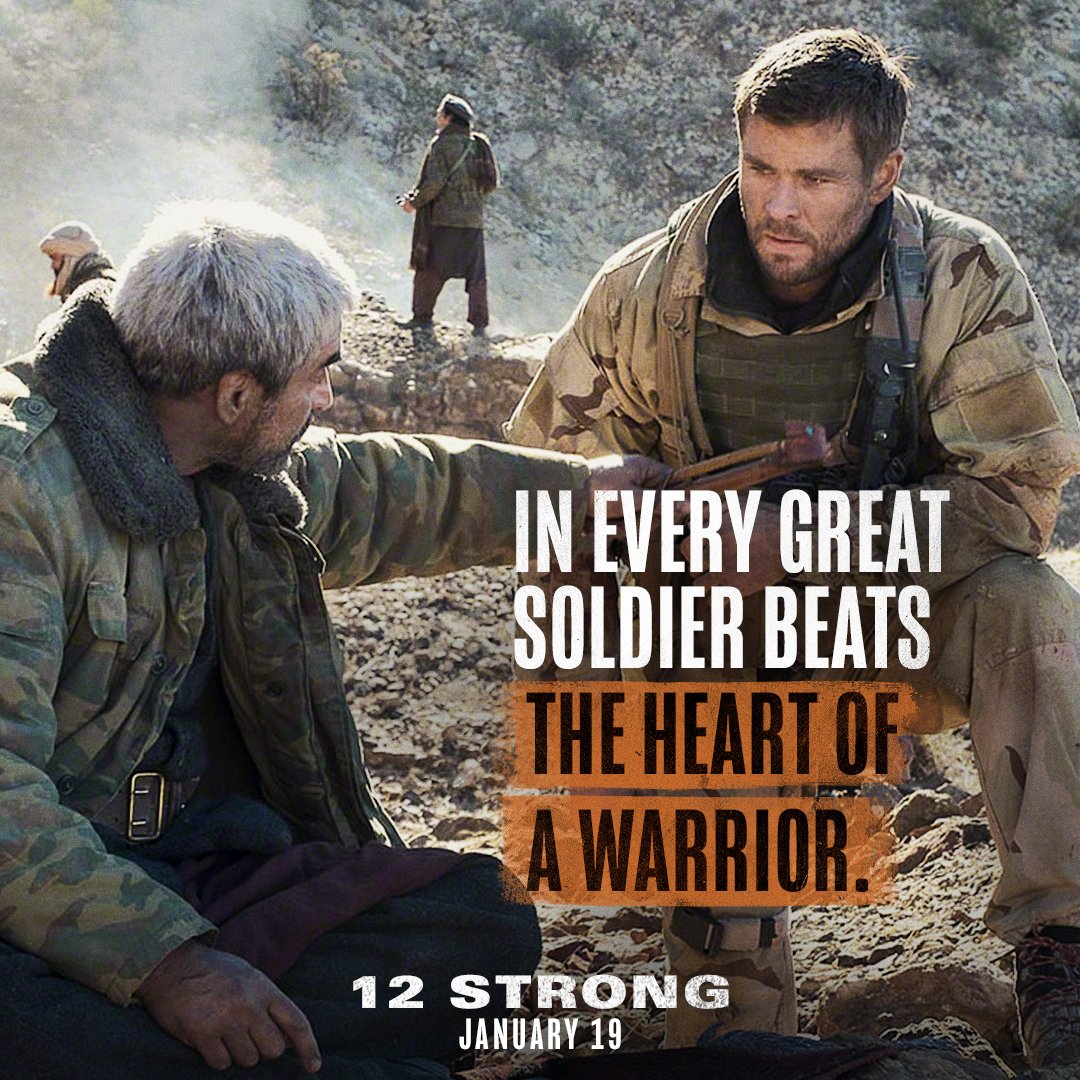 Film yang diproduseri oleh Jerry Bruckheimer ini dinilai hanya mengandalkan Chris Hemsworth. Kisahnya berkutat pada karakter Mitch Nelson melulu dan menyederhanakan tragedi aslinya. Selain itu, tone-nya terlalu monokromatis.
Sisi positifnya, 12 Strong dianggap mampu mengisahkan sisi humanis dari konflik internal di Afghanistan. Visualisasinya juga terlihat nyata dan sempurna, terutama di bagian adegan berkuda, yang kabarnya setara dengan Magnificent Seven (2016).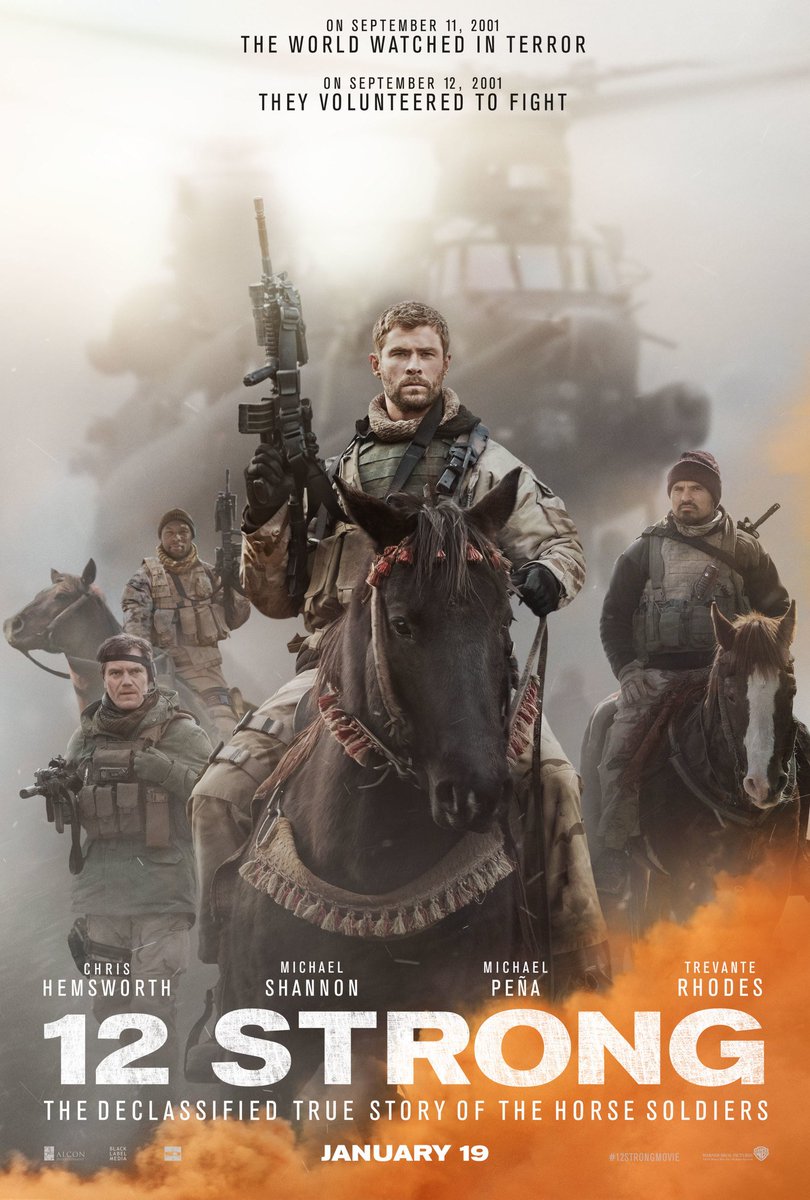 ***
12 Strong
Sutradara: Nicolai Fuglsig
Produser: Jerry Bruckheimer, Molly Smith, Thad Luckinbill, Trent Luckinbill
Penulis Skenario: Ted Tally, Peter Craig
Berdasarkan: Horse Soldiers by Doug Stanton
Pemain: Chris Hemsworth, Michael Shannon, Michael Peña, Navid Negahban, Trevante Rhodes, Geoff Stults, Thad Luckinbill
Musik: Lorne Balfe
Sinematografi: Rasmus Videbæk
Penyunting: Lisa Lassek
Produksi: Alcon Entertainment, Black Label Media, Jerry Bruckheimer Films
Distributor: Warner Bros. Pictures (Amerika Serikat), Lionsgate, Entertainment Film Distributors (Internasional)
Durasi: 129 menit
Budget: USD 35 juta
Rilis: 16 Januari 2018 (Jazz at Lincoln Center), 19 Januari 2018 (Amerika Serikat), 31 Januari 2018 (Indonesia)
Rating (hingga 6 Februari 2018)
IMDb: 7/10
Rotten Tomatoes: 54%
Metacritic: 54/100
CinemaScore: A