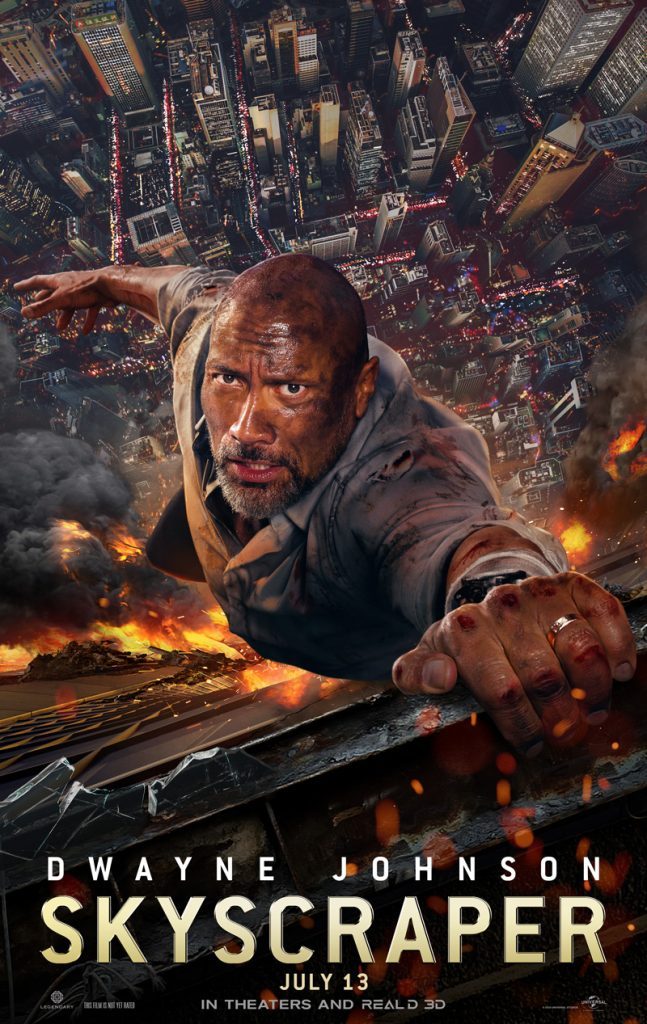 Dwayne Johnson merupakan salah satu aktor terlaris di Hollywood. Bahkan, bisa dibilang, yang paling laris. Saat ini. Pendapatannya paling tinggi jika dibandingkan bintang-bintang film lainnya.
Sejak 2015, mantan pegulat profesional dengan julukan The Rock tersebut, minimal, membintangi dua film blockbuster. Per tahun. Sebut saja Furious 7 (2015), San Andreas (2015), Central Intelligence (2016), Moana (2016), Fast & Furious 8 (2017), Baywatch (2017), Jumanji: Welcome to the Jungle (2017), Rampage (2018). Dan yang terbaru: Skyscraper (2018).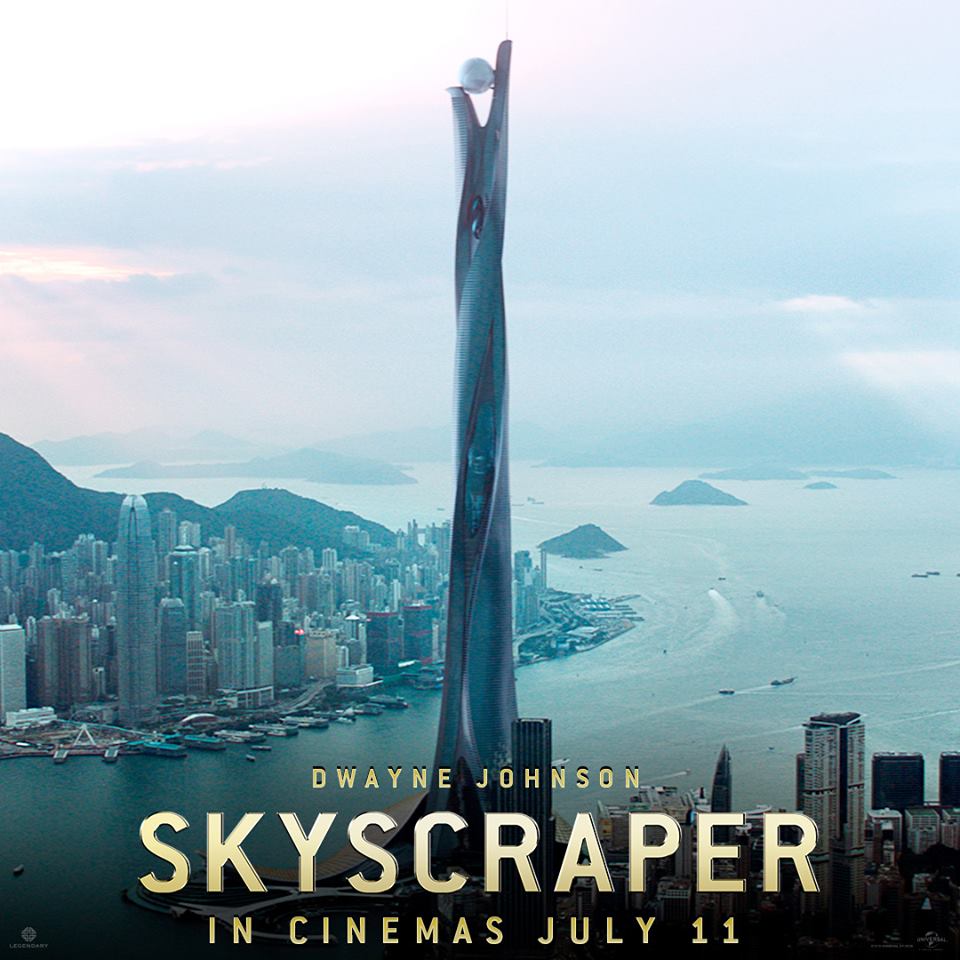 Dalam film yang mulai tayang hari Rabu (11/7) ini di bioskop-bioskop Indonesia tersebut, The Rock beradu akting dengan Neve Campbell. Yang berperan sebagai istrinya. Aktris cantik tersebut sangat terkenal pada tahun 1990-an. Berkat perannya dalam franchise film thriller Scream (1996-2011). Dan serial drama televisi Party of Five (1994-2000).
Skyscraper sendiri mengisahkan kehidupan mantan agen FBI. Bernama Will Sawyer (Dwayne Johnson). Dulu dia menjabat sebagai pemimpin Tim Penyelamatan Sandera. Sebelum akhirnya pensiun dini setelah salah satu kakinya diamputasi.
Sawyer kemudian bekerja sebagai kepala sekuriti sebuah gedung pencakar langit tertinggi di Hong Kong. Bernama The Pearl. Yang diklaim oleh pemiliknya, Mr. Zhao Min Zhi (Chin Han), sebagai skyscraper paling aman di dunia. Will tinggal di sana bersama dengan istrinya, Sarah (Neve Campbell), dan dua orang anaknya.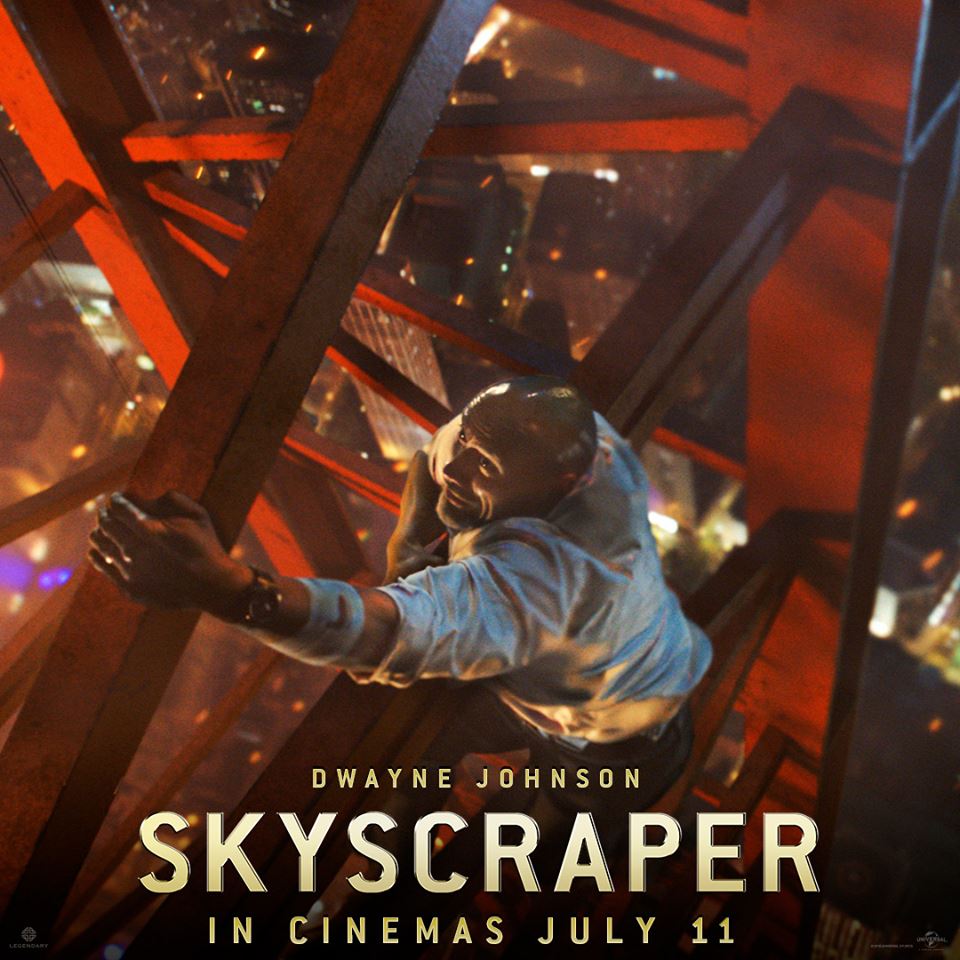 Suatu ketika, gedung tersebut diserang oleh teroris. Sawyer kemudian memburu mereka. Celakanya, dia malah mendapati dirinya dijebak. Dan dituduh sebagai dalang dari serangan yang membuat The Pearl terbakar. Will pun menjadi buronan dan dikejar oleh pihak yang berwajib.
Di tengah pelarian, Sawyer berusaha mencari orang yang bertanggung jawab atas serangan terhadap The Pearl. Selain itu, dia juga harus menyelamatkan anak-anak dan istrinya. Yang terperangkap di dalam gedung pencakar langit yang sedang dilalap api tersebut!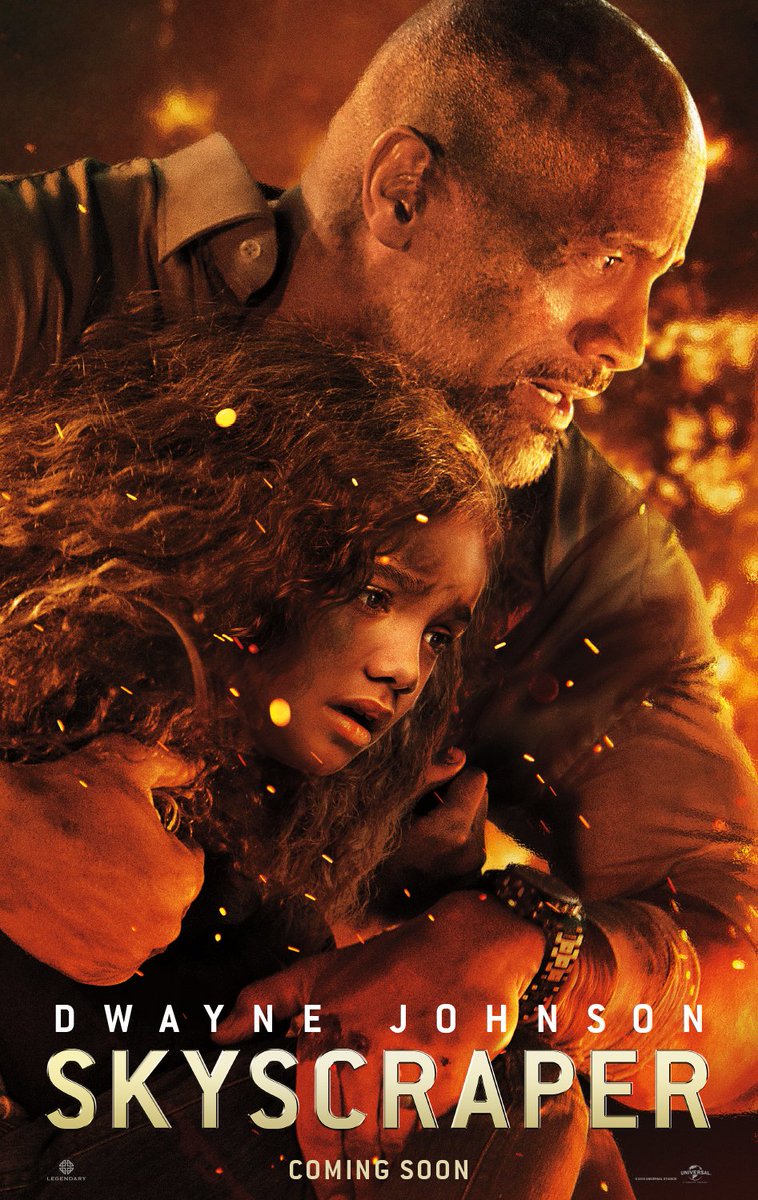 Banyak yang bilang, kisah Skyscraper merupakan gabungan dari The Towering Inferno (1974) dan Die Hard (1988)-nya Bruce Willis. The Rock sendiri menyatakan film ini sangat menegangkan. Seperti dua film klasik tadi. Bahkan, dia memperingatkan para moviemania yang takut pada ketinggian untuk tidak menontonnya sendirian.
Pada special screening di Hong Kong hari Sabtu (7/7) yang lalu, para penonton dipasangi alat khusus bernama Fitbit. Untuk memonitor aktivitas jantung selama pemutaran film.
Hal tersebut dilakukan guna mengetahui reaksi fisik seperti apa yang dialami oleh para penonton. Terhadap berbagai adegan menegangkan yang tersaji di Skyscraper. Apalagi, scene-scene berbahaya itu dilakukan sendiri oleh The Rock. Hasilnya, banyak penonton yang merasakan detak jantung mereka melonjak saat menyaksikannya.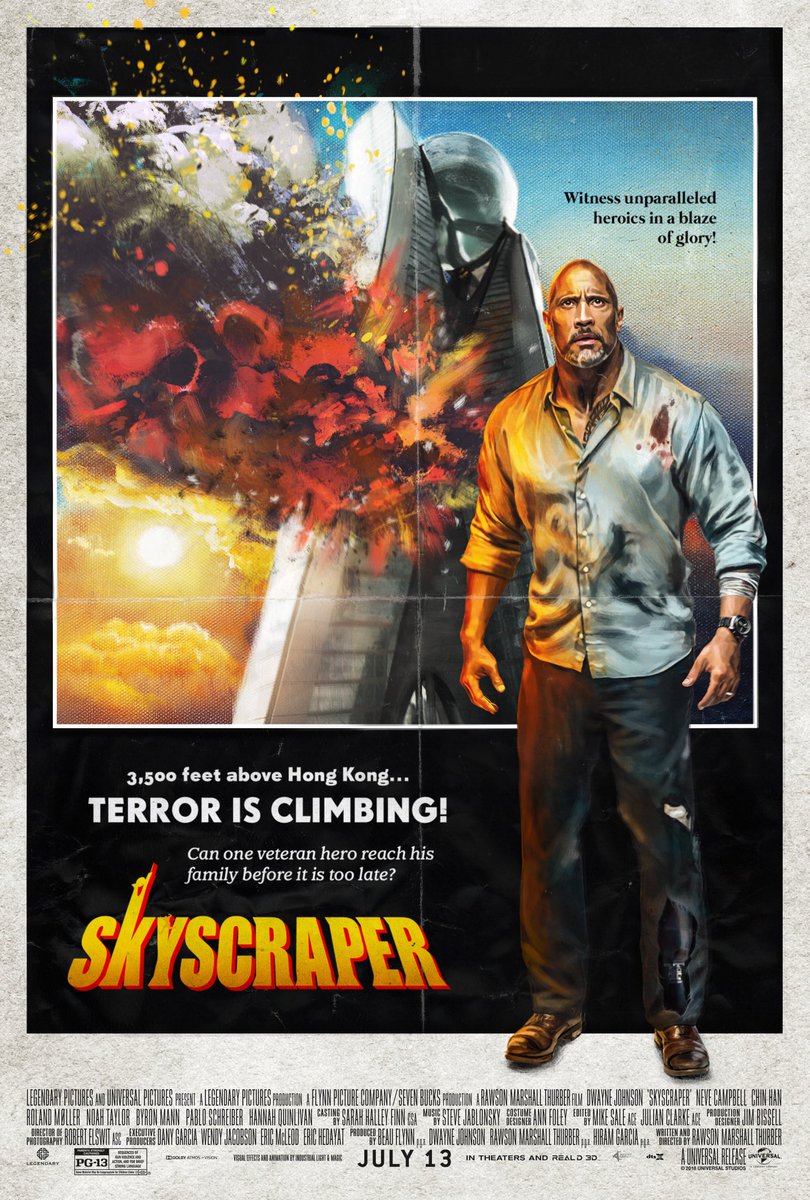 Menurut The Rock, fenomena Fitbit memang benar-benar terjadi. Detak jantung para penonton meningkat. Hingga lebih dari 100 detak per menit. Padahal, mereka dalam posisi duduk. Jadi, jika kamu takut pada ketinggian, atau menderita vertigo, jangan menonton sendirian! Bawa pacar. Atau bawa mantan. #eh
Neve Campbell, yang menjadi lawan main The Rock, juga menambahkan kalau Skyscraper ini bakal memacu adrenalin. Dan mengaduk-aduk emosi para penonton. Seperti rollercoaster. Para penderita vertigo mungkin harus menutup mata saat menyaksikan adegan-adegan yang menegangkan. Di atas gedung pencakar langit.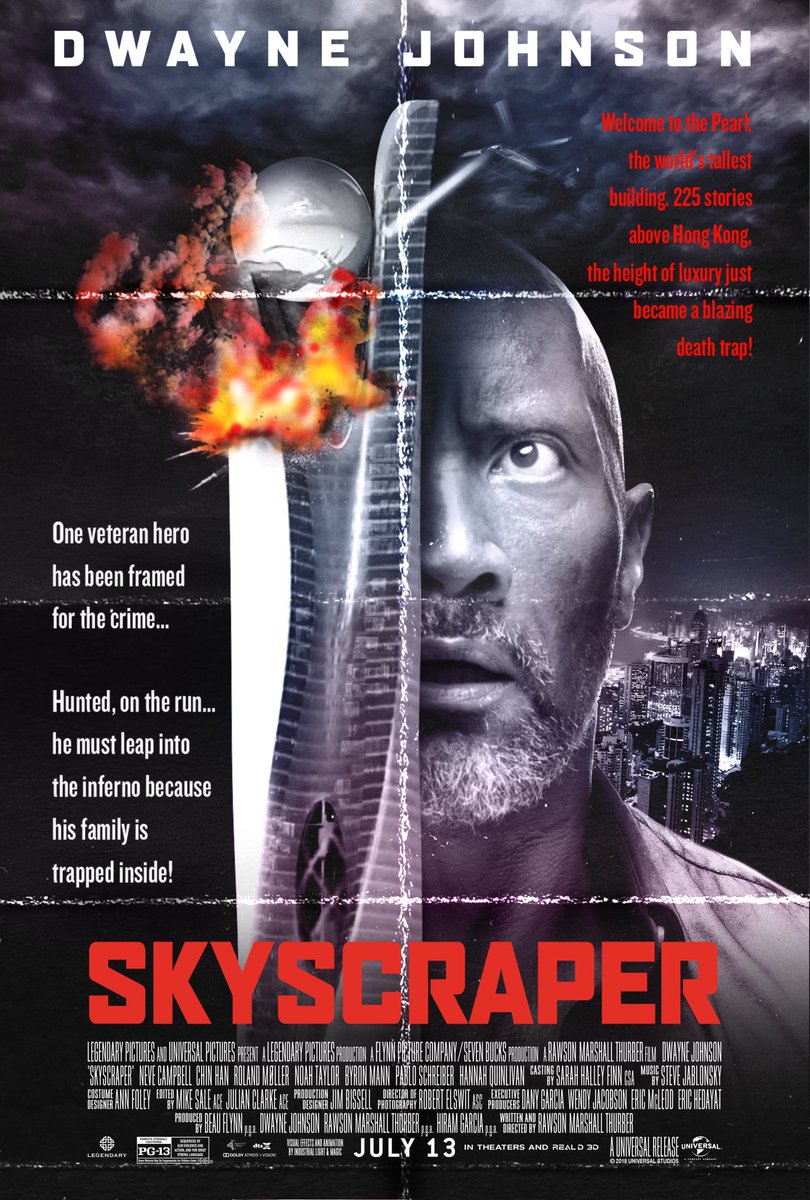 Sayangnya, setelah menggelar premiere di Beijing pada 1 Juli 2018 yang lalu, Skyscraper mendapat respon biasa-biasa saja dari para kritikus. Kisahnya memang cukup solid, tapi tidak semenegangkan The Towering Inferno. Apalagi, jika dibandingkan dengan Die Hard yang legendaris itu. Masih jauh.
Meski sambutan dari pengamat kurang positif, Legendary Pictures, selaku produser, tetap yakin film berdurasi 102 menit ini bakal menarik minat para penonton. Dengan bujet mencapai USD 125 juta, mereka berharap banyak pada sosok The Rock sebagai magnet uang.
Setidaknya, di pekan perdana pemutaran, Skyscraper harus bisa meraup USD 40 juta. Jika kurang dari itu, mungkin bakal sulit untuk menangguk keuntungan besar di pekan-pekan berikutnya. Kita tunggu saja hasilnya. Apakah The Rock masih laku dijual?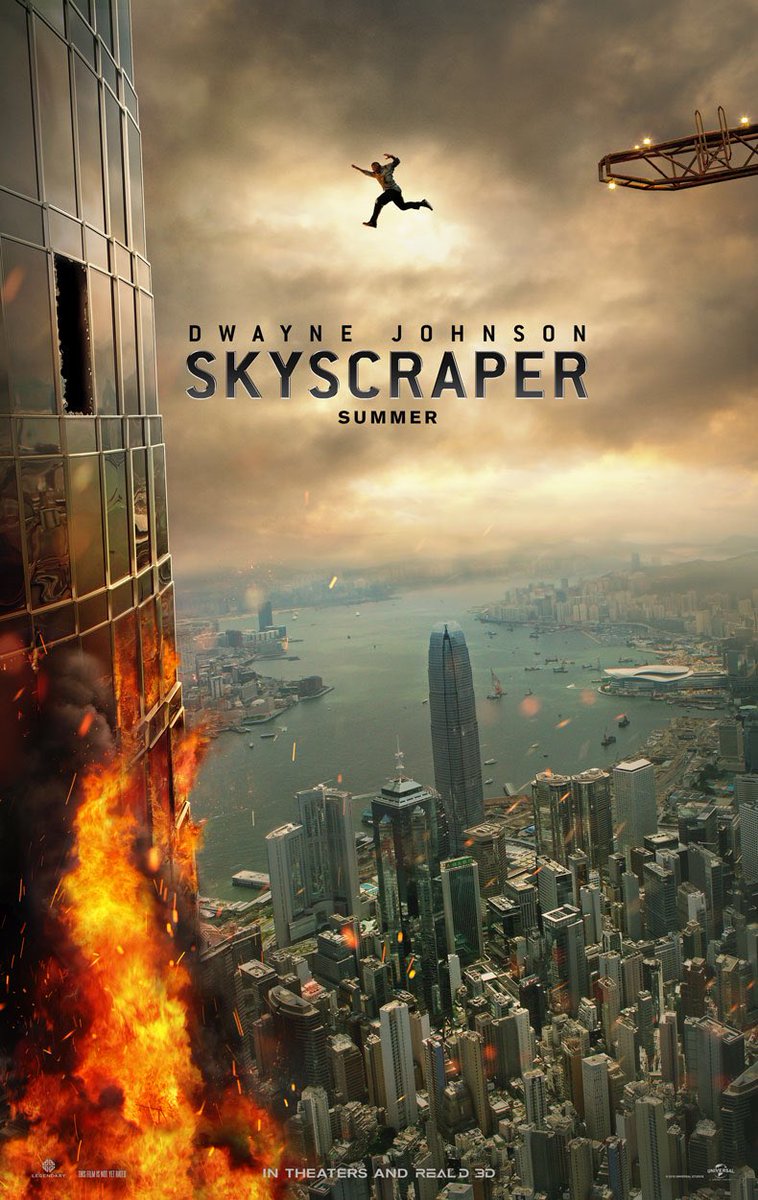 ***
Skyscraper
Sutradara: Rawson Marshall Thurber
Produser: Beau Flynn, Dwayne Johnson, Rawson Marshall Thurber, Hiram Garcia
Penulis Skenario: Rawson Marshall Thurber
Pemain: Dwayne Johnson, Neve Campbell, Chin Han, Roland Møller, Noah Taylor, Byron Mann, Pablo Schreiber, Hannah Quinlivan
Musik: Steve Jablonsky
Sinematografi: Robert Elswit
Penyunting: Michael Sale, Julian Clarke
Produksi: Legendary Pictures, Perfect World Pictures, Flynn Picture Company, Seven Bucks Productions
Distributor: Universal Pictures
Durasi: 102 menit
Budget: USD 125 juta
Rilis: 1 Juli 2018 (Beijing), 11 Juli 2018 (Indonesia), 13 Juli 2018 (Amerika Serikat)
Rating (hingga 12 Juli 2018)
IMDb: 6,2/10
Rotten Tomatoes: 54%
Metacritic: 53/100
CinemaScore: –
***
Edwin Dianto
Pekerja Teks Komersial, Baper Blogger & Writer (Film, Football, Sports, Entertainment)
E-mail: edwindianto@gmail.com
Twitter/Instagram: @edwindianto
Blog: edwindianto.wordpress.com