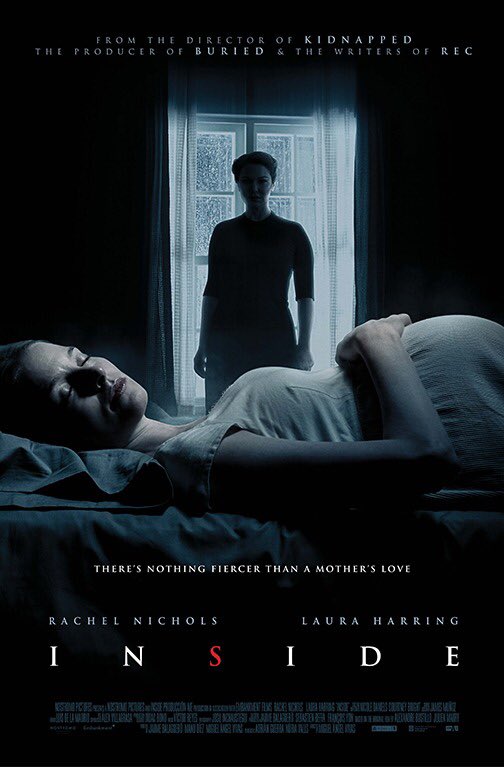 Satu lagi film horror barat menghiasi bioskop-bioskop tanah air. Judulnya: Inside. Mulai tayang pada hari Rabu (12/9) ini. Di bioskop-bioskop Cinemaxx Theater dan CGV Cinemas Indonesia.
Film produksi studio asal Spanyol, Nostromos Pictures, ini sebenarnya tayang pertama kali pada 7 Oktober 2016. Di Stiges Film Festival. Namun, baru dirilis secara terbatas di bioskop-bioskop Amerika pada 12 Januari 2018 yang lalu.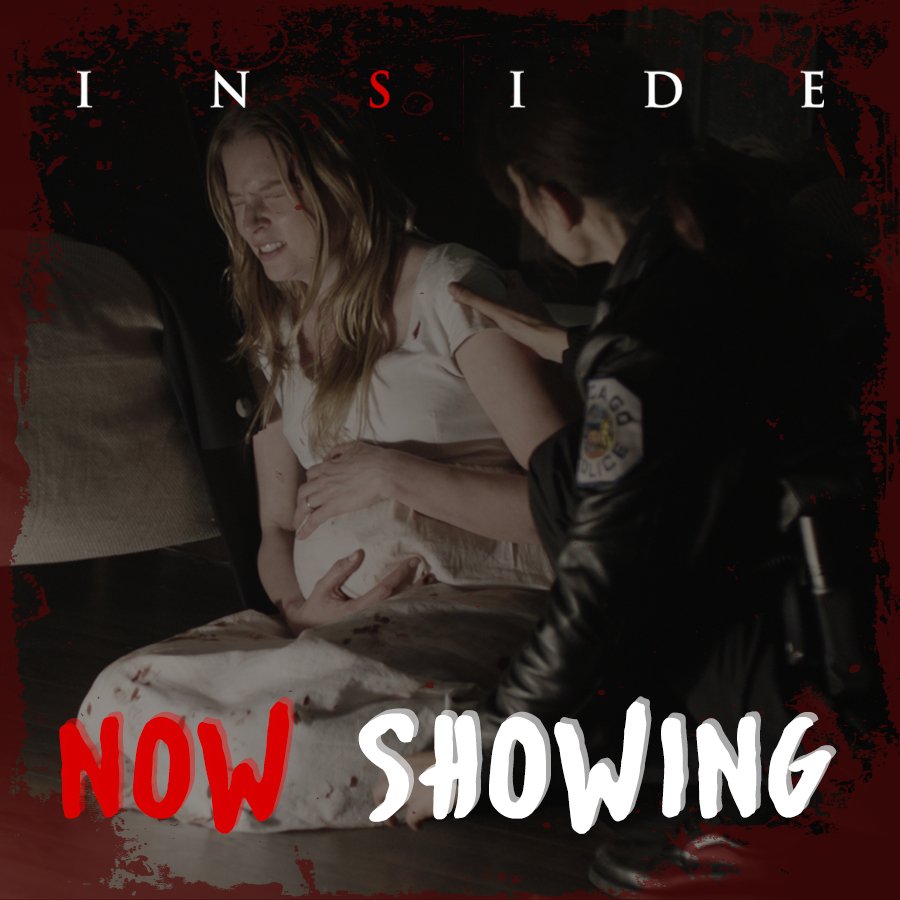 Inside mengisahkan tentang kehidupan tragis emak-emak muda bernama Sarah Clarke (Rachel Nichols). Saat sedang hamil tua anak pertamanya, dia mengalami kecelakaan mobil bersama suaminya. Sarah selamat. Tapi, dia mengalami gangguan pendengaran. Alias tuli parsial. Dan sang suami meninggal.
Sarah pun harus berjuang seorang diri. Untuk melanjutkan hidup. Apalagi, dia tengah mengandung. Dan diperkirakan bakal melahirkan pada Hari Natal. Namun, beberapa waktu kemudian, saat malam Natal, tiba-tiba ada wanita misterius yang mendatanginya. Entah apa motifnya. Yang pasti, dia ingin Sarah segera melahirkan. Dan dia bakal mengambil paksa bayinya!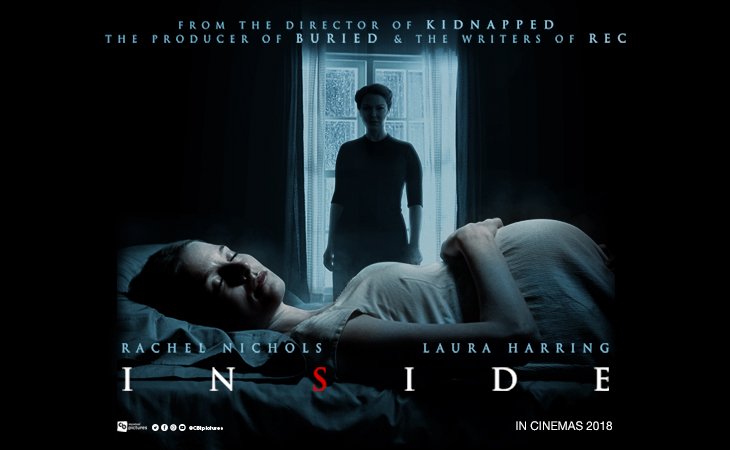 Film Inside ini dibintangi Rachel Nichols. Aktris sexy tersebut sudah berpengalaman tampil di film-film mencekam. Semacam The Amityville Horror (2005), Raze (2013), dan Pandemic (2016). Selain Nichols, Inside juga diperkuat oleh Laura Harring. Pemeran sosok wanita misterius itu merupakan model senior kelas dunia. Yang juga pernah main di film-film misteri. Seperti Ghost Son (2007) dan The Caller (2008).
Sementara itu, yang duduk di kursi sutradara adalah Miguel Angel Vivas. Dia sudah terbiasa menggarap film-film horror dan thriller yang menegangkan. Di antaranya: Kidnapped (2010) dan Extinction (2015).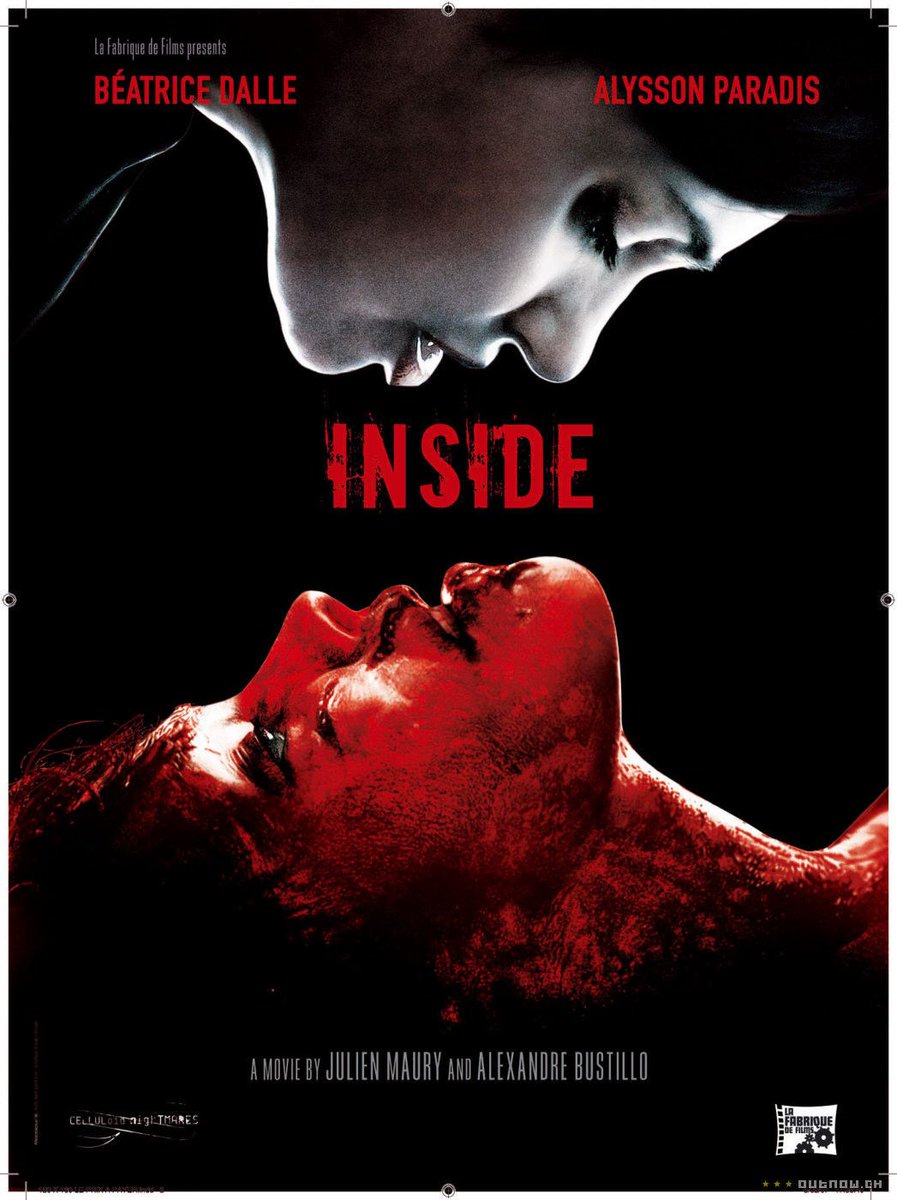 Inside sebenarnya merupakan remake dari sebuah film horror home invasion produksi Prancis. Judulnya: A l'interieur. Besutan Alexandre Bustillo. Kisahnya sama persis. Tentang mamah-mamah muda yang hendak melahirkan dan diteror oleh seorang wanita misterius.
Setelah dirilis pada 13 Juni 2007, A l'interieur mendapat respon sangat positif dari para kritikus. Bahkan, situs Bloody Disgusting memasukkannya dalam daftar Top 20 Horror Films of the Decade. Kisah yang ditampilkan oleh Inside versi original memang sangat brutal dan berdarah-darah. Tak heran, film yang dibintangi oleh Beatrice Dalle dan Alysson Paradis itu menjadi pelopor era baru film horror ekstrem di Prancis.
Kesuksesan tersebut membuat para produser di Hollywood tertarik untuk me-remake-nya. Namun, karena terkendala hak untuk memfilmkannya, proyek ini sempat tertunda beberapa lama. Baru pada bulan Mei 2016, Inside bisa memulai proses produksinya.
Sayangnya, tidak seperti versi original-nya, yang mendapat banyak pujian, Inside versi remake ini tidak direspon positif oleh para kritikus. Level ekstremnya dianggap masih jauh bila dibandingkan dengan versi Prancisnya.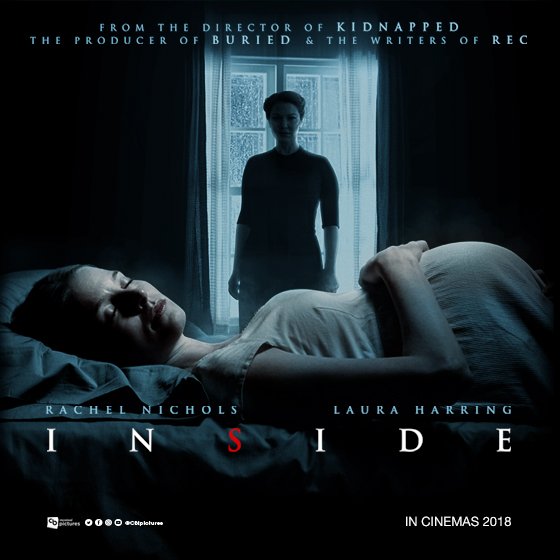 ***
Inside
Sutradara: Miguel Ángel Vivas
Produser: Adrián Guerra, Núria Valls
Penulis Skenario: Jaume Balagueró
Berdasarkan: À l'intérieur by Alexandre Bustillo
Pemain: Rachel Nichols, Laura Harring
Musik: Víctor Reyes
Sinematografi: Josu Inchaustegui
Penyunting: Luis de la Madrid
Produksi: Nostromos Pictures
Distributor: Vertical Entertainment, CBI Pictures (Indonesia)
Durasi: 100 menit
Genre: Horror, Mystery & Suspense
Kategori Usia: NR (21+)
Rilis: 7 Oktober 2016 (Stiges), 12 Januari 2018 (Amerika Serikat), 12 September 2018 (Indonesia)
Rating (hingga 12 September 2018)
IMDb: 5,3/10
Rotten Tomatoes: 29%
Metacritic: –
CinemaScore: –
***
Edwin Dianto
Pekerja Teks Komersial, Baper Blogger & Writer
E-mail: edwindianto@gmail.com
Blog: edwindianto.wordpress.com
Follow Twitter & Instagram @edwindianto untuk info film-film terbaru.