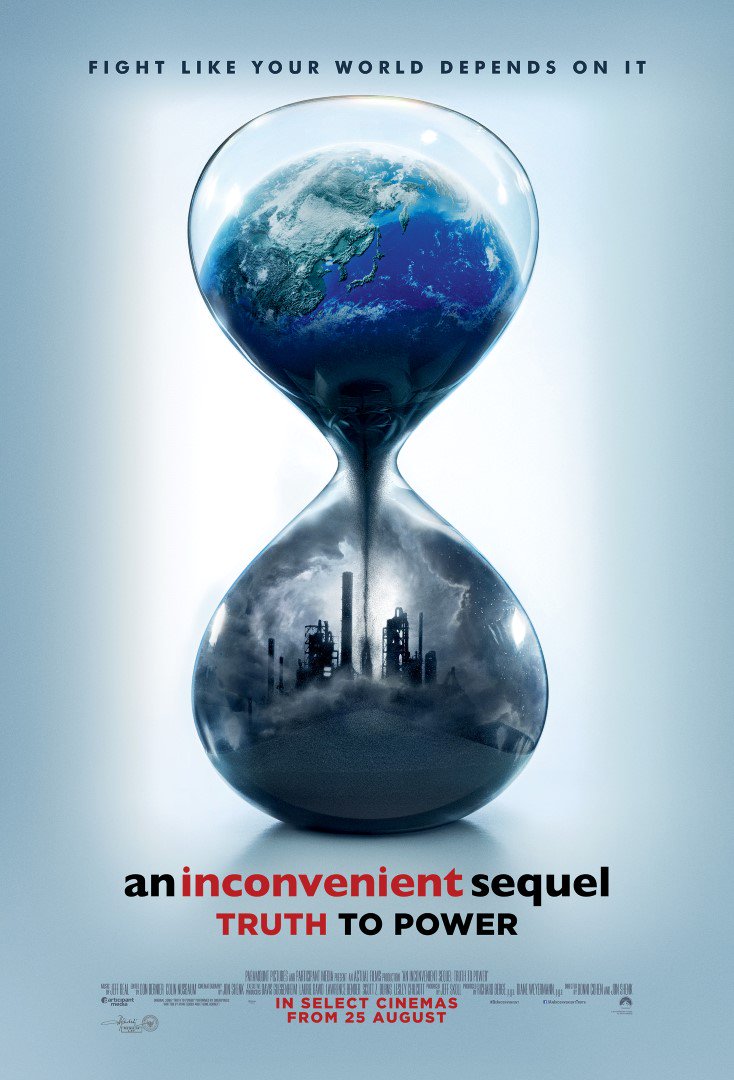 Setelah merilis An Inconvenient Truth pada tahun 2006, Al Gore mendapat banyak ejekan. Dalam film dokumenter tentang bahaya perubahan iklim tersebut, digambarkan ground zero peristiwa 9/11 di New York City digenangi air. Banyak media menilai, gambaran yang ditampilkan oleh film tersebut terlalu mengada-ada dan cenderung menakut-nakuti.
Namun, pada tahun 2012 yang lalu, apa yang digembar-gemborkan oleh An Inconvenient Truth beneran terjadi. Lokasi bekas runtuhan menara kembar World Trade Center itu dibanjiri air karena badai yang melanda New York.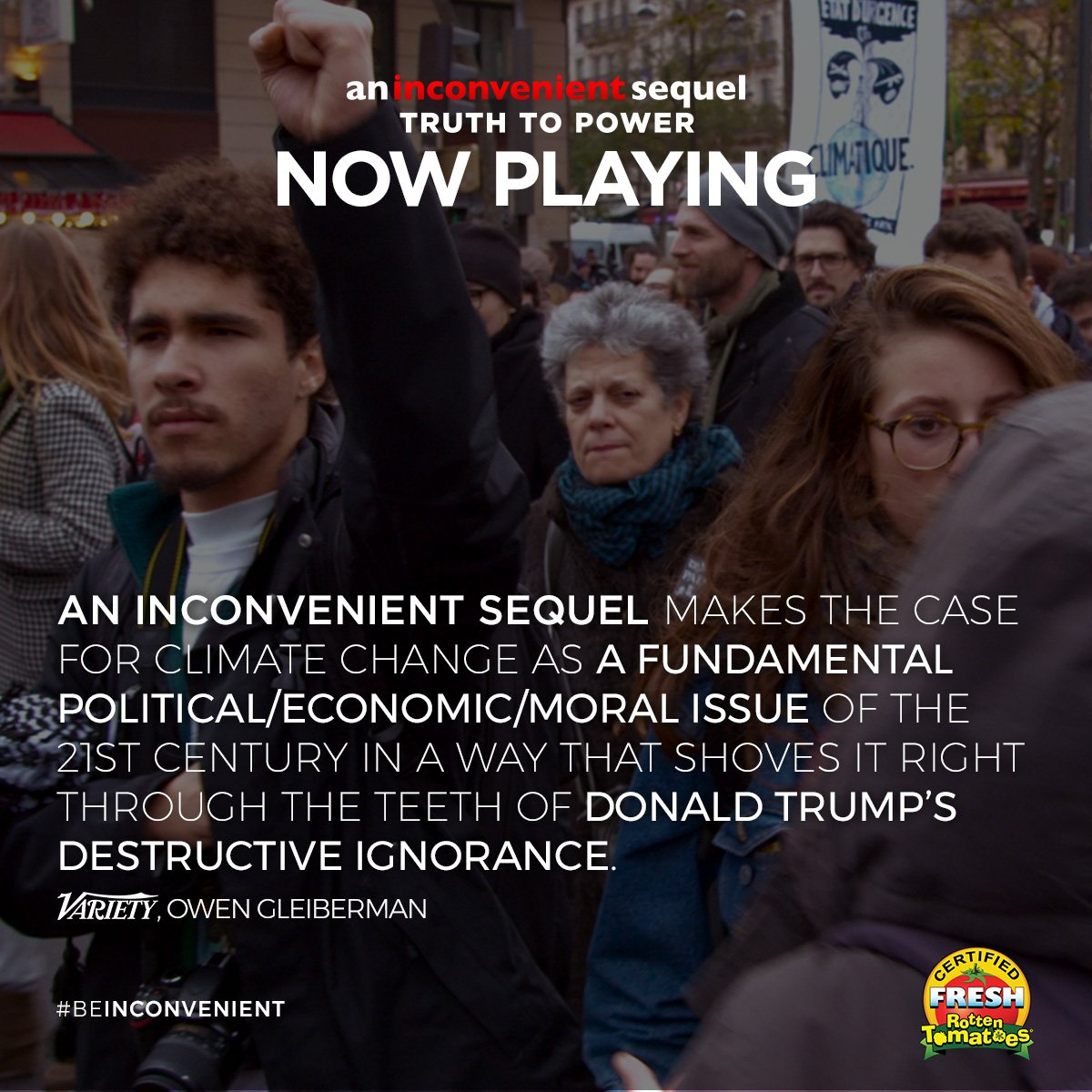 Tahun ini, setelah lebih dari satu dekade, Al Gore kembali merilis lanjutan film dokumenter tentang ancaman global warming tersebut. Judulnya, An Inconvenient Sequel: Truth to Power, yang mulai tayang di bioskop-bioskop Indonesia pada hari Jumat (25/8) yang lalu.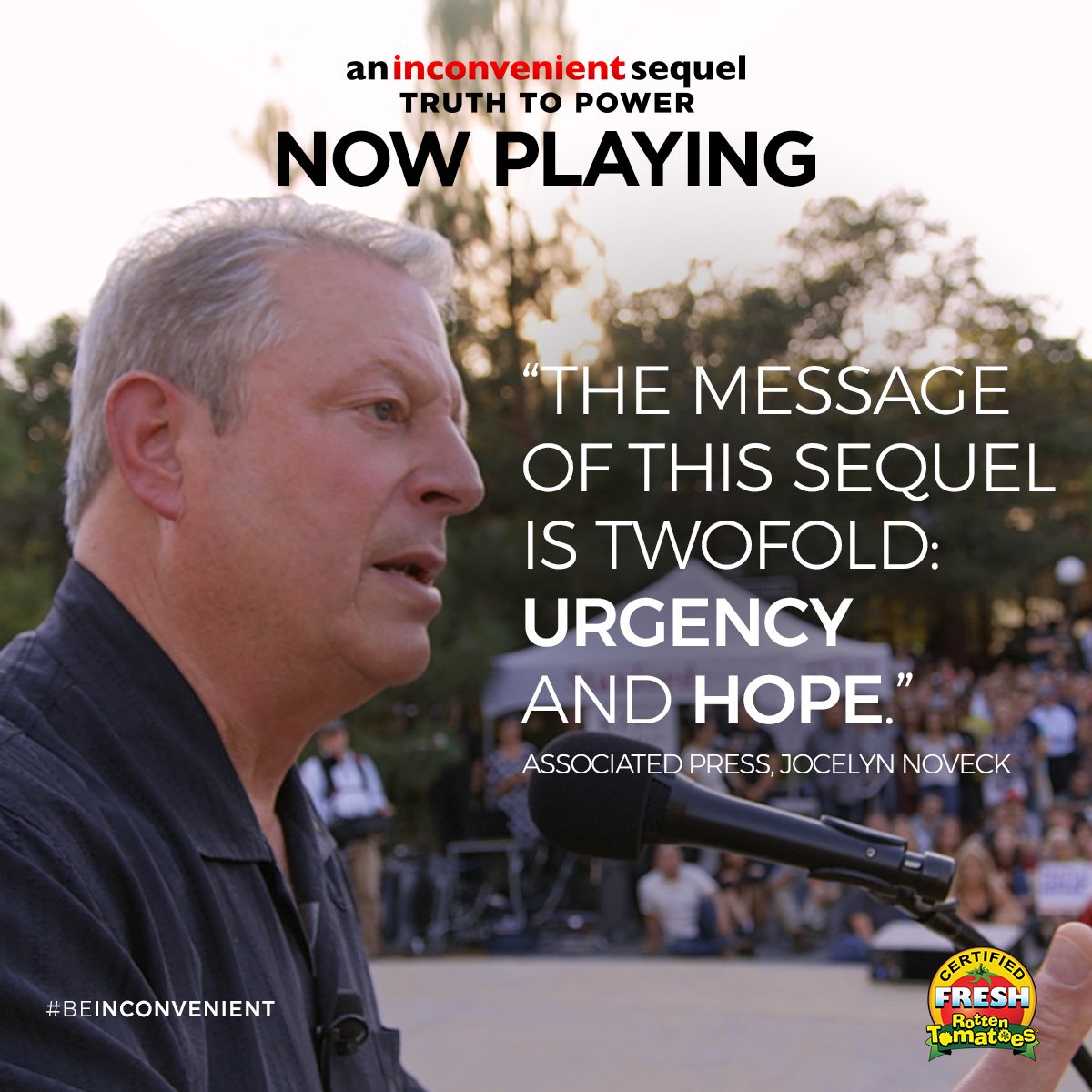 Seperti film yang pertama, film yang kedua ini juga akan mengisahkan bahaya perubahan iklim dengan sudut pandang Al Gore. Bisa dibilang, ini adalah "curhat" mantan wakil presiden Amerika Serikat tersebut tentang sulitnya memperjuangkan isu global warming. Banyak hambatan yang ia hadapi, termasuk dari pemerintah Amerika Serikat.
Upaya untuk mengatasi perubahan iklim, selama ini, memang banyak mendapat tentangan dari para politisi yang "disetir" oleh para pengusaha. Para konglomerat memandang isu pencegahan global warming sebagai sesuatu yang merugikan bagi bisnis mereka. Yang menarik, An Inconvenient Sequel juga menampilkan Donald Trump, yang saat ini menjadi presiden Amerika Serikat, sebagai salah satu penentangnya.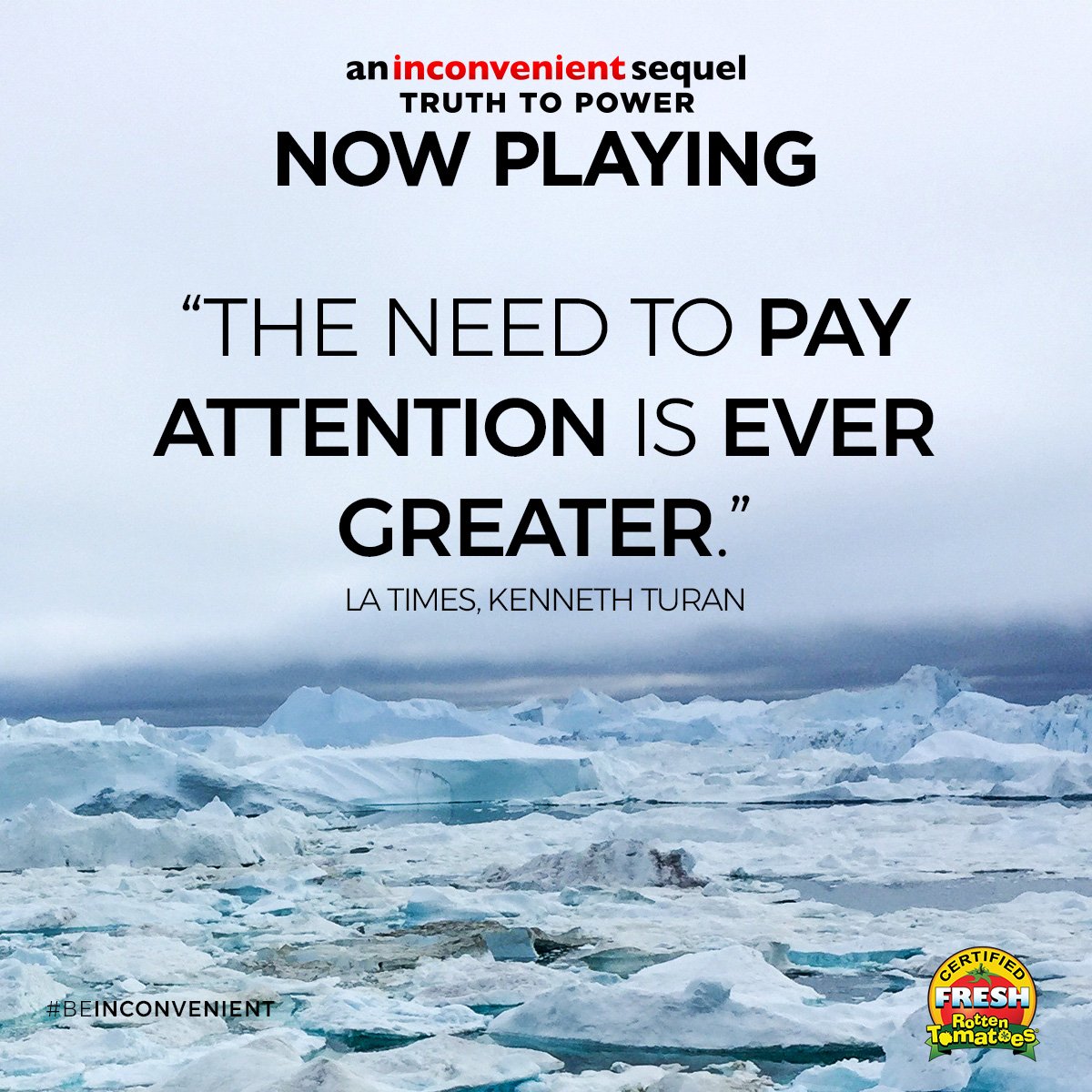 Sementara itu, dibanding dengan film pertamanya, sekuel kali ini menyajikan banyak perubahan positif, terutama dari segi sinematik maupun isi filmnya. Gambaran peristiwa alam, seperti badai yang dahsyat dan pencairan es di kutub, tampak sangat nyata berkat teknik sinematografi yang semakin canggih.
Bahkan, ada yang bilang, visualisasi adegan bencana dalam An Inconvenient Sequel ini tampak lebih mengerikan bila dibandingkan dengan disaster movie produksi Hollywood, seperti The Day After Tomorrow (2004), yang juga mengangkat kisah tentang global warming. Film dokumenter berdurasi 99 menit ini juga bakal menjelaskan penyebab kenapa Bumi semakin panas dan akibat-akibat buruk yang menyertainya.
Beberapa video dokumenter amatir juga bakal ditampilkan untuk lebih meyakinkan para penonton akan dampak berbahaya global warming. Film rilisan Paramount Pictures ini bakal mengajak kita melihat rekaman para penduduk Filipina yang terjebak di dalam sebuah gedung ketika badai menerjang. Selain itu, juga ada video yang menunjukkan suhu panas yang menyengat India, hingga sandal jepit seorang pejalan kaki meleleh di atas jalan beraspal!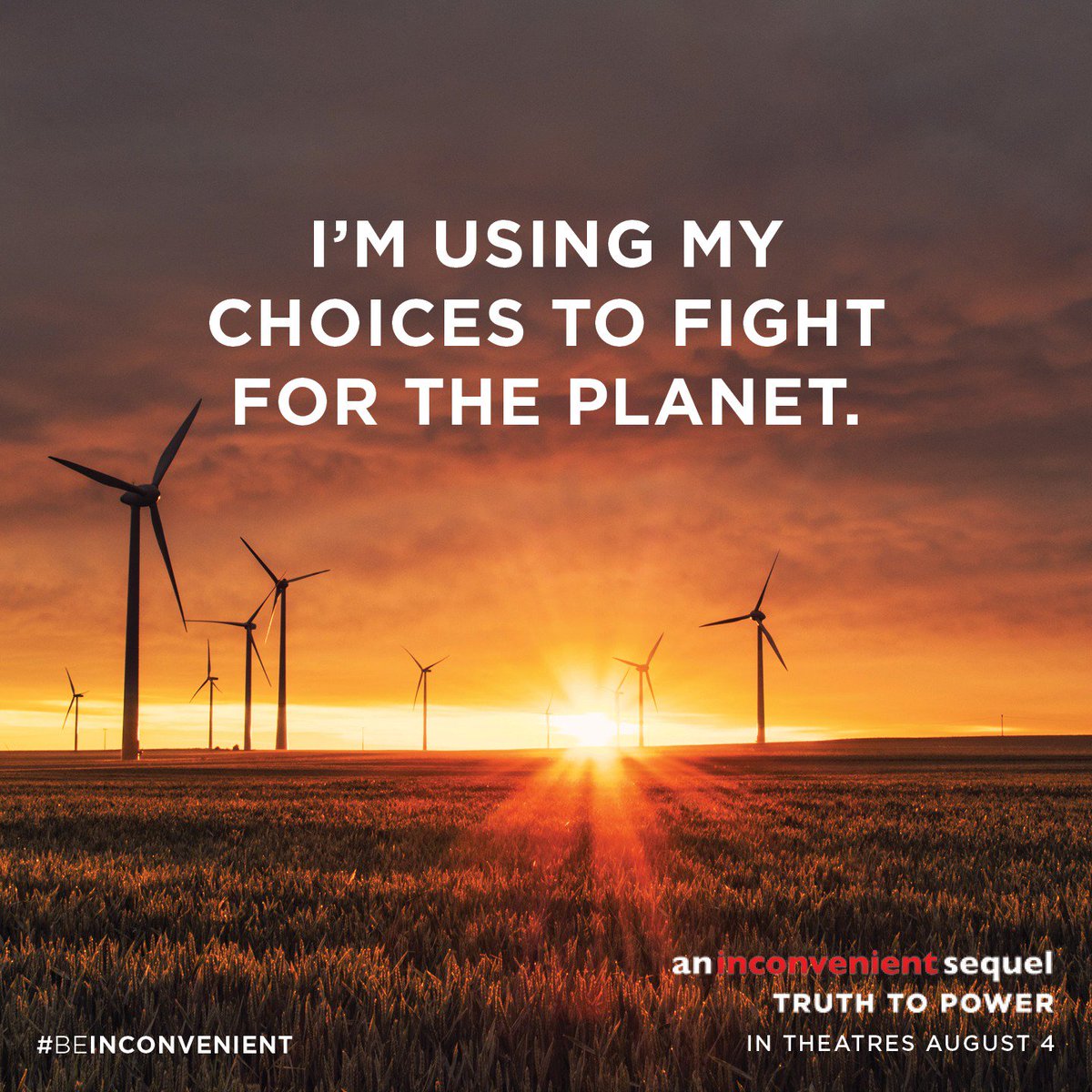 Meski isinya bencana, bukan berarti film ini bakal melulu menakuti-nakuti para penonton. An Inconvenient Sequel juga menyajikan bagaimana cara kita mengatasi perubahan iklim. Film besutan sutradara Bonni Cohen dan Jon Schenk tersebut ingin menunjukkan bahwa masih ada harapan bagi umat manusia, asalkan kita segera berubah dan mengambil tindakan.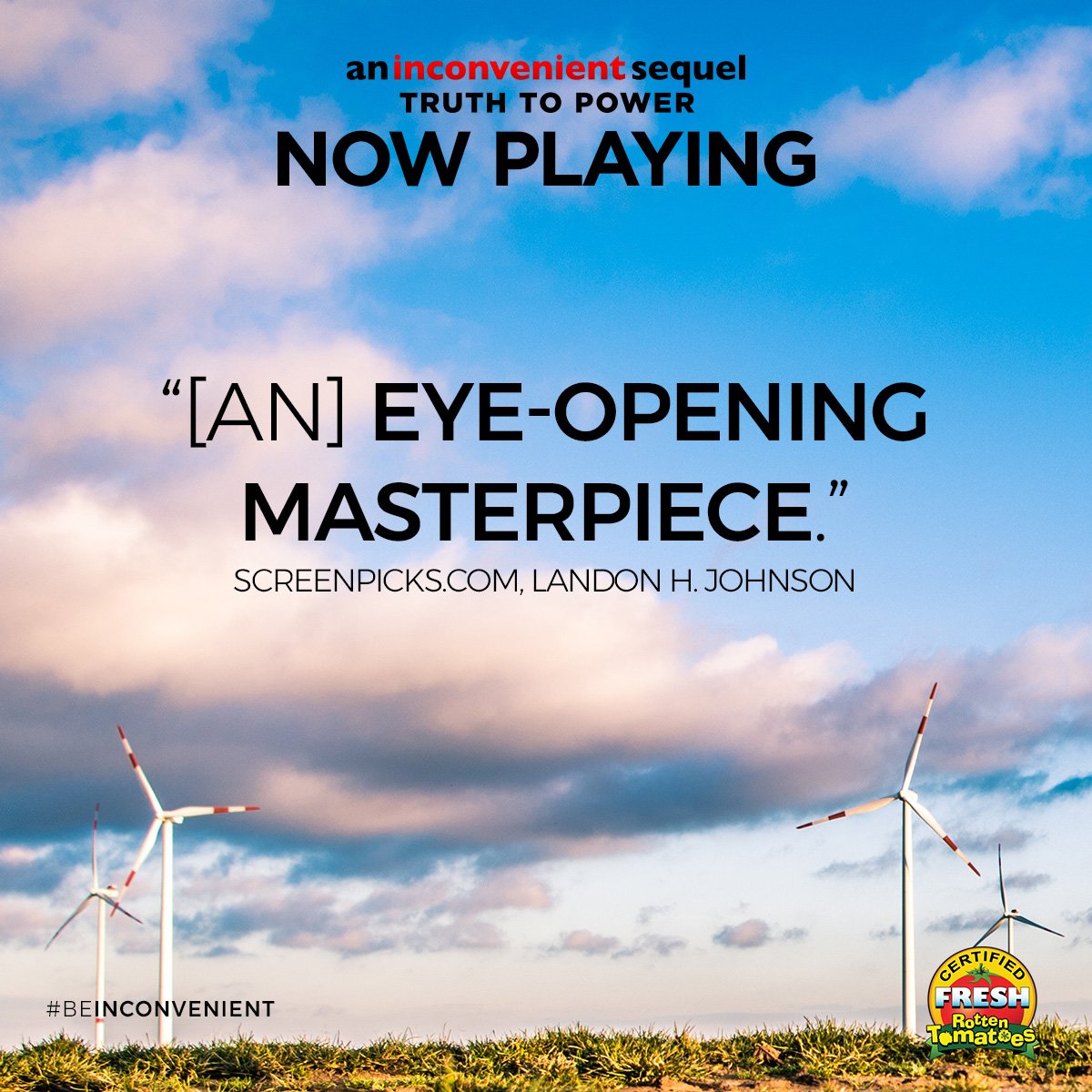 Setelah tayang di Amerika Serikat pada 28 Juli 2017 yang lalu, film yang menelan biaya USD 1 juta ini mendapat respon cukup positif dari para kritikus dan situs review. Secara box offie, hasilnya juga cukup lumayan untuk ukuran film dokumenter. Hingga kini, An Inconvenient Sequel sudah meraup pemasukan USD 3,5 juta. Minimal, sudah melampaui bujetnya.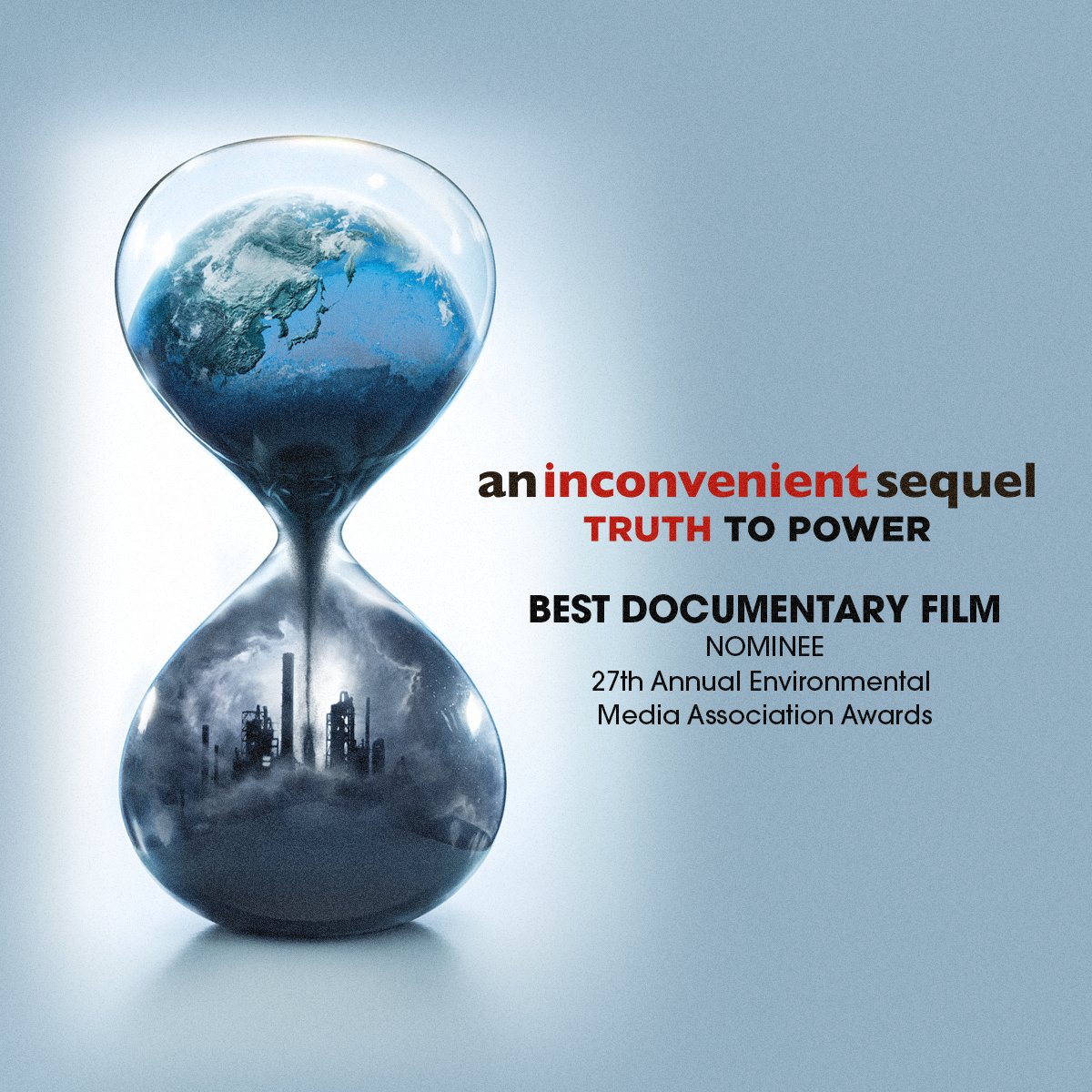 ***
An Inconvenient Sequel: Truth to Power
Sutradara: Bonni Cohen, Jon Shenk
Produser: Jeff Skoll, Richard Berge, Diane Weyermann
Pemain: Al Gore
Musik: Jeff Beal
Sinematografi: Jon Shenk
Penyunting: Don Bernier, Colin Nusbaum
Produksi: Participant Media, Actual Films
Distributor: Paramount Pictures
Durasi: 99 menit
Budget: USD 1 juta
Rilis: 19 Januari 2017 (Sundance Film Festival), 28 Juli 2017 (Amerika Serikat), 25 Agustus 2017 (Indonesia)
Rating (hingga 28 Agustus 2017)
IMDb: 5,4/10
Rotten Tomatoes: 78%
Metacritic: 68/100